Take a look at our 6am morning routine with a toddler, and what the mornings look like for us now that our daughter is a toddler.
It's taken me a while to do this post… purely because I didn't want to get up before my daughter Sage! But let me tell you, when I finally forced myself to do it I found that this time to myself before she wakes up is one of my favourite times of the day. It's not easy setting your alarm when you're a tired mama, but having a little alone time first thing in the morning will rejuvenate you in ways an extra hour in bed never could! And if I do want that extra hour of sleep, I need to start going to bed earlier, because this 6am morning routine with a toddler is honestly magical!
Our morning routine with a toddler
Here's a little overview of what our morning routine with Sage looks like…
6am – My alarm goes off and I wash my face and make myself a cup of herbal coffee or tea
6:30am – Journaling and meditation
7am – Yoga
7:30am – Sage wakes up, breastfeeds and has some play time
8am – Make Sage's breakfast and do skincare
8:30am – Make a smoothie
8:45am – Get dressed and head out for a family walk
10:30am – Sage goes down for her morning nap
10:45am – Finish getting ready and apply some light makeup
11am: Start work day
Now let's break this morning routine down…
6am –
After my alarm went off I splashed some water in my face to wake myself up, and then headed to the kitchen to make myself a hot drink. I often drink herbal coffee in the mornings, but this morning I opted for roasted dandelion tea with stevia and a hazelnut coconut creamer. As you may know, we're staying in Florida right now so I got to go drink my tea out by the pool. Let me tell you, being able to drink my tea while it was still hot made getting up early worth it! I also love to diffuse essential oils in the morning and the blend I did this day was lavender, orange and peppermint.
A note on productivity: I'm calling this a 'productive' morning routine, but that doesn't mean I'm checking a bunch of things off my work to-do list! The purpose of waking up early for me is to give myself some self-care time. If you're taking time to look after yourself, that totally counts as being productive. I need to remind myself of that!
6:30am –
I've been meaning to get back into journaling, so this quiet time in the morning was the perfect opportunity! I cracked open a brand new notebook and got my thoughts out onto paper while drinking my tea. I then went straight into a meditation session. If you've been here a while, you'll know pre-baby I always used to get up, have my drink and do my meditation first thing. Since having Sage I told myself I didn't have time to do it anymore, but really I just didn't want to get up earlier. Well, no more! Meditation is so important for my mental health, and it really is the perfect way to ground yourself before you start your day.
7am –
I've been wanting to do yoga by the pool since we arrived in Florida, and I've only managed to do it once. Getting up early meant I could finally make it happen again! Yoga is great for first thing in the morning because it stretches out any tension you've built up overnight and helps to energize you ready for the day ahead. It was the perfect way to start my day and I came out of this short yoga routine on such a high, feeling like it's going to be a good day!
7:30am –
Sage woke up right around the time I finished yoga. I'm still breastfeeding her so we laid down on the bed while she had her milk. I'm a big fan of the side-laying position for breastfeeds. She then likes to spend some time playing with the things on my nightstand. She asks to do it every morning!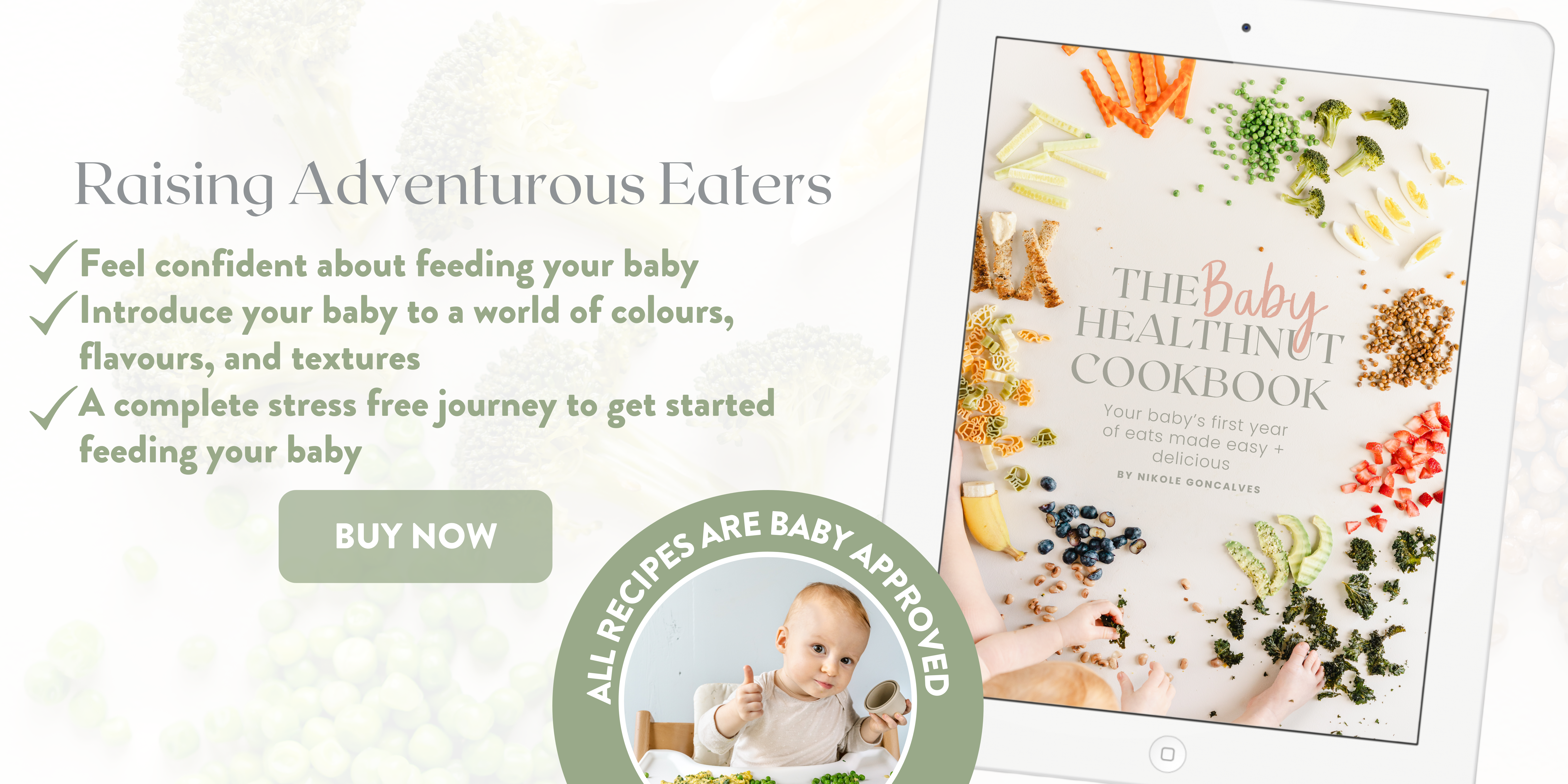 8am –
One of my favourite baby food hacks is to freeze oatmeal in these silicone moulds. It makes it so easy to make breakfast. All I have to do is warm up two of the portions in a pot on the stove with a little bit of water and covered. While that's cooking I'll switch out with Mr Matt and he'll watch Sage while I get myself ready. Sometimes I'll shower, but this morning I had already showered the night before so I just needed to do my skincare. I used a rose water toner, this serum, my DIY blue oil, this moisturizer and this sunscreen.
8:30am –
Green smoothies are one of my favourite ways to get a ton of nutrients into my body first thing in the morning. Even though they may look really earthy, they're actually super sweet, creamy and delicious. To get the right texture it's all about using a powerful blender, and for ingredients I like to have a good mix of  veggies and fruit. I try not to use too much fruit so that it doesn't give me a sugar rush.
8:45am –
Time to get dressed and head out for a walk! It's really important to us that we get outside every single day. Fresh air and some vitamin D can work wonders for your mood and mental wellbeing.
10:30am –
When we get home it's time to put Sage down for her first nap. This is then my opportunity to finish getting ready. I'll put on a little bit of light makeup – when I feel more put together I'm more productive – and have a small second breakfast like some toast. 
So that's it, my 6am morning routine with a toddler! I got a lot more done than I usually get done in the mornings, so if you're looking to find some more time for yourself I highly recommend giving this a go.
What's your morning routine like? Leave a comment below, because everyone starts their day differently and I'd love to hear!
If you're interested in seeing more about life as a mom, check out What I Eat In A Day While Breastfeeding and our One Year Old Evening Routine.