A typical day of food for me while I'm breastfeeding my one year old. Nutrient dense, healthy and fresh meals that are easy to prepare!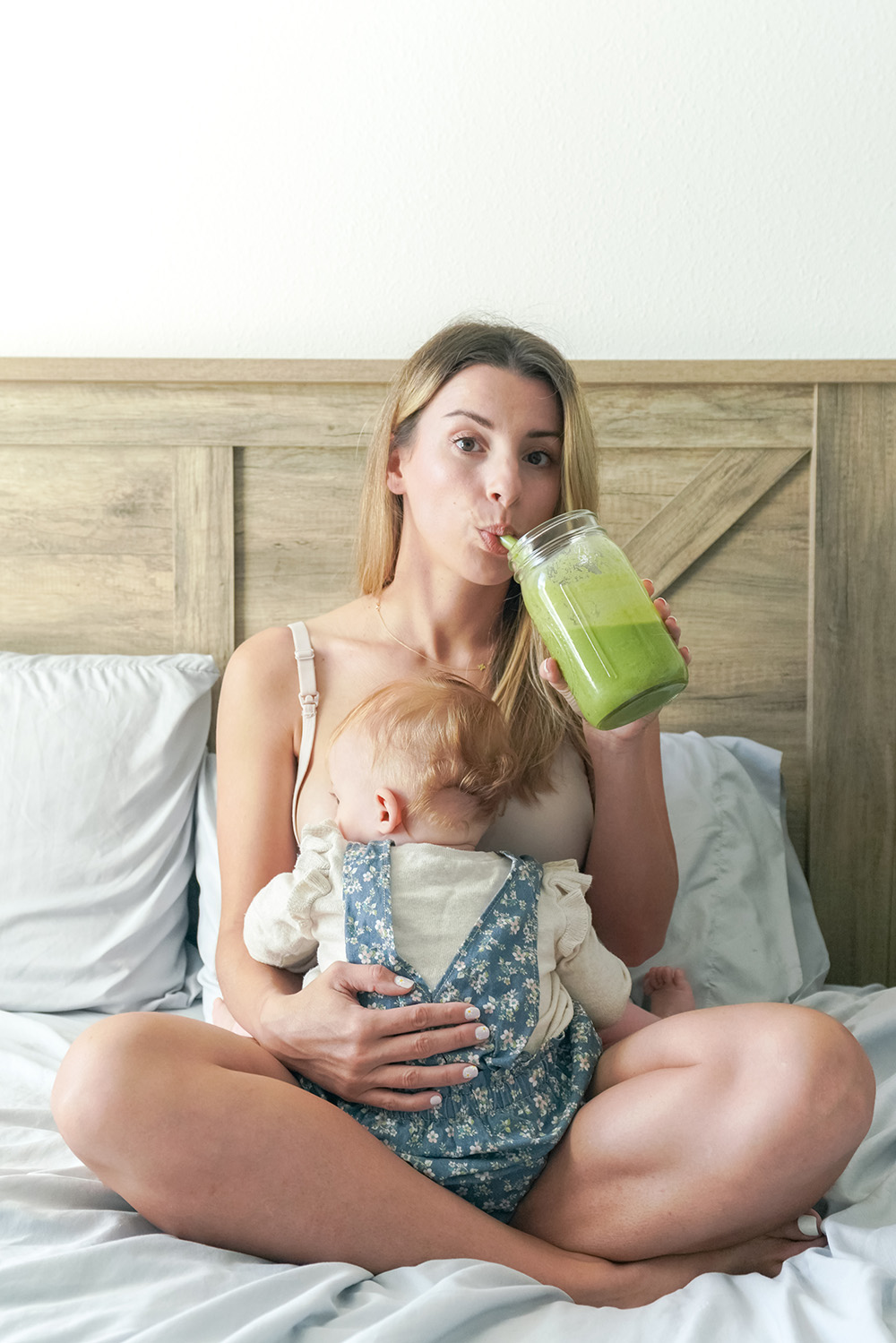 As you may know, I'm still breastfeeding my one year old daughter Sage, and when you're a breastfeeding mama you need to make sure you're eating enough nutrient dense foods to produce milk and support your body. You guys love seeing what I eat in a day, so here's what I'm enjoying right now, plus a look at what Sage typically eats too!
Breakfast
I started my day with a glass of water (a super important healthy habit to get into) and a cup of rooibos tea with oat milk, sweetened with stevia and with an added scoop of collagen. Then for breakfast I had a slice of wholegrain multiseed toast with natural peanut butter and jam (I opt for ones with no added sugars). I like to have toast first thing in the morning lately just to get some carbs in while I start my day because I wake up starving! 
A little bit later, once we've had our morning walk, Sage is down for a nap and I've had my shower, I'll have breakfast number two which is usually a green smoothie. I put a few extra ingredients into my smoothies that help with milk production. Usually I'll include:
Spinach

Cucumber (I'll usually dice up the middles for Sage)

Flax seed (full of fiber and great for milk production)

Oat milk

Frozen cauliflower rice

Frozen mango and banana 

Rolled oats (also super great for milk production)

Cinnamon

Water + Ice
For Sage, I served her up some leftover pumpkin oatmeal with raspberries mixed into it, some chopped up avocado with hemp hearts sprinkled on top, and some sliced up cherries. I often just piece together leftovers from the fridge because it's easy and convenient, which is why meal prep is your friend!
Lunch
For my lunch I cooked up some chicken and kale sausages (from Costco), corn on the cob with butter and leftover roasted sweet potatoes. I also gave Sage a corn on the cob and some sweet potato, plus some asparagus and cucumber. 
Snacks
I'm always snacking throughout the day and while preparing food. So while we were waiting for the sausages to cook I had some pretzel chips dipped in hummus and some fresh mango. I like to have some fresh washed fruit all prepped ready to pick at, so today I opted for cherries. Then I also had some of my raw cookie dough bites – the recipe is in my cookbook! And while prepping dinner later on I had some pistachios. 
Dinner
For dinner we made a vodka sauce pasta with a cashew cream. It's a delicious alternative to diary cream – you just blend up cashews with a little water to make it! For the pasta I sautéed onions and grass fed ground beef before adding Rao's marinara sauce, the cashew cream, some vodka and a touch of hot sauce with a little sea salt and pepper. We used a gluten free egg tagliatelle for the pasta, and then we served it up with a Caesar salad with parmesan and homemade croutons. Healthy comfort food at its finest!
Late night snacks
Come evening time I tend to get peckish again, so I like to munch on some healthy snacks. I tend to opt for apple slices with nut butter, puffed brown rice or kamut with berries, oat milk, honey and sunflower seeds, and popcorn. It's also super important to stay hydrated, especially when you're breastfeeding, so I always have a bottle near me around the house. Drinks I like are herbal teas (lemon balm, mothers milk, rooibos, roasted dandelion, chamomile lavender), herbal coffee (I like this one, this one and this one), sparkling water with fresh lime and of course trusty water!
There you have it – What I eat in a day while breastfeeding. What do you eat while breastfeeding? I'd love to know!
For more of what I eat, check out what I ate when Sage was 9 months old and what I ate when she was 7 months old.