6 meal prep ideas to help you save time as a busy mom! Though really, anyone who is looking to save time and money can use these ideas, whether you're a mommy or not.
If you've ever welcomed a baby into your home you'll know that routines tend to go out of the window! I've definitely felt the struggle since becoming a mom, but I've really been enjoying getting back into a routine with this quick and easy Mommy Meal Prep. Meal prepping is honestly one of the best things you can do to get yourself organised when it comes to food. You'll save time, money and you won't have to stress about what to cook! Here are 6 meal prep ideas that will make your life oh so much easier.
Breakfast Meal Prep
Chia Pudding
This is such an easy breakfast to make ahead. Chia seeds are full of fiber, protein, and healthy fats, which make them the perfect food to start your day. To prep your chia pudding, mix all your ingredients together (as an extra time saver use frozen fruit – no chopping or washing!) and pop into the fridge for a few hours or overnight. See my full chia pudding parfait recipe here.
Boiled Eggs
Boiled eggs are the perfect breakfast hack for new moms!. You can eat them as is or you can make them into an egg sandwich, crumble them into a salad, they're so versatile so they're a great prepped food to have in your fridge. There's lots of ways to cook the perfect boiled egg, but this is the method that works best for me…
Add your eggs to already boiling water

Set your timer so that you know when they'll be perfectly cooked to your liking

Rinse with cold water to cool them down

Crack with the back of a spoon and peel. Hot tip – peel them while they're still a little warm, it makes it easier!
If you've been following me on Instagram, you'll know that I've been on a serious egg kick and I don't plan on stopping anytime soon! See my egg 10 ways here.
Snack Meal Prep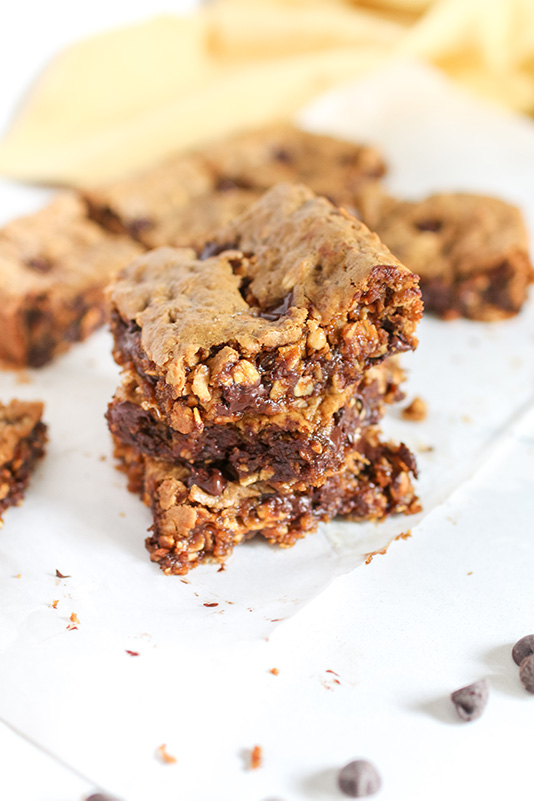 Chewy Oat & Peanut Butter Cookie Bars
These are a new creation and we are LOVING them in the HealthNut home! They're a great sweet treat to make with your little one on your hip or in a carrier, or if you have older kids these are fantastic to get them baking with you. You can store them for 3-5 days in an airtight container and enjoy them as a dessert, a snack, or even a late night treat. See my full chewy oat & peanut butter cookie bars recipe here.
Lemon Herb White Bean Hummus
This Lemon Herb White Bean Hummus is perfect for a savory snack. It's from my cookbook (which is filled with recipes that are great for meal prepping!) and it's a nice change from the traditional chickpea hummus. All you do is mix up your ingredients in a food processor and then prep some veggies to go with it so you don't have to worry about washing and chopping when you want to eat it. I love pairing this hummus with cucumbers and radishes – but feel free to use whatever you have on hand! See my full lemon herb white bean hummus recipe here.
Easy Lunch or Dinner Meal Prep
For lunch and dinner, I've been really into "bowls" where you can just mix together a bunch of different proteins, veggies and grains. Not only does it make things super easy, but it never gets boring because you can always try different mixtures to make something new and delicious!
Peanut Satay Sauce
This is so delicious with chicken, tofu or really any type of protein that tickles your fancy. I don't know about you, but I love sauces that combine sweet, salty and sour (Drool factor 10!). For this meal prep, I tossed some tofu with the sauce and transferred to a baking tray lined with a silicone baking mat. See my full peanut satay sauce recipe here.
Taco Spiced Shrimp
Another great protein option for your lunch or dinner bowl is this taco spiced shrimp!
Add your shrimp to a bowl

Squeeze some fresh lime juice over it

Sprinkle with a homemade taco inspired seasoning blend (using herbs like chilli, garlic, paprika, cumin, salt and pepper)

Drizzle with a little avocado oil

Give a quick toss before transferring to a baking tray lined with a

silicone baking mat

. 
The best part is this takes about the same amount of time in the oven as the tofu, so it's super convenient!
Grains and Veggies
You can use whatever grains and veggies you like for your mommy meal prep, and I like to switch mine out every week. For grains this week I chose a long grain and wild rice blend, which I've been loving cooking in bone broth recently. It adds so much flavour! For veggies I opted for carrots, zucchini, cauliflower and green beans, which I also cooked in bone broth.
Pro tip – When meal prepping veggies, remember you'll be reheating them. Be sure not to overcook them to begin with or they'll end up soggy when you reheat them. 
So that's it! Mommy meal prep has seriously taken all the stress out of figuring out what to feed the family, so I'd highly recommend trying it out if you haven't already! It's so amazing to be able to nip into the fridge and grab some delicious, healthy, pre-cooked food.
What's your go-to meal prep recipe? Let me know in the comments below! 
If you make any of these recipes, be sure to share a photo on social media and tag me @healthnutnutrition #healthnuteats so that I can see your creations! 
If you love meal prepping (or fancy trying it out) and you're looking for more ideas, check out my Meal Prep Hacks and Meal Prep for Beginners Guide.