Creamy, coconutty thick chia pudding naturally sweetened with 4 simple ingredients 3 ways and ready in 30 min!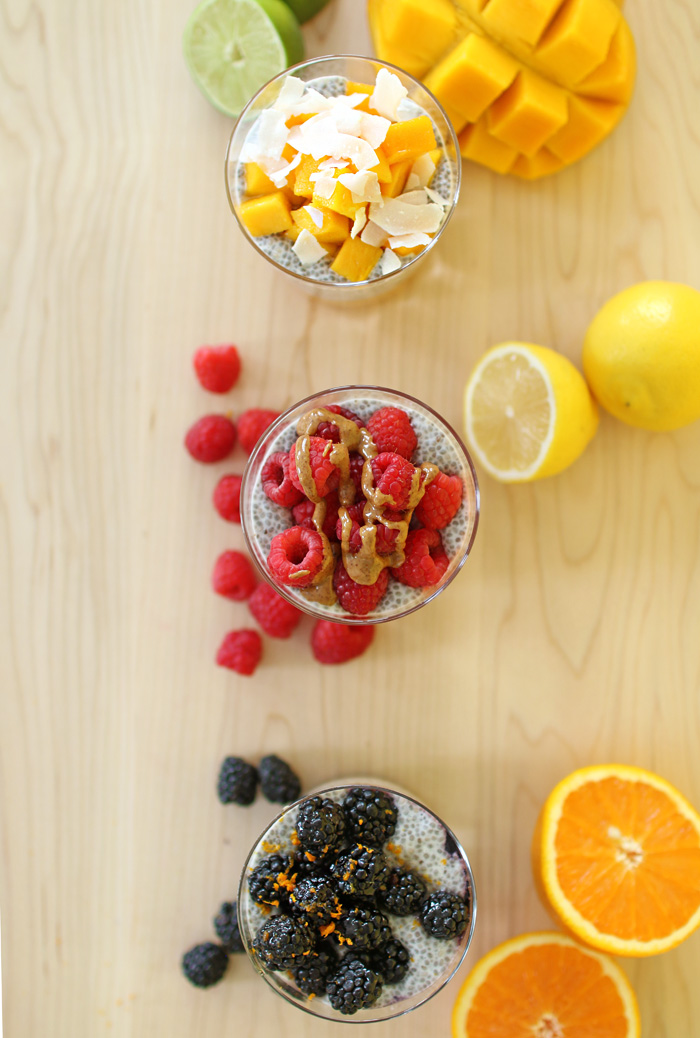 Chia Pudding Fruit Parfaits are a fun flavourful way to start your morning off! It's bursting with fruity goodness and satisfying with a creamy pudding-like texture.  It's the perfect healthy breakfast that gives you superfood energy and makes you feel like you're having dessert for breakfast.
I'm declaring chia pudding the new go to yogurt or oatmeal for breakfast! These tiny seeds can absorb up to 10X their weight in liquid — it's like magic.  I love using full fat coconut milk as it gives it a super creamy texture and is also more filling.  The chia pudding base can be ready in as little as 30 min but I find that the longer it sits the thicker it becomes, giving it that true pudding like texture. It's great as a make ahead grab and go breakfast or mid-afternoon snack sure to satisfy your sweet cravings.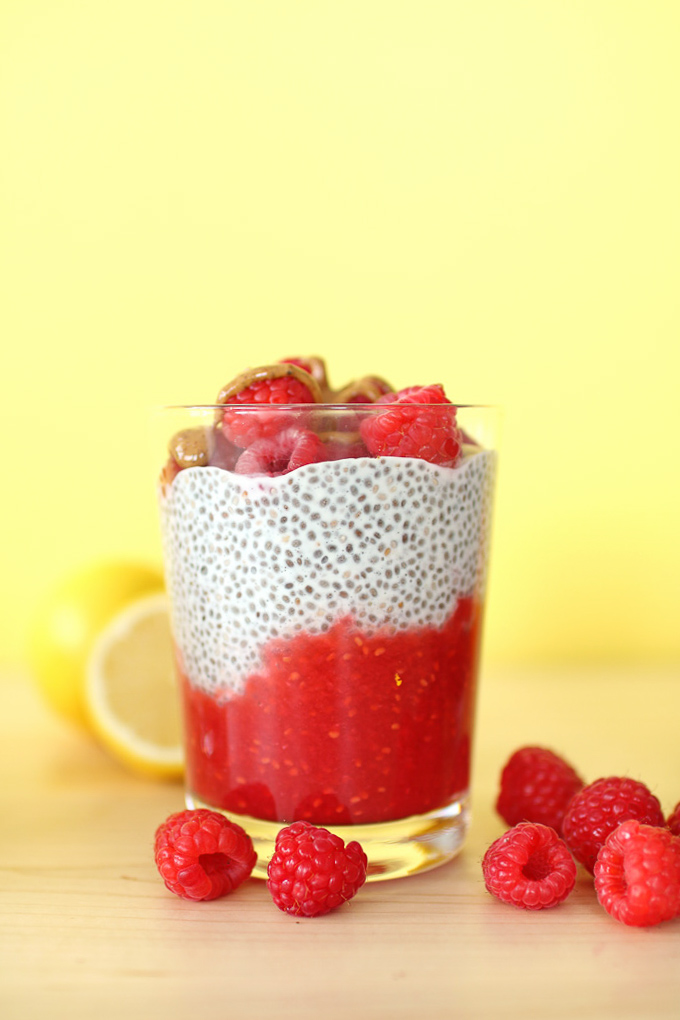 Not only are chia seeds fun to eat but they are also a complete source of protein with all essential amino acids, a great source of omega 3's, calcium, magnesium and iron, just to name a few.  They also contain more fibre than flax seeds, which means good digestion and happy poops… yup, I said it!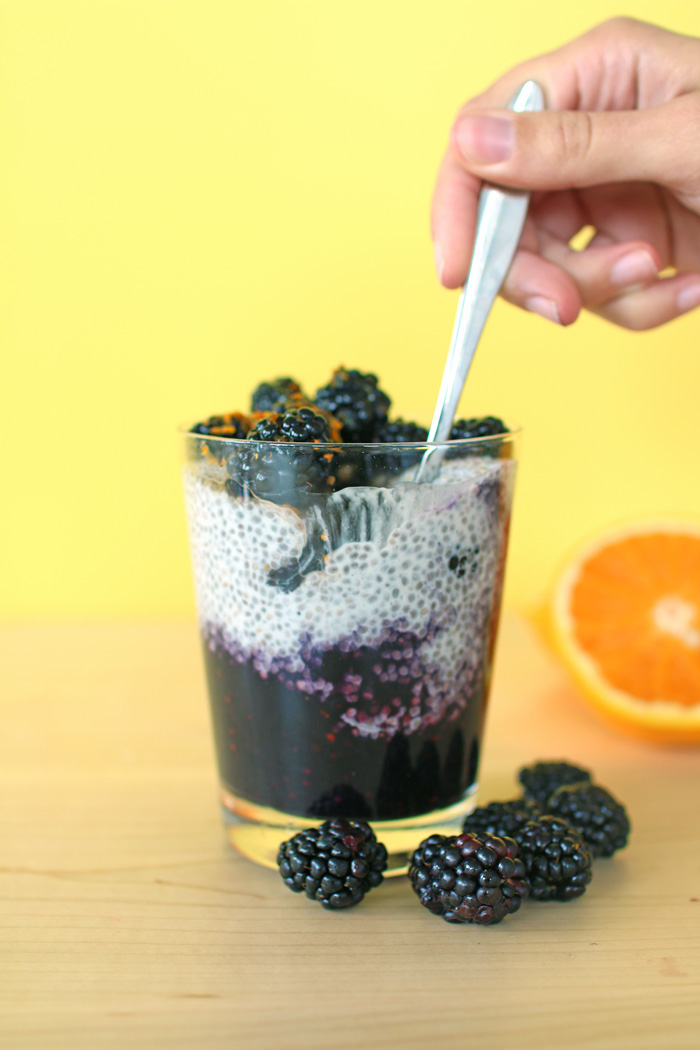 What I love about this recipe is that it's so simple to make and so easy to double or triple the quantity.  It's also a great option for meal prepping for the week as it will last in the fridge for up to 5 days. So go ahead and make a big batch on Sunday night and change up the toppings throughout the week.
These 3 fruity flavours are my top picks, with Mango-Lime being my favourite as it's so creamy, and I love how the lime really brings out the flavour and balances out the sweetness of the fruit.  Raspberry-Lemon a close runner up, is ALMOST too pretty to eat. It's refreshing yet tangy and sweet and even better drizzled with almond butter. Blackberry-Orange flavour is another great combination and I love mine drizzled with honey and orange zest. All 3 of these combos go well with the creamy "tapioca-like" texture of chia pudding. Comment below which flavour you're most excited to try!
If you make these Chia Pudding Fruit Parfaits, be sure to share a photo on social media and tag me @healthnutnutrition #healthnuteats so that I can see your creations! 
Recipe
Chia Seed Pudding Fruit Parfaits 3 Ways
Creamy, coconutty thick chia pudding naturally sweetened with 4 simple ingredients 3 ways and ready in 30 min!
Print Recipe
Save Recipe
In a medium bowl, add the coconut milk, chia seeds, maple syrup and vanilla extract.  Whisk until well combined, cover and refrigerate for 30-60 min or overnight. Make sure you give it a good stir a couple of times so that the chia seeds don't clump together.

In a small blender or food processor, add fruit of your choice and 1 tablespoon citrus juice. Pulse for about 5-10 seconds until smooth but still pulpy.

Divide the fruit parfait into 3 glass jars. Scoop equal amounts of chia pudding into each jar. Top with fresh fruit and your choice of toppings and enjoy!

Store any leftovers in the fridge covered in an airtight container for up to 5 days.
Note: For a lighter version, feel free to swap out the canned coconut milk for coconut milk in the carton or any non-dairy milk of your choice. Keep in my mind that depending on the brand of canned coconut milk or nut milk that you are using you might get a different consistency.  If it's not thick enough add a bit more chia seeds.
similar recipes