The perfect green smoothie to help you feel balanced, energized and fuelled for the day! Loaded with greens, veggies, fibre, plant-based protein, healthy fats and just enough fruit to sweeten without making it a dessert for breakfast. 
DOWNLOAD MY FREE PRINTABLE GREEN SMOOTHIE GUIDE HERE!
My love for green smoothies first started in college when my roommate told me he added romaine lettuce to his blueberry banana smoothie. I was very skeptical but also intrigued. Let's just say I tried it and never looked back. It's now just become part of my morning routine – like brushing my teeth and drinking my lemon water, I wake up to craving a tall glass of liquid fruit and veggies. Everyone is always asking me about how I make my go-to everyday green smoothie!
Today I'm finally sharing with you my now not-so "secret" recipe and breakdown for how to make the perfect green smoothie! This liquid healthy breakfast makes me feel energized and balanced all day long. I almost consider it my daily multivitamin. Some people need coffee in the morning to get going, but all I need is my green smoothie and I'm energized for the whole day!
The Secret To The Perfect Green Smoothie
Green smoothies are amazing because they give you energy and make you feel full and satisfied. It's an easy way to sneak in your greens and a great way to pack in a lot of nutrients and vitamins. The trick to making the perfect green smoothie is to balance the greens with the fruit so you don't accidentally turn it into a blood sugar spiking dessert first thing in the morning!
I also love adding in natures green food colouring, spirulina which is a blue green algae and is full of plant protein and vitamin A! I also love to make sure I'm using a high quality and tasty plant based vanilla protein powder, and of course using a high speed blender for the ultimate creamy smooth texture. Personally, I love using my Vitamix blender because it's powerful and consistently makes my smoothies smooth no matter what I add into it. But for years I loved using my Nutribullet, which is a great option as well and budget friendly – the only downside is that it's small and you can't make enough for two!

Fruits
If you want your smoothie to be pretty and green, choose light coloured fruits. These include: mangoes, pineapples, bananas, pears and apples to accompany your green veggies. I love the tropical flavour from the mangoes and banana! You can also add berries, just keep in mind that you'll end up with a brown coloured smoothie, which is just as delicious, but not so green.
Plant Based Milks
I also always use unsweetened when it comes to plant milks like almond or oat milk which adds a nice non-dairy creaminess and a bit of sweetness to my smoothie without added sugar. As you can see, making a great smoothie is pretty simple once you know the basics and you stock your fridge and pantry with your essentials. You can easily switch out the greens by using kale or mixed greens, try a different fruit combination and add your favourite superfoods, the world is your smoothie!
Let me know in the comments below your favourite morning ritual and what you love adding to your smoothies! If you're new to making smoothies or looking for more recipes than check out my 4 Unexpected Healthy Breakfast Smoothie Recipes, and 3 Healthy Green Smoothie Recipes . A green smoothie a day keeps the doctor away!!
If you make this recipe, be sure to share a photo on social media and tag me @healthnutnutrition and #healthnuteats so that I can see your creations! 
Recipe
The Perfect Green Smoothie
The perfect green smoothie to help you feel balanced, energized and fuelled for the day! Loaded with greens, veggies, fibre, plant-based protein, healthy fats and just enough fruit to sweeten without making it a dessert for breakfast. 
1/2

Frozen ripe banana

1/2

cup

Mango

fresh or frozen

1/2

English cucumber

2

Cauliflower florets*

steamed and frozen

2

large handfuls

Baby spinach

1

inch

Ginger

1

tbsp

Flaxseed

1/2

tsp

Cinnamon

1/2

tsp

Spirulina powder

(I prefer Hawaiian ones because of the taste and quality- doesn't have a fishy smell)

1

tbsp

Nut butter

almond or peanut

1

cup

Filtered water

1

cup

Unsweetened nut or plant milk

oat or almond

3

Ice cubes

1

scoop

Vanilla plant based protein powder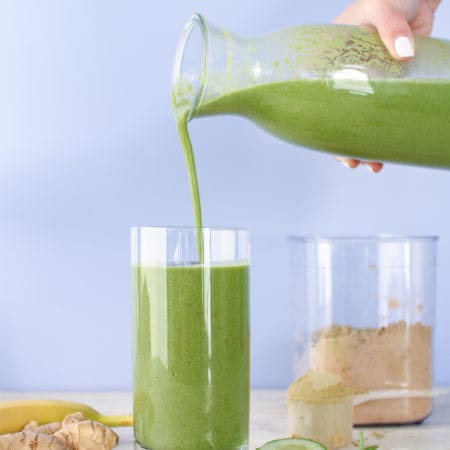 Print Recipe
Save Recipe
Place all the ingredients into a high speed blender and blend until smooth, about 60 seconds. I like to use the smoothie setting on my blender as it blends it perfectly. If you don't have this setting then blend on high for about 60 to 90 seconds, until smooth.
*To prep the cauliflower, fill the bottom of a large pot with 2 inches of water, add a steamer basket  and bring the water to boil. Lower the heat to medium, add the cauliflower and cover. Steam for 7 to 9 minutes, until lightly steamed but still firm and crunchy (you don't want them to be fully cooked and soft). Transfer the steamed cauliflower to a parchment lined baking sheet  and allow to cool completely. Place in the freezer and freeze for 1 to 2 hours. Remove the tray from the freezer and transfer the frozen cauliflower to a reusable freezer bag like this one. Store in the freezer for up to 3 months.
similar recipes