4 easy and healthy breakfast smoothie recipes with unexpected veggies blended right in! 
If you've been following me for a while then you know I'm a bit of a smoothie drinking junkie and like to drink one for breakfast most mornings. Since I enjoy smoothies that are a balance between fruit and veggies I often find myself 9/10 times drinking very GREEN smoothies since often add veggies like leafy greens and cucumber to my blender. 
After many people telling me they are convinced my skin is going to turn green one of these days I thought I should start switching things up with other veggies to blend up non green but still full of veggie kind of smoothies. Not only does adding vegetables to your smoothie add a variety of fibre and nutrients but it also helps lower the sugar content so it's more sugar balancing and not just all fruit. Besides when you steam and freeze your veggies they blend up so smooth and creamy they give you that thick consistency without just a banana base.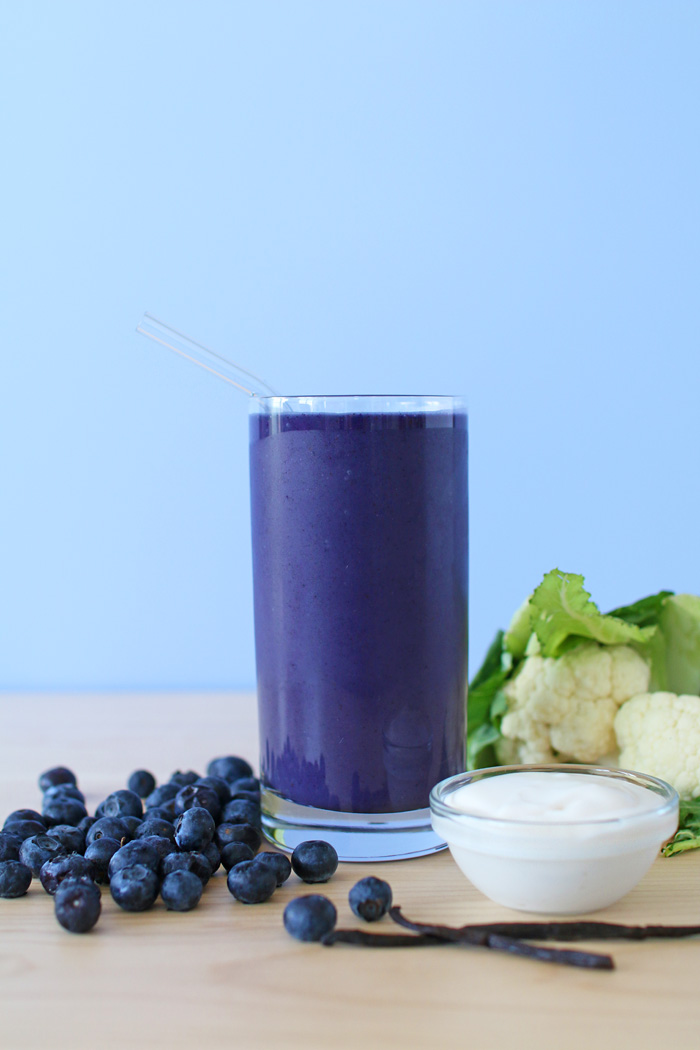 All 4 of these healthy breakfast smoothie recipes are filled with vitamins and bursting with flavour with no green hue of the Hulk in sight! Get your blenders ready because I'm going to share my secrets to blending up the perfect veggie base smoothies that you'll be able to trick even yourself that they're in there. 
First up we have my Blueberry Pie in the Sky breakfast smoothie. Blueberry happens to be my favourite kind of pie so I thought I would try blending up a liquid version. I actually often get inspired by desserts for my smoothie recipes as its fun to get creative and trick yourself into thinking you're drinking dessert for breakfast. 
This blueberry coloured smoothie is made with coconut yogurt, banana, wild blueberries, cauliflower, oat milk and a splash of vanilla. 
Next up for all those chocolate lovers we have my Chocolate Peanut Butter Cup breakfast smoothie. This smoothie is not only perfect for busy mornings but it's also delicious as an afternoon pick me up or post workout snack. 
For this one I blended up natural peanut butter, cacao powder, sea salt, banana, zucchini and oat milk. Sweet, salty and chocolatey all in one glass. 
This one may be my personal favourite, Pineapple Mango Glow breakfast smoothie. Not only do I love the bright energizing colour that seems to be my colour this summer but its so bright and fresh tasting I could drink it all day. 
I added mango, pineapple, banana, lemon juice, butternut squash and oat milk for a sweet summer drink packed with vitamin C and tang!
Last and most unexpected I have my Raspberry Peach Lemonade smoothie with sneaky red bell pepper blended right in, no steaming or freezing required. 
For this smoothie I used peach, raspberry, banana, lemon juice, red bell pepper and oat milk. It's lemony, fresh and coral coloured perfect for a hot summer morning or after work pool party. If you make this recipe, be sure to share a photo on social media and tag me @healthnutnutrition #healthnuteats so that I can see your creations! 
Recipe
4 Unexpected Healthy Breakfast Smoothies
4 easy and healthy breakfast smoothie recipes with unexpected veggies blended right in!
Blueberry Pie in the Sky
1

cup

frozen blueberries

1/2

frozen ripe banana sliced

1

cup

cauliflower florets

1 1/2

cup

unsweetened *oat milk

Splash of pure vanilla extract

2

tablespoons

of unsweetened coconut yogurt
Chocolate Peanut Butter Cup
1

cup

zucchini sliced

1

frozen ripe banana sliced

2

tbsp

peanut butter

1

tbsp

cocoa powder

1

soft medjool date

1 1/2

cups

unsweetened *oat milk

pinch

of sea salt

omit is using salted peanut butter
Mango Pineapple Glow
1/2

frozen ripe banana sliced

1/2

cup

frozen mango chunks

1/2

cup

frozen pineapple chunks

1

cup

butternut squash peeled and cubed

1/2

lemon juiced

1 1/2

cups

unsweetened *oat milk
To prep the cauliflower, butternut squash and zucchini, fill the bottom of a large pot with 2 inches of water, add a steamer basket and bring to a boil. Lower the heat to medium, add the chopped veggies and cover. Steam for 7-9 minutes, until lightly steamed but still firm with a crunch. You don't want them to be fully steamed and soft.

Transfer steamed veggies to a parchment lined baking sheet and allow to cool completely. Transfer to the freezer and freeze for 1 to 2 hours. Remove the tray from the freezer and transfer veggies to a reusable freezer bag like this one

HERE

. Store for up to 3 months in the freezer.

In a high speed blender, add in all ingredients and blend on high for 30-60 seconds or until smooth and enjoy!
*You can swap for any non dairy or regular milk. I often will even do half water and half non dairy milk for a lighter option.
similar recipes