A toddler-friendly meal plan for kids ages 1-4 and up that you can prepare ahead of time for nourishing homemade meals that will save you both time and money! Don't forget to grab your FREE download; included is a grocery shopping list and measurements.
Breakfast
Good Morning Waffles
These toddler-loved waffles are gluten-free, freezer-friendly, and the perfect option for quick weekday morning breakfasts. Even the pickiest eaters will love them because they're made with six simple ingredients like almond and coconut flour, eggs, yogurt, and vanilla. These plain Jane-looking waffles are anything but boring and are protein-packed, fiber-rich, and easy to enjoy on the go when mornings get busy.
Ingredients
Eggs
Almond Flour
Plain Greek Yogurt
Coconut flour
Vanilla Extract
Baking Powder
You can also add in specials (Natural Food Dye Sprinkles, Blueberries, etc.)
Get the full recipe in The Toddler HealthNut Cookbook!
Snacks
Sour Cherry Gummy Animals
All you need is five simple ingredients for these adorable gummy animals that are naturally sweetened, gut-friendly, and packed with protein in every squishy bite. Made with pure tart cherry juice, loaded with antioxidants, and a sour splash of lemon juice. Mix, melt, pour into molds, and chill. Get your little helpers in the kitchen for this one because they're almost as fun to make as they are to eat. This is a homemade "candy" you can feel good about serving as they are as equally tasty as they are nutritious.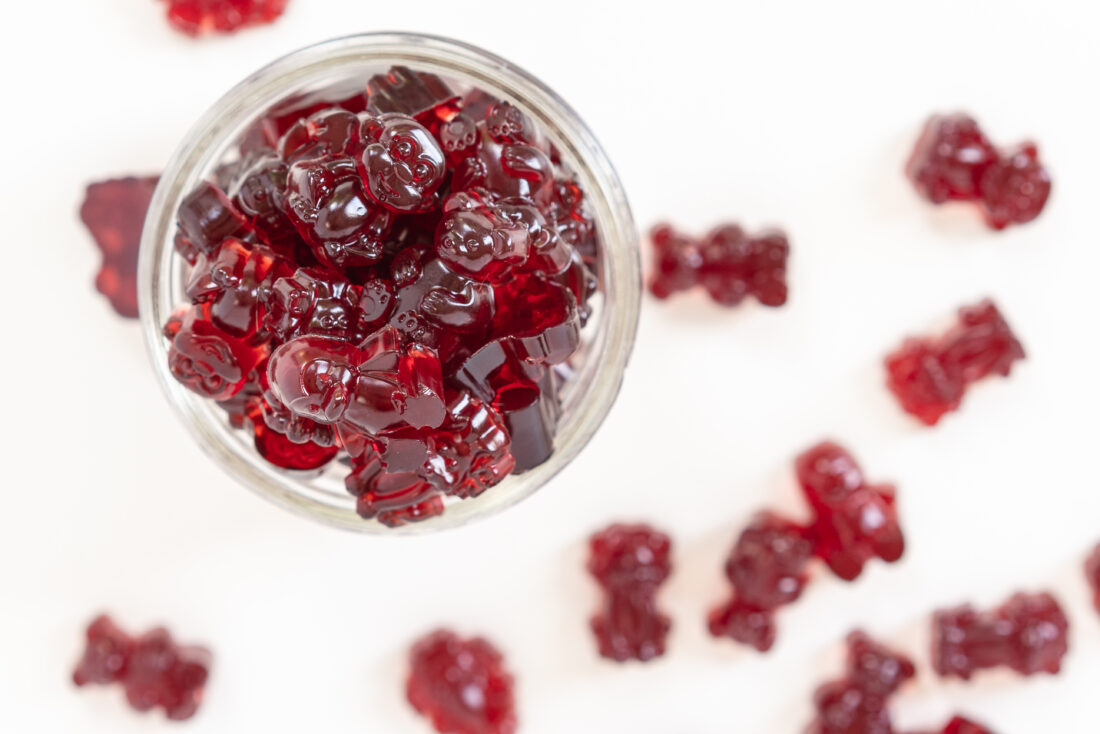 Ingredients
Honey
Lemon Juice
Grass-fed gelatin
Pure tart cherry juice
You can also add in some Elderberry syrup too for immune support during cold and flu season.
Get the full recipe in The Toddler HealthNut Cookbook!
Lunch
Baked Crispy Chicken Nuggets
Crispy on the outside, and tender in the middle, these "Baked Crispy Chicken Nuggets" are a healthier, homemade alternative to the classic take-out version most of us grew up with. This beloved kids' menu favourite is now easily made right in the comfort of your home, with a hidden surprise of grated carrots for added fiber and veggies. Simple to make, bake, and freeze in advance so you can have a quick mealtime solution for busy days. Best enjoyed with oven-baked fries and 5 Minute Sugar-Free Ketchup, creating the ultimate family-favorite combo!
Ingredients
Ground Chicken
Egg
Bread Crumbs
Grated Carrot
Italian Seasoning
Paprika
Garlic Powder
Onion Powder
Sea Salt
Black Pepper
Coconut Oil Cooking Spray
Get the FREE download for this exclusive recipe from The Toddler HealthNut Cookbook HERE!
5-Minute Sugar-Free Ketchup
Dip into this easy, homemade, sugar-free ketchup (or what our 2-year-old calls "KEEPA"), that's the ultimate condiment for dipping, finger-licking, and spreading! Kids seem to dip everything and anything into ketchup, even strawberries have become new favourites around here…don't ask! With this sugar-free version, you can happily serve it alongside dinner for all their dipping food experiments. Takes less than 5 minutes to make, with no cooking required. Just grab a can of tomato paste, some spices, vinegar, and maple syrup, and you're all set! It has the look and shine of traditional store-bought ketchup, and is so tasty that your kids won't even notice the difference—it's that good. Get ready to dip and enjoy this delicious, healthy, and kid-approved ketchup like never before!
Ingredients
Tomato paste
Spices
Apple cider vinegar
White Vinegar
Water
Maple Syrup
The best thing about this recipe is all the ingredients are pantry staples. All you do is dump all the ingredients into the mini food processor and turn it on. You'll then want to chill it in the refrigerator.
Get the full recipe in The Toddler HealthNut Cookbook!
Baked Crispy Fries
High Temperature on Oven
Extra virgin olive oil or avocado oil
Gold Yukon potatoes
Seasoning (we like sea salt, black pepper, garlic powder and paprika)
Preheat the oven to 425F. Wash, dry, and cut potatoes into fries using a fry cutter. Then lay them out across two baking sheets so they don't crowd. If you crowd them too much they are going to get soggy and won't get as crispy. Then you'll drizzle oil over the top, give it a little massage with your spices, and make sure they are all covered evenly. Bake in the oven for 425F for 40-45 minutes tossing halfway through until golden and crispy
Zucchini Edamame Hummus
A smooth homemade hummus made with steamed zucchini and edamame, but hold the chickpeas. This super creamy hummus is perfect for dipping, spreading, and spooning. Packed with protein and healthy fats, it's an exciting way to introduce a new food like edamame. I like to serve this to Sage spread onto toast sticks, baby crackers, or with steamed carrot sticks for dipping.
Ingredients
Zucchini
Frozen Shelled Edamame
Tahini
Lemon juice
Garlic
Extra Virgin Olive Oil
Spices
This full recipe can be found in The Baby HealthNut Cookbook. Right now, we have The Baby HealthNut Cookbook and The Toddler HealthNut Cookbook bundle. You can buy them together and save 15% off!
Cookie Cutter Snacks
I just recently started using these cookie cutters to cut fruits, veggies, turkey slices and even cheese. It's been a huge hit and my daughter enjoys helping me cut her veggies and matching the shapes.
Prep Berries
Strawberries
Blueberries
Blackberries
These are really good for snacks, oatmeal bakes, pancakes, etc. I like to soak my berries in water with a splash of white vinegar.. Let the berries soak for 10 minutes. Then, make sure to rinse and drain them really well because of the vinegar. Then, lay them out to fully dry on a tea towel; you don't want to put them into the refrigerator until they are fully dry. You can line your container with a sheet of paper towel to absorb any excess moisture and keep the lid cracked open slightly to allow airflow. Your berries will stay fresh so much longer.
Pro Tip for Veggies
It's so much easier to purchase frozen veggies over fresh, not only because they are usually cheaper and fresher but because they are already washed, trimmed/cut, etc. My favourite lately has been green beans; steam or boil them for 5 minutes and then dress them really simple with olive oil, garlic powder, salt, and pepper. We call them "green french fries." This is a great side to add to any meal throughout the week. If you want to get really fancy, you can add fresh minced garlic, parmesan cheese, and some lemon juice.
Sweets
Raw Chocolate Cookie Dough Bites Recipe
This recipe is from my very first cookbook The HealthNut Cookbook. You'll want to start with your wet ingredients first and then add your dry. I will usually double batch this and make it in my stand mixer, but all you really need is a mixing bowl and a spatula, it's that easy! These are a great snack to enjoy after school or daycare. Store them in an airtight container in the fridge for up to 5-7 days plus it tastes way better when chilled.
Ingredients
1⁄2 cup natural cashew butter
2 tablespoons pure maple syrup
1⁄2 teaspoon pure vanilla extract
3⁄4 cup almond flour
1⁄4 teaspoon sea salt
1⁄4 cup semi-sweet chocolate chips
We've all bought a tube of cookie dough because we were going to bake cookies but ended up eating it raw, straight out of the package. (C'mon, admit it!) And because "eating" and "regret" should never
be in the same sentence together, I decided to make a healthier cookie dough that you can eat raw and is also an energizing snack high in protein and healthy fats. What is it about raw cookie dough, anyway?
Is it the soft texture, the salty-sweet buttery flavour, or the guilty pleasure we get from eating something we're not "supposed" to? Now you can eat your cookie dough—guilt-free!
1. In a medium bowl, stir together the cashew butter, maple syrup,
and vanilla. Add the almond flour and salt and stir until a dough forms. Fold in the chocolate chips.
2. Roll about 11⁄2 tablespoons of the mixture at a time into balls. Enjoy right away as a snack or dessert, or store in an airtight container in the fridge for up to 1 week or in the freezer for up to 1 month.
Looking for my meal prep inspiration? If you've enjoyed this post, make sure to check out my others. All these blog posts are packed full of delicious freezer-friendly meals that you can enjoy all week long.
My Make Ahead Toddler Meal Plan