Make-ahead toddler meal ideas that can be prepped in advance to save time and keep your little ones happy. These meals are family friendly and can be customized to yours and your kids dietary needs.
This is the third edition of my meal planning series, following my 6-8 month meal plan and 9-12 month meal plan! I get it, prepping foods for toddlers can be a tricky task always trying to find out what they will ACTUALLY eat! But…introducing them to new foods can also be a really fun experience for the whole family (even if that means some foods end up on the floor). These meals can be adjusted to suit the whole family making cooking more efficient and stress free. Even more fun is the fact that at this age, your little ones can assist in the process (if you don't mind the mess!). If you've tried meal prepping before you already know that it is going to save you both time and money.  
I'm excited to share these meals with you as I know the whole family will enjoy them. You'll have them on hand and ready to go for any hungry member of your household. I have also created a free download for you here, that can help you organize your planning!

Even more helpful is The Baby HealthNut Cookbook, which contains 30+ nutrient-rich yet delicious recipes, all made with real ingredients. I wrote this ebook to be a resource for parents looking for support on how to feed their little ones. This ebook includes everything from breakfast, sips & licks, snacks, mains, sweets, go to pantry staples, baby step basics to baby friendly finger foods and tips on helping to create an adventurous eater into toddlerhood.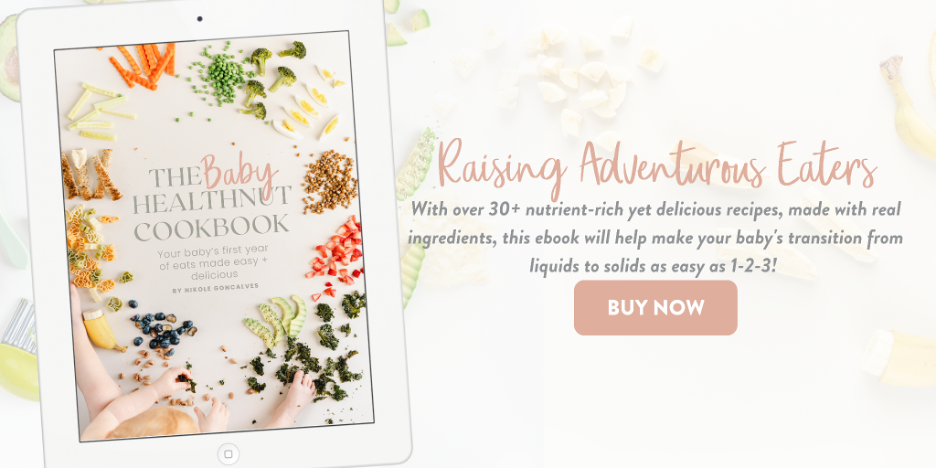 For a step by step walk through on the recipes I share in this blog post, watch my YouTube video on my toddler meal prep.
Baked Pancakes
A classic super fluffy, everyday gluten free pancake recipe from (The HealthNut Cookbook, page 49) made with brown rice flour and sweetened using banana. Baked pancakes are perfect if you have little ones because there is no need to stand over the stove flipping pancakes for half an hour. Stir, pour, bake and enjoy! These pancakes are good for the entire family and are absolutely delicious! Have fun changing up the toppings as well. I find when Sage cooks with me she is more willing to try new foods, ones she normally wouldn't gravitate towards. In this recipe, she couldn't get enough of the raspberries I was using even though they typically aren't her forte!
Ingredients

1 ripe medium banana

 

2 eggs

½ cup unsweetened almond milk

2 tablespoons of coconut oil, melted 

1 teaspoon pure vanilla extract

1 cup brown rice flour

2 teaspoons baking powder

½ teaspoon cinnamon 

Pinch of sea salt 

Extra coconut oil or organic unsalted butter (for cooking)
Toppings 
Preheat the oven to 350F degrees F. Line a 9×9 baking pan with parchment paper.

In a medium bowl, mash the banana with a fork until smooth.Whisk in the eggs, almond milk, coconut oil, and vanilla to combine.

Sift in the brown rice flour, baking powder, cinnamon, and pinch of salt (if adding). Mix with a whisk or a rubber spatula until the batter is smooth with some lumps but don't overmix. Transfer batter to the prepared baking pan and top with fresh or frozen berries. 

Bake for 15-18 minutes or until the top is firm to the touch and slightly golden.
Storage Tip: Once the pancakes have cooled completely, slice them into portions and store them in the fridge for 3 days. They can be warmed up in a pan on the stove. I usually add a little bit of water and cover the pan to avoid drying out the pancakes. This way, they'll last all week. If your little ones are like Sage and only like to eat the same meals a couple days in a row, you can also pop these into the freezer for up to 1 month and enjoy the following weeks.
Tofu Nuggets
A great meat alternative, these nuggets are a fan favourite in my house. The full recipe which can be found on my blog here can be adjusted to become little one friendly. In the original recipe I suggested using gluten free rice breadcrumbs. I like to substitute half for almond flour or these fun Nut Crumbs. I also omit the tamari and am mindful of adding too much salt since little ones are not advised to consume it in great amounts. For adults, the original recipe offers steps to whip up a delicious sriracha mayo dipping sauce. However, for little ones these nuggets would also be yummy dipped in a no added sugar ketchup, a tahini yogurt sauce, or guacamole.  
Pro Tip: When breading the tofu keep one hand for wet ingredients and one hand for dry ingredients. 
Mini Meatballs
Who doesn't love meatballs? If you're asking me, the answer is no one. Mostly because they are so customizable and guaranteed your little ones will love them too. For instance, in this recipe I am using grass fed beef (trust me you can taste the difference) but it can be subbed for ground chicken, turkey, lamb, whatever your preference. Additionally, I'm making these meatballs baby sized so Sage can easily pop them into her mouth. But, if you're prepping for kids younger than 1 year old, you can make them bigger aka baby led weaning style so they can easily hold it and bite into it. Best of all, another recipe all family members around the table can enjoy!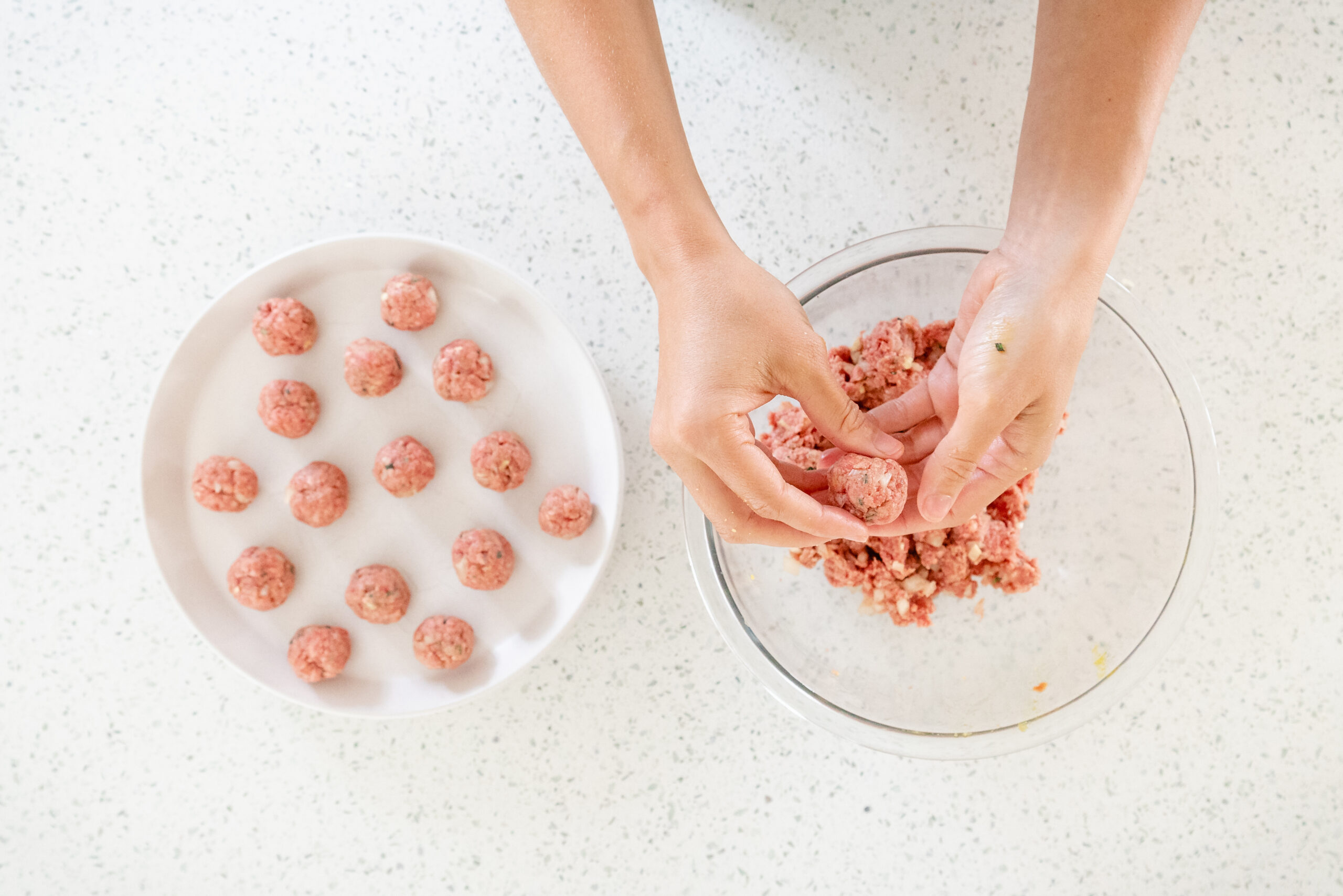 Ingredients
1 lb grass fed ground beef

¼  cup almond flour (can substitute for breadcrumbs)

1-2 tablespoons fresh herbs (rosemary, thyme oregano work great),  finely chopped 

½ medium onion, finely chopped  

3 cloves, garlic, minced

¼ teaspoon black pepper

¼ teaspoon paprika

½ teaspoon garlic powder

Pinch of sea salt (adjust based on how much salt is in the marinara sauce that will be used)

1 egg

1 tablespoon olive oil for frying

1 box chickpea pasta

1 660 ml jar of  low sodium marinara sauce
In a large mixing bowl, add ground beef, almond flour, fresh herbs, onion, garlic, spices, and egg. Using clean hands, combine ingredients together.

Form meat mixture into little balls. If serving to little ones under 1 year old, make the balls bigger so that they can be picked up and bitten into baby led weaning style or keep ground and cook into marinara sauce. 

Bring a large pot of water to a boil and cook chickpea pasta according to the directions on the package. Chickpea pasta is a fantastic alternative to regular pasta as it is more nutrient dense. 

Heat oil over medium- high heat in a large non-stick skillet. Depending on the size of your pan you can cook all of the meatballs at once or in 2 batches. Pan fry meatballs on all sides until fully browned and cooked through, about 8-10 minutes. 

Add marinara sauce to the meatballs during the last 2 minutes and toss to evenly coat. Allow to cool and store in an airtight container in the fridge for 3-5 days or in the freezer for up to 3 months.
Soft Baked Peanut Butter and Coconut Cookies
Pillowy soft clouds of peanut butter and coconut goodness is how I describe these absolutely delectable cookies in The Baby HealthNut Cookbook. Their soft and delectable texture makes them a perfect intro cookie for little ones under the age of 1 but also perfect for hungry toddlers. They are sweetened using banana (can substitute with applesauce). These can be double batched and eaten as an afternoon snack (while watching Shrek is a preference of Sage's) or on the go! Once baked, store in an airtight container in the fridge for up to 3-5 days or freezer for up to 3 months as they are preservative-free so you want to keep them fresh.
Ingredients 
1 egg

1 medium ripe banana

1/2 cup natural unsalted, peanut butter (preferably chilled)

½ cup unsweetened, desiccated coconut 

3 tablespoons coconut flour 

½ teaspoon pure vanilla extract
Preheat the oven to 350 F and line a cookie sheet with parchment paper. 

In a medium bowl, mash banana and whisk egg, peanut butter and vanilla until smooth.

Add in coconut flour and coconut and stir to combine.

Cover and chill cookie dough for 10 minutes if not using refrigerated peanut butter. 

Roll or use a small cookie scoop to measure out the dough into 2 tablespoon balls and place on a baking sheet and with your hand press each cookie down lightly to flatten.

Bake for 10-11 minutes or until set and slightly golden on the bottom. 

Remove from the oven and let cool on a cooling rack before serving.

Cookies can be stored in an airtight container on the counter for 2 days, in the fridge for 3-5 days and frozen for up to 3 months.
Garlic Steamed Carrot Sticks
These are a delicious snack your little ones will love! To be honest, I love them too. They go so quickly in our house because Sage can't get enough. Prepping them in large batches is something I do often. To make them, all you have to do is peel and slice your carrots into sticks or cubes, whatever you prefer. Boil them for roughly 10 minutes until they are fork tender or you can squish them between your fingers. Then, season with olive oil (can sub with unsalted butter), black pepper,  garlic powder, a tiny bit of sea salt, and toss together! A delicious sweet root veggie perfect as a side to any meal.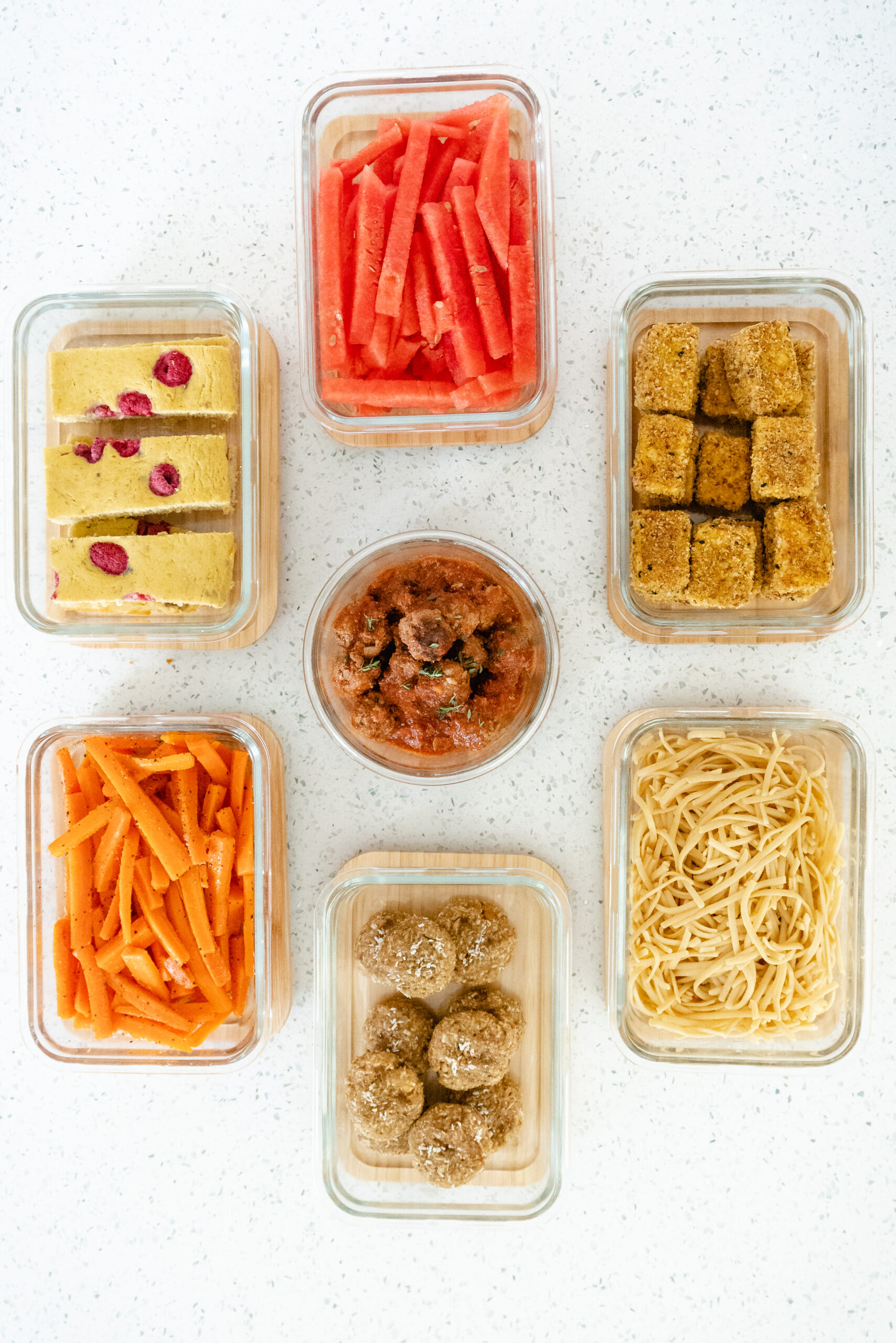 Watermelon Spears
A fun and refreshing fruit option, especially during the summer, is watermelon. Hydrating and delicious, watermelon is a great go-to. All you have to do to prep this fruit is slice off the ends, slice off the skin and then cut it into cubes or strips. 
Pro Tip: Put a damp rag under your cutting board to make it non-slip.
Happy Meal Prepping!
There you have it, a delicious and nutritious menu of meal prepped family friendly recipes. Don't forget to download my meal prep for 1-2 year old guide here. 
Are there any foods your toddlers are currently loving? Tell me below!