A 9–12 month old meal plan that you can prepare ahead of time for nourishing homemade meals that will save you both time and money!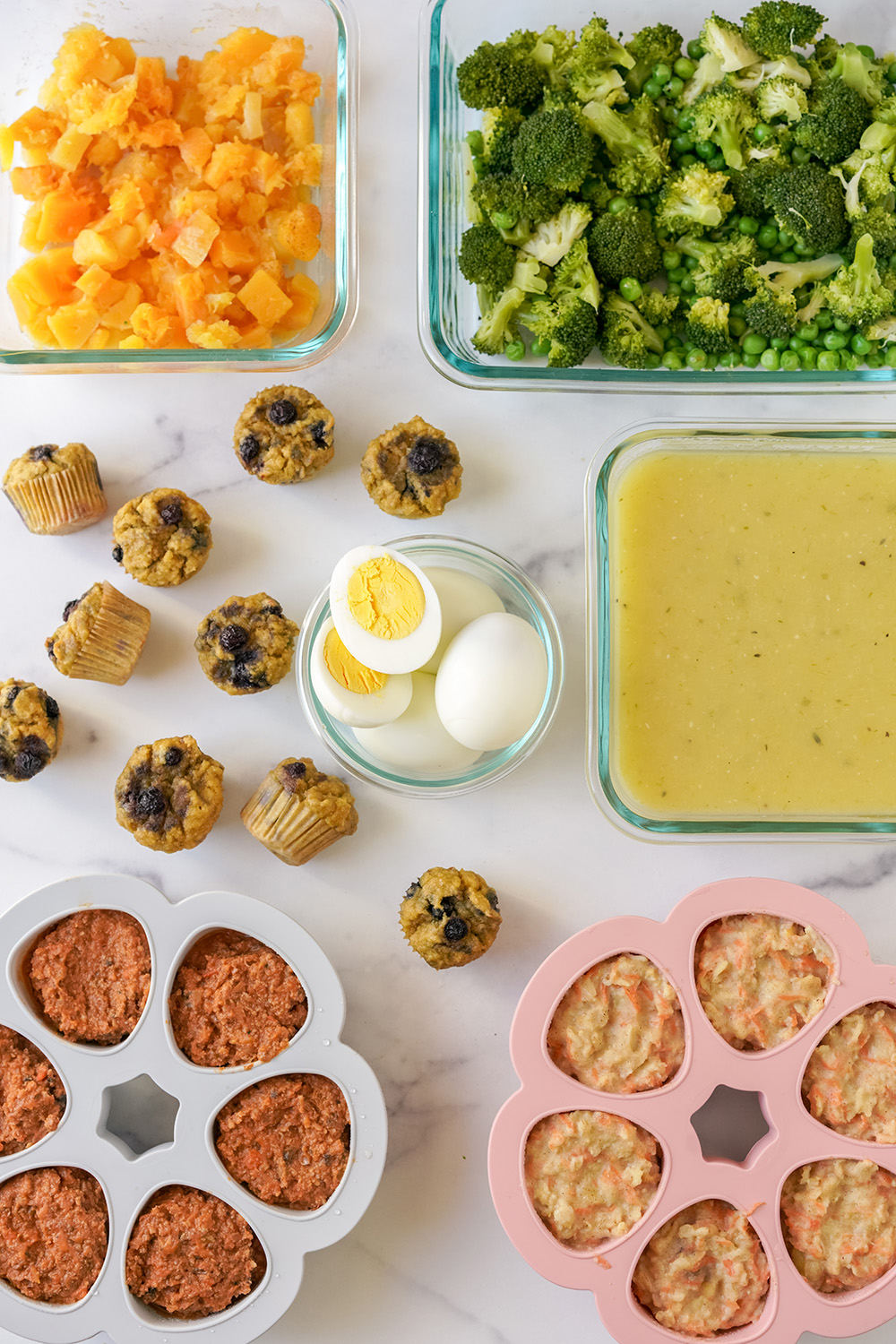 After the popularity of my 6-8 month old meal plan, here is the second edition! This is when your babies might be focusing on developing the pincer grasp, more handheld foods and possibly, depending on your chosen method of feeding your little one, exploring the world outside of purees. One of my secret weapons for feeding my daughter Sage has definitely been meal prep. I love meal prepping because it makes everything so much more convenient (and affordable!), and baby food is no different. Not to mention it sets you up for eating healthier options from home than ordering in. For a full list of the equipment I use when preparing baby food, check out this blog post. 
Here, I'm sharing how you can prepare baby food so that once you're done you'll have food ready to go whenever you need it! And, if you're getting ready to put together your 8-12 month old meal plan, be sure to grab my free download right here.
Want even more guidance for what to feed your baby? Introducing the Baby HealthNut Cookbook, which is jam packed with recipes for your little one, from their very first bites to a healthy smash cake to enjoy on their birthday!
Filled with 30+ nutrient-rich yet delicious recipes, all made with real ingredients, I wrote this ebook to be a resource for parents looking for support on how to feed their little ones. This ebook includes everything from breakfast, sips & licks, snacks, mains, sweets, go to pantry staples, baby step basics to baby friendly finger foods and tips on helping to create an adventurous eater.
A note on allergens
Some of the foods I'll be talking about today, such as eggs, are allergens. You definitely want to be careful when introducing these foods to your little one. Talk to a professional to make sure they're not allergic and to figure out the best way of introducing them such as eggs. I took an amazing online course (use discount code SAGEEATS for 15% off) which really helped me to feel confident on our baby food journey and know where to start. As well as navigating everything from the difference of gagging and choking and introducing common allergens.
Breakfast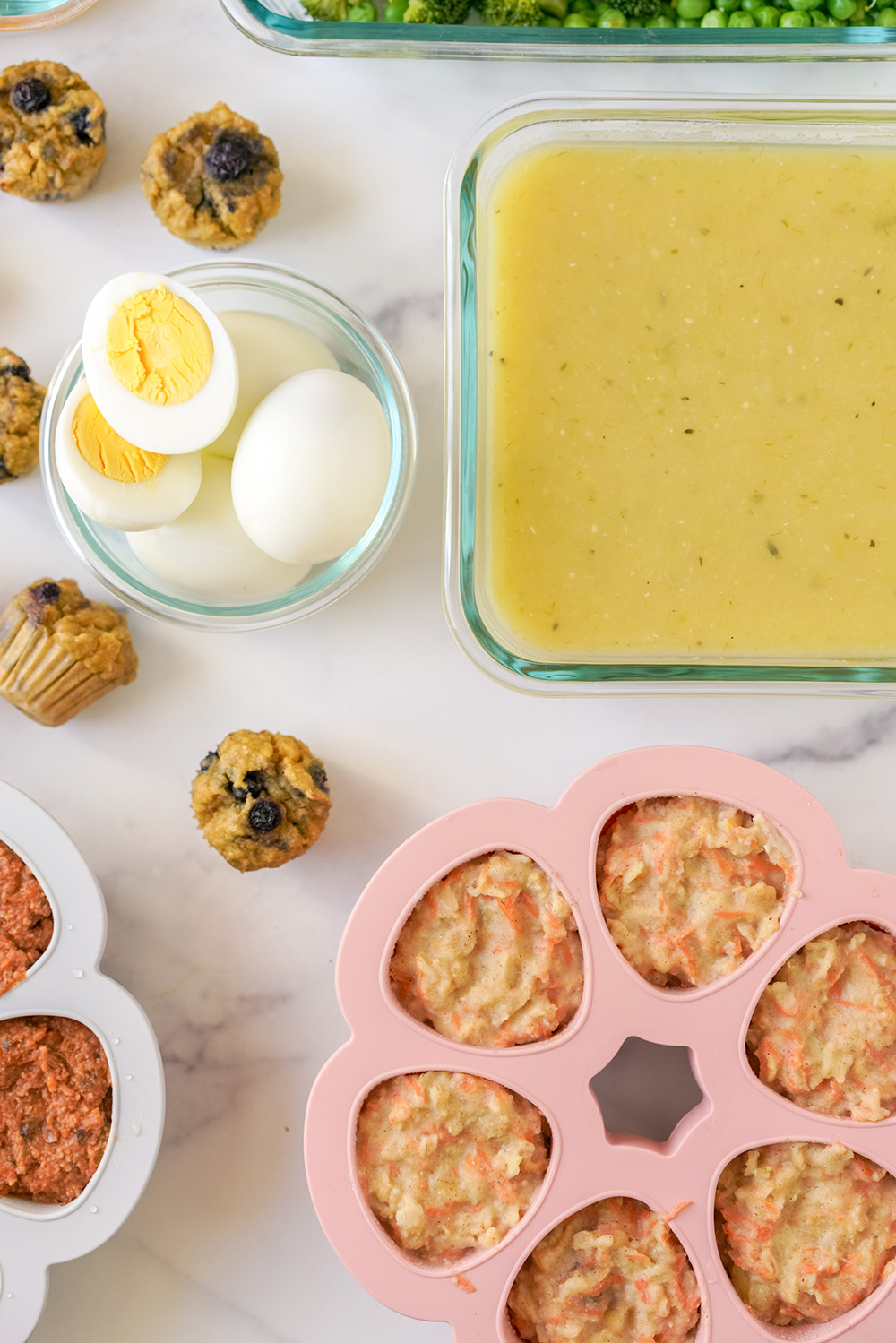 Hard Boiled Eggs
With the water already boiling, gently lower your eggs in with a spoon. I boil eggs for about 10-15 minutes, depending on how hard boiled you want them. Once they're done, take them out and pop them in a bowl with cold ice water to cool. I find if you peel them right away it tends to be easier. Once they're peeled, store them in a container and have them ready on hand. You can grate them, crush them, mash them up with some avocado and make an egg salad – there's just so much you can do with them. Scrambled eggs are also a great option for your 9-12 month old, they're just harder to meal prep so I make them fresh.
Pro tip: The allergen part of eggs is usually the egg whites. Hard boiling allows you to easily separate the whites from the yolk so you can still try introducing your little one to the yolk!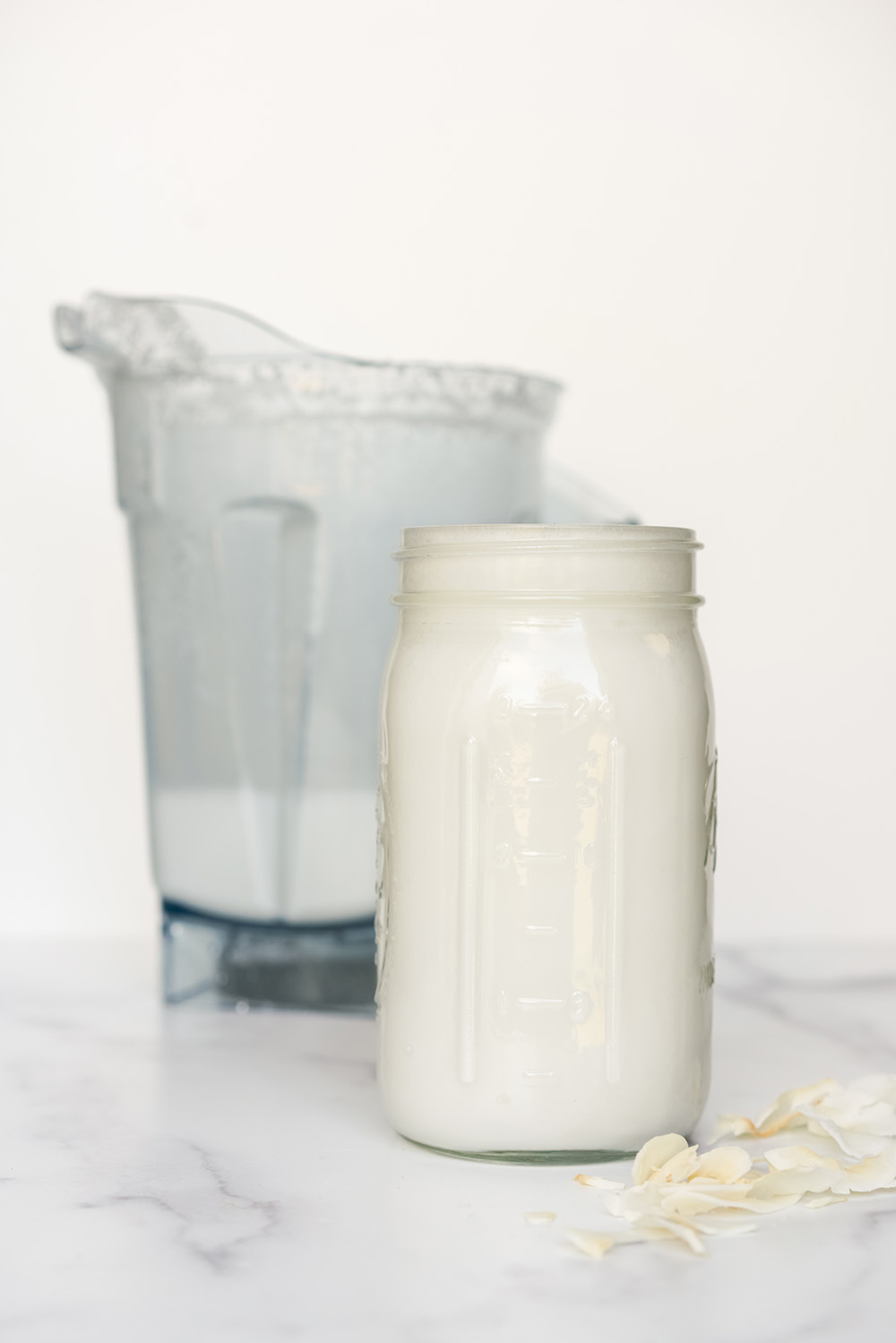 DIY Coconut Milk
One of my favourite things to give Sage for breakfast is oatmeal made with coconut milk, since it's naturally sweet and adds a delicious creamy texture. But it can sometimes be tricky finding coconut milk that doesn't have added sugar, gums and additives that's not crazy expensive, so sometimes I like to just make my own! It's actually much easier than you may think. All you have to do is add 4 cups of filtered water to a high speed blender, along with 1 cup unsweetened shredded coconut. I usually blend it for 1-2 minutes to get a nice creamy texture. You can use a nut milk bag or strainer afterwards if you want, but honestly I tend to just use as is. As I said you can use this milk in oatmeal, but it can also be used in things like curries, soups and stews.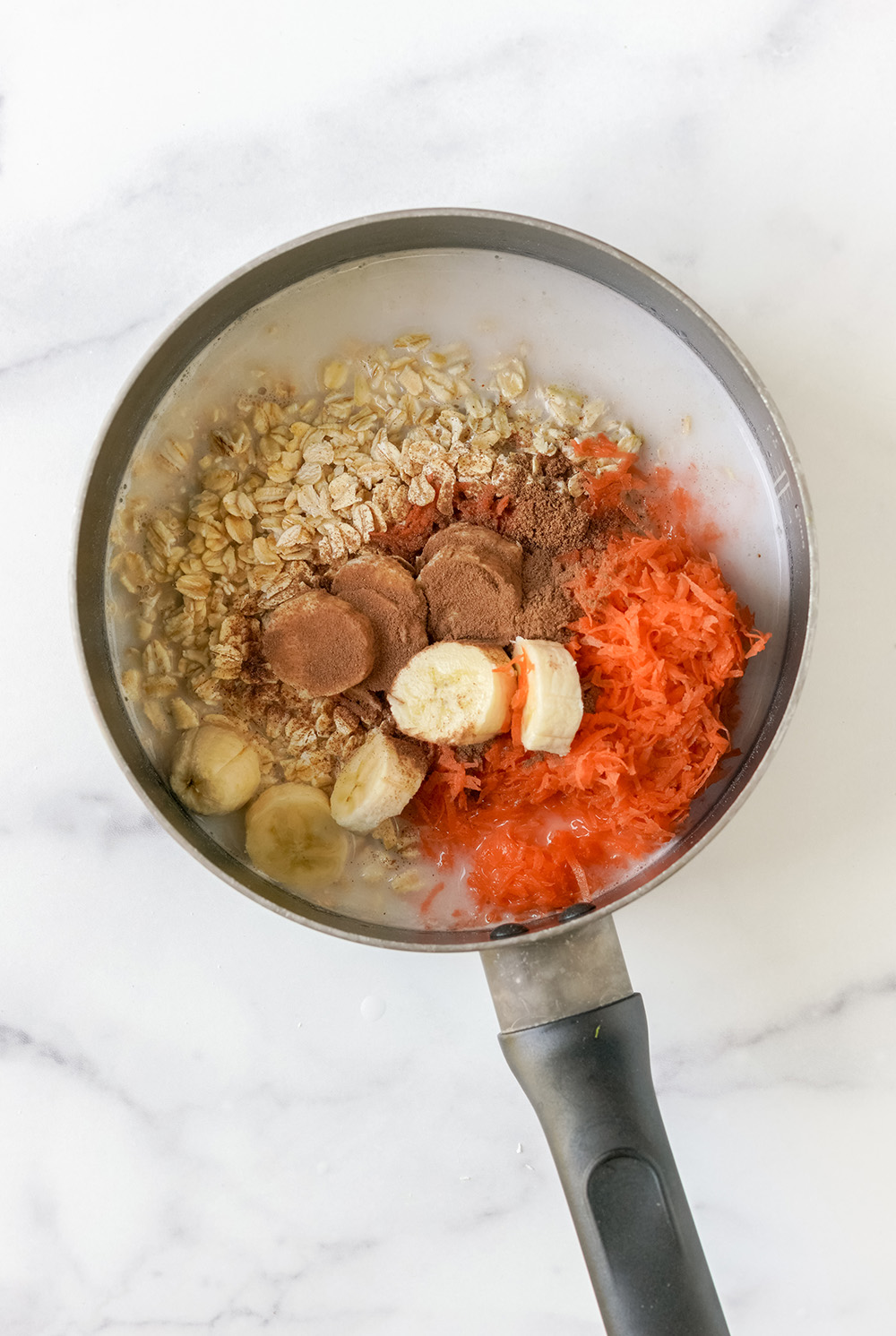 Carrot Cake Oatmeal
Oatmeal is a firm breakfast favourite in this house, and one of my favourite things to do is add in all sorts of veggies. This carrot cake oatmeal is delicious and nutritious, tastes just like carrot cake in a bowl and can be prepped in a big batch and frozen. All you have to do is add water, coconut milk, rolled oats, shredded carrot, sliced banana, nutmeg and cinnamon to a pan. You can grab the full recipe in the free download! 
I add the banana for a natural sweetness, but you don't even need to add that to begin with. Just because we adults like our oatmeal sweet, doesn't mean your little one needs the extra sweetness. The coconut milk, carrot and warm spices add plenty of sweetness, and getting your little one used to enjoying foods without added salt and sugar goes a long way in my opinion. 
Main Dishes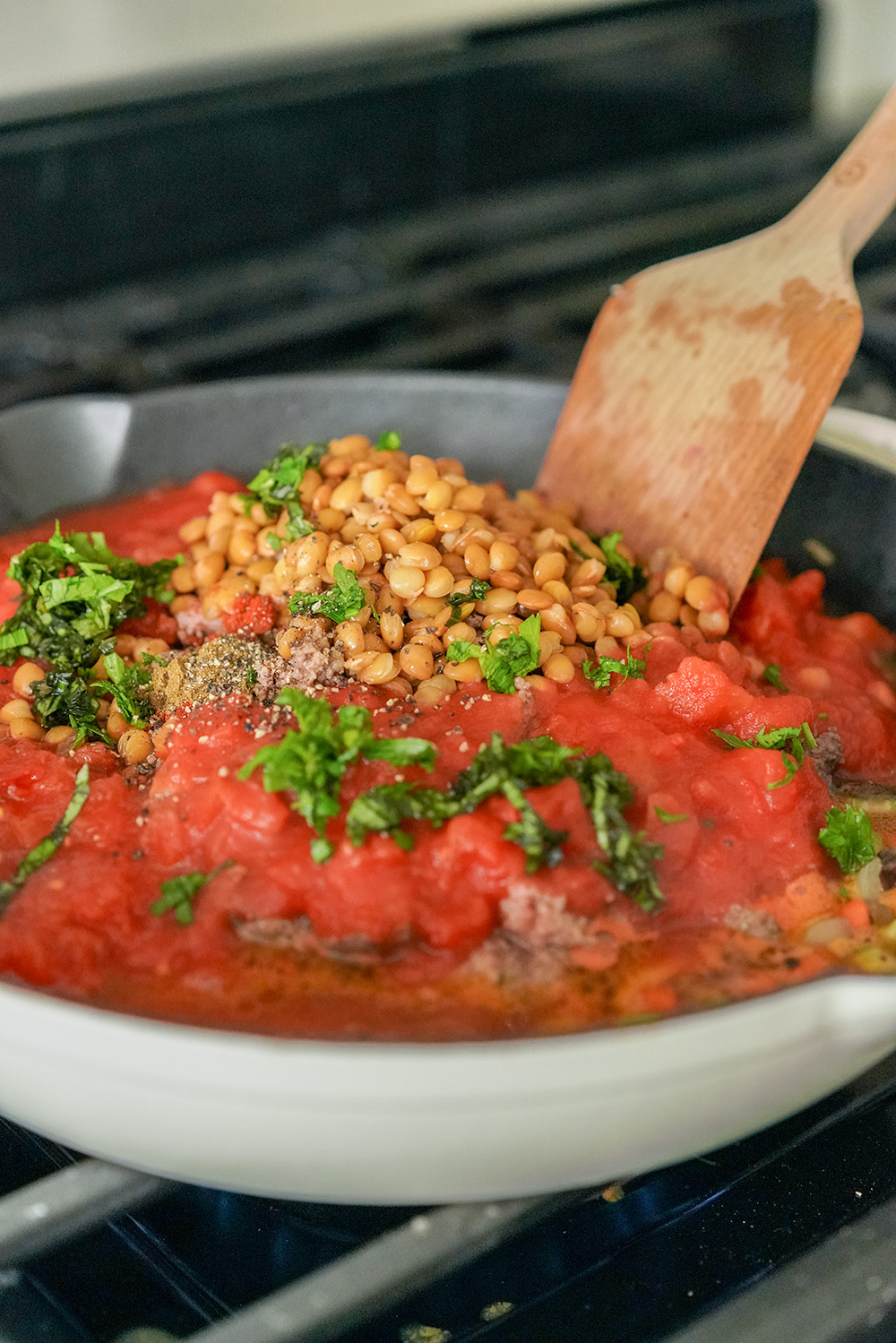 Beef & Lentil Bolognese
This beef and lentil bolognese is actually a recipe from the Baby HealthNut Cookbook. It's a really great way of adding extra veggies and nutrients into your little one's meals. I love this recipe because it packs so much flavour and it's super customizable. You can have it with pasta, as is like a chili with some chopped up avocado. You could make a shepherd's pie with it with some mashed potato on top. The options are endless but delicious! This bolognese recipe also happens to be one of Sage's favourite recipes still to this date and she's 15 months old.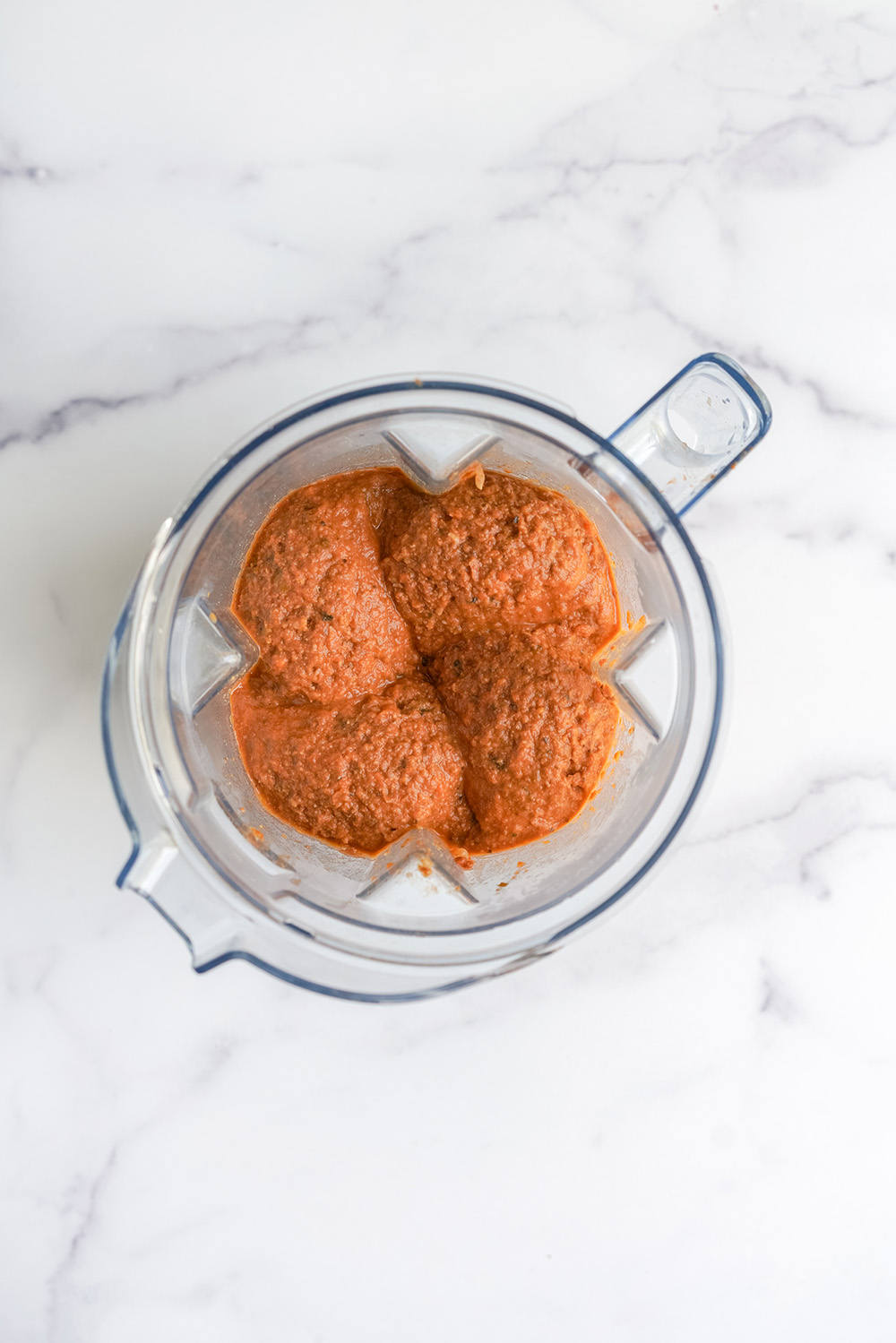 I really do believe that if you want to raise an adventurous eater they need to get used to lots of different flavours. Baby food can often be really bland, but this bolognese is super flavourful. We often have it as a whole family! You can just add salt to your portions and leave it out of baby's. Depending on your little one's chewing ability you could serve it to them as is, or you could blend their portion up so that it's all one consistency. Funny enough I actually prefer it blended myself as it creates this gourmet fancy restaurant texture that I love. Then, just like the oatmeal, I use these silicone freezer moulds to batch cook and store in the freezer for a couple of months. 
Leek & Potato Soup
This soup recipe is actually from my other cookbook, The HealthNut Cookbook which is mainly aimed at adults and families, but this recipe works great for little ones too! It's full of flavour with onions, leek, garlic and potato, and it's already a baby-friendly creamy consistency. I just make a couple of small tweaks to make it even more baby friendly and more nutrient dense.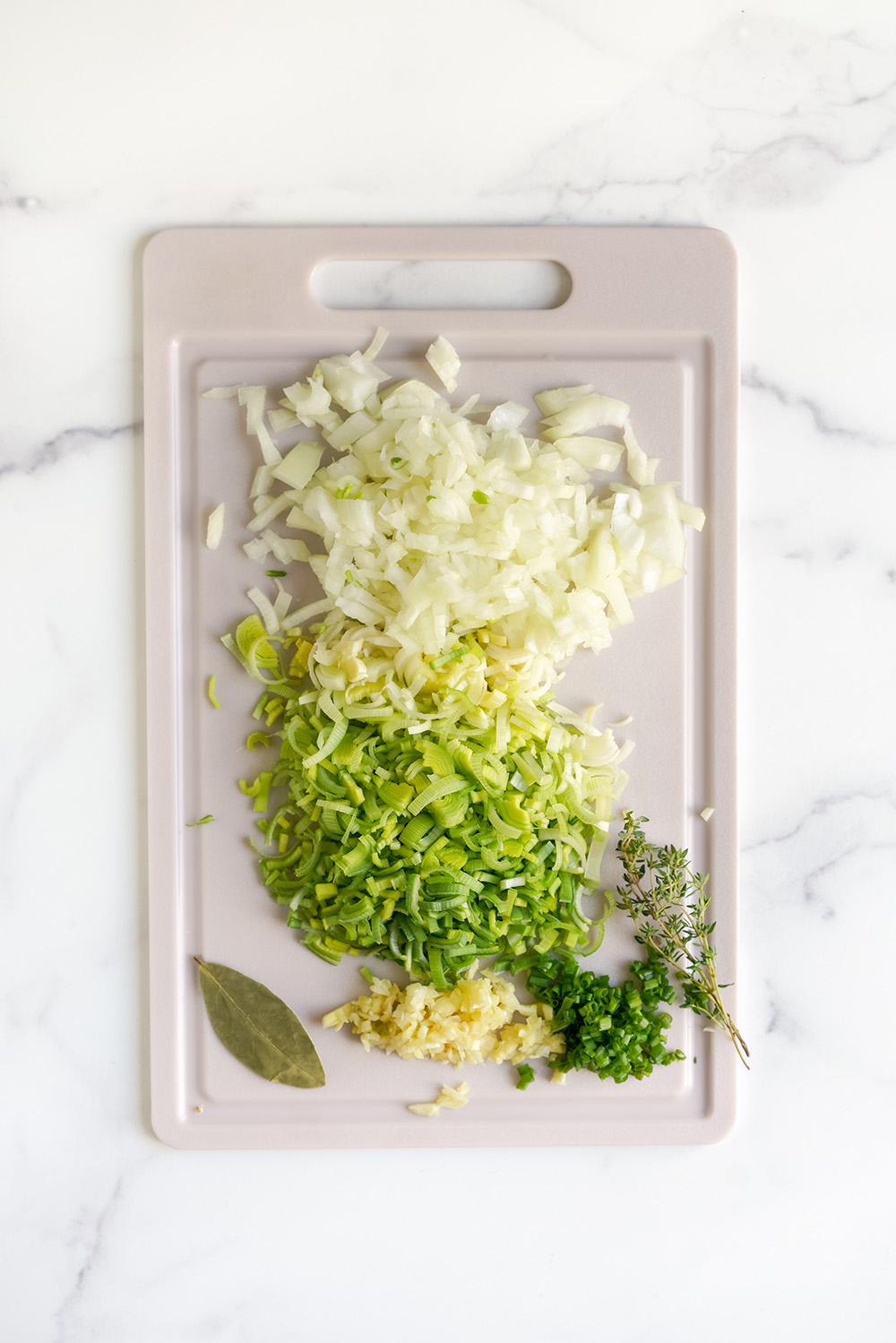 To make this recipe, warm up olive oil in a large pot. Then add sauteed onions, leeks and garlic. Add in some fresh herbs like chives and thyme (don't be afraid of adding herbs to your little one's food!) and saute everything until lightly softened and fragrant. Finally add in some peeled and chopped potatoes and  your liquid. For liquid there's a few options. You could add in just water, or a mixture of water and stock (opt for one with no added salt), but personally I love to use a bone broth. Bone broth adds in healthy fats and collagen. I finish the soup off by adding a dried bay leaf and some ground pepper, bringing it to a boil, lowering it to a simmer and cooking until the potatoes are tender. Once they're cooked you can blend up your soup (make sure to take out the bay leaf first!) until it's the consistency you want. Make sure not to overblend because potatoes can get a little gummy if you blend them too much. You can serve this soup as is, or use it to hydrate something like rice and give it some extra flavour.
Broccoli and Peas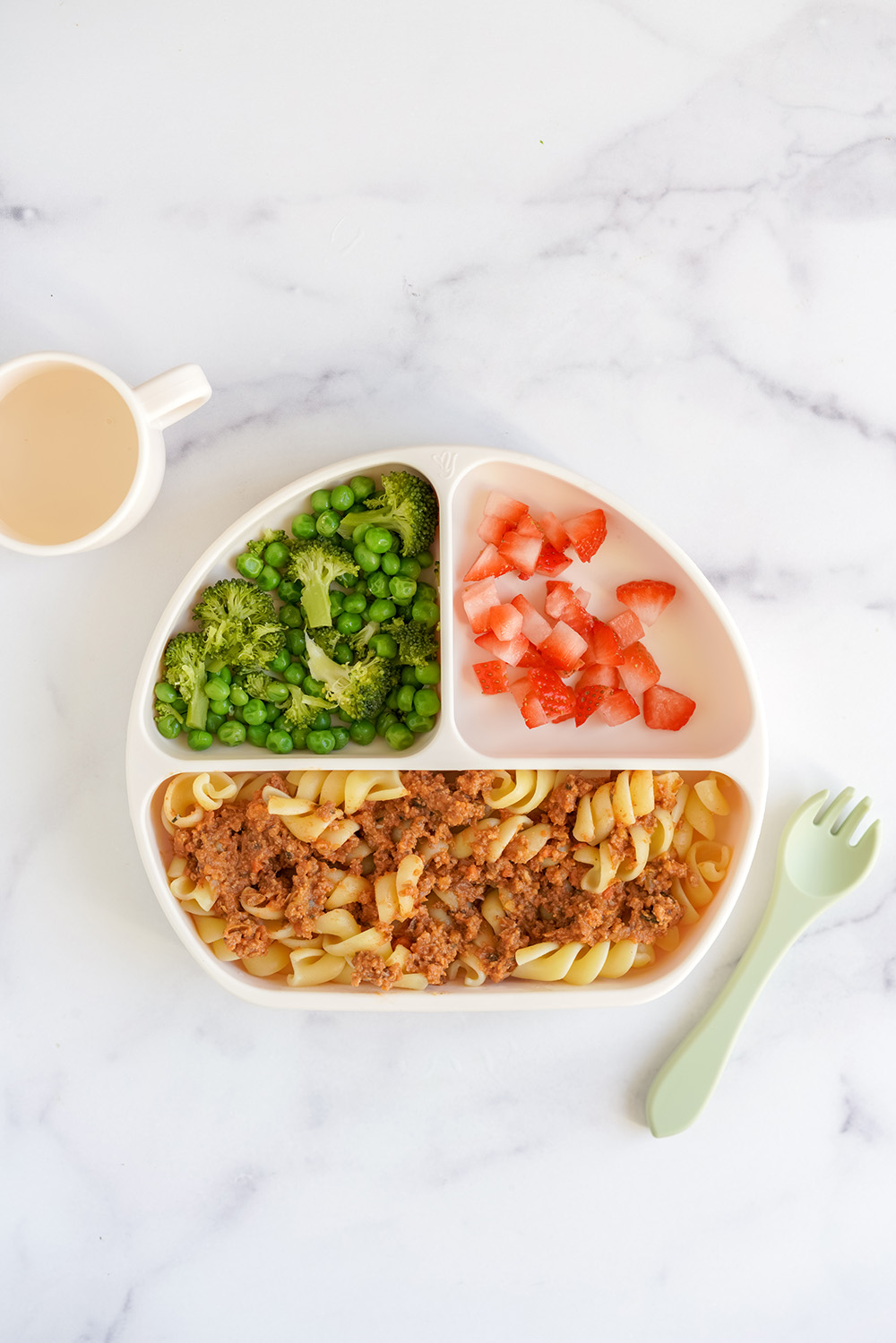 It's important to me that Sage enjoys her veggies. I like to prep broccoli by chopping it up into smaller bits (removing the woody stalk), adding it to a pot or pan with a little bit of water, and steaming it. You could also use a steaming basket. All you have to do is cover it with a lid and bring it to a simmer for 10-15 minutes until it's nice and tender. During the last 2-3 minutes of steaming I like to add in some frozen peas so that it's all in one dish. You can of course serve your veggies as is, but I also like to add in a little extra flavour by drizzling over some olive oil and sprinkling on some garlic powder and black pepper.
Top tip: When it comes to figuring out how soft you should make your baby food, it really depends on each individual baby as opposed to their age. Sage's teeth came in later than most babies, so for me I was always looking to make sure the food I was preparing could be easily squashed between my fingers, since that was what most closely resembled her gums. It's also worth smashing foods like peas to begin with anyway so that they're not a choking hazard.  
Butternut Squash
I mentioned in my baby food hacks video that when it comes to more labour intensive prepped foods like butternut squash, I like to buy them frozen and pre-peeled and chopped. It makes it super easy to just pour into a pan with some water, bring it to a simmer covered and cook until tender. You can then drain your squash and season with some unsalted grass-fed butter. I also love sprinkling on a little cinnamon, which may not be something you'd think to put on butternut squash, but it's also great on things like sweet potato to add a different combination of flavours for your little one. 
Snacks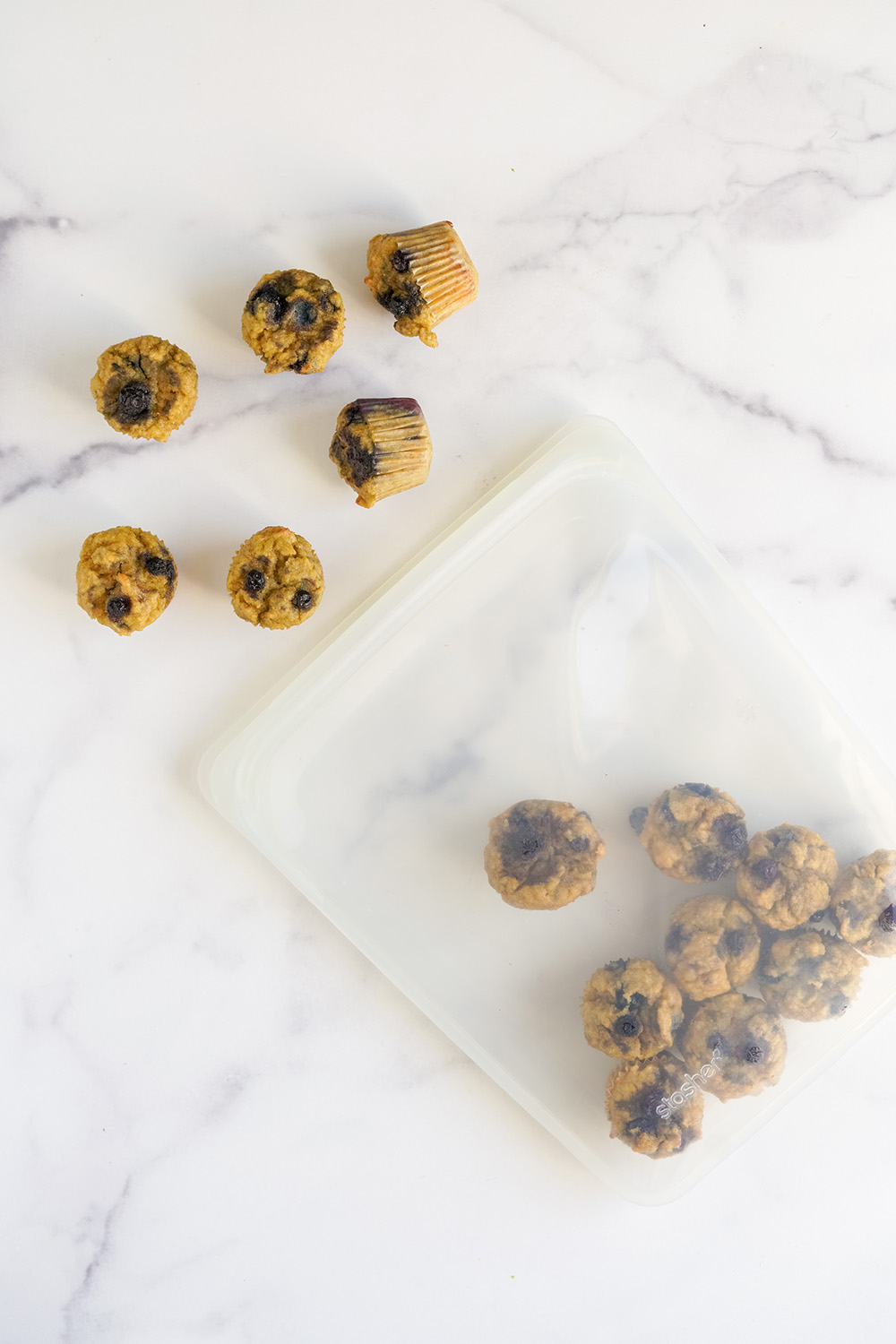 Blueberry Coconut Muffins
Snacks are life in this household, and one of Sage's favourites is these blueberry coconut muffins. They're so easy to make and are naturally sweetened. They use coconut flour. This is a great baby-friendly flour to use because it has an easy break away texture when baked. It's also naturally high in fiber, iron and healthy fats. You can get the recipe for these muffins in the Baby HealthNut Cookbook! I like to store these muffins in these large silicone storage bags and pop them in the freezer. To thaw, just leave them on the counter.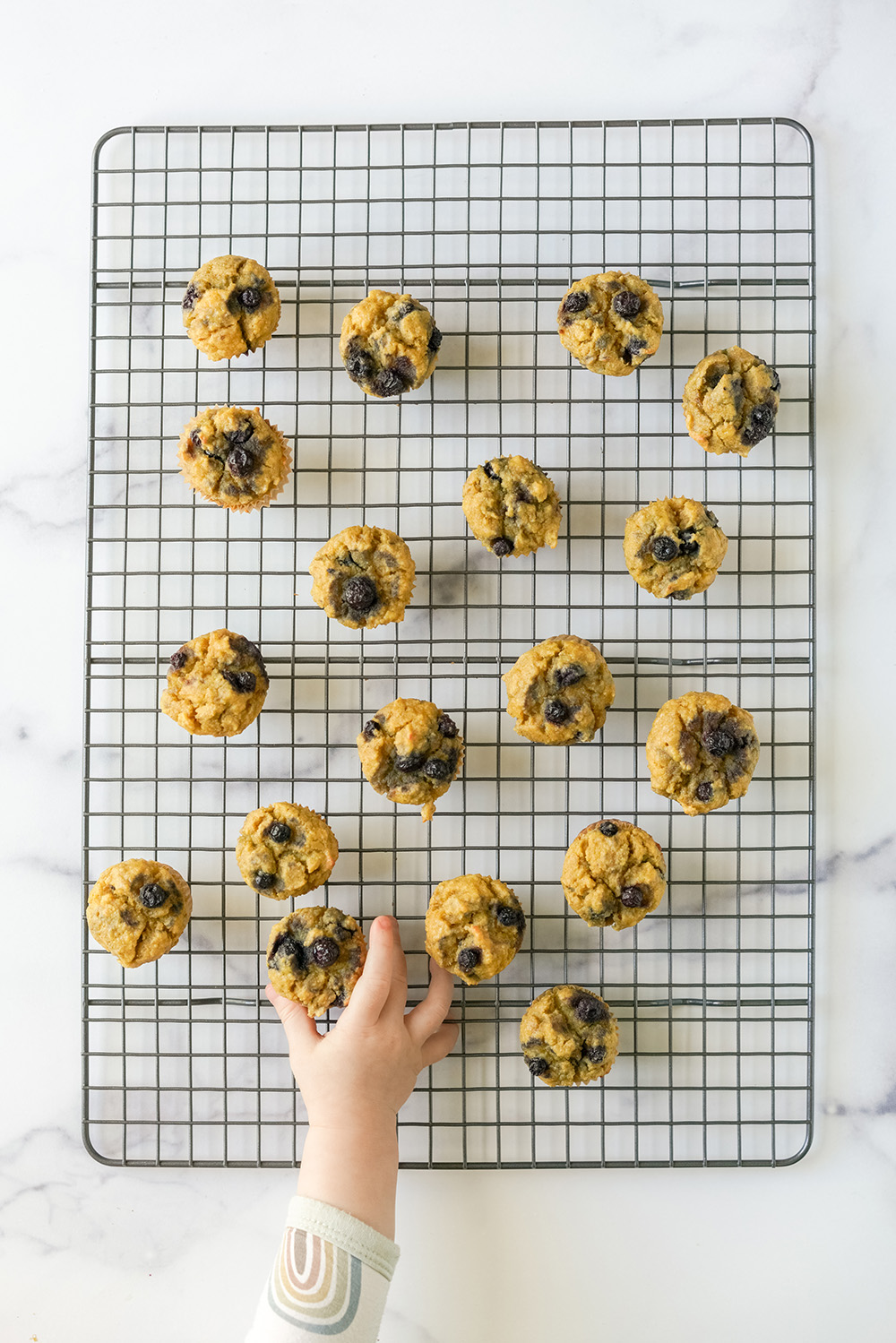 Add ons & sides
These are some great sides that I love to serve with Sage's meals…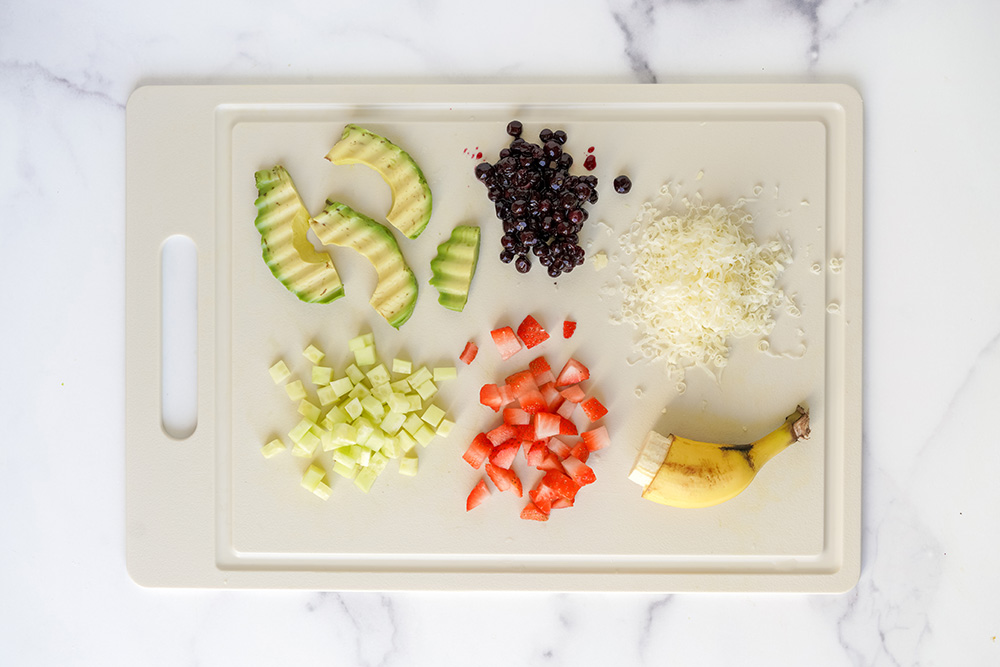 Bananas (I like to do it baby led weaning style, as you can see in the photo above. This is where you leave some of the skin on to make it easy for them to grasp. It stops it slipping around and controls how much banana is accessible for biting)

Chopped or mashed fresh strawberries

The middles of cucumbers. (I like to use English cucumbers because the seeds are small and the middles are really soft)

Grated low salt cheese

Avocado (I like to use this

crinkle cutter

to give it a bit of texture and make it easier to hold, and to sprinkle with hemp hearts)

Stewed blueberries (just warm them up on the stovetop)
Pro tip: Try teaching your little one baby sign language! It's been so helpful at meal times. Sage can communicate with us when she wants more food or if she's all done or if she wants water. 
So there you have it – homemade, nutritious baby food that you can feel good about giving to your little one. Don't forget, if you're creating your 9-12 month meal plan, to download my free printable guide right here.
Have you got any top tips for introducing solid foods? Be sure to leave them in the comments below!
If you're looking for more baby food content, be sure to check out my ultimate guide to introducing your baby to solids!