A huge roundup of everything we have learnt since introducing solid foods to our daughter. From getting started and what equipment to buy to our favourite baby led weaning recipes, here's everything you'll need to make your baby's first year of eats both easy and delicious!
As a food lover and recipe developer, I was super excited to start my daughter Sage on solids. But when I actually started doing my research, I found it all to be a little overwhelming. I wished there was a guide I could follow, but when it comes to introducing your baby to solids there are so many approaches and methods. No one way is right, and I am not a dietitian. This is simply what worked for me! 
Pro tip: If you're feeling unsure about where to start, like I was, I highly recommend taking a baby food course. I took the Healthy, Happy Eaters online course (use code SAGEEATS for 15% off!) and it was absolutely amazing! I recommend it to anyone who is getting ready to start their little one on solids!
I really wanted to ensure I was feeding Sage healthy and homemade food, where I knew exactly what was going into it. But I also wanted it to be quick, easy and most of all delicious! It was super important to me to develop good eating habits early on with Sage, and I'm pleased to say that today she is a superstar eater (fingers crossed it stays that way)! Interested to see what we did to get to this point? Just keep reading.
When to start solids
The American Academy of Pediatrics (AAP) says you should start your child on solids between 4 and 6 months. But, like everything in motherhood, it will totally depend on you and your baby. Don't rush to meet this milestone before your little one is ready. We started giving Sage solids at 6 months, once she started showing interest in food and was able to sit up in her high chair comfortably.
Getting ready to introduce your baby to solids
One of the best things you can do to get ready for introducing your baby to solids is to stock up on good quality equipment. There are thousands of options out there, so I compiled this list of all my favourites that have worked really well for us. You might need…
I've also included some amazing resources that have helped me. I would definitely recommend them to anyone who could use a little extra support when it comes to feeling your little.
The first few weeks
The first few weeks of feeding your little one solids can bring a whole array of emotions. Pride, excitement, maybe a little sadness that your baby is growing up, and possibly some nerves. Check out this blog post to see everything we fed Sage in those first weeks, and what we learned. We made sure to give her only one new food at a time for a few days so that we could check for any reactions, and that worked really well for us. Then we started slowly combining foods such as peas and banana and adding baby friendly spices like cinnamon in her morning oatmeal. This applesauce was also a hit! 
Meal prepping for your baby
Once you've got through those first few weeks, you might want to start thinking about meal prepping. One of my secret weapons for feeding Sage has definitely been meal prep. I love meal prepping because it makes everything so much more convenient (and affordable!), and baby food is no different. In this blog post, I'm sharing how you can prep a month's worth (at least) of baby food. It'll take about half an hour to prep everything and then an hour to cook, but once you're done you'll have baby food ready to go for whenever you need it! Be sure to also grab my free download!
Breastfeeding after introducing solids
If you're a breastfeeding mama, you might be wondering what effect introducing solids to your baby will have on your milk supply. I got asked a ton of questions about breastfeeding after six months, and I answered them all in this post. 
Using baby sign language to help with introducing solids
Baby sign language has been awesome for us. Having signals we can use to 'speak' to her without words has been super helpful because it saves having to guess what she wants, and it's been especially great for introducing solids. Even though she can't speak yet, she can let us know if she wants more or if she's all done. One of the top questions I get asked over on my Instagram is how I taught Sage sign language, so I go into detail in this blog post.
What we feed our baby
Baby food obviously changes as your little one gets older and starts getting exposed to more flavours and textures. To help give you all some fun and healthy recipe ideas, I've been documenting what Sage eats at various ages. Have a look through and let me know which meal your baby enjoys the most. I'm always posting updated versions of these videos, so check back for more of what my baby eats in a day!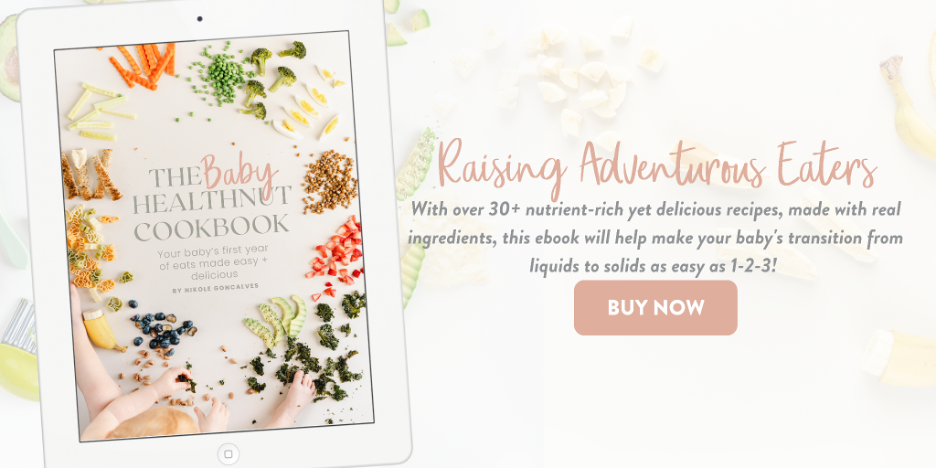 How to make a smash cake!
After months of baby food prepping, it's time to make the most exciting baby recipe yet! For Sage's first birthday, I couldn't wait to create the perfect and also super healthy baby smash cake. By making your own smash cake, you know exactly what goes into it! Smash cakes that you can buy in the store tend to be loaded with excess salt, added sugars and artificial food dyes or colouring. All stuff you don't particularly want to be feeding your little one year old! Making your own DIY version means you can avoid all the nasties and fill your cake with nutritious (yet delicious) good-for-you whole foods that you can feel good about serving your little ones on their special big day!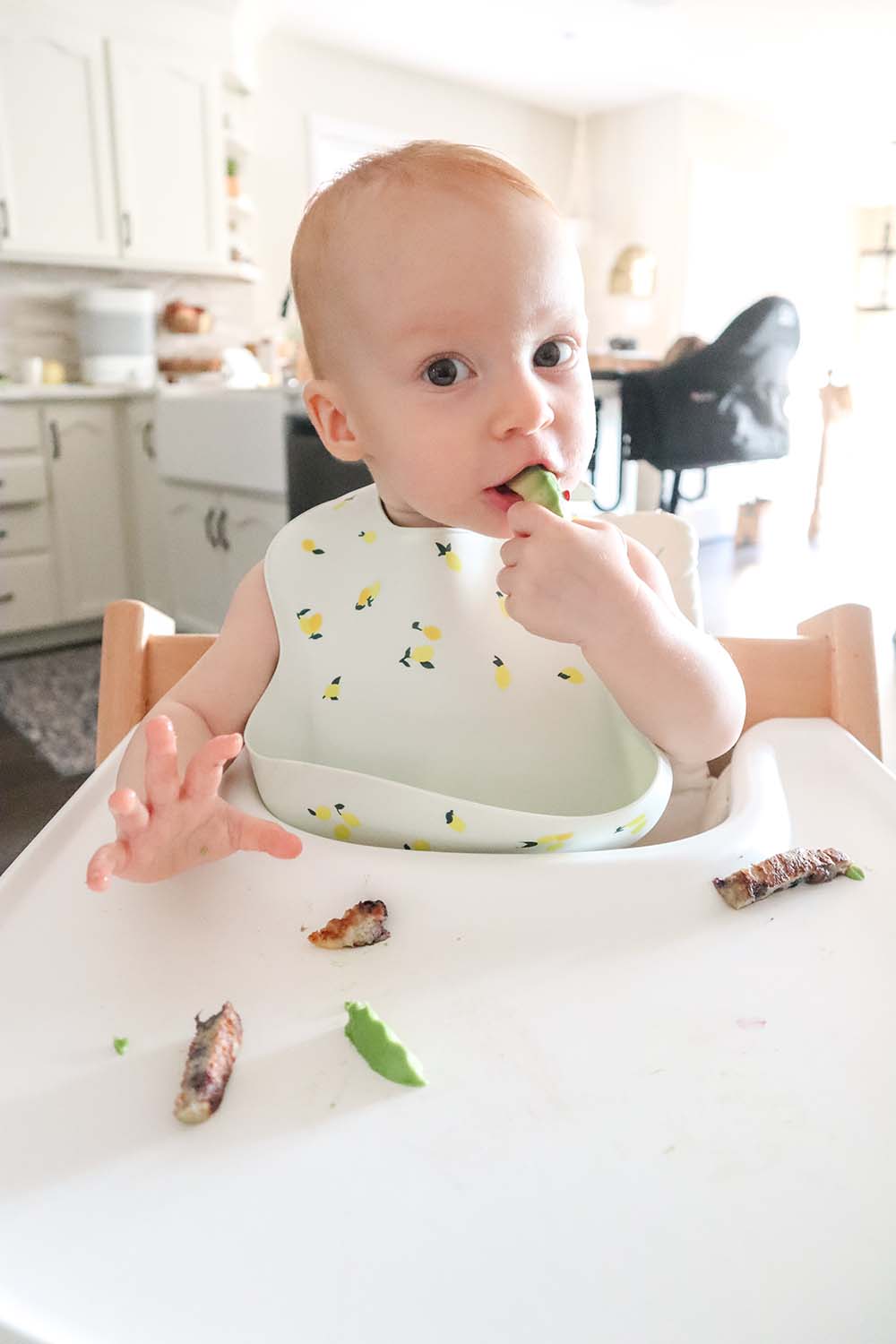 So that's everything we've learned so far! I'm constantly updating this page, so be sure to check back regularly.
Have you got any top tips for introducing your baby to solid foods? I'm always on the lookout for suggestions so let me know in the comments below!