11 baby food resources to help make those first few weeks of feeding your baby solids as smooth and stress-free as possible – for both you and your baby!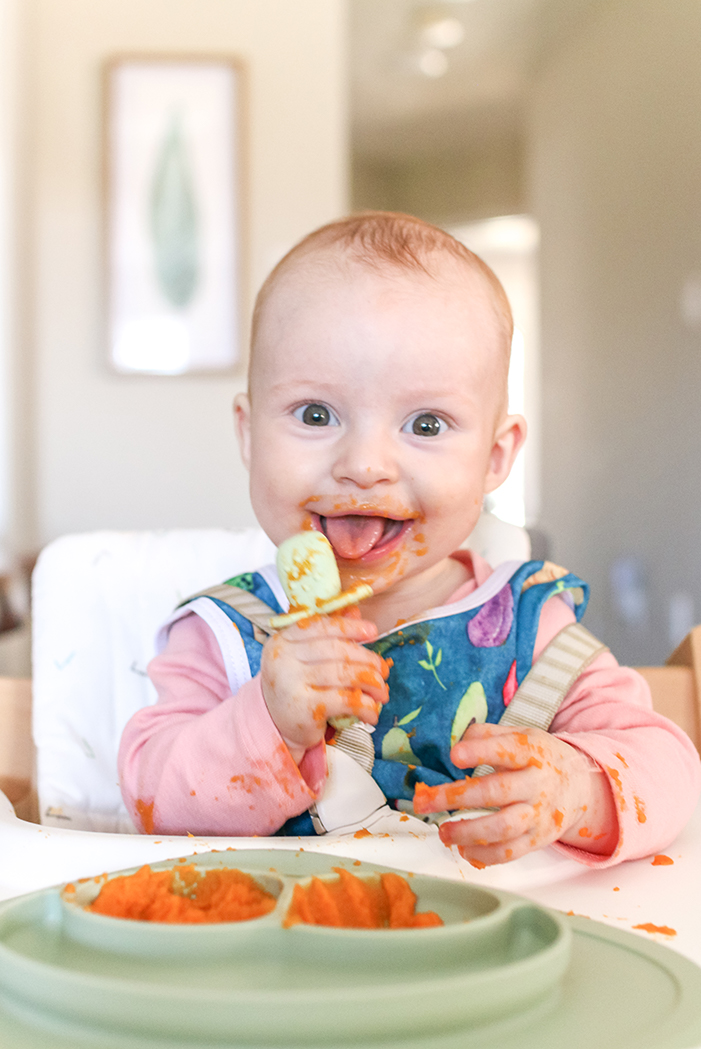 Let me tell you something… I had NO idea how confusing starting to feed your baby solid food is until I got into it myself. There are so many 'perfect ways' out there, and it can be really overwhelming to decide what's right for you and your baby – especially as a first time mom! Luckily I have found some amazing resources that have helped me, and I would definitely recommend them to anyone who could use a little extra support when it comes to feeling your little. 
If you're interested in seeing how my first week feeding Sage went, you can watch that video right here:
Baby Utensils, Plates and Feeders
Baby Fork & Spoon Set
These small green baby utensils that you'll often see Sage using are THE BEST. They're the reason I think she has been finding it really easy to feed herself with a pre loaded spoon. They are easy for her to grip and guide to her mouth without any issues – we love them!
Baby Cup
This tiny cup is slightly weighted and the perfect size for Sage's little mouth and hands. She fights taking bottles… but drinks out of this cup? No problem! I feel like she's going to go straight from breastfeeding to cups and it's the cutest thing I've ever seen!
NumNum Baby Pre-Spoon
These 'pre-spoons' are great because there's no right or wrong way to hold them, which makes it way easier for your little one to use than a regular spoon. It's a great way to encourage self-feeding, and as an added bonus the texture is soothing for teething gums!
Fresh Food Feeder
These fresh food feeders have a mesh bag that you fill with food for your little one to chew on. The great thing about these is they only allow small digestible bits of food through the mesh, so it lowers the risk of choking! I love using these with frozen fruit like banana or mango, which can be super soothing when your baby's teething, or for introducing new foods. Fresh strawberries were a winner in these!
Boon Pulp Feeder
A similar concept to the mesh feeders, these boon pulp feeders have a soft silicone top with holes that your baby can squeeze the food through. Again, frozen fruits are amazing in these for teething, and they're also great when you're introducing new foods for the first time.
Baby Feeding Spoons
These are your more classic baby spoons, but we love them because they're soft and gentle on Sage's gums, and have thick handles that are easy to grip.
Silicone Bib
A bib is a must-have when giving your baby solids, especially in those early days and ESPECIALLY if you're using purees! This bib is great because it's silicone, so it's easy to clean, and it really does catch a lot of the food that gets dropped.
Highchair
I get SO many questions about the highchair we use with Sage! It's quite pricey, but well worth it in our opinion. It's ergonomic and allows baby to sit up at the correct angle, it has support for their little feet, and it folds up neatly so that you can hide it out of sight when you need to.
No-spill Sippy Cup
This cup is great because it doesn't matter if Sage decides to throw it across the room – it still won't spill! We've found this sippy cup especially useful when travelling.
Silicone Placemat
This placemat doubles as a plate! It has different sections for the different parts of baby's meal, and suctions onto the highchair tray so that there's no chance of it getting knocked (or thrown!) off. It's also super easy to clean, which is always a plus!
Braided Handle Fork & Spoon Set
This fork and spoon set features a looped handle that is non-slip and easy for baby to grasp and pick up. They help develop fine motor skills and teach proper feeding techniques. Plus, they're super adorable!
Baby Food Prep & Storage
Silicone Storage Bags
A fab alternative to plastic bags and containers, these silicone storage bags are airtight and leakproof – perfect for storing runny foods like purees. They're easy to clean and they're freezer, microwave and dishwasher safe.
Crinkle Cutter
If you're thinking of trying baby-led weaning (we're doing a bit of a combo ourselves), this crinkle cutter is such a great little tool to have! It gives foods that are usually slippery like avocado a little bit of texture and grip, which makes it easier for your baby to hold.
Reusable Squeeze Packs
These reusable squeeze packs are awesome for storing food for later – aka a baby's version of meal prep! The best part is that you can also add one of the spouts so that your little one can learn to feed themselves. Who doesn't love a product that's multi-use?!
Immersion Blender
If you're going down the puree route (or are planning to do a combo like us) a hand blender like this is so useful for getting the consistency just right.
Silicone Freezer Moulds
These silicone freezer moulds are great for storing your baby food (there's that baby meal prep again!). They can go in the freezer and you can pop one out to thaw when you're ready to use it. On top of that they can also be used with an instant cooker to make egg bites!
Baby Feeding Books & Courses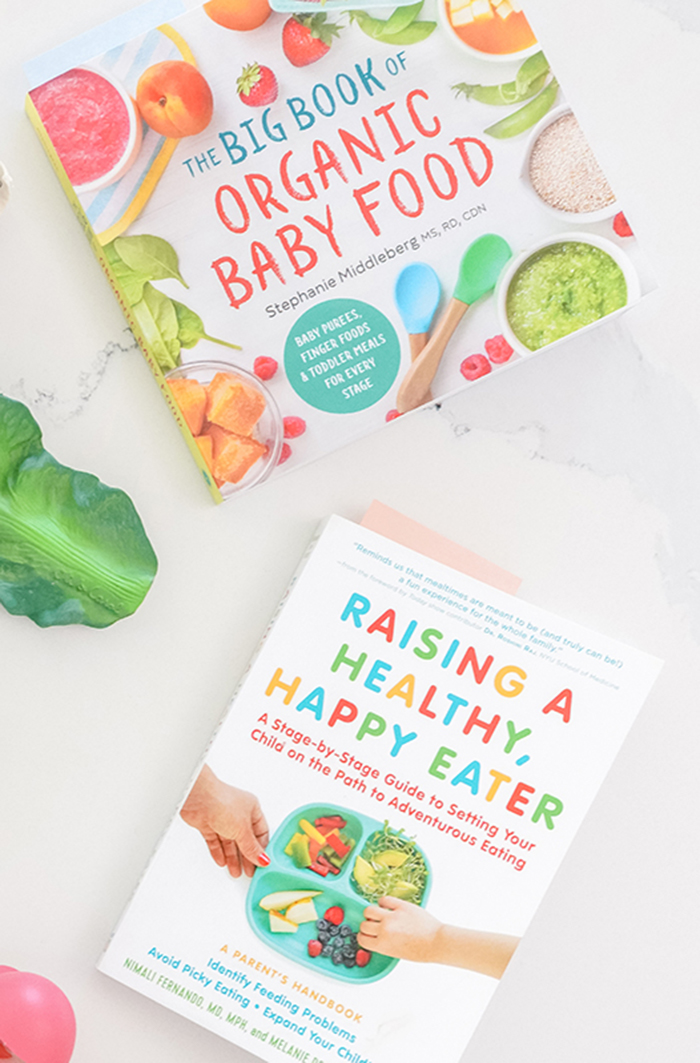 The Big Book of Organic Baby Food
This book has 230 recipes, ranging from purees to finger food and toddler meals. I love this book because there's something for you no matter what approach you choose to take or what stage your baby is at. Each chapter also covers developmental changes and FAQs, which were super helpful when I was first trying to get my head around the whole baby food thing!
Raising a Healthy, Happy Eater
This book goes beyond the normal 'what to feed your baby' and really dives into things like avoiding the picky eater trap, identifying special feeding needs and putting the joy back into mealtimes. It's more the behavioural and psychological side to eating, and honestly covers things I had never even thought about!
The Healthy, Happy Eaters Online Course (Use Code SAGEEATS for 15% off!)
If you're just starting out with feeding your baby, I highly recommend taking an online baby feeding course (Use code SAGEEATS for 15% off!) It really helped me to feel less overwhelmed and understand what I needed to know to make the right choices for Sage and our family. They focus on baby led weaning but also talk about purees if that's the route you want to go with. It's been so highly recommended by so many people, and I can definitely see why. Their Instagram account is also super informative – I follow them every single day to learn new things. 
What baby food resources do you love using? I'm always on the lookout for suggestions so let me know in the comments below! 
If you're preparing to start your baby on solid foods, you may also want to check out my 3-6 Month Baby Must Haves & Essentials.