This super simple 2 ingredient homemade applesauce is ready in just 30 minutes and uses just 1 pot to prepare. It's also made without any added sugar – just apples and cinnamon!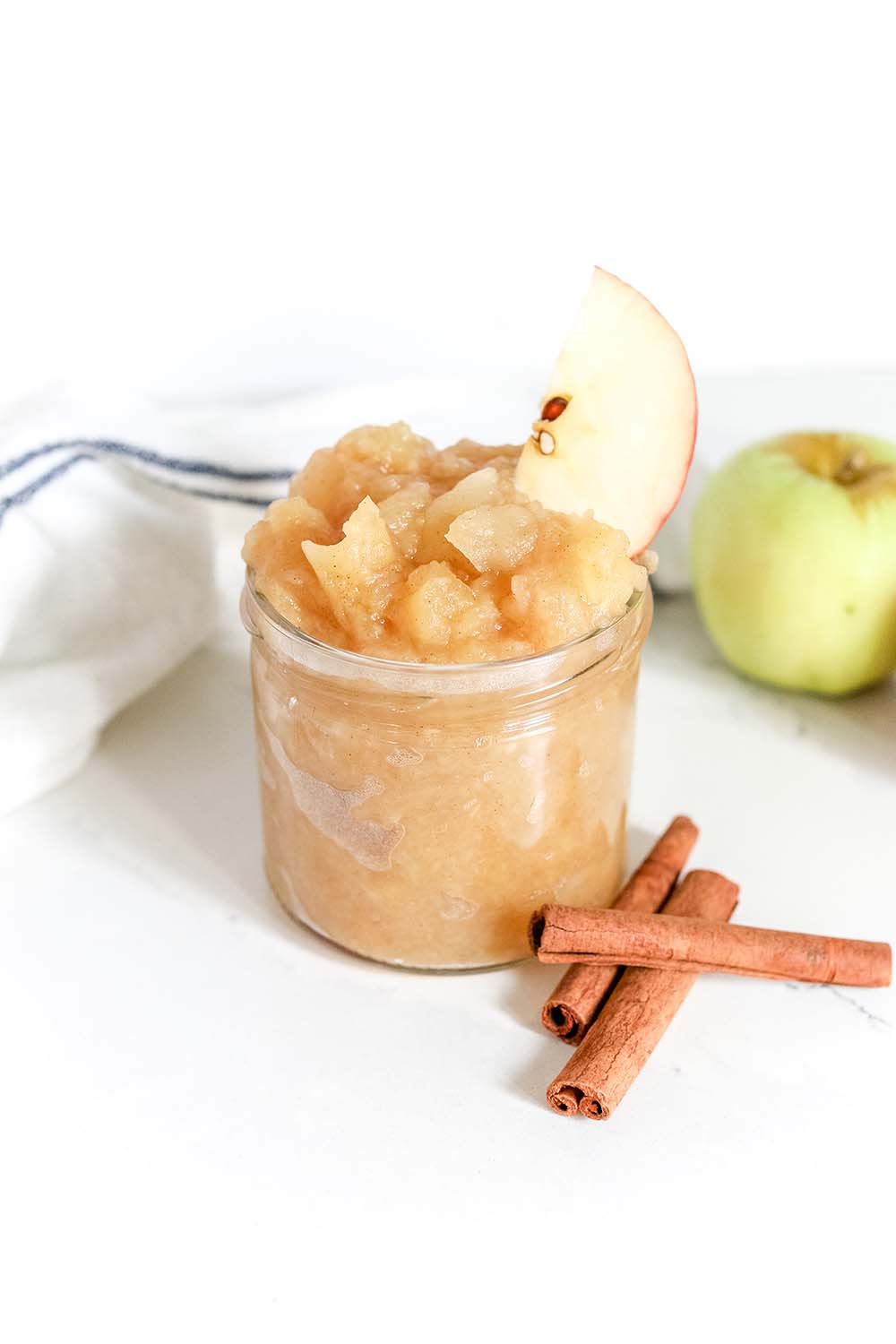 Fall is my favourite season. I love the crisp air, forest walks, leaves changing colours, sweater weather and of course all of the warm delicious foods. It wouldn't be fall without some yummy apple recipes! I never used to enjoy applesauce until I made it from scratch, and wow! The difference is unreal. I am now an official applesauce lover. 
Funny enough, when I was pregnant I ended up eating applesauce cups as an easy late night snack that would sit well on my stomach, but I never really enjoyed them. I only wish I had made this recipe sooner because I would love a warm bowl of this every night! Cinnamon spiced, naturally sweetened, and with a touch of a tarte, this homemade 2 ingredient applesauce is like a warm hug with every bite.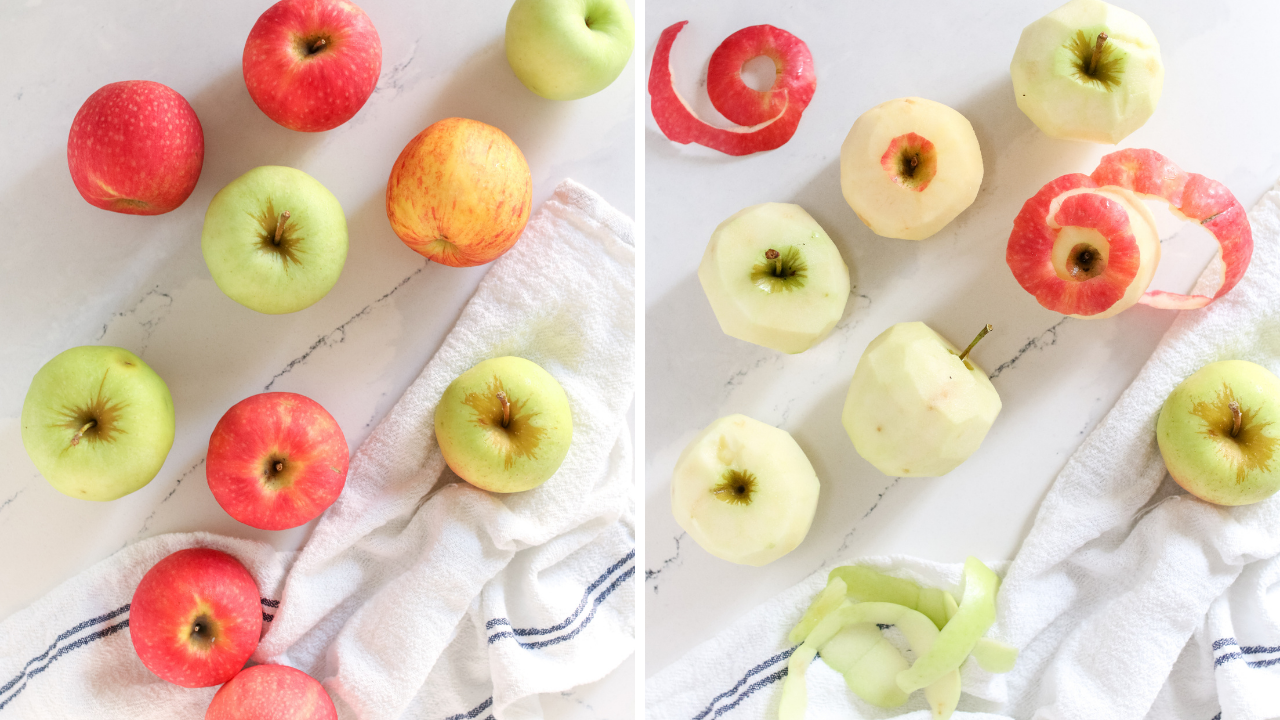 How to make homemade applesauce
Obviously, it goes without saying you need some delicious apples! Fall is totally apple picking season, and it's the perfect time of the year to use up all those apples. Crisp apples like honey crisp, fuji, pink lady and Mcintosh and granny smith work well for this recipe. 
What I love about this recipe is there's no added sugar needed as apples are naturally pretty sweet. Plus, when you cook them with cinnamon it brings out the natural sugars in the best way. Some recipes I've seen will use fresh lemon juice but I find if you have a mix of sweet and tart apples you really don't need anything extra. It's perfect as is! Your whole house will smell like a crisp fall day with the warming spice of cinnamon filling up the air.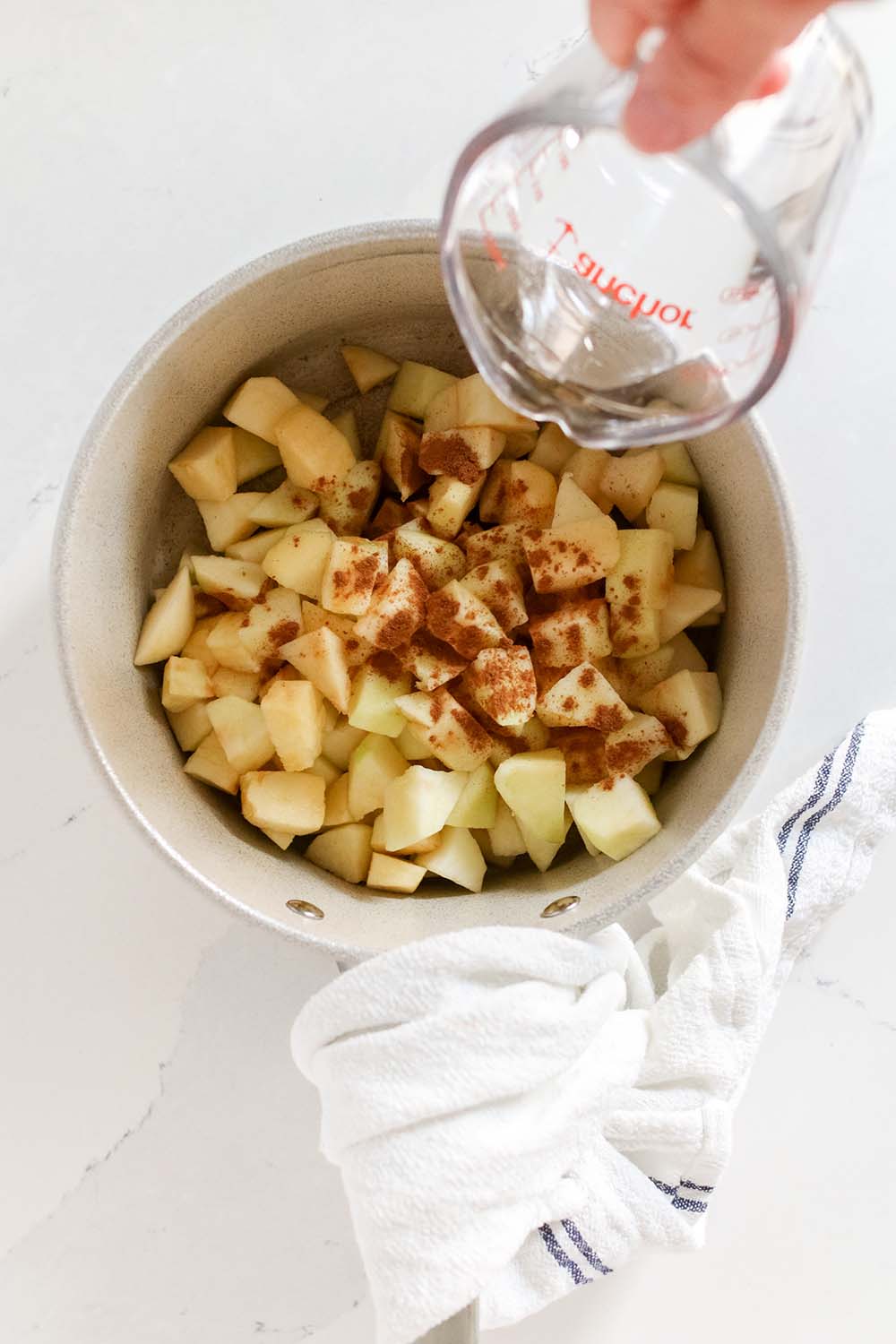 How to use homemade applesauce
There are so many ways you can use your homemade applesauce! It's great for fall baking, like this healthy carrot cake, these breakfast cookies and these chai spiced pancakes. The reason it's so amazing for baking is it's a great way to add moisture and cut down on the oil in recipes. It also can reduce the amount of added sugar needed because it's naturally sweet, and in some recipes can even be a good egg substitute because of the pectin which acts as a binder.
Homemade applesauce is delicious with yogurt and my simple granola. This recipe is also great as baby food (check out my baby meal prep guide right here!) Just puree completely if needed for a smoother texture.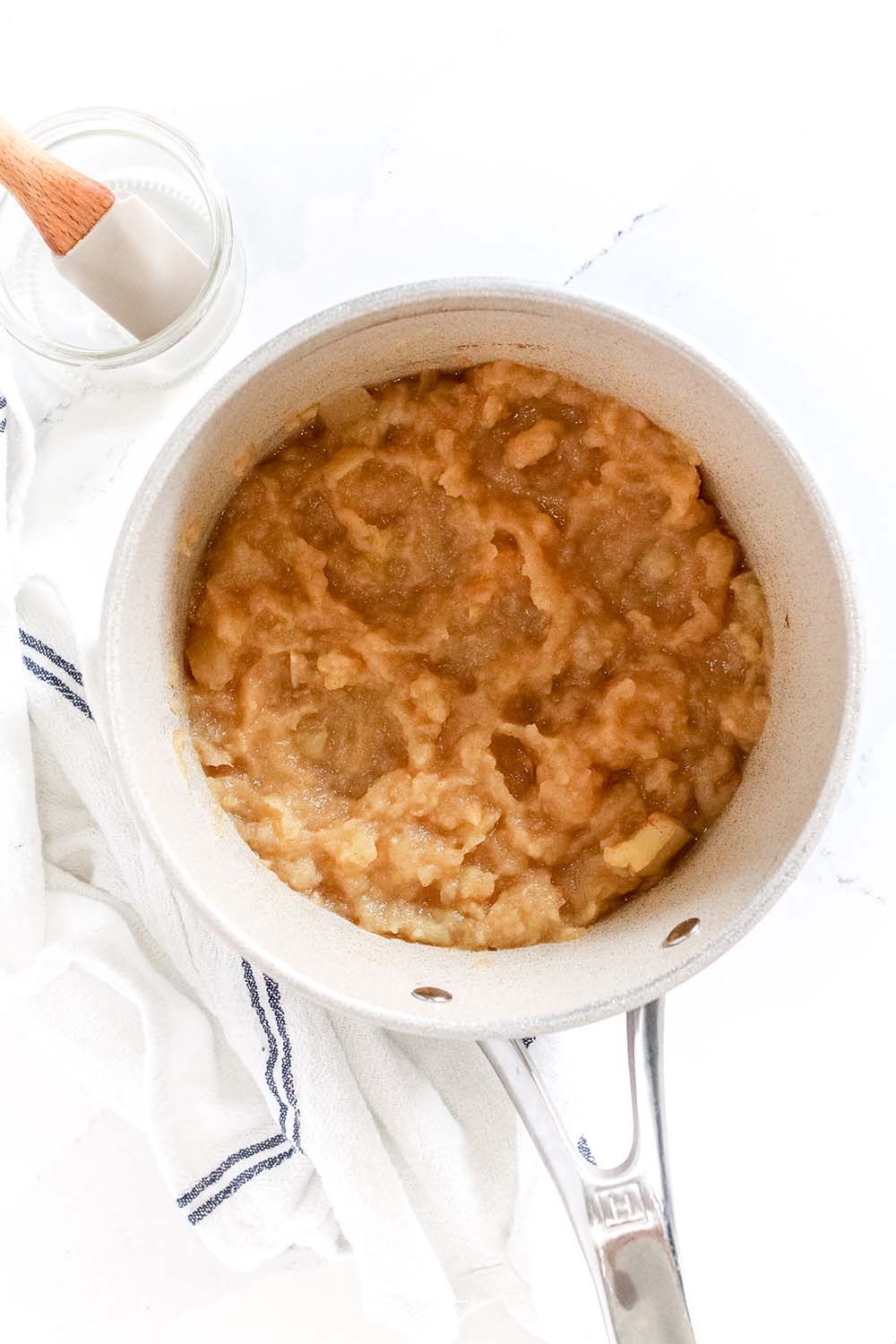 What's your favourite way to use homemade applesauce? Let me know in the comments below! 
If you make this recipe, be sure to share a photo on social media and tag me @healthnutnutrition #healthnuteats so that I can see your creations!
For more fall inspired cooking, be sure to check out my 8 best easy soup recipes and this Healthy Fall Recipe Roundup.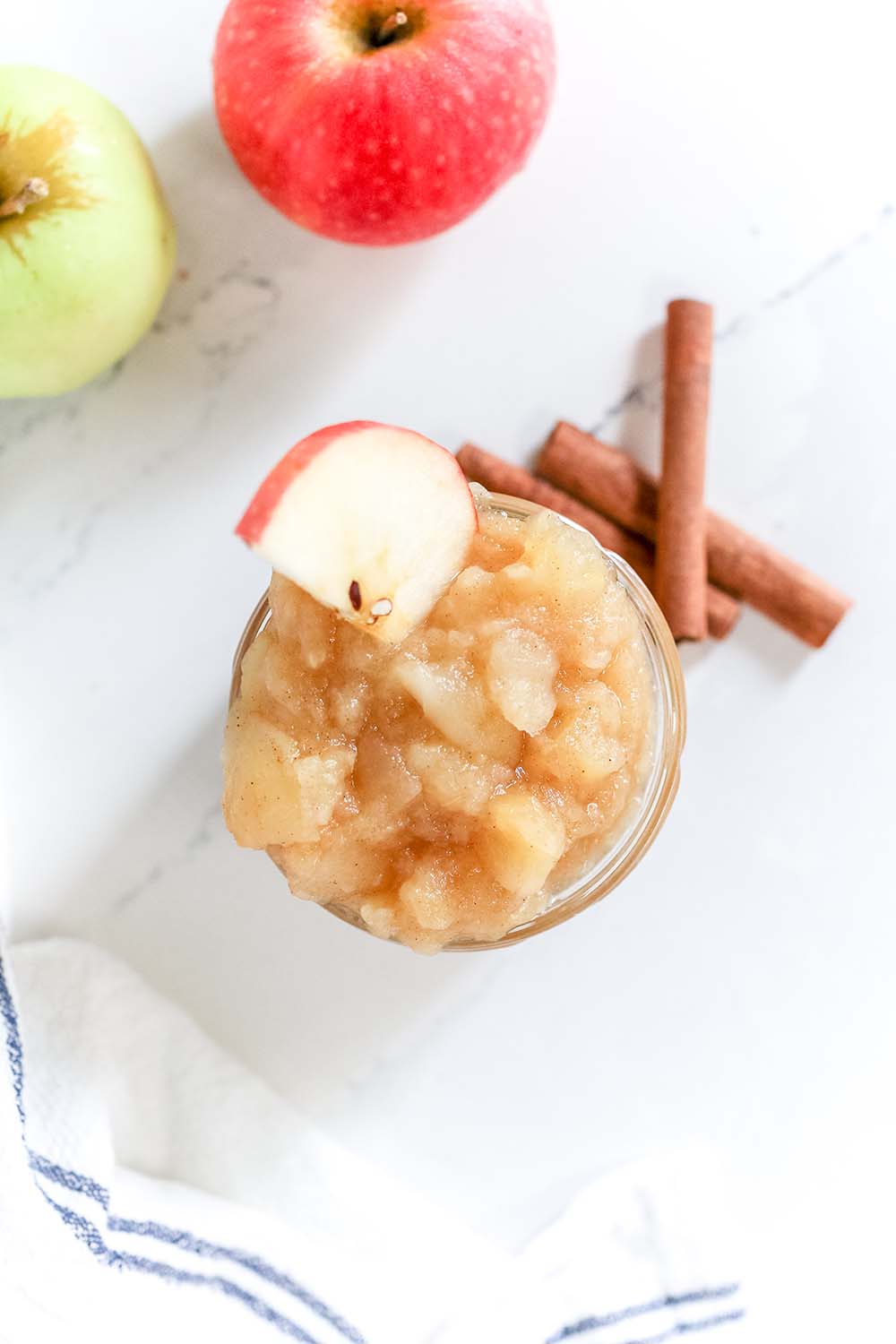 Recipe
2 Ingredient Homemade Applesauce
This super simple 2 ingredient homemade applesauce is ready in just 30 minutes and uses just 1 pot to prepare. It's also made without any added sugar - just apples and cinnamon!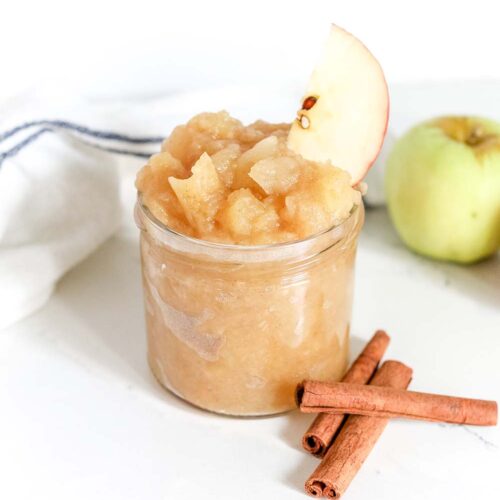 Print Recipe
Save Recipe
In a medium saucepan, add your chopped apples, water and cinnamon and bring to a boil.

Lower the heat to simmer on low and cover. Cook for 20 minutes, until the apples are cooked through and soft enough that you can easily mash them with a fork.

Remove from the heat and, using an immersion blender, food processor or by hand with a potato masher, simply blend or mash up until you've reached your desired consistency. I personally like mine smooth with some small chunks for texture.

Perfect served warm off the stove over pancakes, yogurt or oatmeal.

Store leftovers in an airtight container in the fridge for up to 3-5 days.
similar recipes