Granola is one of my favourite foods to make because it can be customized with the ingredients you love, or even tossed together with whatever you have left in your pantry.  You can fill it with fun toppings like dried blueberries, pistachios or even my new go-to fruit; golden berries, which taste like sour patch kids! That being said, there's something to say about simple, sweet and crunchy granola that pairs perfectly with any breakfast or snack.
I've partnered with Manitoba Harvest and their amazing Hemp Hearts to create this
 Simple Granola
recipe that is light and sweet with added protein and omegas. You can tweak this recipe as much as you want, changing up the dried fruit or nuts and seeds to your liking. For this recipe, I used Thompson raisins which have an amazing taste. Raisins aren't common in my recipes since they're not my favourite, but these one's have changed my ways as they're WAY better than regular, bland raisins.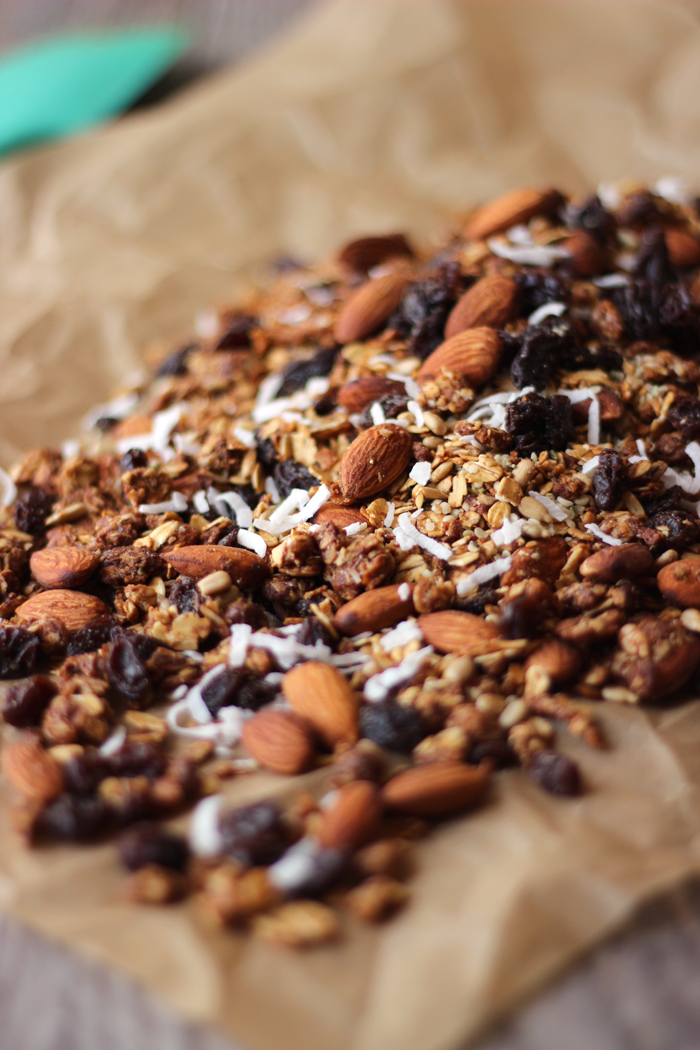 If you want to start using granola in your meals but aren't sure how, I've got 3 fun ways to get you started.

Option #1- Sprinkled on Smoothie Bowls. Now that the warmer weather has arrived in Toronto, you can switch out that bowl of hot oats for a cooling, antioxidant-rich smoothie bowl and top it with fresh fruit and crunchy granola.
Option #2: Eat it as Cereal. When I was younger (aka 5 years ago) I was a cereal-a-holic! I use to sit down to a salad sized bowl of cereal every morning and was in heaven. You can still find me with a bowl of cereal today, but it's definitely an upgraded version, using granola as a cereal base and topping it with chopped fruit like apples or pears, chia seeds and nut milk.
Option #3: Make Granola Bars. Did you know that you can turn your granola into granola bars? It seams only logical, but a lot of people wouldn't think of it. I'm still perfecting my recipe but keep an eye out on my channel for some Peanut Butter Chocolate Granola Bars coming your way soon!

Now that you know how versatile even simple granola can be, you should definitely bake up a batch or two of this stuff and create your own fun ways to enjoy it.
A simple sweet and crunchy granola recipe thats refined sugar free.
Ingredients
3

cups

gluten free rolled oats

1

cup

raw whole almonds

½

cup

unsweetened shredded coconut

½

cup

raw sunflower seeds

1

cup

Thompson Raisins

½

cup

Manitoba Harvest Hemp Hearts

4

tbsp

almond butter

2

tbsp

coconut oil

¼

cup

raw honey

¼

tsp

sea salt

1

tsp

cinnamon
Print Recipe
Save Recipe
Directions
Pre-heat oven to 350F.

In a large bowl mix together, oats, almonds, sunflower seeds, coconut, sea salt, and cinnamon. Set aside.

Next, in a sauce pan on low-medium heat combine almond butter, coconut oil, and honey, and bring to a slight simmer while stirring constantly until the mixture has thicken slightly (about 30-60 sec). Remember to keep stirring as this prevents the mixture from burning!

Take half of the caramel mixture you created in step 2 and fold it into your oat mixture until well combined. Then, fold in the second half of your caramel mixture until fully combined.

Spread granola on a parchment lined cookie sheet and pop into the oven to bake for 30-40 minutes until slightly golden, tossing half way through.

Allow granola to cool for 10-15 minutes. Then, transfer the granola back into the large bowl, folding in the raisins and Hemp Hearts.
Note: You can store completely cooled granola in an air tight glass jar for 3-5 days or place in a freezer bag and freeze for up to 1 month.
similar recipes