10 Healthy Snack Ideas that will satisfy those cravings without filling your body with junk. These are simple swaps that don't feel healthy, but are!
If you know me, I'm a huge snacker, and I get asked all the time what I lean towards when it comes to snacks. The trouble with a lot of convenience snacks is they're loaded with added sugars, sweeteners, dyes and other ingredients that you just don't want to be putting into your body. But it doesn't have to be that way! By making a few simple swaps to these healthy snack ideas, you can still satisfy those cravings and snack on the things you want to without feeling bad. Eating should be enjoyable, so let's enjoy it!
One thing I will say before we get started, is even though these are healthy snack ideas, it's still easy to go overboard! Everything in moderation is key. I like to buy smaller quantities of snacks, because if they're in the house the temptation is right there. Can anyone else relate?
1. Healthier Chips
Mr. Matt is a more of a  crunchy, salty snacker than I am, but he's definitely rubbed off on me over the past 12+years! The good news is, there are healthier brands of chips out there! One of my favourites are these lime tortilla chips which are a lower carb option made with avocado oil. These organic clouds are a great alternative for cheese puffs, as well as these himalayan salt and apple cider vinegar paleo puffs. If you're more of a pretzel lover, these honey wheat braids are a healthier option.
Pro tip: When it comes to chips, and actually any kind of snacks, it's super important to look at the ingredients. Check how much sugar and salt is in it, and make sure that you know what all the ingredients are. They should be simple and recognizable! If you have no idea what an ingredient is, it's probably safe to say you should try to find an alternative. 
2. Healthier Popcorn
For popcorn, there are definitely some go-to brands that we love. This cheddar popcorn uses simple coconut oil and is the freshest bagged popcorn EVER! When you open the package it smells so delicious! We also love this brand, which you've probably seen in the popcorn aisles! When it comes to corn products I do try to opt for organic and Non-GMO where possible, as well as making sure it uses good quality oils. I also love making my own popcorn at home, and I have some really fun DIY popcorn seasoning recipes in my cookbook. 
3. Healthier Soda Pop
When it comes to healthier alternatives for soda pop, there are so many great options! We love this unsweetened, flavoured sparkling water, especially the cherry and blackberry flavours. Some days I'll add a couple of drops of liquid stevia and some fresh lime and it's the most refreshing drink ever! If you're actually looking for a pop substitute, we've been drinking this one for years. It's sweetened with stevia and it's a much better option if you're a soda pop drinker. This flavoured sparkling coconut water is another option that I tried at my mom's house and they were really good, though they are pretty high in natural sugar.
4. Healthier Cereal
I used to be (and maybe still am) a cereal addict. I never really have it for breakfast, but I LOVE it as a snack. I've been trying to be good and tear myself away from the super sugary, processed cereals, and have found some good alternatives. These heritage flakes and wheat puffs are great. Straight up puffed kamut or brown rice are much better for you and they're so delicious with oat milk, sunflower seeds, a little drizzle of honey and some fruit like raspberries. They're unsweetened, so you do have to add things to them, but by doing that you know exactly what's going into your snack! 
A few others I love are this golden turmeric cereal, this peanut butter cereal, this cinnamon cereal and this fruity cereal. There are new brands popping up constantly that taste like your traditional, sugary cereals but have much better ingredients in them.
5. Healthier Gummies
I have a sweet tooth for sure, and these smart sweets are one of the best things that has ever happened to me – or maybe the worst! I eat them way too much and they're not that cheap, but honestly I'm just happy a product like this exists. They're a healthier, lower sugar alternative to gummies that are super high in fibre and they have a never-ending variety of flavours and types! The most cost effective way of purchasing these I've found is to get a big box from Costco.
6. Healthier Chocolate
Although I love chocolate, I don't eat a ton of it because I'm very sensitive to caffeine. The 'better for you' options tend to have higher percentage of cocoa which means more caffeine, so I do try to go for other options. A few chocolate alternatives that I enjoy are these peanut butter cups which use cane sugar instead of processed white sugar, this salted almond milk chocolate and these high protein chocolate bars. I also love these chocolate covered almonds and this quinoa crunch chocolate.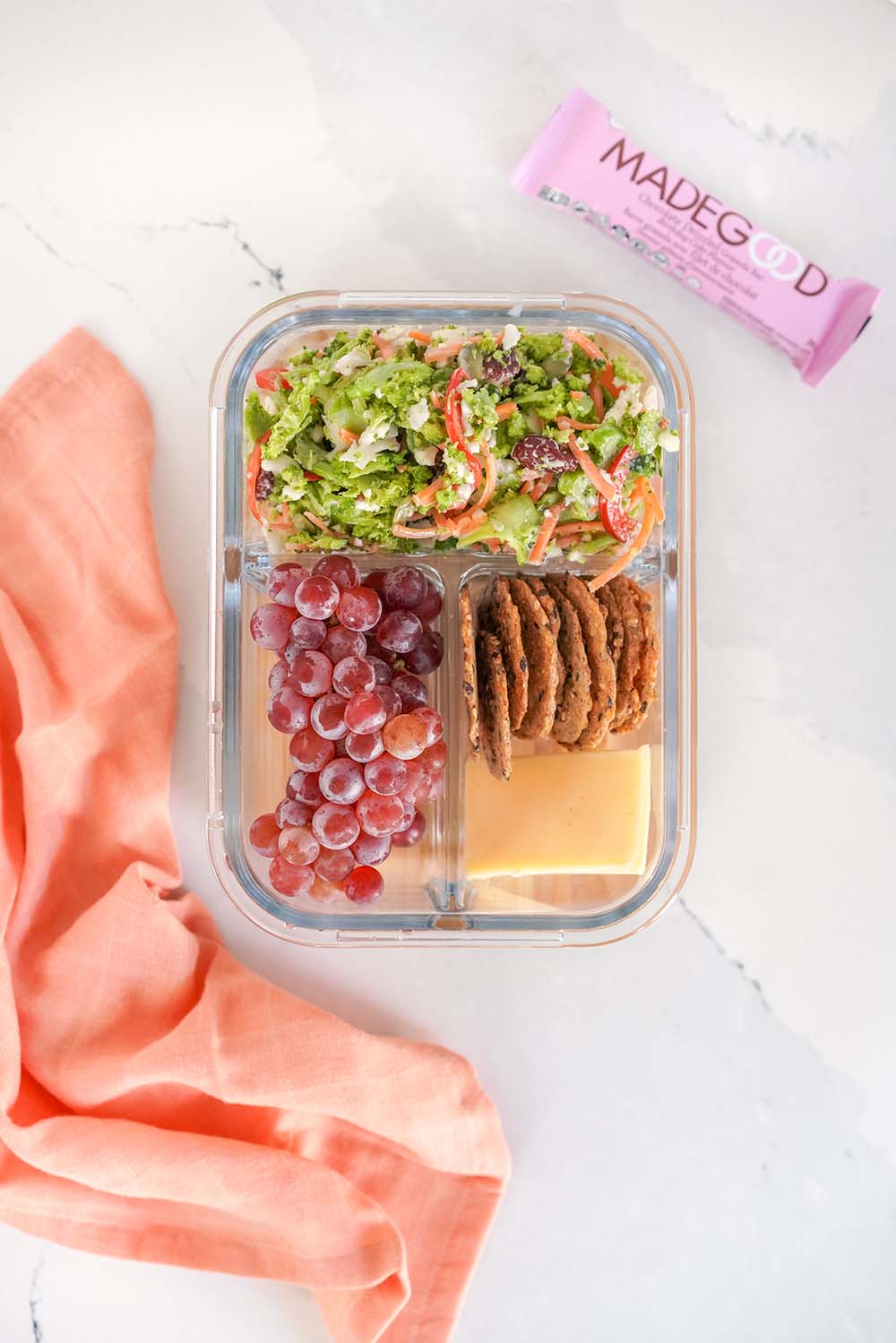 7. Healthier Granola Bars
I prefer making my granola bars from scratch, as well as plain simple granola. A lot of the options out there to buy may look healthy, but they're really not. Again, always check the ingredients! However there are slowly becoming more healthier options, so if you don't have time to make your own, these granola bars are great. They actually have veggies in them, and they're 'school safe', meaning they're good for any kids who have allergies or intolerances to things like dairy and nuts. I survived off of these in the early days of motherhood when I was breastfeeding. 
8. Healthier Protein Bars
You'd have thought protein bars would be good for you, wouldn't you? Nope! It's all clever marketing! It's so hard to find protein bars that are actually good and don't taste like chalk, but I do like these ones. They're fresh food protein bars that you actually store in the fridge, and they have lots of whole foods in them. They taste amazing and when you eat them they really make you feel satisfied!
9. Healthier Crackers
We always have crackers in the house. Even though they're not your typical 'craving' snack, you've got to have them for your salsa, your guacamole, your hummus or whatever other dips you like. They're also perfect for charcuterie boards. Some of our favourites are these super seed crackers, these thin crackers and these oat crackers.
10. Healthier Ice Cream
I couldn't do a healthy snack ideas post without mentioning ice cream swaps! One of my holy grails is this mint chip ice cream. They have a vegan line too, but I think their original line is just a little bit better. It does have some less healthy ingredients in it, but way less sugar. My other holy grail is this cashew milk ice cream in the flavour salted caramel cluster and let me tell you… it does not last in this house! It does have more sugar than the other one, but it's so good!
What are your favourite snack swaps? Leave a comment below, because I'm always on the hunt for new healthy snack ideas!
If you're interested in seeing more healthy hacks, check out my 20 Healthy Food Swaps and 7 Healthy Food Hacks.