Hearty Chewy Trail-Mix Granola Bars loaded with toasted oats and almonds and a date and peanut butter caramel to hold it all together.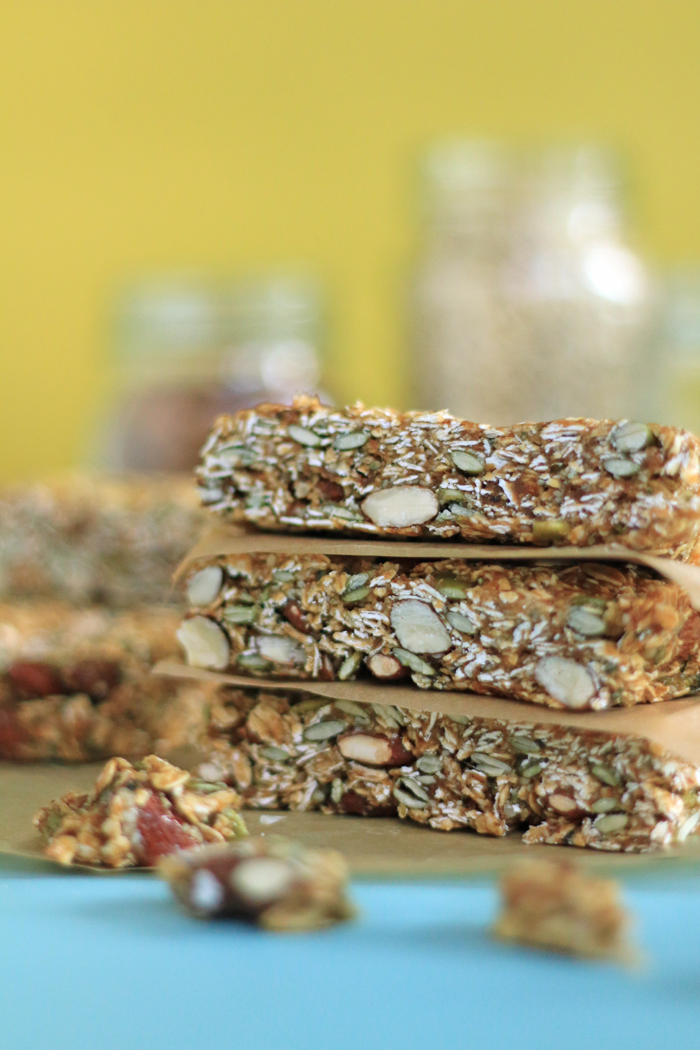 If you've never been to Canada during the fall season you need to come for a visit! It's the best time of the year for hiking since everywhere you look is covered in bright coloured leaves. Let's just say it makes you want to be outside at all times walking on the crunchy leaves and enjoying the crisp fall air! Not to mention the beautiful scenery that Canada has to offer.
These chewy trail-mix granola bars are just the snack to keep you going when hunger strikes. If you're anything like me I always have to have some sort of snack in my purse for when I'm out running errands or hiking!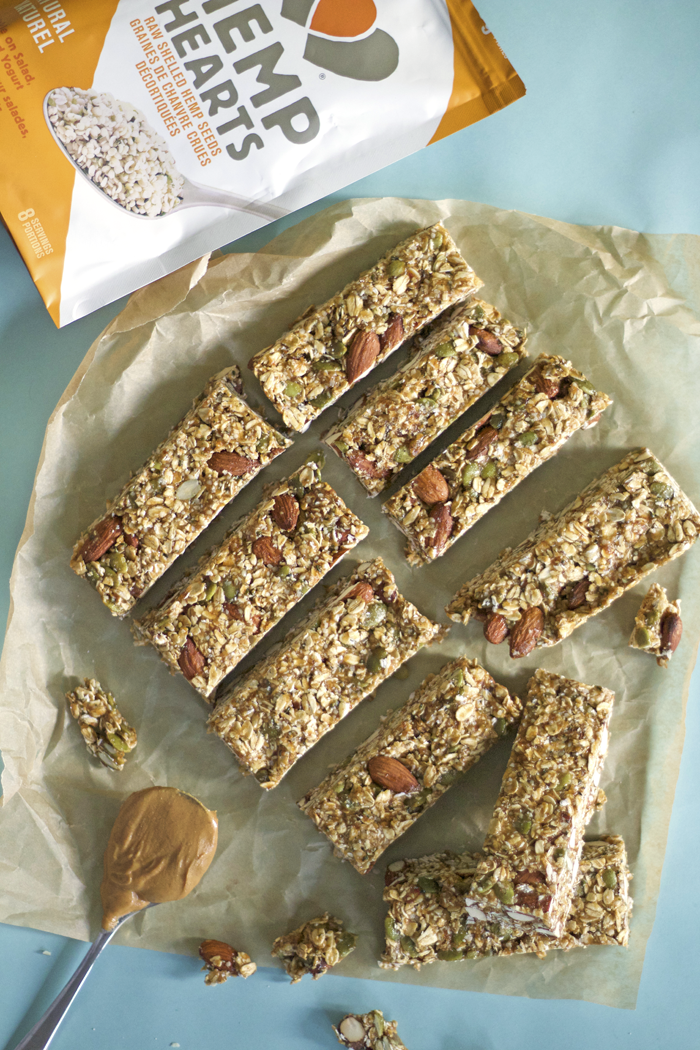 These bars are refined sugar free and packed with nuts and seeds! They contain a healthy dose of plant based protein and healthy fats from the nut butter and Manitoba Harvest Hemp Hearts. I love adding in Manitoba Harvest Hemp Hearts to recipes like my Simple Granola and these Chewy trail mix bars. They have a really nice buttery texture and a nutty taste that pairs really well with oats and dates.
Don't forget to share a photo of your recreations on social media and tag me @urhealthnut so I can easily find and like it, and watch the full recipe video over on YouTube!
Recipe
Chewy Trail-Mix Granola Bars
Hearty chewy granola bars loaded with toasted oats and almonds and a date and peanut butter caramel to hold it all together.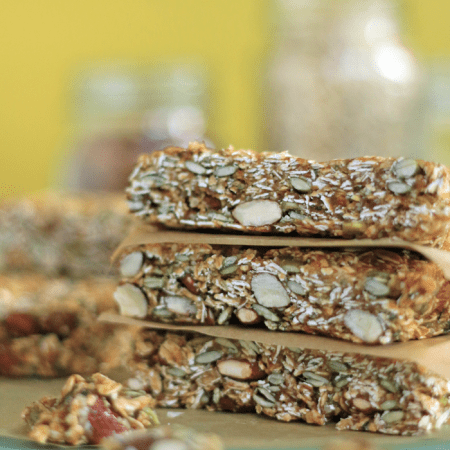 Print Recipe
Save Recipe
Instructions
Preheat oven to 350F.

In a food processor blend up medjool dates until smooth and forms a ball of "date dough."

On a parchment lined cookie sheet lightly toast your rolled oats and almonds for 10 minutes and set aside.

Melt together peanut butter, maple syrup and vanilla in a small saucepan on low-medium heat for 1-2 minutes until melted.

Add caramel mixture to food processor with the date dough and blend for 15 sec until smooth.

In a large bowl add in toasted oats and almonds with pumpkin seeds, Hemp Hearts, cinnamon and sea salt.

Add in caramel mixture into bowl with oats and nuts with a wooden spoon (so it doesn't stick as much) until evenly mixed through. I like to use my hands but be careful because the caramel can still be hot so let it cool slightly so you don't burn yourself.

Once thoroughly mixed, transfer mixture to an 8x8-inch baking pan lined with parchment paper and press down firmly with the bottom of a glass cup or Mason jar to compress everything together.

Cover in plastic wrap and place in the refrigerator to firm up for 30 min,

Once harden you can lift up the bars from the pan and cut up into thick bar slices.
You can store bars in an airtight container for 5-7 days in the fridge or counter or freeze them for up to 2 months.
similar recipes

Disclaimer: This post was sponsored by Manitoba Harvest Hemp Foods. I was compensated for my time and all opinions are my own. Thank you for supporting HealthNut Nutrition and allowing me to bring healthy and delicious recipes to all my amazing viewers.