7 best healthy food hacks that will make healthy eating easy and fun! These easy food life hacks will help you to create healthy habits and boost your inspiration in the kitchen.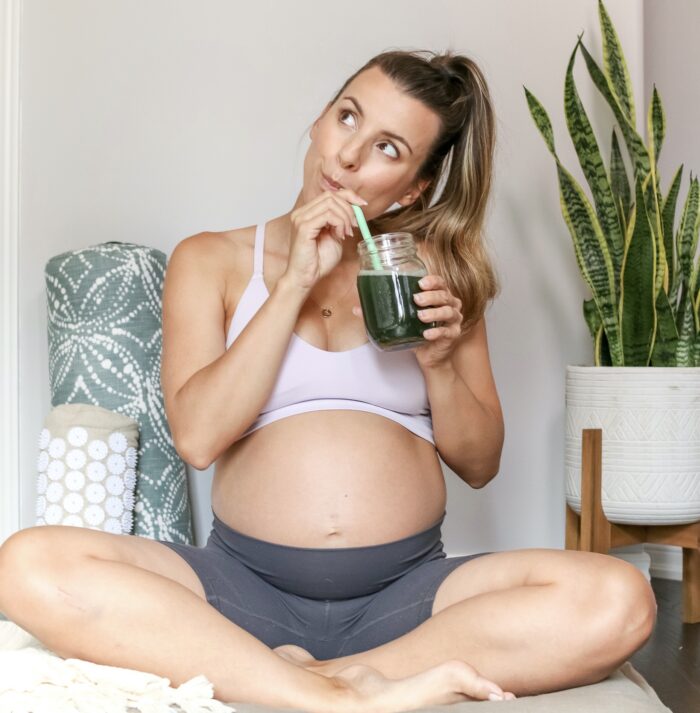 Today I'm sharing 7 best healthy food hacks that are super quick, healthy and unique! Most of us know what we should be eating, but sometimes we need a gentle reminder and inspiration to continue on our health journey. Sometimes you may even get stuck in a rut of eating the same snacks and meals over and over again (it happens to the best of us)! With that in mind, I wanted to share 7 best healthy food hacks to help to refresh your menu and appetite for healthy eating!
From instant green juice to instant almond milk, snacking plates, DIY super-seed mix, and homemade baked goods – I've got you covered! I am also sharing a must-know avocado hack that will allow you to make fresh guacamole anytime, anywhere! No more waiting for those green avocados to ripen! It may sound too good to be true, but trust me it works. I'm willing to bet you've never heard of many of these healthy eating shortcuts before, and I hope that they inspire you.
Frozen Citrus Slices
Hack number one is freezing sliced citrus fruit! Now you may be wondering what you would do with sliced, frozen lemons, oranges and limes. But they are actually really delicious in the summertime! I like to use frozen citrus slices as a refreshing and zesty "ice cube" in my water. As you HealthNuts know, I like to drink a lot of water – staying hydrated is so important! This is a great way to add some light flavour to your water and encourage you to stay hydrated all day long.  
 
How To: 
Wash and dry your fruit. I like to use lemons, limes and oranges.

Slice into round discs.

Transfer onto a baking tray and lay flat to freeze.

After a few hours, transfer the frozen citrus slices into a

silicone reusable storage bag

.

Enjoy your drink of choice (sparkling water, lemonade, pomegranate juice) with a few frozen citrus slices! Not only will it keep your drink cool, but it will also be infused with a delicious fresh citrus flavour.
Frozen Avocado Guacamole
There's nothing more disappointing than cutting into an avocado, only to realize that it's still crunchy and unripened! Especially when you've got a craving for guac! So with that in mind, I'm going to show you how to make guacamole with frozen avocado. No more waiting for your avocados to be the perfect ripeness to make guac! The only planning you need to do is set your frozen avocado aside at room temperature, about an hour before preparing your guac. This is perfect because if you're having guests over or prepping dinner, you can have the avocado thawing while you're prepping other food. It certainly takes less time for an avocado to thaw, than it does for an avocado to ripen!! 
The best thing about guac is that you can really customize it and add in whatever flavours you enjoy. I love cilantro, but I know that many people don't enjoy it. Are you team cilantro, or team no-cilantro?! Let me know in the comments below!

Ingredients:
2 medium avocados, frozen (about 2 ½ cups of cubed and frozen avocado)

2 – 3 tbsp finely chopped red onion

2 – 3 tbsp finely chopped fresh cilantro

1 clove garlic, minced

1 lime, juiced

pinch of ground cumin

Sea salt and pepper to taste
Directions:
Set the frozen avocado aside in a bowl at room temperature to thaw for about an hour. You can also squeeze some lime juice on top to prevent the avocado from browning while they thaw if you'd like. 

Once the avocado has thawed, transfer into a bowl and add in red onion, cilantro, garlic, the rest of the lime juice, cumin and sea salt & pepper.

Mash the avocado and all of the fixings with a fork until well combined. 

Enjoy your guacamole right away with crackers, veggies or corn chips! 
Instant Green Juice
Next up, we are making instant green juice – no equipment needed! As the Green Smoothie Queen, you probably know that I am all about drinking my greens. A few years go, I shared my 5 Minute Green Detox Juice recipe – and believe it or not this Instant Green Juice is even easier to make! It packs a lot of flavour and nutrients, and has been a go-to during my pregnancy to get all my greens in, without the hassle! 
How to: 
You will need a small knob of fresh ginger (about 1 inch). Grate the ginger using a

fine grater or zester

. Then, gather the pulp and gently squeeze the ginger juice between your fingers into a large glass. I love using this hack for tea, or ginger water as well!

Next, squeeze the juice from half a lemon into the glass.

Finally, add a scoop (1-2 teaspoons) of your favourite greens powder – this mixed berry flavour is my current favourite! I love this greens powder because the greens are juiced, then dehydrated. It is easy to digest, tastes great, not gritty and is so convenient! Quality is everything when it comes to your vitamins and supplements so look for good brands and sources. 
Last but not least, fill your glass with filtered water, shake/stir and enjoy!
Instant Almond Milk

If you don't have a nut milk bag, this is the perfect hack for you! All you will need is a blender, some creamy almond butter (I like to get the roasted kind with no added oils or sugars), medjool dates, vanilla extract, filtered water and sea salt. This method is way simpler than making almond milk from scratch, and will save you a lot of time and hassle! Another benefit is that there are no added gums or sugars, just simple wholesome ingredients. You could also use this hack to make hazelnut milk or cashew milk – any nut butter will work to make the nut milk of your choice. 
Ingredients: 
¼ cup almond butter

1- 2 medjool dates for sweetness

A pinch of sea salt

1 tsp pure vanilla extract 

1 litre filtered water
Directions:
Snack Plate
Who said snacks were just for kids? I don't know about you, but I've always enjoyed eating a variety of foods. Throwing a healthy snack plate together that's full of protein, carbs and good fats is one of my favourite hacks to stay energized and satisfied throughout the day when I don't have time or the creativity to plan a full meal! I'm always switching up the assortment depending on what I'm in the mood for, but lately my go-to combination has been:
Strawberries

Pistachios

Olives

Hummus

Cucumber

Apple slices

Almond butter

Flaxseed crackers

Smoked cheese
Of course, you can play around with whatever ingredients you have on hand and have fun with it! Either way, you're guaranteed to have a delicious and nourishing meal that is full of flavour, nutrients and simple to make!
DIY Super Seed Mix
Super seeds are such a fun and easy way to add more nutrients to your meals! Plus, they are packed with fibre, protein and this DIY mix is much cheaper than the store-bought alternative. I love prepping it ahead of time to have on hand throughout the week to top on oatmeal, smoothies, almond butter toast, yogurt bowls and even salads for some extra nutrients.  
Ingredients: 
¼ cup raw sesame seeds

¼ cup raw hemp hearts

¼ cup raw flax seeds

¼ cup chia seeds
Directions:
To a mini food processor or coffee grinder, add all of your seeds.

Then, blend on high until everything is well-ground and comes to a nice even mill.

Transfer your DIY super seed mix into an air tight container and store in the fridge. This will help it stay nice and fresh so you can have it ready to go throughout the week!
Bake at Home
This final hack is a simple yet effective one when it comes to making healthier decisions at home! If you're like me and you have a sweet tooth, baking at home is the perfect way to enjoy all of your favourite treats without any added sweeteners, fillers or weird ingredients. While it's obviously more than okay to indulge every once and a while (hello drive thru honey glazed donuts), I always prefer to make something from home using wholesome ingredients that I can feel good about putting into my body. Here are a few of my favourite homemade baked good recipes: 
BONUS recipe from The HealthNut Cookbook!
Coconut Butter Lemon Glaze 
Ingredients:
1/4 cup coconut butter, softened
2 tbsp lemon juice
2 tbsp pure liquid honey
2 tbsp unsweetened dairy free milk (soy, almond or oat work great!)
1/2 tsp pure vanilla extract
Directions:
In a small bowl whisk together the coconut butter, lemon juice, honey, almond milk and vanilla into a silky smooth.
Use right away or store in an air tight container in the fridge for up to 1 week.
There you have it! 7 new healthy hacks for you guys to try out home. Leave me a comment down below and let me know which of these hacks you are most excited to try, or which of these hacks surprised you the most! For more healthy living hacks, check out this post for 7 Life-Changing Healthy Habits to Start Today!
If you try any of these healthy food hacks, be sure to take a photo and tag me on social media @healthnutnutrition so that I can like and share your photo.