This gluten-free triple chocolate zucchini brownie slathered in chocolate avocado frosting is the ultimate decadent dessert but with a healthy twist.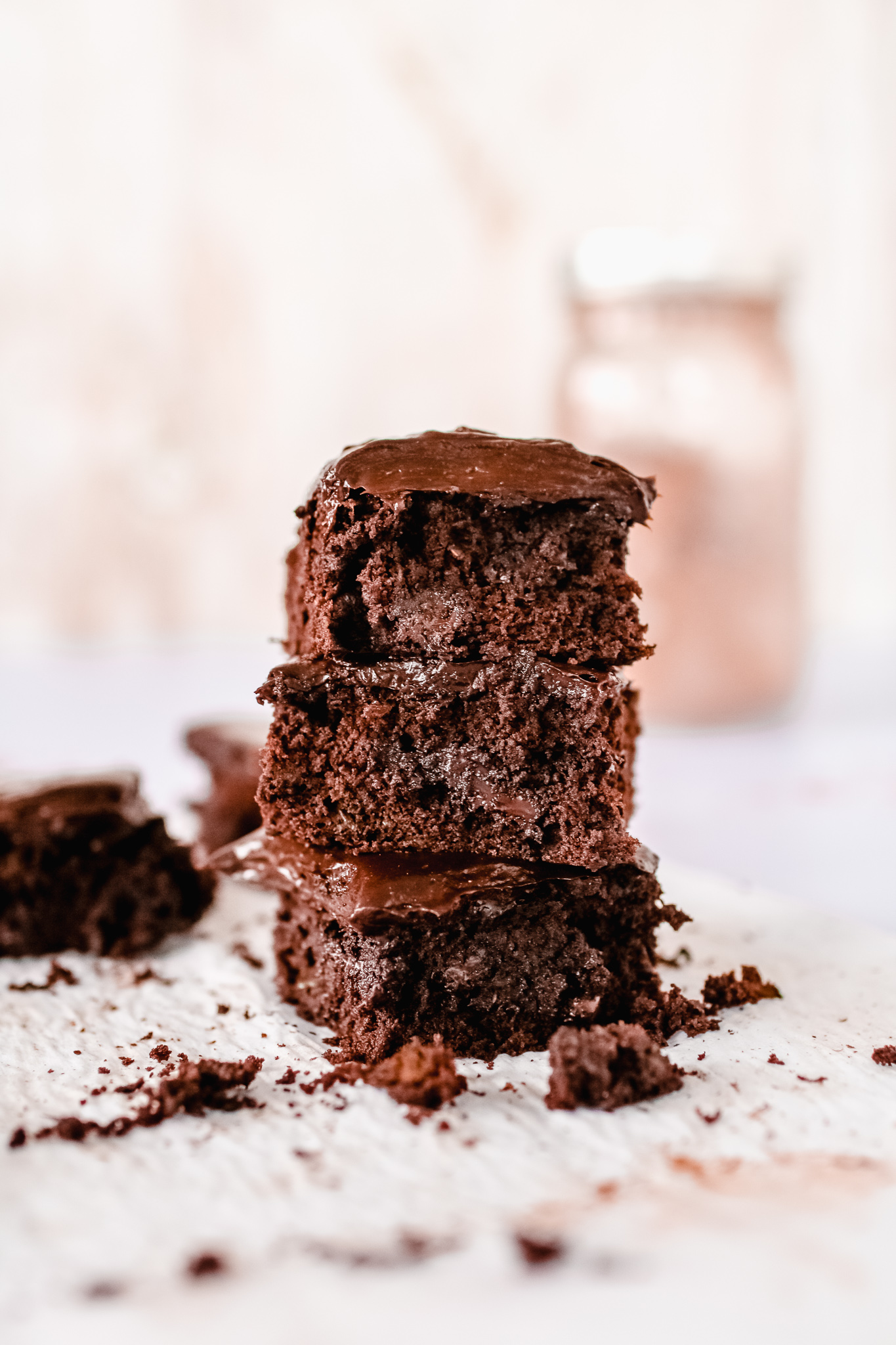 Who says you can't have your cake and eat it too?! Or in this case your brownies!! Do you remember McCain's Deep'n Delicious chocolate cake? I think if you grew up in North America, as a kid or maybe even as an adult you thought this cake was the bee's knees…I sure did, but that was pre HealthNut days. When creating this recipe, that's pretty much what I was going for. I wanted that deep'n delicious chocolatey goodness but of course it had to be healthified.

How exactly do you healthify a decadent brownie recipe? I know, I know, it's still dessert, it still has some sugar in it, but every once in a while you just gotta indulge and satisfy that sweet tooth. I skipped the processed sugar and added coconut sugar, which is lower on the glycemic index, and I used buckwheat flour which is high in protein and fiber and also gluten-free. And of course, I couldn't resist, I had to sneak in some veggies. I contemplated using sweet potatoes, yes that's a thing, but I went with zucchini as I loved using it my Chocolate Chip Zucchini Bread. Zucchinis are fantastic to use in your baked goods as it adds moisture and takes on the flavours that you add, and the best part…your kids will never know you snuck it in there. To continue with the chocolatey goodness, I tossed in a few dairy-free chocolate chunks, which when melted adds another layer of ooey gooey goodness in every bite. But if I'm completely honest, I think my favourite part of this entire recipe is the frosting!

Chocolate Avocado frosting is the bomb! Who needs butter when you got the mighty avocado. I mean is there anything that this green goddess can't do? Avocados are not just for toast or guacamole, it's amazing in your dessert recipes, like my Strawberry Chocolate Mousse Tarts. No one will believe that this isn't a butter frosting slathered on your brownie. This frosting is so rich, creamy and so chocolatey, with the added bonus of healthy fats. Although you can enjoy these brownies naked…I mean frosting free…haha…I highly recommend you don't skip this part of the recipe!

If you recreate this recipe please share a photo on social media and TAG me @urhealthnut and #healthnuteats so I can easily find them and like them!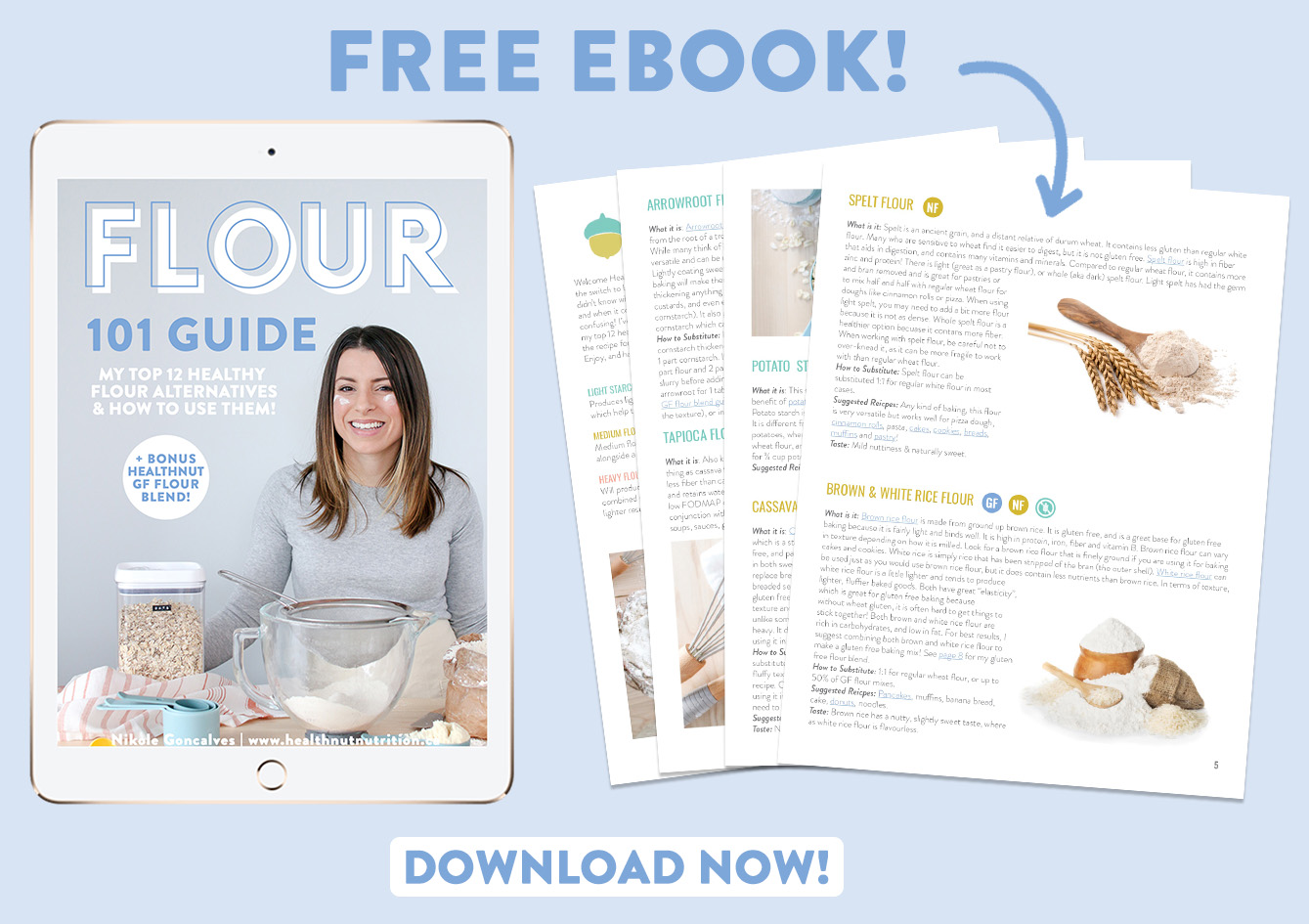 Triple Chocolate Zucchini Brownies
Makes 9 brownies
Prep Time 10 minutes
Bake Time 18 minutes
Brownie
½ cup coconut oil, melted and warm
½ cup coconut sugar
2 large eggs
1 teaspoon pure vanilla extract
½ cup buckwheat flour
½ cocoa powder
¼ cup almond flour
½ teaspoon baking soda
¼ teaspoon sea salt
1 medium zucchini, grated and excess water squeezed out*
¼ cup dairy-free chocolate chunks
Chocolate Avocado Frosting
½ cup coconut icing sugar**
¼ cup cocoa powder
1 tablespoon coconut oil, melted
½ teaspoon pure vanilla extract
1 large ripe avocado
Instructions:
1. Preheat the oven to 350℉ and line a 8 X 8 baking pan with parchment paper.

2. In a large bowl, using a hand held mixer, whisk together the warm coconut oil, coconut sugar and vanilla for 30 seconds, then add in the eggs and whisk for another 15 seconds until smooth.

3. In a separate bowl, add the buckwheat flour, cocoa powder, almond flour, baking soda, salt and stir until well combined.

4. Add the dry ingredients into the wet ingredients and whisk on low setting until smooth and starts to look like a brownie batter. Fold in the zucchini and chocolate chunks.

6. Transfer the batter to the prepared baking pan and smooth over with the back of the spatula. Bake for 18 to 20 minutes and allow to cool completely in the pan on a wire rack.

7. While the brownie is baking, prepare the chocolate avocado frosting. In a food processor, add the coconut icing sugar, cocoa powder, coconut oil, vanilla and avocado. Process for 30 seconds or until smooth and well blended.

8. Spread the frosting on top of the cooled brownie and slice into squares. Store any leftovers in an airtight container at room temperature for up to 2 days, or in the freezer for up to 1 month.

Notes:
*Shred the zucchini in a food processor using the shredding attachment, or by hand using a box grater. Transfer to a nut milk bag or kitchen cloth and squeeze out the excess moisture.
**To make your own coconut icing sugar, simply add the coconut sugar to a high speed blender or coffee grinder, and grind until it resembles fine powder.