Here is a little recap from our gender-neutral baby shower. If you're new here, we aren't finding out the gender until birth (We're excited for it to be a surprise!). Today, I'm sharing all my inspiration for planning a baby shower, decor, healthy snacks, and treats!
There's nothing more exciting than celebrating a new baby! This baby shower is much different than my last baby shower (Hello 2020), and I'm so happy we were able to celebrate baby #2 with our friends and family and throw a huge party.
Decorations
We were expecting a large group of people (about 60 people!). We knew we needed extra space, so we utilized our big backyard and had an indoor/outdoor party. Let's be honest.. 60 people wouldn't fit in our house, so we were hoping it wouldn't rain. I rented a tent for the backyard (Just in case it rained but also for some shade from the sun) and rented extra tables and chairs to accommodate all our guests.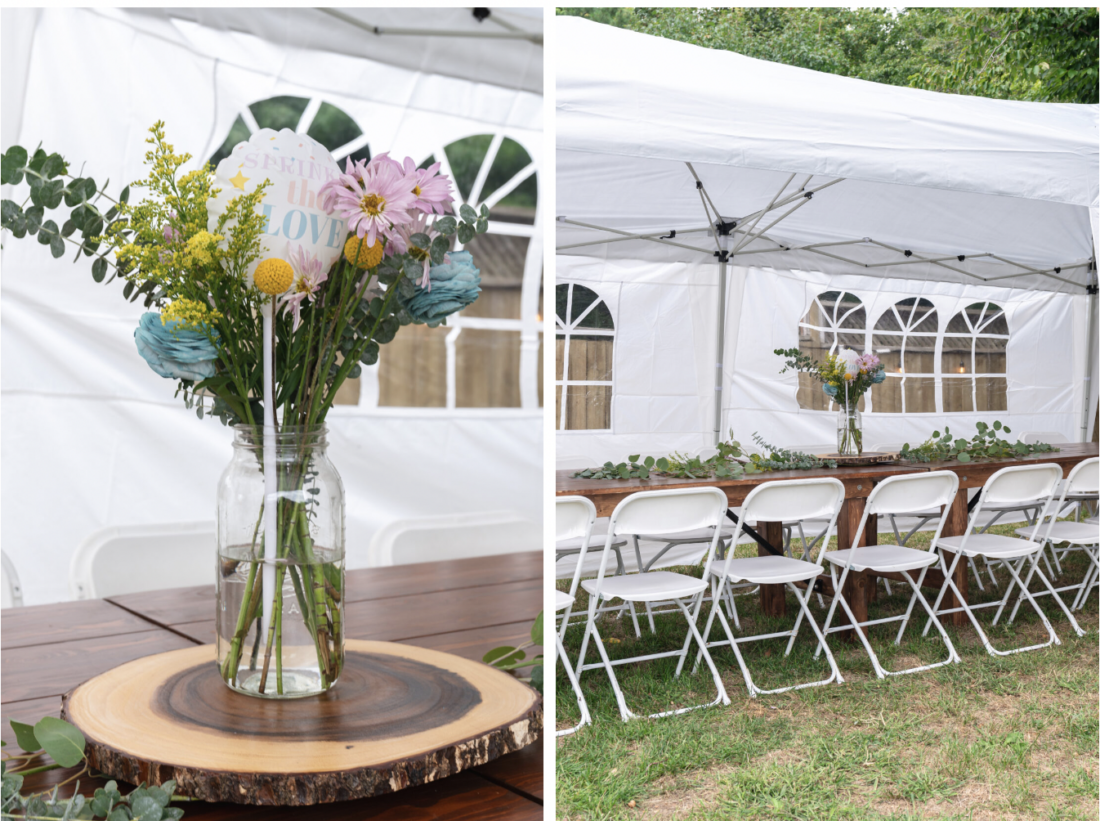 I created personalized party decor from Zazzle; it was so much fun customizing everything, from the banner to the personalized confetti (with our pictures!) to the tags I attached to our party favors.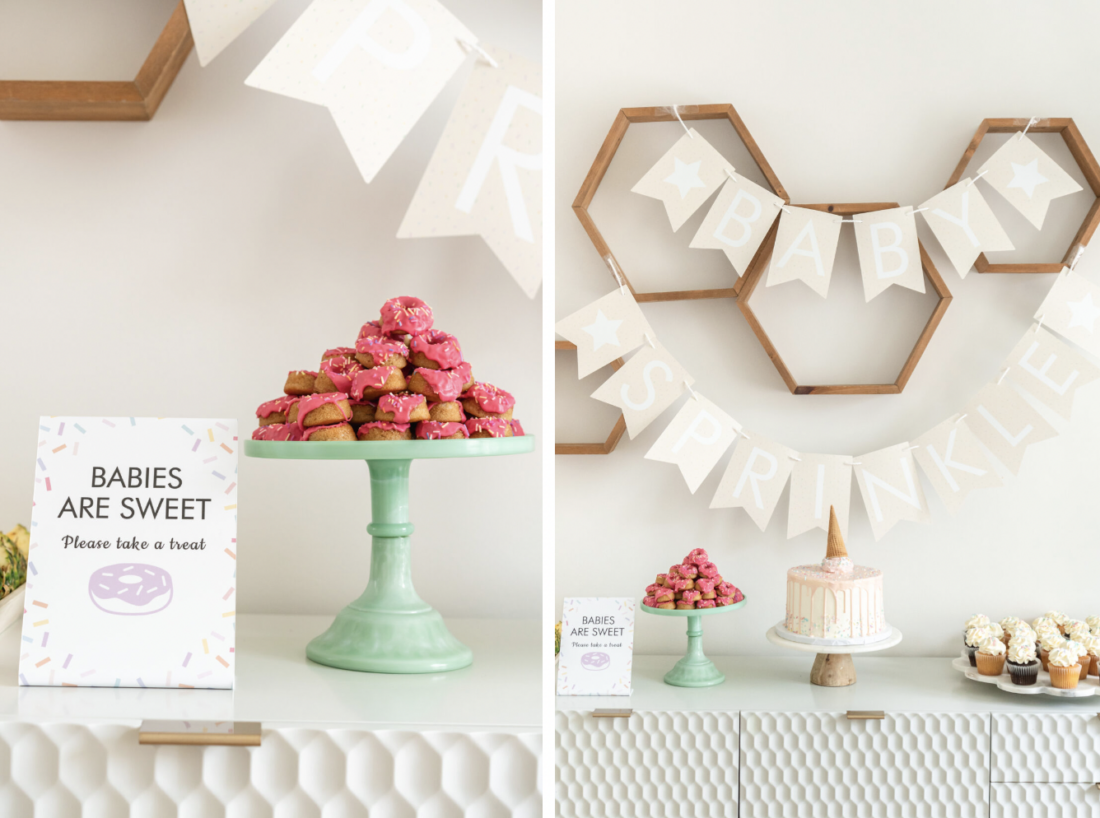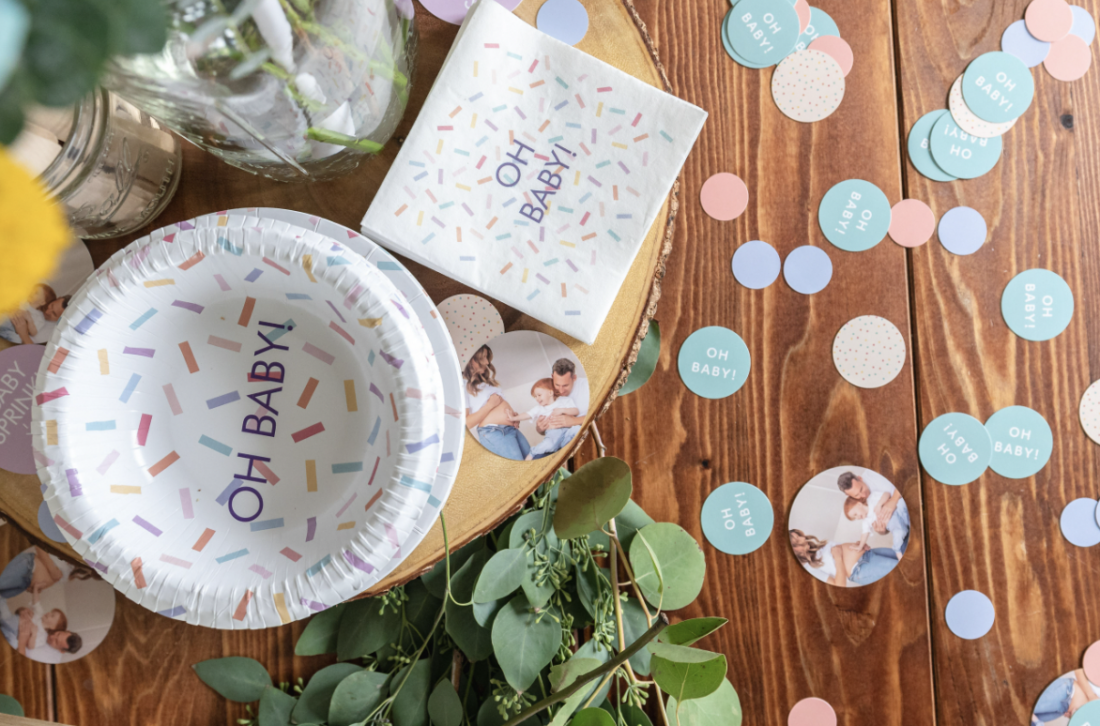 Party Favours
I found this idea on Pinterest. The party favours theme is "From our Shower to Yours," and gifted every family one non-toxic natural soap bar from one of my favorite soap shops, Luminance Skincare (use code HEALTHNUT10 for 10% off their entire website). I've probably been using this brand for about ten years. The soaps smell amazing, and they don't dry out your skin. I also love their rose water toner, eye creams, and peptide facial moisturizer. Their products have transformed my skin and are what Matt and I both use every single day for balanced, hydrated, and glowy skin.
Eco-Friendly
We wanted to try and keep everything as low-waste as possible (but also kid-friendly). We decided to stay away from the glass, so I ordered steamless reusable plastic champagne glasses, bamboo utensils, and paper straws.
Healthy Eats & Treats
It also isn't a HealthNut party without some veggies and yummy nibbles – and Cured Catering (Toronto-based) brought the goods with this beautiful charcuterie board and fruit arrangement. They always do a beautiful job; this meat and veggie platter was like artwork (and so delicious)! We've used them for probably every party we've hosted, from our Cookbook Launch to our first Baby Shower. 
They offered my viewers a special code NIKOLE10 for 10% off their entire website.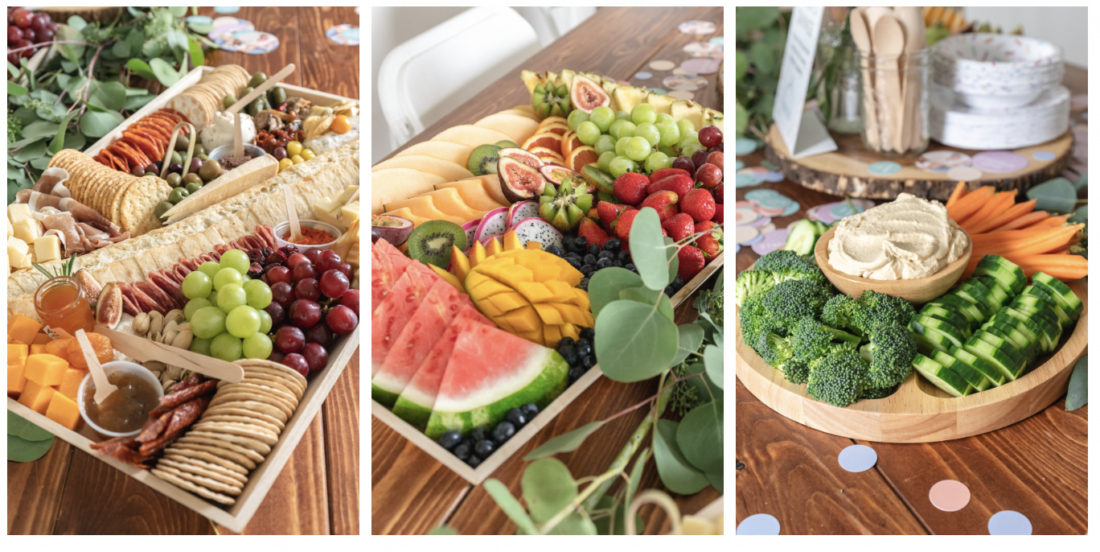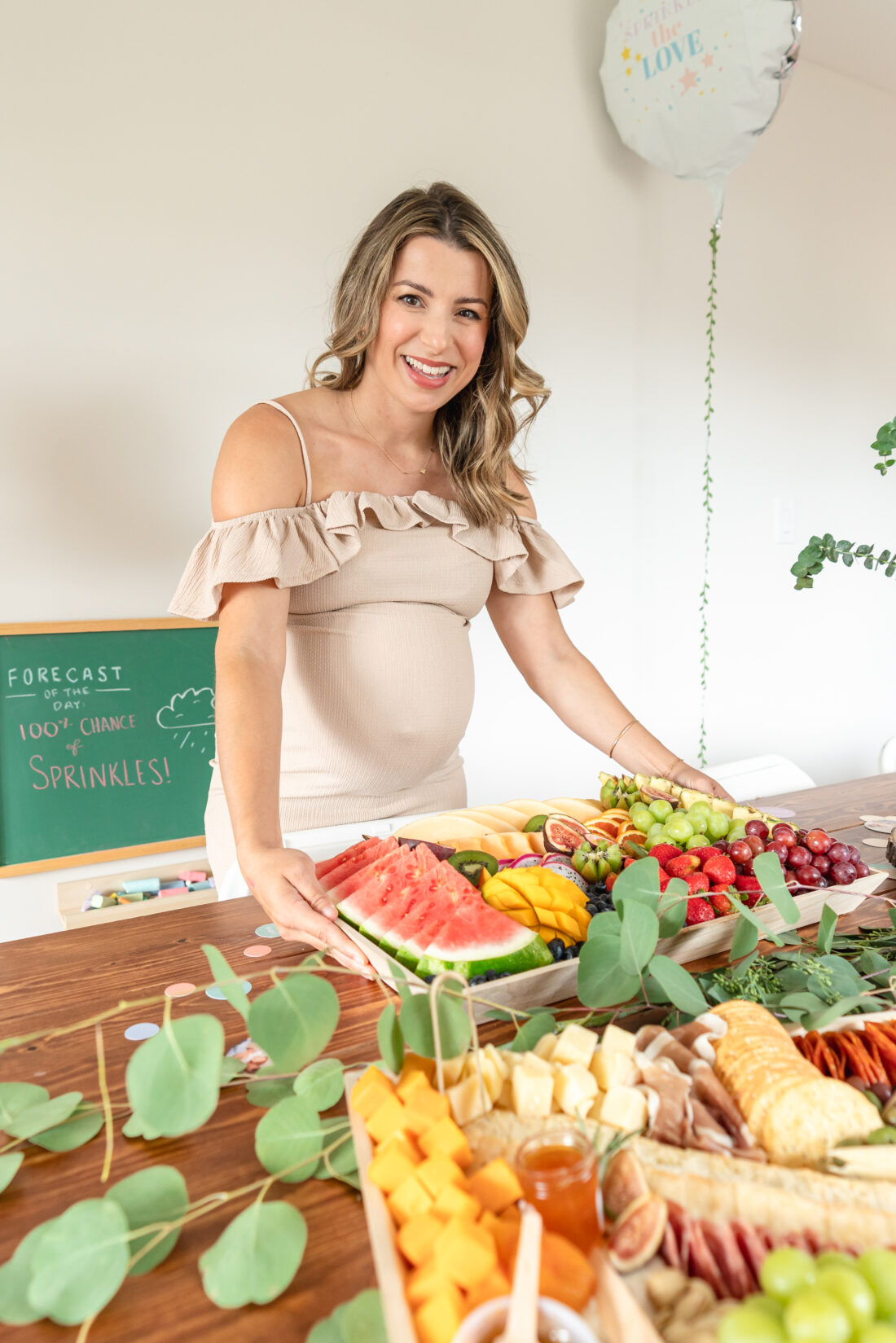 We also had a beautiful vanilla cake with fresh strawberry filling and vanilla buttercream frosting and cupcakes. We did a mix of chocolate and vanilla with vanilla buttercream frosting. Isabelle at Isabelle Makes Cakes did an amazing job!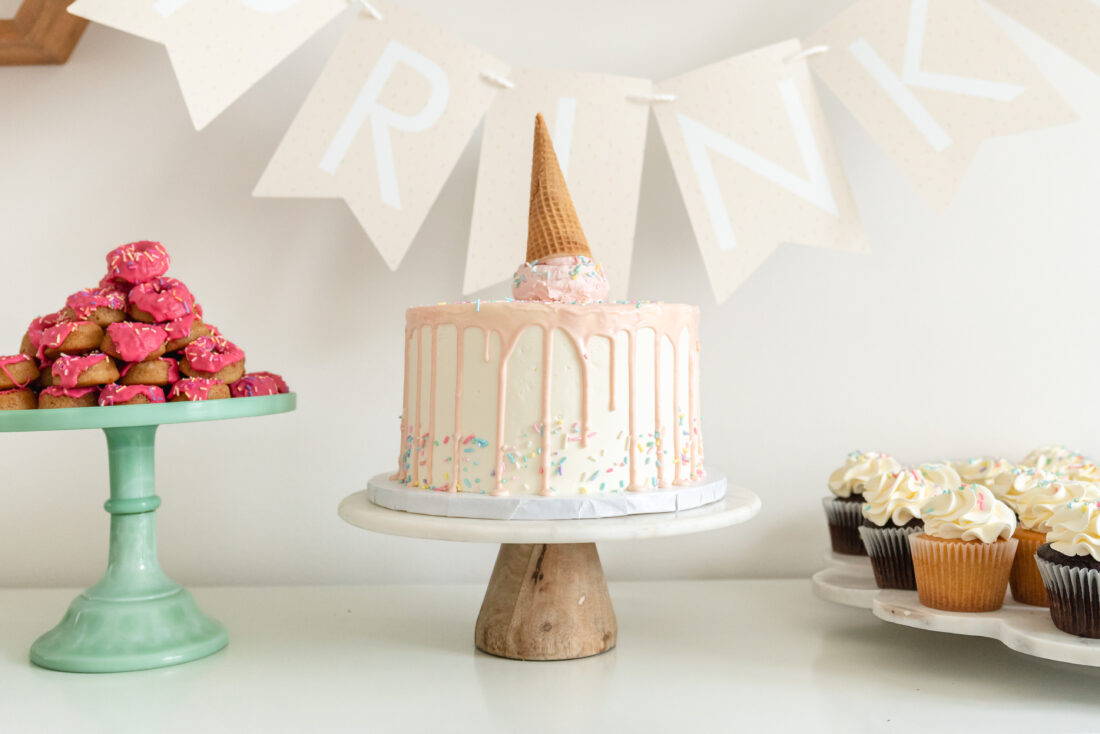 To top it off, I ordered from one of my favourite Toronto bake shops, Tori's Bake Shop. They make delicious Gluten-Free, vegan desserts that actually taste good! I ordered their vanilla-sprinkled donuts, which are one of their most popular treats! (So good!).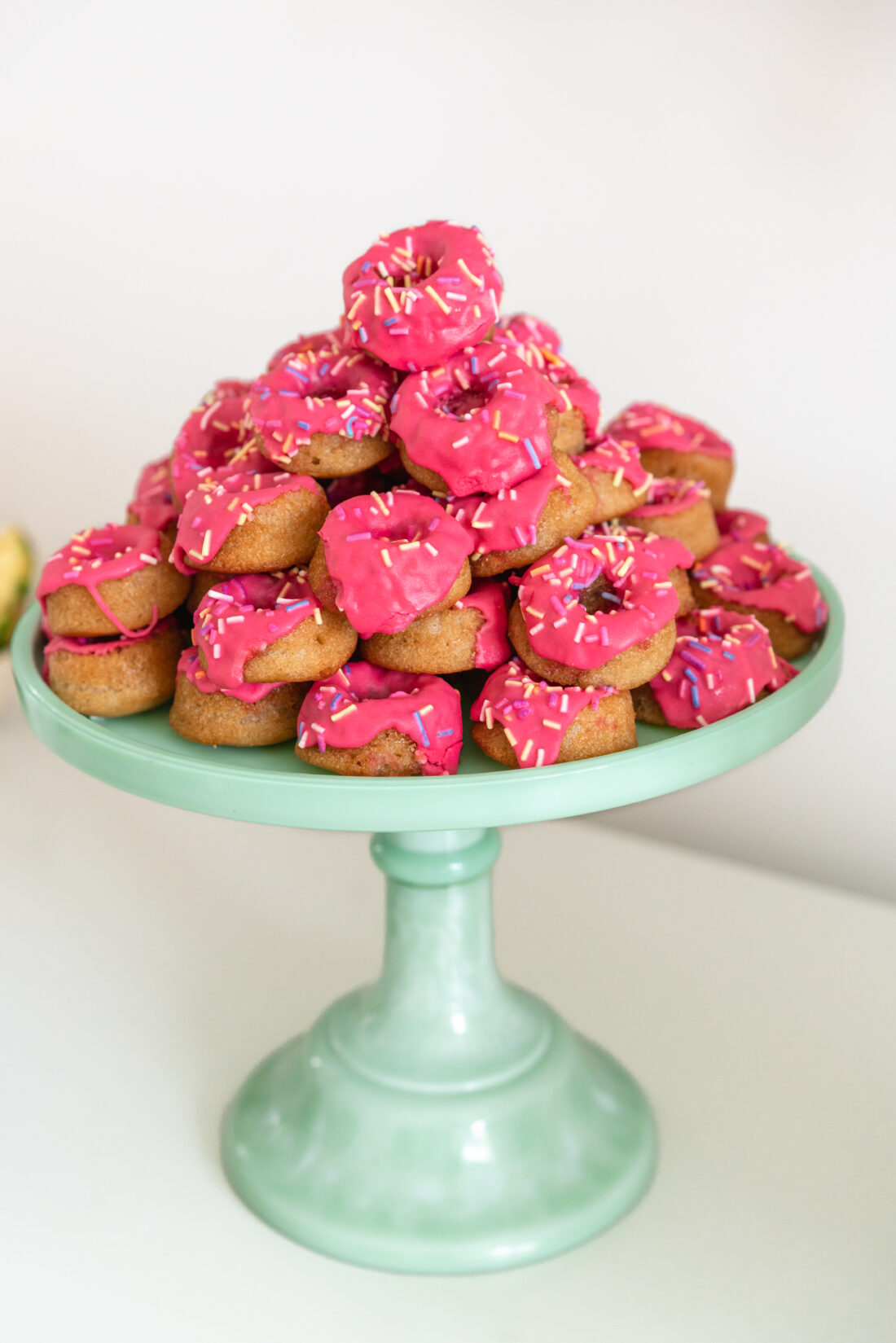 For Drinks

We served my new favorite non-alcoholic drink — Wild fermented ginger beer from Ginger Bug. We served their 3 flavours, low sugar, spicy, and the original one. I'm not a pop drinker, and these are so tasty and good for you because of the natural probiotics. Love supporting new small businesses popping up and these did not disappoint and were a huge hit at the party.
We also had a "Mom-osa" Bar with directions on how to make the drink right beside along with Rose, Zedva, Bubly (it's a flavoured sparkling drink), Beer, wine, and spirits for mixed drinks, circus water (water with sliced orange, lemon, and lime)
Kid Entertainment
We couldn't forget the little guests! It was really important to me to make sure that the little guests at my Baby Sprinkle also had entertainment. (If the children are having a good time, so are the parents!) We ended up hiring Fun Faces By Mel to paint the children's faces (This was a favourite!) We also purchased a bounce house for Sage and used it during the party to allow the children to burn some energy! Throughout the party, we had bubble stations and bubble guns for the kids. The kids at our party had a lot of fun!
Outfit Details
I found my beige dress at Mango, and I loved the way it hugged the bump! Although this is not a maternity dress, it fits just the way that I wanted it! (I was happy that I hadn't grown too much in two weeks since buying it, so it still fit just right). Sage wore a pastel rainbow dress that I purchased at H&M.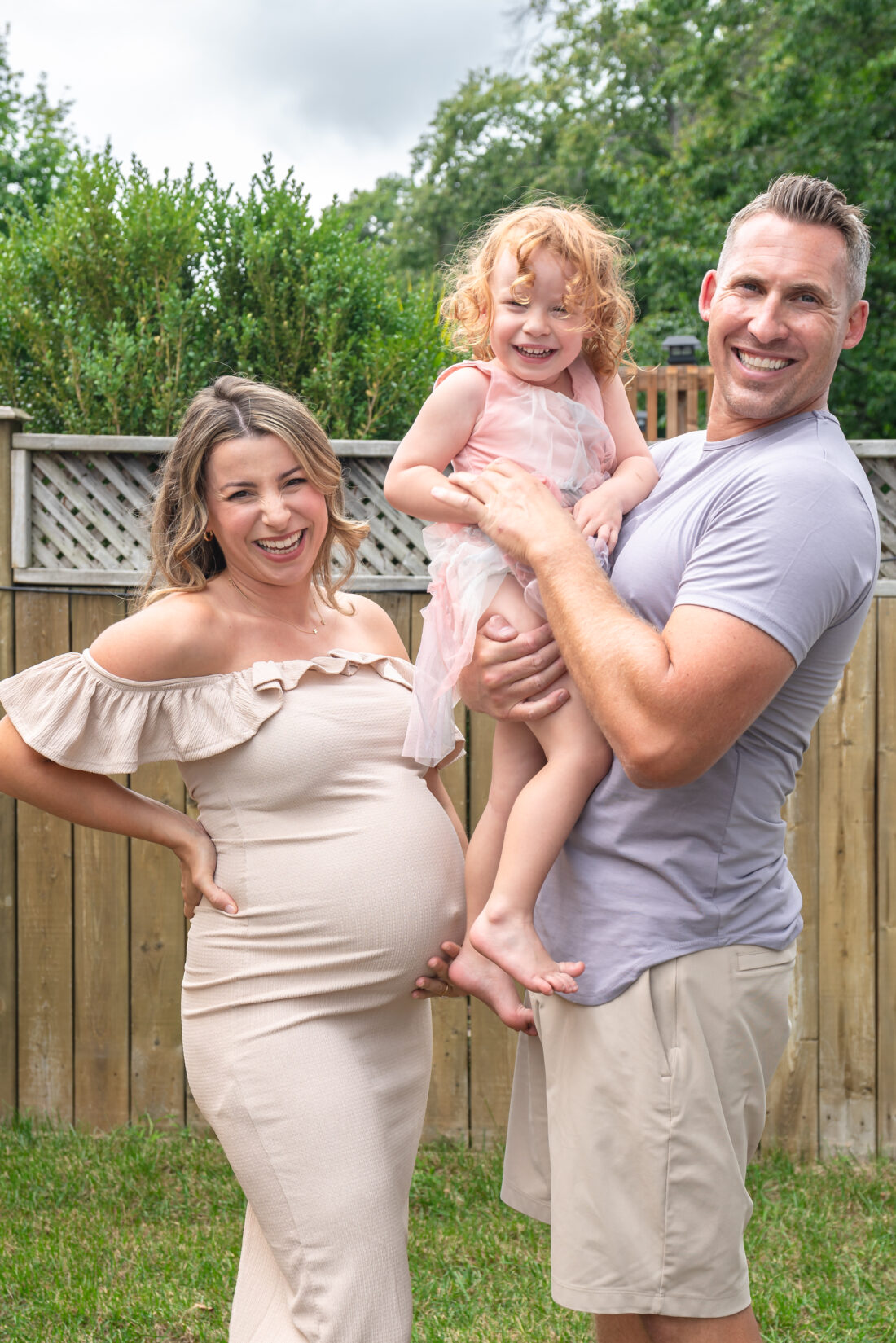 Friends and Family
I am so grateful to all my friends and family members who were able to make it out and celebrate the arrival of our second baby with us. There is so much joy and anticipation awaiting the arrival of a new baby, and I definitely was overflowing with joy, happiness, and FOOD!
I hope if you're planning your own baby shower, this post helps give you some fun ideas and inspiration!
Looking For More Inspiration?
If so make sure to check out my other party blogs!
My Boho Baby Shower, Boho Floral Birthday Party, Two Wild Safari Birthday Party