A little recap of our Boho Floral Baby Shower celebration for our baby girl! Inspiration for planning a baby shower, decor, healthy snacks and treats, and a FREE printable download for you to use!
Is there anything more worth celebrating than the arrival of a new baby into the world? And this year, I think we could all use a little more celebration and fun! I was so happy that we were able to (safely) celebrate our little girl with our closest friends and family. As a first time Mama, I really felt that celebrating this pregnancy and soon-to-be arrival of Baby Acorn was essential. If you've been following me through my first and second trimester, you will know that it hasn't been the easiest ride for me. This baby shower was a way to celebrate the highs and lows, and acknowledge all the hard work that has gone into growing this little girl that we already love soo much!
Planning a baby shower was so fun! I can't take all the credit though – a lot of the hard work and planning was done by my sweet sisters Cloe and Pam, best friend Yvonne, Mama HealthNut, my Tia Cris and cousin Caitlin. The theme of the shower was Boho Floral – which is so fitting for our little girl, and what I had always envisioned for my dream baby shower. Everything came together so beautifully, I could not have pictured it any better. Truly this shower surpassed my expectations and I had so much fun celebrating, enjoying all the food and treats, and playing games with my closest girlfriends and familia!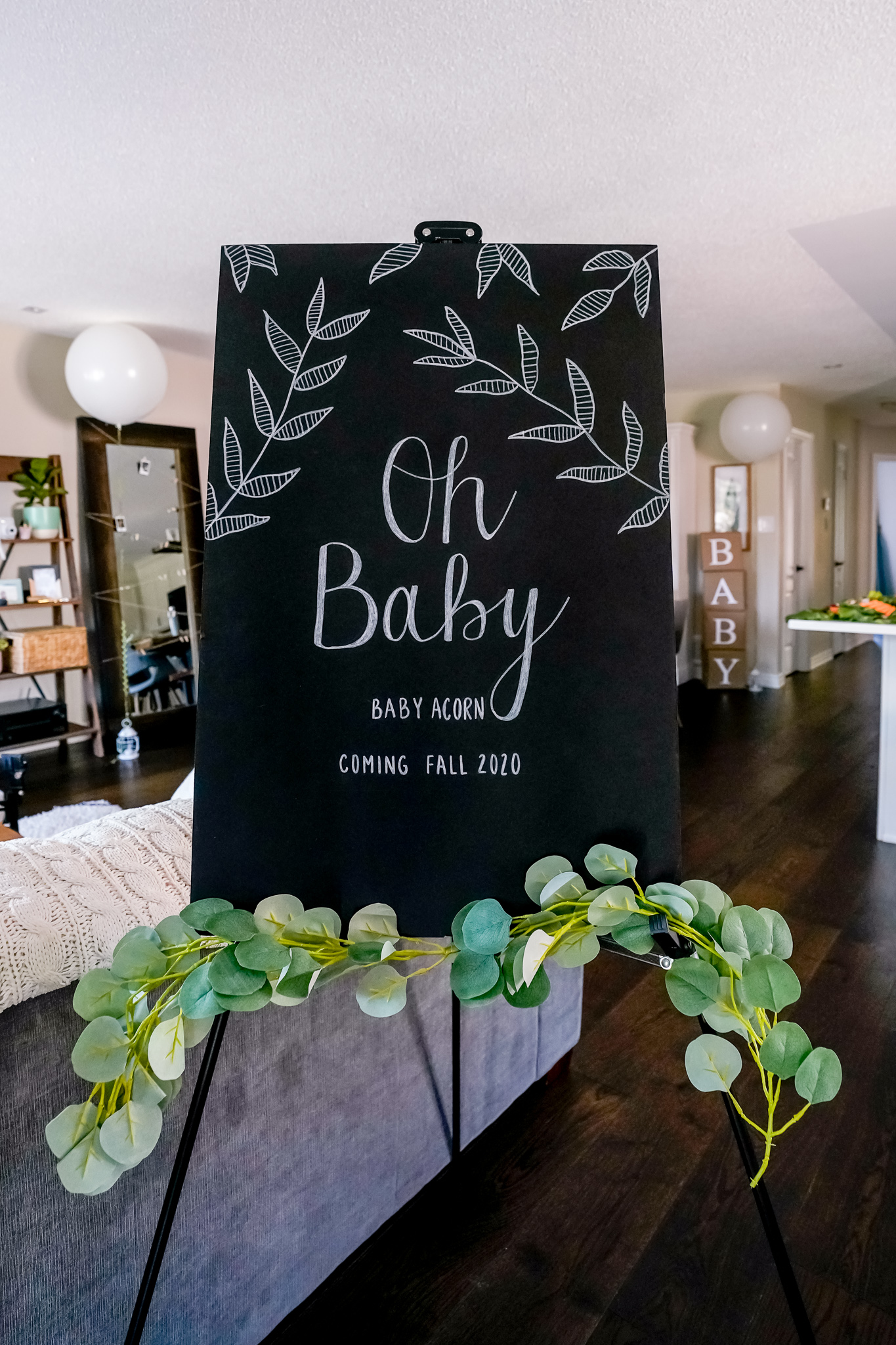 DIY Decor
I had so much fun decorating our house with ALL the fun DIY baby shower decor ideas we found on Pinterest! If you want to see my Pinterest Boho Floral Baby Shower Inspo board – check it out here! To start, this sign was drawn by my cousin Caitlin (the Queen of calligraphy and pretty handwriting). Caitlin used a large black foam board and white chalkboard marker to make this.
Since the theme of the shower was Boho Floral, I wanted to include lots of fresh flowers and greenery in our decor. We made blush pink bouquets with carnations, daisies, roses, seedy eucalyptus, blue eucalyptus and baby's breath. We used large mason jars for the flower vases and wrapped them in burlap and jute rope. They were perfect for larger statement arrangements.
For the large baby letter block we used cardboard boxes that we wrapped in craft paper and cut the letters out of textured scrapbook paper using this cutting machine (alternatively you could also do this by hand).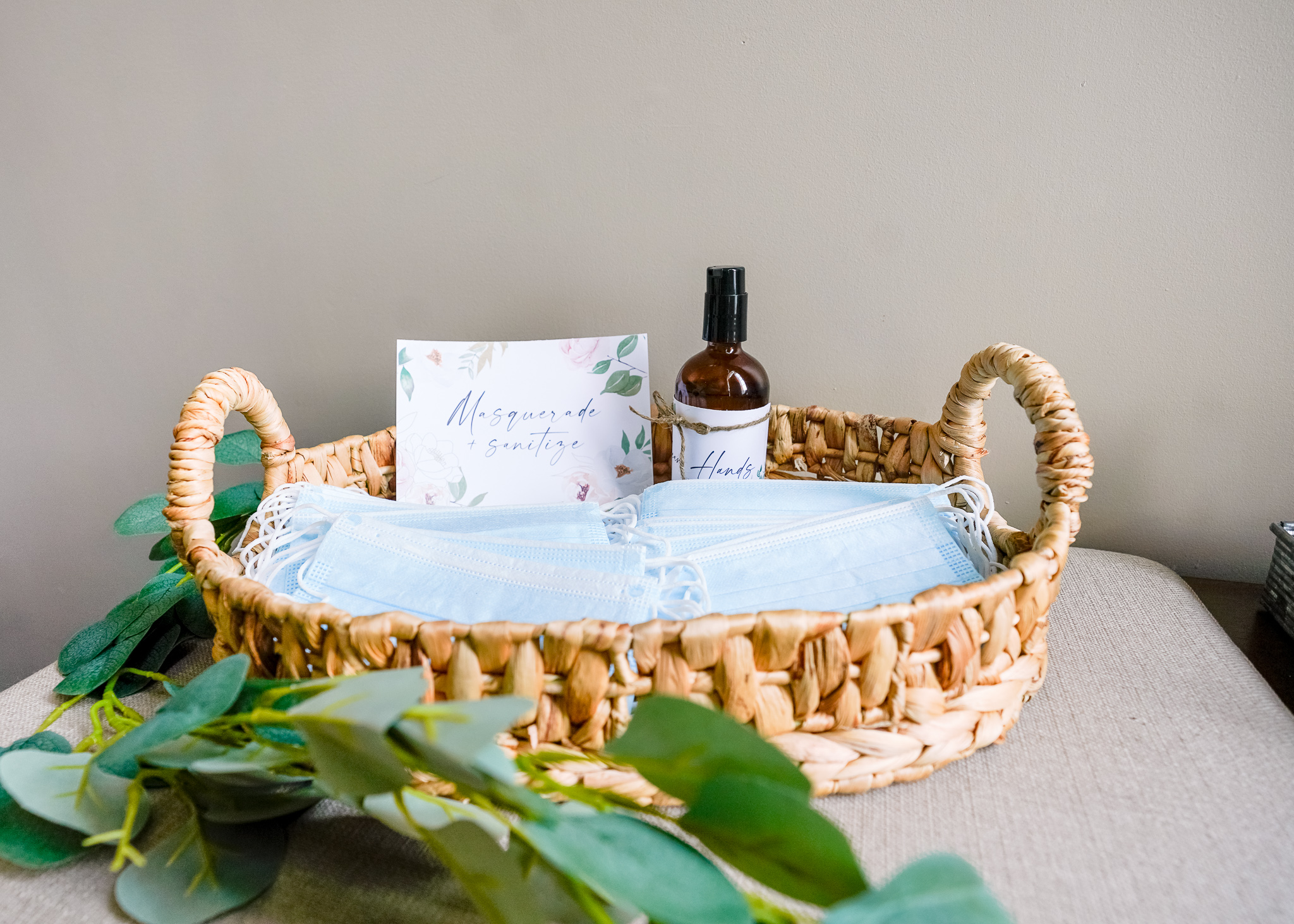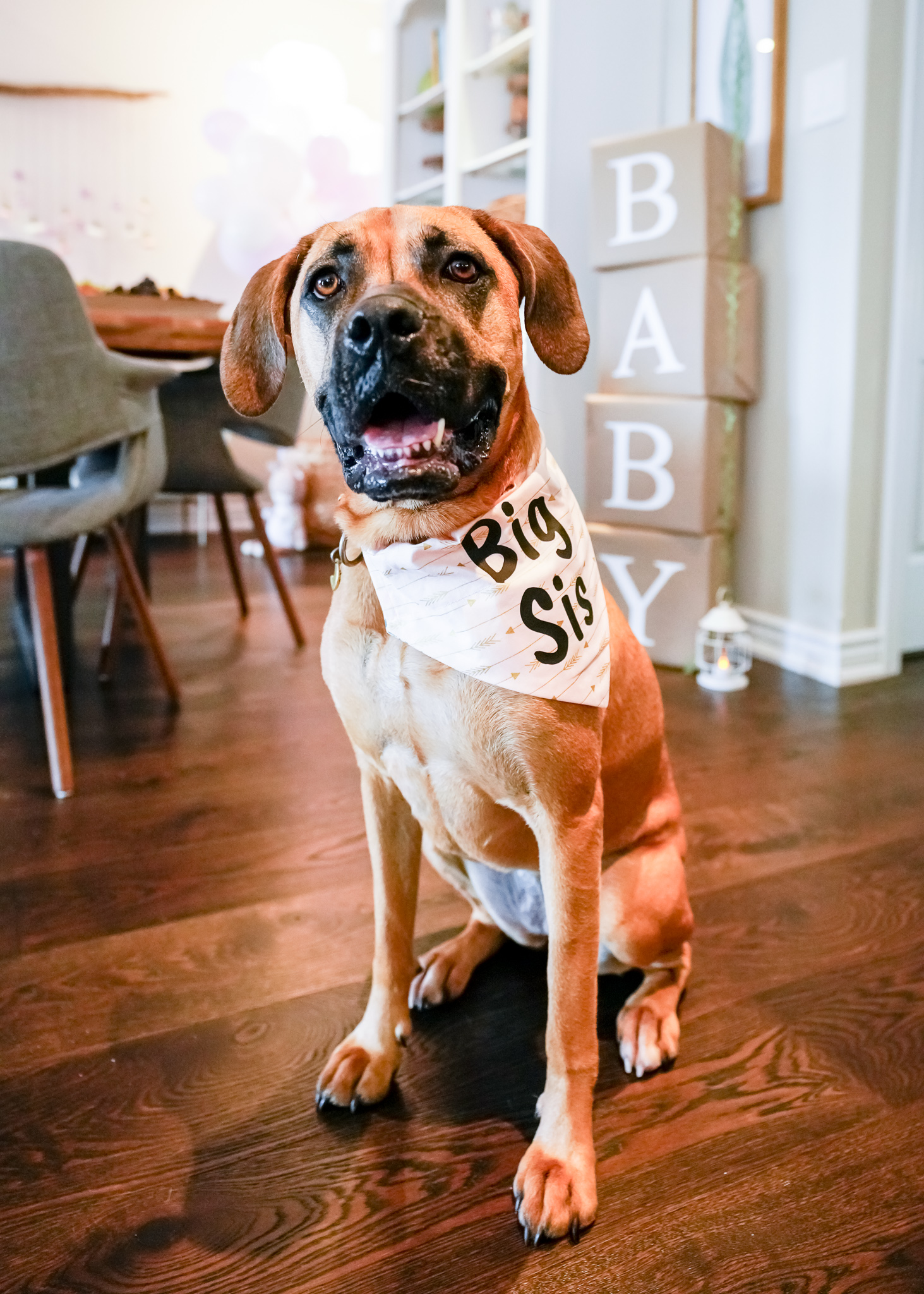 Miss. Cashew wore this very fitting and festive custom bandana!  She's going to be such a big sister, I already know it!
Healthy Eats & Treats
The food for my baby shower was of course HealthNut themed! We enjoyed recipes from the HealthNut Cookbook such as my Honey Roasted Sriracha Cashews, and Raw Chocolate Chip Cookie Dough Bites! Is it even a party of Chocolate Chip Cookie Dough Bites aren't involved?! 
It also isn't a HealthNut party without some veggies – and Cured Catering brought the goods with this beautiful charcuterie board and fruit arrangement. They always do such a beautiful job, this veggie platter was like artwork (and so delicious)! 
I made a crudités table (inspired by Cured Catering!) with greens from my garden as the base. I served it with dips including guac, hummus, and spinach & artichoke dip.
We also had a beautiful naked floral cake made by a local cake artist Erin from Baked .  I gave her an inspo photo from my Pinterest board and she made it come to life! We also served some pink sprinkle donuts from this vegan café in Toronto called Tori's Bakeshop that make delicious organic, gluten-free and refined sugar free baked goods! 
To top it off, Smart Sweets also provided some of their famous peach rings – a pregnancy craving that I've been loving! Let's be honest though, I crave them when I'm not pregnant as well! Haha
For drinks, we had virgin caesars (a classic Canadian cocktail if you are not a Canuk and wondering what that is!), as well as Rosé with fresh thyme, and citrus infused water using sliced grapefruit, lemon and orange. This little bar / drink area was set up by the door, so guests could easily help themselves as they arrived! To label everything we used mini chalkboard signs.
Easy Virgin Caesar Mix
2 bottles of Walter Caesar Mix
2 limes juiced
8 dashes of Tabasco (more if you like it spicy!)
8 dashes of Worcestershire
1/2 cup pickle juice
1/2 teaspoon fresh ground black pepper
Lots of ice!
Optional: Vodka
Directions:
Mix everything together in a large pitcher and top with lots of ice. When ready to serve rim each glass with a wedge of lime and coat in Caesar rim spice mix before pouring yourself a glass. Optional- you can add a shot of vodka to your glass if you want to spike it. I served them with a skewer of garnishes like olives, pearl onion, cherry tomatoes, cornichons and a lemon wedge.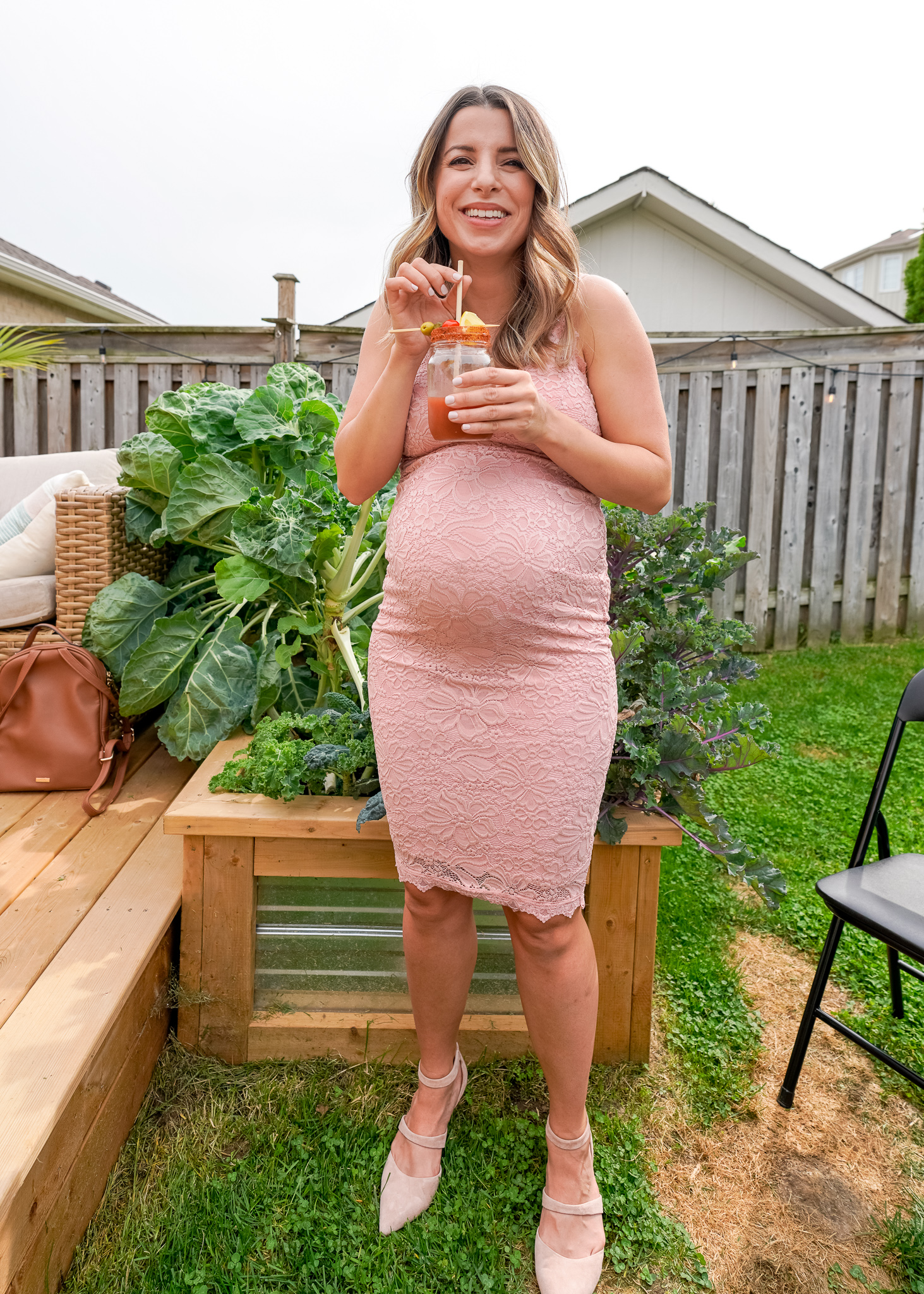 Game Time
For games, we had three fun guessing games: Who Knows Mommy Best?, How Big Is Mommy?, The Price Is Right, and Mommy or Daddy. These were really fun and got everyone laughing! My favourite was probably The Price Is Right because it got everyone riled up! The winners each got a pack of Smart Sweets and a BeautyNut Skincare Lip Butter.  We also had a fun polaroid camera photo set up with a wooden letter board and string and close pins which we taped to a long mirror. If you'd like to download a FREE copy of these printable games for your own baby shower, you can grab them here:

Family & Friends
I am so grateful to all my friends and family members who were able to make it out and celebrate the arrival of Baby Acorn with us. There is so much joy and anticipation awaiting the arrival of a baby, and I definitely was feeling overflowing with joy, happiness, and FOOD when all was said and done after my baby shower. Not to mention, the next day after my shower Mr. Matt and I also celebrated my 32 birthday as well. This very pregnant moma was all partied out after this weekend to say the least. 
Outfit Details
I found my blush pink dress at Honey Stores, and I loved the way that it hugged the bump! Although not maternity wear it was VERY comfy, and I got lots of compliments wearing it.  I found this floral mask to go with it as well, because it wouldn't be a full outfit in 2020 if you didn't have a matching mask to go with it, right?!
For our party favours, we had these adorable little succulents for guests to take home. I love the idea of our guests growing a little plant that will remind them of Baby Acorn every time they look at it!