Healthy Pregnancy Tips For The Second Trimester, what to expect, and my best tips. Sharing my experience and best tips for exercise and movement, sleep, bloating, acid reflux, self care and natural remedies that have helped, as well as a bump update!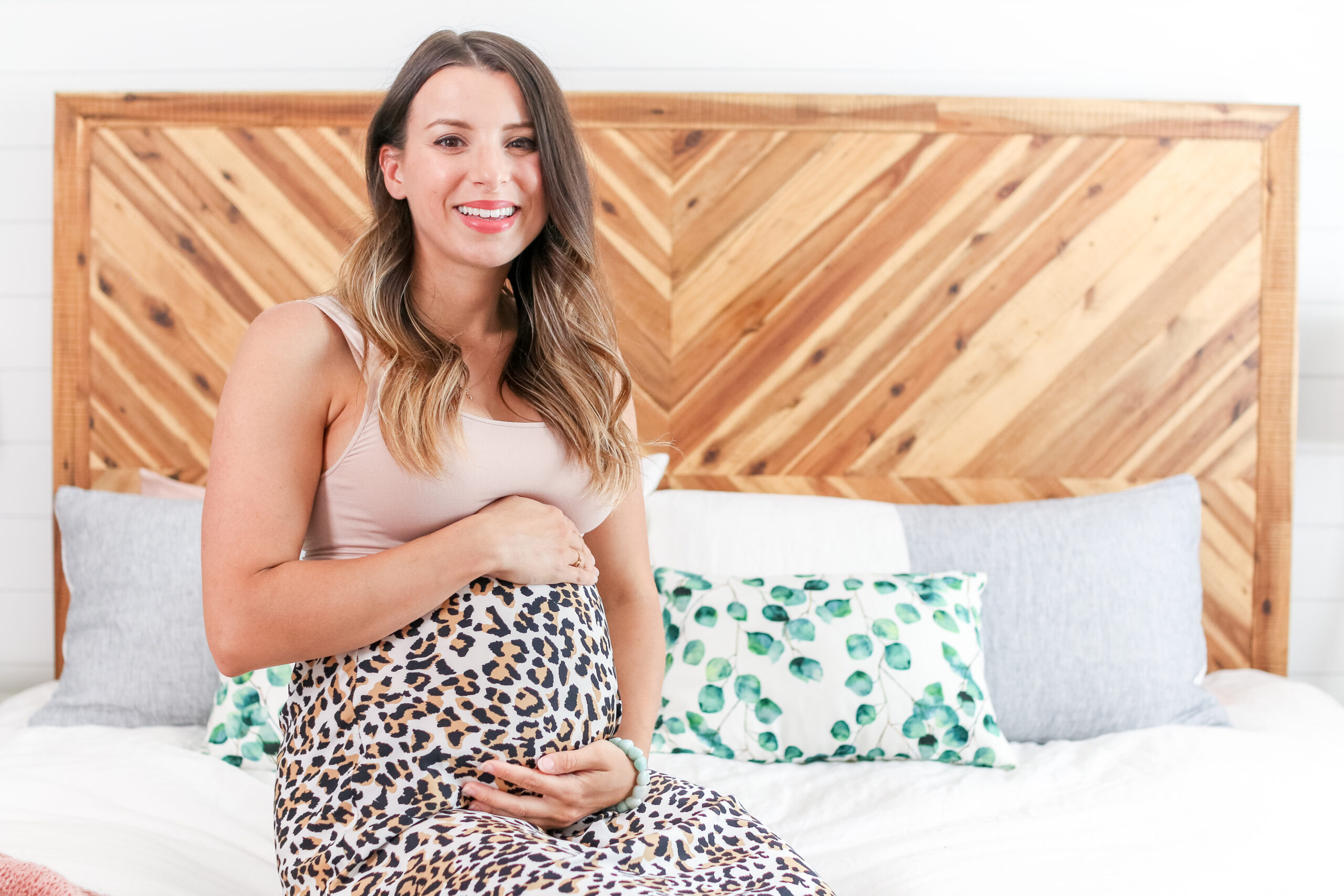 I feel like it was just the other day that I was finding out I'm pregnant, and now here we are at 25 weeks along! At times it has felt like this pregnancy is going by slowly (mostly when I wasn't feeling so good during the early weeks) but now that sharing this second trimester recap, I can't believe that I am already more than halfway through! 
They say that the second trimester is the "honeymoon" phase of being pregnant, and I can definitely see why! I have felt more myself, more energetic, and overall am enjoying pregnancy a lot more now than I was in the early weeks. In this blog post, I'm going to recap everything from exercise, how I've been sleeping, beauty changes, self care, baby updates, body updates, food, supplements, bloating, my birth team and how my mood and energy levels have been. 
This video was filmed a few weeks ago, and I am currently in my third trimester – so be sure to follow along on Instagram for more real-time updates! I will of course be sharing a third trimester recap later in my pregnancy as well, so stay tuned for that. 
One of the most exciting moments of my second trimester was announcing the news to our online community! We waited until I was 5 months along before announcing, and it was so fun to officially share our big news with the #healthnnutfam. Also, since my first trimester recap, we have found out the sex of Baby Acorn! Keep reading to find out (hint: my suspicions were right)!!
Exercise
Exercising while you're pregnant has become such a controversial topic. It seems very divided: people are either 100% for working out and moving your body or 100% against it. For me, working out while pregnant has helped me to feel strong, confident and connected with my body. In my first trimester, I felt so fragile and weak from feeling nauseous and sick all the time. I always knew I wanted to be an active momma, but during my first trimester, I had ZERO motivation to workout. It's hard to stay on top of your fitness game when you feel hungover 24/7 and you're surviving off of soup and crackers! Since entering my second trimester, movement has been a form of self care. Whether it's a long walk with my pup Cashew, a prenatal yoga routine, or a workout session with my personal trainer.
I have really been enjoying slower, more low impact movements and workouts. My favourites have been Melissa Wood Health's Prenatal Series as well as this Prenatal Yoga.
In addition to bodyweight workouts, I have also been using weights and resistance bands to help build endurance and strength. Halfway through my second trimester, I started weekly personal training sessions with my coach Laura. This has been really great to get some professional guidance and know that I'm doing my workouts properly. I highly recommend working with a personal trainer who is familiar with prenatal. 
Sleep
My quality of sleep changes all the time throughout this pregnancy, but has been pretty good lately! I finally got some solid sleep over the past three weeks. I'm talking: go to bed, sleep like a brick through the night, AND wake up feeling very well-rested. The only thing I have been noticing lately though is weird, elaborate dreams. Sometimes when I wake up, I feel like I have been dreaming for days! I am definitely nearing the stage of needing a pregnancy pillow for ultimate comfort, and I will update you when I find a good one (in my pregnancy essentials post, coming soon). 
Beauty 
At around 14-15 weeks I started to notice my nails getting really long, and my hair growing like crazy! This only makes sense, my body is absorbing more nutrients from food and digestion is slowed down during pregnancy to allow for optimal nutrient absorption. Some people say that it's the prenatal vitamins that cause this growth, but that can't be the case for me, since I've been taking a prenatal supplement for years now.
One pregnancy hack I've been doing is sugar waxing. Shaving your legs while pregnant is not fun (I can't even put my socks on without a struggle)! I have some sugar waxing twice now and will likely go one more time before Baby Acorn is born. I just enjoy doing this for myself as it makes my life easier, and feels good too!
I have noticed my skin is really sensitive to the sun, and have been diligent in wearing sunscreen every day. My skin is definitely drier and burns really easily. I love this natural sunscreen and have been using it since my first trimester. I also moisturize my skin with my own DIY belly oil (recipe coming soon on IGTV)! I know that stretch marks are genetic, but it feels so good to massage into my belly, and the essential oils included are safe for baby and very rejuvenating for my skin.
Self Care
I have always been very proactive with my self care routine, as you may know if you have watched any of my routine vlogs. I like to be ahead of the game and hopefully avoid injury, chronic pain, and stress by using simple self care practices every day.
Some self-care rituals I have adopted during my second trimester are acupuncture, pelvic floor physio, and prenatal massages. Acupuncture has been helping so much with stress, anxiety, sleep, and bloating. I can't recommend it enough, and especially since my acupuncturist is also a naturopath so she's very knowledgeable. Pelvic floor physio helps to work on endurance and prepare not only for labour and delivery but also for postpartum recovery. Prenatal massage has been helpful for relieving tension and back pain as well.
In terms of other self-care rituals at home, I am not reading as much as during my first trimester (I think because I am feeling so much better) but I have taken up baking sourdough bread, and it is so fun and delicious to make!
Baby Updates
The part you have been waiting for, baby updates! We had our anatomy ultrasound at __ weeks, and we got to see Baby Acorn kicking and moving around so much. At this point, we didn't know the gender, but we did have a gender reveal party with our friends and family when I was __ weeks. You can watch our gender reveal party vlog here!
As you can see, we found out that the baby is a girl, so Mama's intuition was right all along!
Around 17 – 18 weeks I feel like I really started to pop, and the bump really began to appear. It wasn't until 22 weeks that I could feel and see her kicking and moving! Mr. Matt got to feel her moving around soon after I started to feel her movements, and I've been able to feel lots of kicks and karate moves ever since. The placenta is positioned towards the back of my uterus, which they say typically means that you can feel more strong and defined movements. 
Body Updates
Let's talk about body updates! I've noticed a few new symptoms during my first trimester, the first being restless leg syndrome. It hasn't been too bad, but I do find it difficult when I am trying to relax and sleep at night. I have found that taking Epsom salt baths, supplementing with magnesium, or getting Matt to squeeze my let to release it – helps a lot!
The best thing though is my acupressure matt – it is definitely a pregnancy must-have! This acupressure mat melts away stress and tension and helps to put me to sleep. I can't recommend it enough, whether you a pregnant or not everyone can benefit from one of these, and you can use code BON15NIKOLE for 15% off your order!
My growing belly definitely came with some aches and pains, including a feeling of pulling and tightness around the outside of my belly. I also had some lower back pain for about a week when my belly really popped, but after my body adjusted to the larger belly it hasn't been too sore. 
And of course, since I am growing my clothes are not fitting well. I definitely need to invest in some maternity clothing soon, and I can't wait to share a maternity clothing haul once I do (coming soon)! I have been feeling really hot and overheated, and am looking forward to fall when things cool down.
Food
Speaking of belly popping, it definitely came with some bloating and indigestion. With baby taking up so much room, there's less room for my stomach and food to digest! Any other mamas out there experienced this?! I was feeling like someone had pumped my stomach with air, I was so bloated, tight, and uncomfortable. It also seemed like anything I ate made me bloated, and I was having a hard time finding things to eat that digested well. 
I started working with my naturopath (who is also my acupuncturist) to incorporate more cooked, easy to digest foods. This includes:
Sweet Potatoes

Avocado

Cooked veggies

Oats with stewed berries

Nuts and seeds

Dried fruit 

Apple sauce

Herbal tea
I have also lowered my intake of raw fruits and vegetables and dairy, and instead eating more cooked fruit and veggies! Eating smaller meals throughout the day, rather than big meals 3 times a day, has also helped with digestion and managing hunger. I am finally enjoying more of a variety of foods now, things like olives and kimchi that I didn't enjoy during my first trimester are now tasty again!
Supplements
Birthing Team
We have an amazing midwife and doula team! I had one appointment with an OB, which to be honest wasn't the best experience. I didn't get to ask much as the appointment was so short, so having a midwife has been so amazing as they are there to help answer questions and walk with you throughout your pregnancy. 
Mood and Energy Levels
I've heard people joke about it before so I'll just mention it briefly, but libido is definitely high during the second trimester. Need I say more? Other than that, I've been finding that I'm definitely more energized and more myself. My prime time is from 11 am to 4 pm, which is when I get most of my work done and am very productive. After 4:00 I start to crash, and my bedtime is more around 9:00 these days, whereas I used to be a night owl! In terms of mood, I feel like I've been really calm and happy. At around 20 weeks I did have some anxiety, but I have been focusing on my excitement to meet the baby and excitement to prepare the nursery rather than dwelling on the negative aspects. Of course, these feelings are bound to pop up, but I think that taking it day by day and enjoying each stage has helped a lot.
I hope that you found these Healthy Pregnancy Tips helpful if you are pregnant, or wanting to get pregnant! I would love to know if you're currently pregnant, or have been pregnant – and one thing that really helped you out throughout your pregnancy! Let me know in the comments!