My top 12 pregnancy must haves, essentials and hacks to help you survive every trimester of your pregnancy! Natural essentials for relaxation, stress, acid reflux, leg cramps, aches and pains, and comfy maternity clothing. You need these in your life if you are planning to get pregnant, or you currently are pregnant!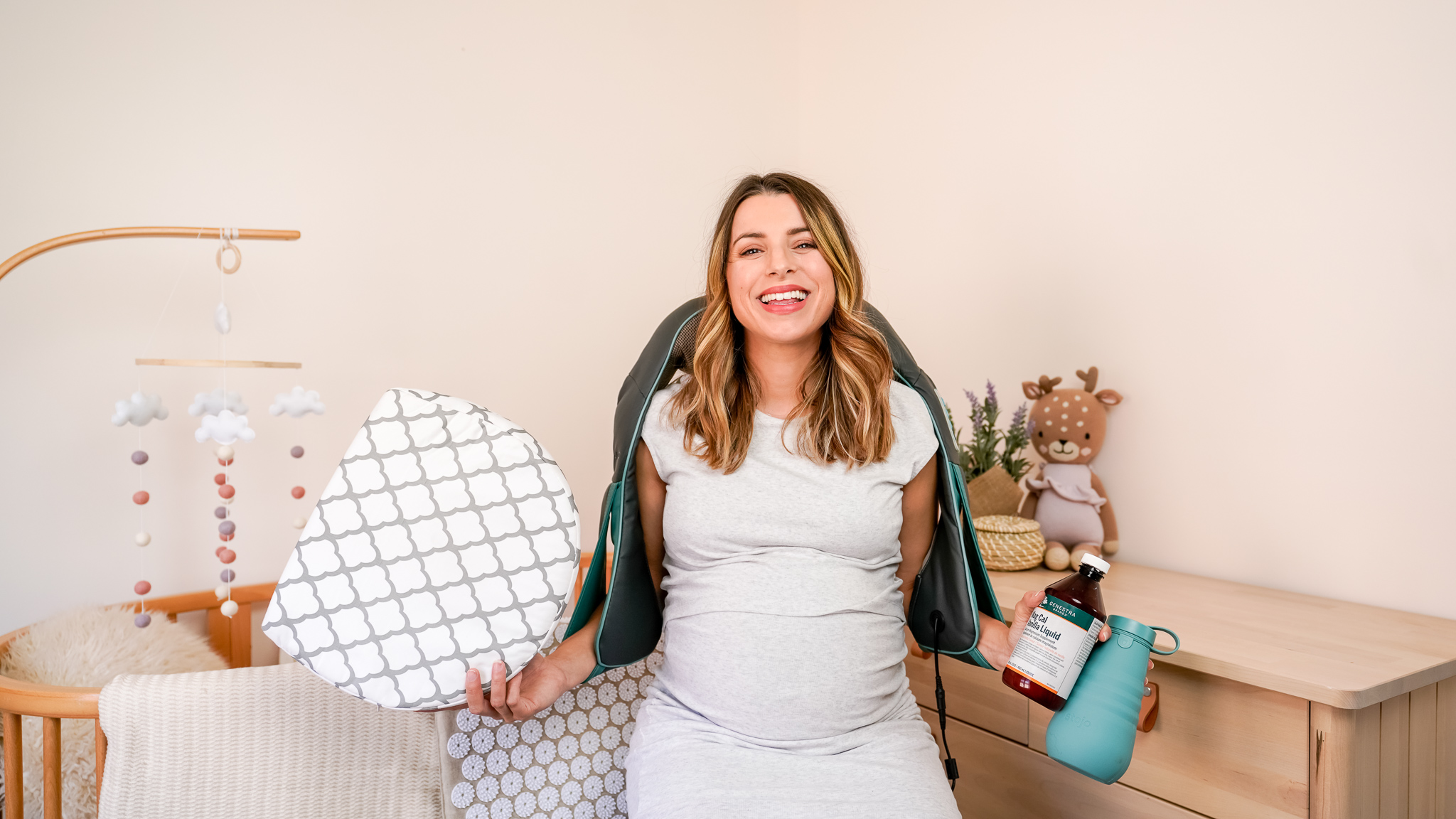 I've been slowly making a list of all of my top favourite pregnancy must haves since my first trimester. It will come as no surprise (being the HealthNut that I am) that all of the products I've mentioned here to help with managing pregnancy symptoms are totally natural and healthier alternatives to the conventional options. Read on to find out what I use for natural relief from headaches, aches and pains, and acid reflux during pregnancy! 
I know there are so many of you who could benefit from these products because they have truly helped me survive over the past 8 + months of pregnancy. I hope that this post helps you find some healthy natural alternatives (even if you are not pregnant). Without further ado, here are my top 12 pregnancy must haves, essentials and hacks to help you survive the next 9 months! You got this Mama!
1. Acupressure Mat
I've said it before and I'll say it again… but this acupressure mat is seriously my favourite part of my night time routine! It has become such an essential for me to help with relaxation and stress. I like to lay on it (propped up with some pillows) for at least 30 minutes right before I fall asleep. I sometimes fall asleep laying on it, because it makes me that relaxed. I just feel like all stress, tension, worry and anxiety melts away (quite literally) when I lay on this eco-friendly acupressure mat.
I've been getting acupuncture and massages throughout my pregnancy, but it has also been nice to have some tools like this at home to help relieve tension when I need it most (which seems to be in the evenings). This mat has thousands of rounded spikes on it, which press against the skin to stimulate energy pathways in the body. For the first few minutes it will feel like a tingling prickly sensation, and as you settle in you feel your muscles begin to relax and restoration begins. Acupressure triggers the body to release endorphins, the body's very own "happiness drug" which provides a sense of joy, energy and pain relief, and oxytocin. 

I can't say this enough, but this is the most deeply relaxing and zen night time ritual ever. This acupressure mat has been one of my top essentials throughout this pregnancy, and I don't go anywhere without it. It helps to induce a night of deep sleep, allowing your mind to relax and totally zen out while also getting your blood flowing and reducing aches and pains. I love this acupressure mat because it is made from sustainable, eco-friendly materials. Use code: BON15NIKOLE for 15% off your order!
2. Pregnancy Pillow
Ok, HealthNuts. Let me be totally honest. At the start of my pregnancy, I thought I didn't need a pregnancy pillow. Let me tell you, I was wrong! This little cloud of heaven has been my best friend over the past few months. It's so soft and cushy and fits perfectly around my entire body for the comfiest snuggle. It's really big, but fits no problem if you have a king size bed. And even if you don't – it's worth it to squeeze it in (or kick your partner out) just for the comfort this pillow will bring! I joke with Mr. Matt, if I had to choose between my pregnancy pillow and him… it would be the pillow! Haha… any other pregnant Mamas out there relate?! 
I also love that it has a cover which you can easily wash. There are so many options out there for pregnancy pillows, and many of them are upwards of $200! But this one was well priced at $67 and has definitely been well worth the money. You can't have too many pillows during your pregnancy!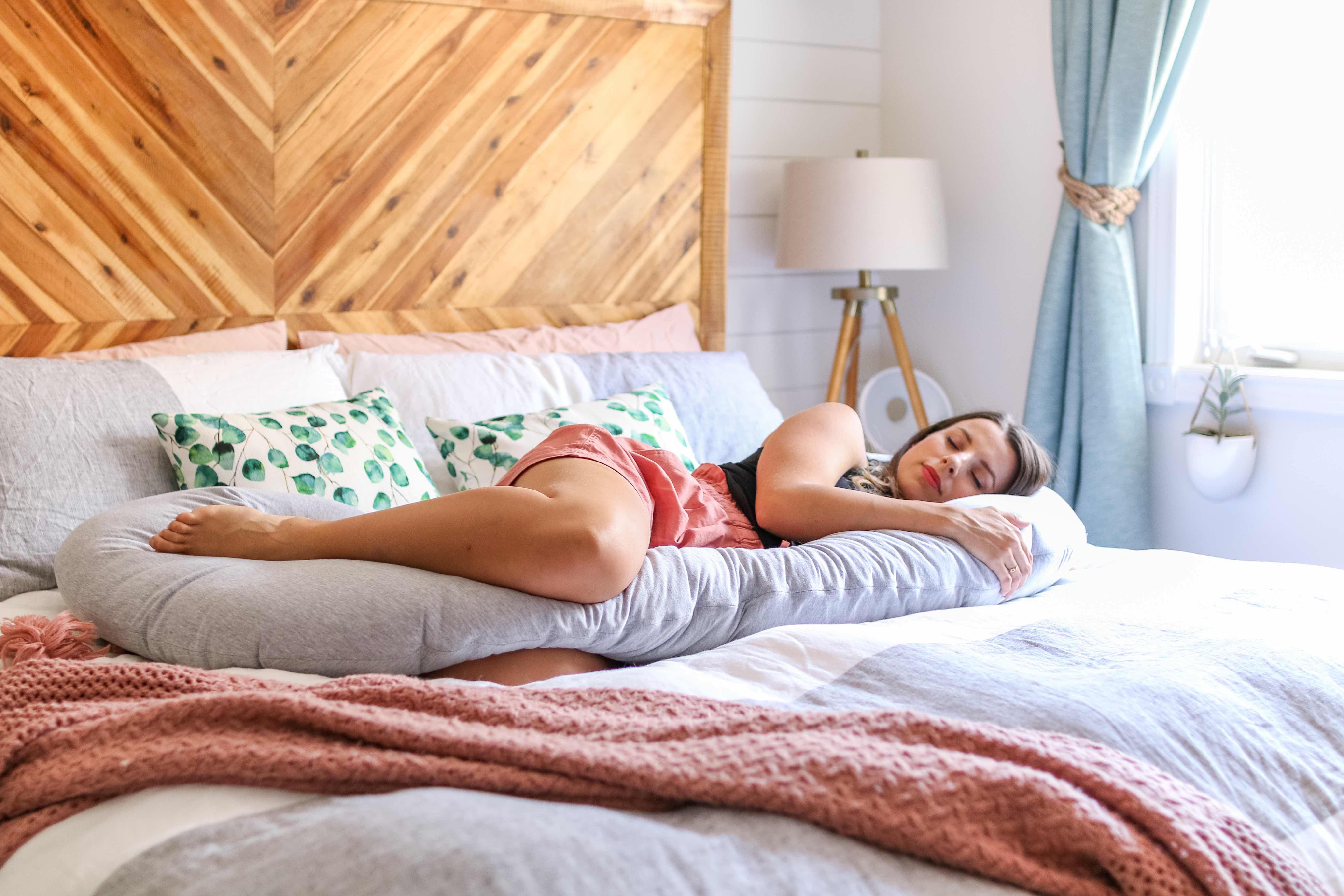 3. Wedge Pillow
Speaking of pillows, I can't give a shout-out to my pregnancy pillow without also talking about my little belly wedge pillow. This thing actually makes such a difference! Again, I saw these before my belly had popped, and I wondered if it was really necessary. Once your belly has grown though, there's nothing worse than laying on your side and having the weight of your belly pull and twist your back. It just doesn't feel comfortable, and I knew there must be a better way. Partway through my pregnancy, I ordered this lovely little wedge and it made things so much more comfortable for me.
Both for watching TV, laying on the couch, or sleeping at night – this wedge pillow is a must-have! It is so much comfier and will help relieve some aches and pains in your belly and back. It also has a zipper, so you can easily wash the cover as well. 

4. Acid Reflux
If you experience any acid reflux, you need this Mag Calcium Vanilla Supplement in your life! Early on in my pregnancy, I was experiencing terrible indigestion and acid reflux, and I resorted to taking Tums on a regular basis. It was really frustrating because every meal would leave me feeling so bloated and terrible. I was excited just to have my appetite back after feeling so nauseous during my first trimester, but food didn't seem to be digesting well. I talked more about this in my Second Trimester Recap, which you can read here! 
This supplement essentially works the same way as Tums – but doesn't contain any fillers or added artificial colouring, flavouring, or sugar. It can help relieve indigestion, heartburn, and upset stomach. The dose is 1 tbsp/day, so I usually split it up and take 1 tsp, 3 times a day after meals if I am experiencing acid reflux.
* Note: I am not a doctor or healthcare professional, so check with your Doctor to see if this supplement will work well for you.
5. Essential Oils
If you follow me on Instagram, you probably hear me talk about essential oils all the time! I've been using them for years now, but more intensely in the last year or so. And let me just say, I could not have gotten through pregnancy without these 100% natural essential oils that have helped to support everything from my digestion, to headaches, sleep, emotions and more. 
I take this pack of essential oils with me everywhere (literally don't leave the house without it)! So if you are wondering if they really work, you can imagine that they must since I am so dependent on them! Let me break down my top 6 faves for pregnancy, what they are used for and how they have been helping me:
Lavender – Lavender is the "swiss army knife" of essential oils. Its refreshing, relaxing scent has balancing properties that also bring a sense of calm. When inhaled, it can act as a nervine and calmative which enhances relaxation! I like to use lavender along with peppermint to help relieve headaches or migraines. 
Peppermint – Peppermint essential oil has a fresh aroma that is energizing and relaxing at the same time. When experiencing digestive discomfort peppermint can act as a carminative and antispasmodic. It is also very useful for headaches and nausea during pregnancy!
Digize -DiGize is a blend of pure tarragon, ginger, peppermint, and other essential oils that may bring about calming feelings. As the name suggests, this blend is amazing for promoting healthy digestion. It can be used topically or inhaled to act as a carminative & antispasmodic for symptomatic relief of digestive discomfort. I've gone through a few bottles of this during my pregnancy and I can't live without it. I had a hard time throughout my pregnancy with digestion and bloating, and this was one thing that made a huge difference. I have a roller on top of the bottle, and just roll it topically over my belly.  I'd say within 20 minutes I would feel relief. It has a strong smell, but it works so well.
Valor – Valor is a blend of calming and grounding essential oils including black spruce and blue tansy. It is known as the bravery oil, and is one of my favourites for calming big emotions. I like to inhale this directly from the bottle, or add a drop to my wrists as a calming "pure-fume". It also smells amazing!
Peace & Calming – It's not uncommon to deal with a lot of emotions when you're pregnant, and you can see why being pregnant during a pandemic may bring on extra feelings of stress and anxiety! Needless to say, peace & calming has been my best friend. This essential oil blend contains oils such as tangerine, blue tansy, and ylang ylang. 
Tranquil – This roller blend contains lavender, cedarwood and chamomile for a calming blend that is perfect for bedtime! I like to roll it on my wrists and chest before bed, and have been using this throughout my pregnancy. It's a great one for kids as well!
6. Magnesium
My other best friend during these past 8+ months has been magnesium. Even though I take my prenatal and all my supplements… I've still been getting achy, restless legs and sometimes muscle cramping. What has really helped though, are magnesium baths before bed, not to mention a nice relaxing bath also helps to soothe digestion. I've been using these magnesium bath flakes as well as these dead sea salt pregnancy flakes in my bath for some extra magnesium. In addition, this magnesium balm is great to massage into your legs before bed, and seems to bring relief within 20 to 30 minutes. It is natural, and fragrance free. 
7. Comfy Clothing Items
Next up on my lists is comfy clothing basics. I have found a few favourites that I now swear by, and I know they will be useful postpartum as well. Here are my comfy pregnancy basics! Note: none of these are actually maternity, so you can enjoy them even if you're not pregnant. I will definitely be enjoying these comedy basics for years to come and through my postpartum journey. 
Hat – I found out early on that your skin is more sensitive to the sun and can burn easily while pregnant! Of course I also wear SPF every day, but a good baseball cap helps to keep the sun off my face and reduce burning or potential sunspots. 
8. Water Bottle
This might seem like an obvious one, but having a good reusable water bottle throughout your pregnancy helps you to remember to drink enough water every day. When you're pregnant, hydration is key. I like to have a full water bottle with me wherever I go – even if I'm at home I carry one with me from room to room. These two water bottles are my favourite right now. I use this lightweight silicone collapsible water bottle for walks, hikes and when I'm out running errands. This tall glass water bottle with a silicone sleeve is perfect for at home! 
9. Snack Packs
Rule number one of pregnancy: don't leave home without a nutrient dense snack pack! Seriously though, these silicone storage bags have been key for getting me through when hunger strikes. And when you're pregnant, the line between hunger and hangry fades very quickly, so it's always best to have a backup plan! These silicone storage bags make the pregnancy must haves list because I have honestly used them every day throughout my pregnancy for snack packs when I'm on the go. A few ideas for snacks that you can pack on the go in these include:
Nuts and seeds

Dried fruit

Cheese and crackers

Sliced apples + berries

Raw Chocolate Chip Cookie Dough Bites from The HealthNut Cookbook
10. The Squatty Potty 
Once you start using a Squatty Potty, you'll never want to poop without it again! I know, here we are on the internet talking openly about pooping again – but hey someone's gotta tell you the good news! Any pregnant mama will be able to relate – one of the first things that they ask you about at any doctor's appointment is "how have your bowel movements been lately?"
I'm not afraid to tell you when I've found something life-changing, even if it might be TMI.  This little collapsible stool basically just puts your body into an optimal position, making your pooping game so much easier. I'm sure it will be useful postpartum as well! This definitely makes the list for my pregnancy must haves, and I know you will find it useful as well!
11. Hydrating Skincare
You HealthNuts know that I have switched almost all of my skincare to natural alternatives over the last few years. There's nothing I love more than a nourishing and rejuvenating natural skincare routine. For some reason, when you're pregnant, your skin gets really dry and often itchy as well. These are a few of my super hydrating and nourishing natural skincare products that I have used throughout my pregnancy to keep my skin feeling good. 
DIY Belly Oil for Pregnancy and Postpartum 
Skin Butter – I use this on my hands, calves, and anywhere on my body that needs some extra hydration 
Rosewater Toner – First thing in the morning I always wake up with a lot of congestion. My nose and eyes are so dry, and this rose water toner saves the day every time. It doesn't contain any witch hazel or alcohol, so it's safe to spray with your eyes open. I wear contacts, so I feel like I always have dry eyes – and this is the perfect remedy!
Lip Butter – Aka your all-purpose moisture stick! This nourishing lip butter from BeautyNut Skincare is made with sea buckthorn, mango butter, and other skin-loving ingredients. It's also jumbo-sized, so it will last a long time and doesn't get lost in your purse! 
12. Massager
Last but definitely not least – this shiatsu massager is a recent purchase that has been saving my neck and back during these past few weeks. It might seem like a strange thing to buy, but let me tell you – it works SO well. Not to mention, I no longer have to beg Mr. Matt for a massage every day. This massager is heated, and you can control the pressure and get right into any sore muscles that are bothering you. You can use it on your neck, shoulders, and right down through your mid and lower back just by loosening your hold and letting it drop to the right point. I've even been able to use it on my legs for cramping and restless legs as well, and it works wonders!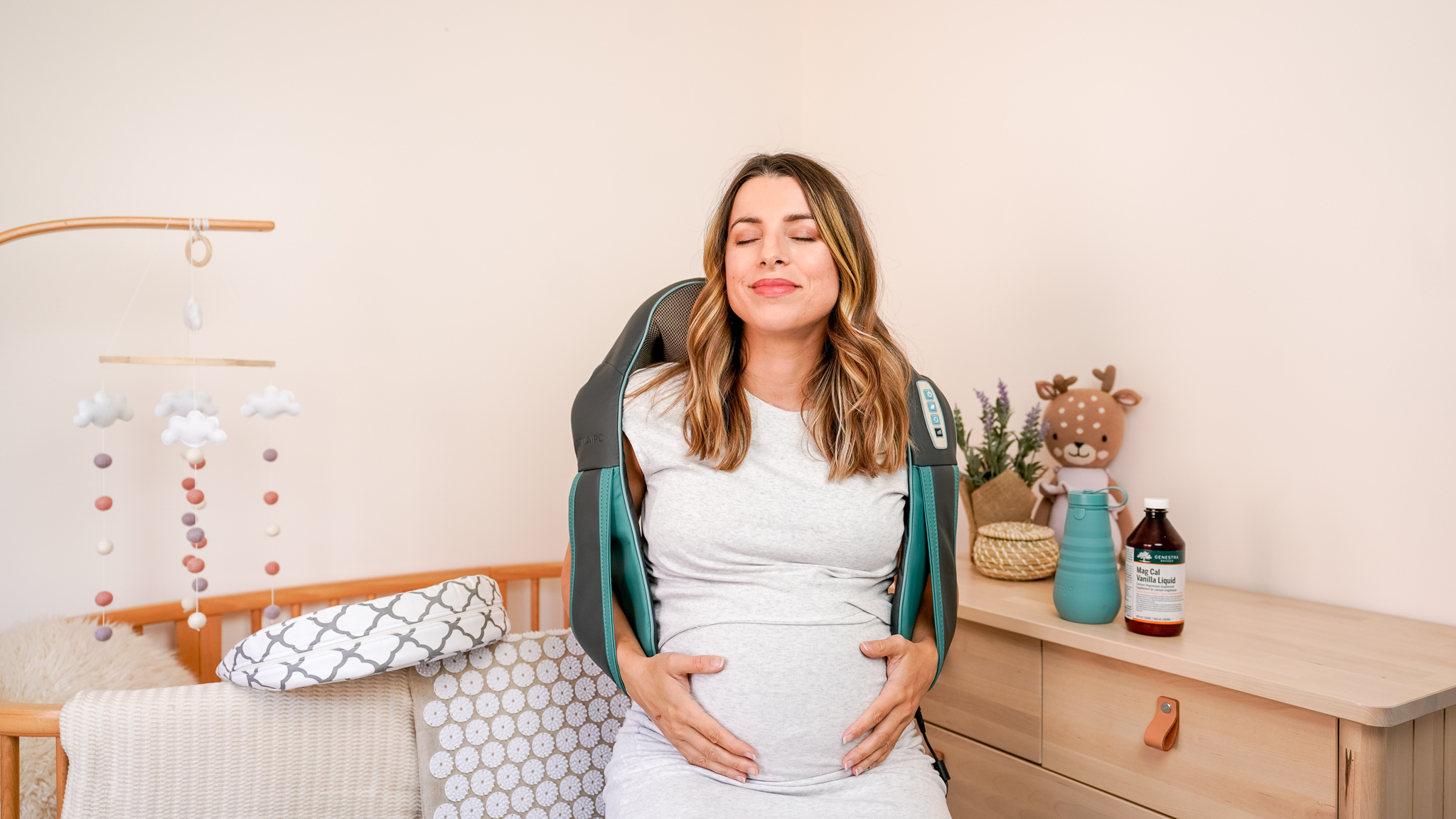 This wraps up all of my pregnancy must haves, hacks and faves! I hope that this was helpful for you, and provided some ideas for natural remedies and products to make pregnancy easier. If you have any of your own suggestions for pregnancy must haves, be sure to leave a comment down below and let me know! And, if you want to see a postpartum must haves blog post like this one, let me know in the comments. I can't wait to share my journey once Baby Acorn arrives! Be sure to check my Instagram @healthnutnutrition for frequent updates when Baby Acorn arrives, I can't wait to share my journey with you!