These simple and delicious Chai Spiced Pancakes infused with warming chai spices and drizzled with a maple coconut butter glaze makes for a perfect cozy breakfast on a Sunday morning.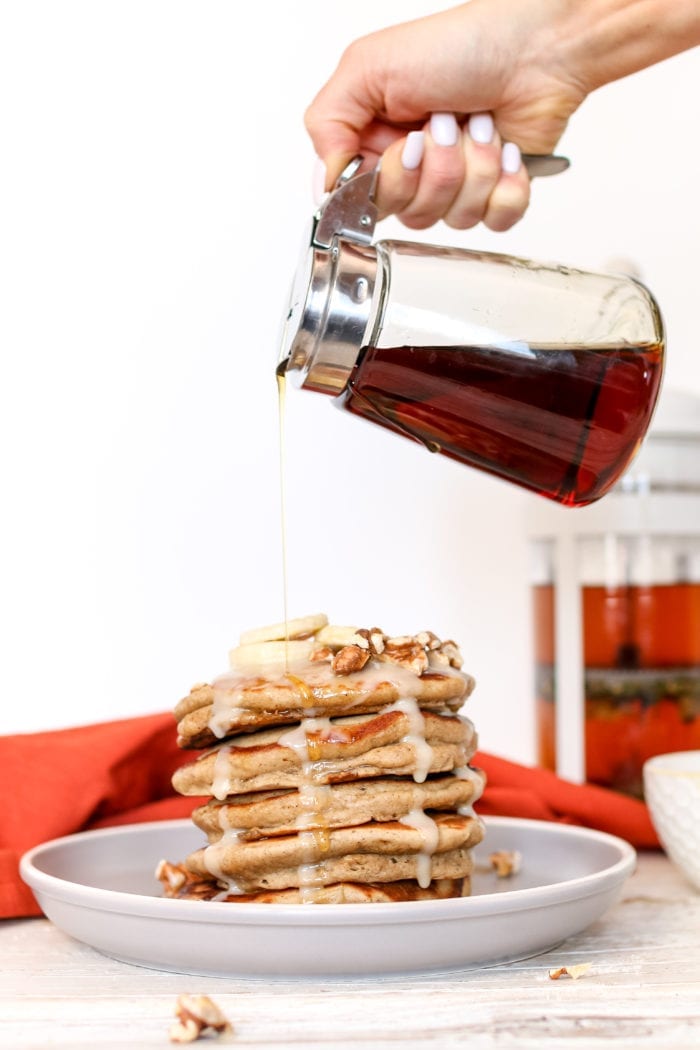 This recipe literally came together on a Sunday morning when I woke up and was craving pancakes, then realized that we had practically no groceries in the house, which is strange for us as normally our fridge is bursting with all kinds of fresh food, but Mr. Matt and I just came back from our trip to Chicago and planned on going shopping that day to stock up. I was so determined to make pancakes, that one way or another I was going to make it work! And so, my MacGyver side kicked in – I had 2 eggs, ripe bananas, oat flour, spices, and some non-dairy hazelnut creamer – with these limited supplies I knew I could do it!! 
Pancake Queen
I know what you're all thinking! But Nikole, you already have a Five Ingredient Banana Oat Pancake recipe why not just make that? Well with the chilly winter weather upon us, I wanted something warming and that's where the idea of tossing in some spices like cinnamon, cardamom, ginger, nutmeg, and allspice came in. I also amped up these pancakes by drizzling them with maple coconut butter, which is so easy to make and makes for a nice change from the usual maple syrup.
As you can see, you don't need to have all the traditional ingredients to make pancakes. You can swap the oat flour for almond flour, coconut flour, or any flour you have on hand. Use applesauce in place of bananas, and substitute flaxseed meal or chia seeds for eggs. I do this when I don't have any eggs! And, if you don't have coconut butter to make the glaze just pour on some good old fashioned maple syrup or honey. 
I wasn't planning on posting another pancake recipe so soon, but these pancakes were so delicious I had to share it with you guys! If you love pancakes as much as I do, then you're in the right place! You may also enjoy my Blueberry Oat Pancakes, The Best Gluten-Free Fluffy Pancakes Ever , and my Healthy Banana Paleo Coconut Flour Pancakes 
Let me know in the comments below what recipes you came up with when you had limited supplies on hand!
If you make this recipe, be sure to share a photo on social media and tag me @healthnutnutrition and #healthnuteats so that I can see your creations! 
Recipe
Chai Spiced Pancakes with Coconut Butter Maple Glaze
These simple and delicious, fluffy pancakes infused with warming chai spices and drizzled with a maple coconut butter glaze makes for a perfect cozy breakfast on a Sunday morning.
Chai Spiced Pancakes
1

ripe

banana

2

eggs*

1/4

cup

unsweetened hazelnut non-dairy creamer

or any milk of your choice

1

tsp

pure vanilla extract

3/4

cup

oat flour

2

tsps

baking powder

1/2

tsp

cinnamon

1/4

tsp

cardamom

1/8

tsp

ground ginger

1/8

tsp

nutmeg

1/3

tsp

allspice

pinch

sea salt

2

tsps

ghee**

(I used Great Maple Lee's Ghee)
Maple Coconut Butter Glaze
Toppings
sliced banana

pecans

chopped

pure maple syrup
Print Recipe
Save Recipe
In a medium bowl, mash the banana with a fork until pudding/apple sauce-like consistency. Add the eggs, creamer, vanilla and whisk until smooth.

Sift in the oat flour, baking powder, cinnamon, cardamom, ginger, nutmeg, allspice, and a pinch of salt. Stir until well combined and the batter is smooth and thick. If your batter is too runny add a little more oat flour to thicken it up.

Heat a large non-stick skillet on medium-high heat, and add 1 teaspoon ghee. Once the pan is nice and hot, scoop out about ¼ cup batter per pancake onto the skillet. Cover and cook for about 3 minutes or until bubbles form around the edges. Flip and cook uncovered for about 1 minute or until golden. Repeat until all batter is cooked, making sure to add the remaining ghee to the pan before adding the batter.

While the pancakes are cooking, prepare the Maple Coconut Butter Glaze. In a small saucepan, melt the coconut butter on low heat. Add the maple syrup and the non-dairy creamer or milk of your choice and stir until smooth. You may have to add a bit more creamer or milk to your mixture if it's too thick. You want it thick but runny at the same time.

Serve the pancakes hot, drizzled with the Maple Coconut Butter Glaze, sliced bananas, crushed pecans and if you like a drizzle of maple syrup.
*Substitute 1 egg by mixing 1 tablespoon ground flaxseed meal or chia seeds with 3 tablespoon water, stir and let sit for 5 minutes.
**You can substitute ghee for butter or coconut oil.
similar recipes