A typical day of food for my 11 month old. Nutrient dense, healthy and fresh meals that are easy to prepare for your little ones!
I've been loving sharing what me and my daughter Sage eat in a day, and you guys seem to really love them too. So this time I thought I'd do it a little differently and try eating what my 11 month old eats in a day! I'm always joking that Sage eats better than us, and since I was preparing it anyway I just made bigger portions. So, without further ado, here's what my 11 month old eats in a day, with an added taste test by yours truly!
If you're looking to start introducing solids to your little one, I highly recommend the Healthy Happy Eaters course. It helped us so much with everything there is to know about feeding your baby, and you can get 15% off by using the code SAGEEATS.
Breakfast
For breakfast I cooked up some coconut flour blueberry pancakes, and I can totally see why Sage likes them so much! The official recipe is coming soon, so keep your eyes peeled, but this coconut flour pancake recipe is similar. The only difference is that one isn't technically 'baby friendly' since it has baking powder and salt in it. 
Lunch
For lunch I decided to make pasta with a meat sauce. I already had a lentil beef bolognese made up for Sage, which is a mum hack that I definitely recommend! Prep your baby's food ahead of time (I use these silicone moulds) and then freeze them so you've always got something easy to grab! I also had pasta sauce that I made with tomatoes from our garden, so I just added some grass fed beef to that as well for myself. For toppings, I added a little nutritional yeast to everybody's pasta. It's a great alternative to cheese! And if you've seen my baby food posts, you'll know that I love serving up her meals with 'non traditional' sides. Today, we had strawberries with our pasta and meat sauce!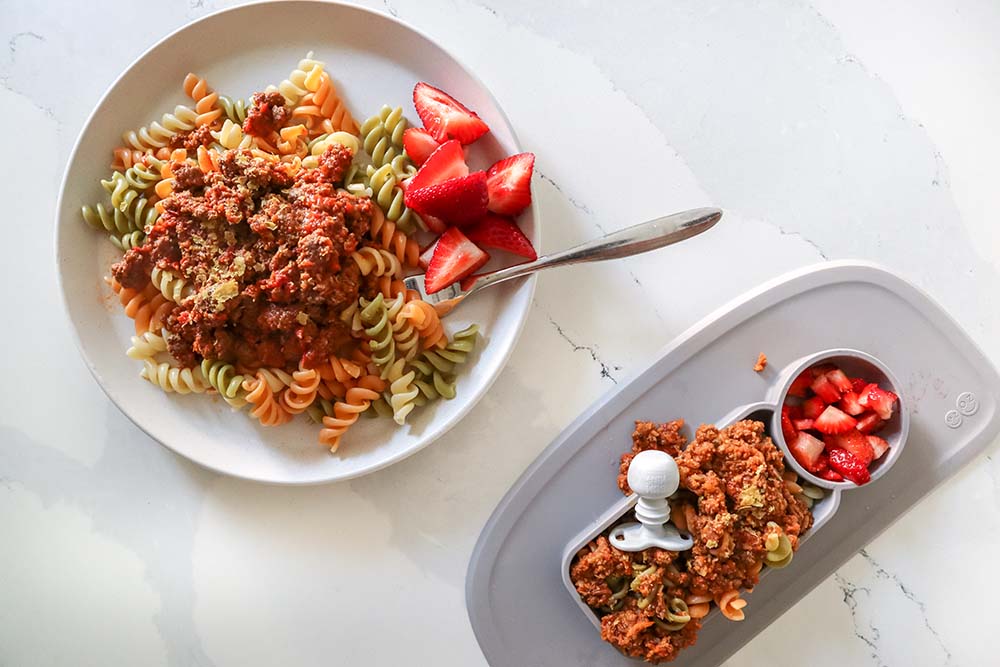 Snacks
I made some popsicles with mango, lime, coconut milk, ginger and pineapple. I thought they'd be good for her teething, but I think she still needs to get used to them. They're a bit hit and miss at the moment! 
Dinner
For dinner, I chopped up and roasted some sweet potato in a little avocado oil and water (so that it steam roasted and became super soft) and sprinkled with cinnamon. I then served that up with broccoli. For Sage, I steamed her broccoli and added on a little garlic powder and black pepper. Then, since the oven was on anyway, I roasted mine and Matt's broccoli with avocado oil, garlic powder, black pepper and sea salt. For our protein I fried up some salmon drizzled with lemon juice (a great alternative to salt when preparing baby food!) and black pepper. On the side I also added some avocado, chopped up with this handy crinkle cutter. Again, not something I'd usually have on the side, but it was delicious with the salmon!
Pro tip: If you don't use the whole avocado, use one of these avocado huggers to keep the remaining half fresh in the fridge!
There you have it – What My 11 Month Old Eats In A Day, with an added taste test from me! I hope that this helps to give you some inspiration and baby meal ideas. You can also check out what we ate when Sage was 9 months old right here, and what we ate when she was 7 months old right here.
What do you feed your baby during the day? I'd love to know, as I'm always searching for new food ideas for Sage.
For more baby food ideas, check out my 6-8 month old meal plan and my Baby Food Resources I've Been Loving.