Breakfast has always and probably will always be my favourite meal of the day. The best part is that you can literally eat breakfast food for any meal whether your looking for a sweet or savoury option, breakfast foods have you covered! Today I'm sharing one of my go to healthy coconut flour pancakes recipe. I can honestly say I've completely switched over to eating strictly coconut flour pancakes and I couldn't be happier. I make these pancakes pretty much every sunday morning and although they take a bit of patience to cook it is worth every staring minute.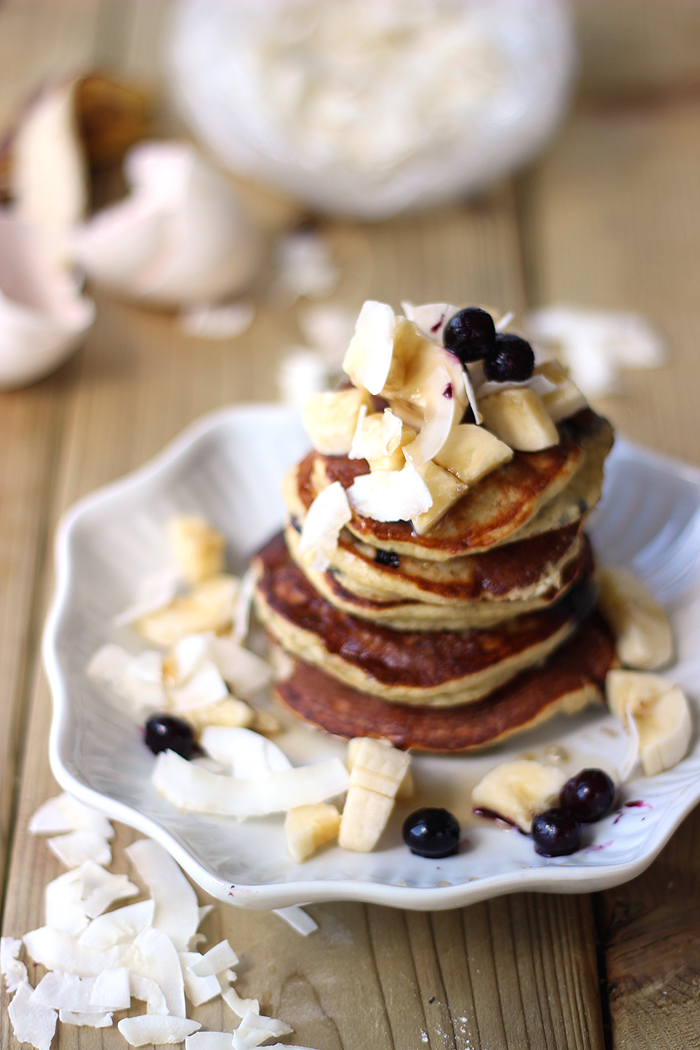 I recently started adding mashed banana and it was the best decision because it not only naturally sweetens your pancakes but it also provides lots of moisture.
These coconut flour pancakes go perfect with unsweetened coconut chips and fresh blueberries and banana. Then of course I drizzle everything with some pure Canadian maple syrup because I gotta support the local stuff and what are pancakes without syrup? This morning we actually ran out as I was making these and so yes we had to make a last minute trip out to the store to grab some…priorities.
Another reason I love coconut flour pancakes is because they actually mimic traditional white flour pancakes because they are super fluffy and light. So for any picky eaters out there give them a stack of these pancakes and see what they think (don't tell them they're healthy though.. duh!).
What is your go to Sunday breakfast meal? Leave me a comment down below and I might just try it out 😉 Share this post with your friends and family who also enjoy a good pancake and we can bring pancake sundays back!
Recipe
Banana Coconut Flour Pancakes
Light and fluffy coconut flour pancakes with banana and blueberries.
1

very ripe mashed banana

½

cup

frozen wild blueberries

½

cup

coconut flour

1

cup

+ 1-2 tbsp. almond milk

4

eggs

1

tsp.

vanilla extract

½

teaspoon

cinnamon

2

tsp.

baking powder

1

pinch

of sea salt

1

pinch

of cinnamon

optional
Print Recipe
Save Recipe
Coconut Banana Blueberry Pancakes
In a medium size bowl whisk together wet ingredients- banana, 1-cup milk (saving the 2 tbsp.), vanilla and eggs.

Next mix together dry ingredients in a separate bowl or simply sift them into the wet to save on steps and lighten up the washing.

Mix the wet and dry well until evenly combined and allow to sit for a couple minutes so the coconut flour absorbs the liquid.

Lastly, add in the remaining 1-2 tbsp. of milk - if needed.

On low heat in a non-stick pan add a tsp. of coconut oil, measure out ¼ cup (1/8 cup for minis) of batter per pancake and cook 3-4 min on each side covered.
Coconut flour cooks longer than regular flour which is why these pancakes need to cook a bit longer on each side to firm up before you can flip them.
similar recipes