It's not all home goods and fashion! Be sure to pick up these top healthy foods from Target next time you do a shopping trip.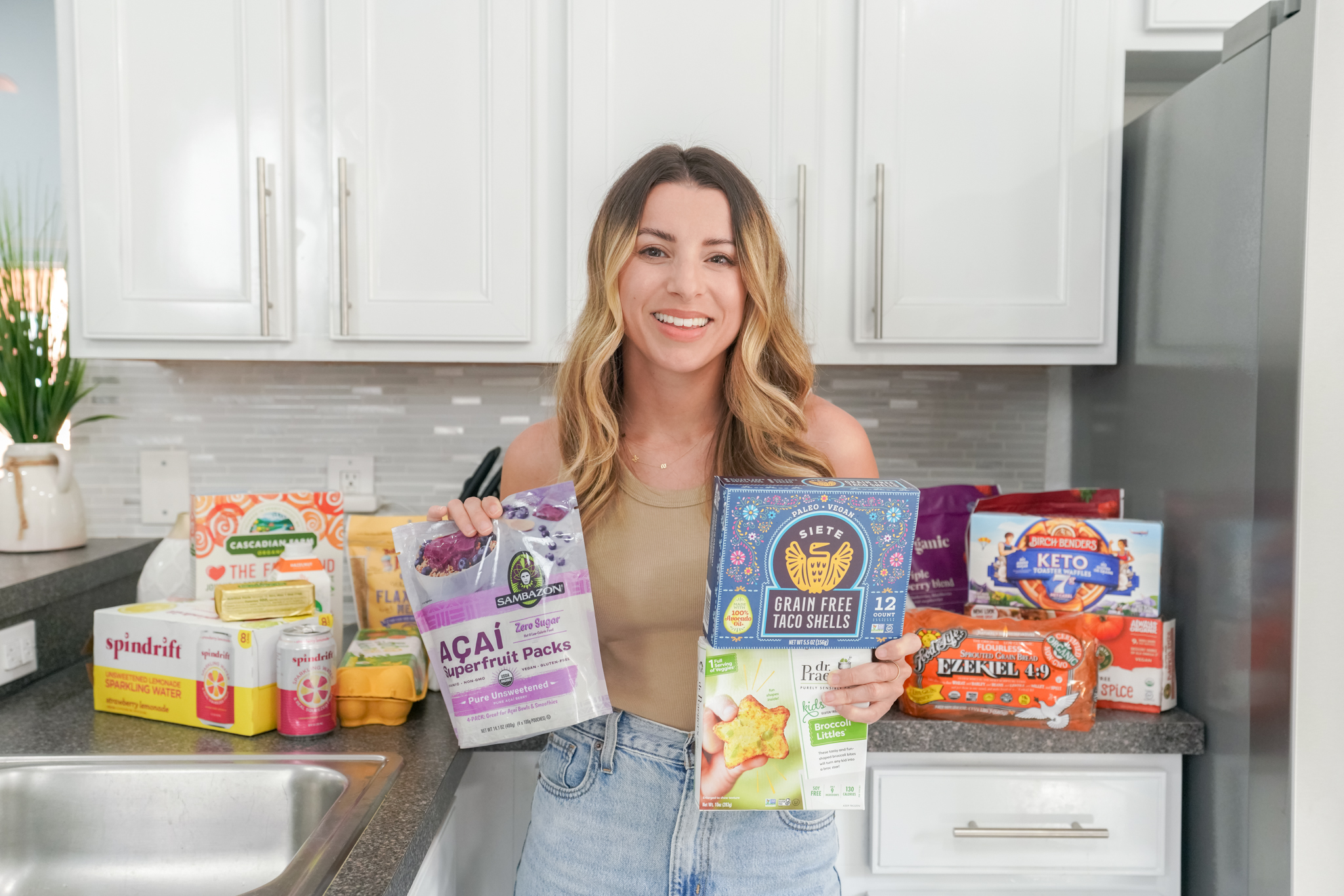 I feel like when you typically think of Target you're thinking of home goods, toys, maybe some clothing items. However, I think Target has some really great healthy food finds, and today I'm going to share them with you. So, without further ado, here are my top healthy foods at Target that you should definitely pick up next time you're there!
Cereal
As you may already know, I love cereal not only as a late-night snack for myself, but also as a snack for my toddler Sage. A lot of cereals out there are loaded with sugar and other not so great ingredients, so finding a good brand is important. This cereal has super simple ingredients. I love the cinnamon crunch flavour, but there are a bunch of different flavours to choose from.
Butter
Did you know Target carried Kerrygold Butter? This is my favourite butter. It's grass-fed and pretty soft and spreadable. We don't use margarine so we use this for toast, and then the unsalted version for Sage. It's also great for baking!
Eggs
I've not used this brand before, but I love that the packaging is cardboard and can be recycled, and that they're organic eggs. They're also cheaper than other grocery stores from what I've seen.
Creamer
This is my favourite creamer because it's delicious and has no added sugar. I love the almond & coconut flavour. I think some of their creamers might have sugar, but a lot of them don't, and it's super simple ingredients. I drink herbal coffee instead of regular coffee, and this just takes it to the next level.

Flaxseed Meal
I love the whole line of this brand. I went for the flaxseed meal, but they also have things like oats and chia seeds. I use flaxseed in so many things; baking, smoothies, oatmeal, even as an egg replacement when it's mixed with water! It's full of fibre and a go-to for so many recipes.
Taco Shells & Seasoning
These are another favourite of mine. They're grain free and made with 100% avocado oil. They are quite thin and fragile, but I really like them and it's pretty common for hard taco shells to break apart anyway. From the same brand, I also love these seasoning packets. I've tried a few different brands, but these are definitely the best ones I've tried so far. Again, the ingredients are really simple. They use sea salt instead of table salt, which I love, and they even use ground dates to sweeten it up a little bit.
Flavoured Sparkling Water
If you haven't tried this sparkling water yet yet, get yourself to Target! They use real fresh fruit to flavour their drinks and it's the perfect alternative to sugar-loaded soda. You could add a little Stevia to sweeten it up some more if you wanted. You could even use it to create a healthier cocktail!
Sweet Potato Gnocchi
I thought this would be fun to try! A good gnocchi alternative if you're gluten free, and it uses plant-based butter and sage so also a great option if you're vegan.
Smoothie Packs
I've been craving acai bowls lately. Acai is high in antioxidants and very low in sugar, and these packs are unsweetened. They're a great low-sugar sweet option, and you can pair it with your own choice of fruit like bananas or strawberries.
Frozen Berries
I love buying berries frozen. You can get organic for much cheaper, and because they're frozen at the peak of their season they're often much sweeter too. I also picked up these frozen whole strawberries. I use frozen berries in smoothies, I'll cook them down and make a berry compote, and I love melting them into oatmeal.
Food for the little ones
I love cooking for Sage from scratch and will usually pick a recipe from my Baby HealthNut Cookbook, but when I need something quick and easy this brand is great. They're loaded with veggies and contain simple, clean ingredients that I feel happy giving to my daughter. They're also fun shapes, which is only going to encourage your little ones to eat them more! I also thought I'd try these oat and berry packs that you cook up on the stove top to make an oatmeal. They're designed for all ages and stages, and again they're simple ingredients. They also do these savoury ones that you can puree, mash or use as finger food.
Burritos
These are another favourite of mine. I love the ingredients and use them all the time. They have a variety of flavours such as a breakfast burrito and cheese one, and they're all really good. They're great for keeping in the freezer and having them ready to go if you need a quick lunch.
Dairy Free Ice Cream
I have yet to try this ice cream, but seeing as I love their oat milk I figured I'd probably like their ice cream too! It's not exactly healthy – there's quite a lot of sugar in it – but as a dairy-free treat it's definitely one to try. There are also a ton of delicious flavours!
Cauliflower Rice
I use frozen cauliflower rice in so many of my smoothies. It's a nice way to bulk it up without adding too much sugar from fruit. It also makes it cold and creamy!

Ezekiel Bread
I actually haven't bought Ezekiel bread in a while, but it is such a healthy bread! It's sprouted and the gluten content is lower, so it's much easier to digest than regular bread, and it's also higher in protein. There are a ton of different flavours, and because it's in the freezer section it lasts a long time.
Waffles
I don't have a waffle maker, so I tend to buy waffles frozen. This is a brand I haven't tried before, however I have tried their pancake mix which I really enjoyed. They're keto and paleo and there's no added sugar. I have however had these ones many, many times. They're so great for those weekends where you want a nice indulgent breakfast but don't want to get up and actually make pancakes or waffles. They also have the added bonus of making the whole house smell of pumpkin spice!
Lasagna
I love this brand's marinara sauce – it literally tastes homemade – so I was super excited to pick up some of these frozen lasagnas. It's a little bit on the pricier side, but once you try it you'll see it's definitely worth the price. They must have some grandmas working in their factory because if I didn't know better I'd say she'd been slaving in the kitchen all day to make these! There's no weird ingredients that I can't pronounce. They're simple, clean ingredients made to perfection and it just hits the spot!
So there you have it! My top healthy foods from Target. Do you have any favourite products you buy from Target? Let me know in the comments below!
For more healthy eating hauls, check out my Trader Joe's haul and my 13 easy ways to eat healthy on a budget.