A look at the food I'm preparing for myself, Mr. Matt and Sage while we're on vacation in Florida. See what we bought in this Trader Joe's haul.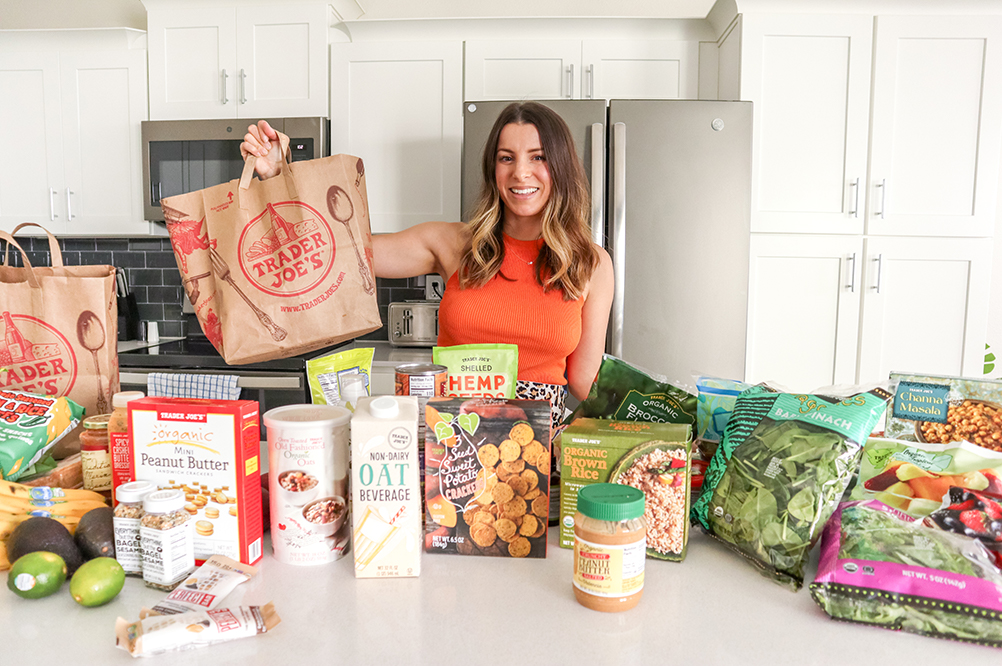 It's time for another grocery haul… vacation style! As you'll know if you've watched my recent videos, we're currently vacationing in Orlando Florida. We've chosen to stay at an Airbnb for the first week, so we needed to get some groceries to feed the whole familia while we're here. Take a look at what we bought in our Trader Joe's haul, and I hope this gives you some meal inspo!
Our Trader Joe's Haul: What we bought
We'll be eating all the things we got for Sage too as we do try to cook meals we can all eat for ease. If you saw my baby packing essentials video you'll know I brought some pre-packaged baby purees for the flight. But now that we're actually here, I'm excited to get back to making her food from scratch. I even packed this hand blender so I'd be able to whip up her usuals. It might look like we've bought a lot for a vacation, but we're planning on cooking two meals at home and then only eating out once a day.
Fruits and Veggies
Organic apples – To make apple sauce. It's so super easy. They're also great for us just to snack on.

Georgia peaches – They smell so good! Sage had some in her oatmeal for the first time this week!

Bananas – Sage eats a lot of bananas (our little monkey!). They're perfect to go in oatmeal, or even just cut

baby led weaning style

.

Organic sweet potatoes – It may be just in my head, but when it comes to sweet potatoes, I think organic tastes better. They're great for Sage mashed up, and they're great for us too.

Limes – Because you've got to have some citrus in your life, am I right?

Avocados – We're going to do taco night! Sage also eats a lot of avocado – a true baby HealthNut 😉

Organic baby kale – I never feel fully in my routine if I don't have my

green smoothies

.

Organic spring mix – Super easy for tossing up a salad in two seconds.

Organic baby spinach – Again, for my green smoothies.

Cucumbers – For, you guessed it, my green smoothies!
Animal Products
Cage free organic eggs – Sage is now eating eggs so the whole family can enjoy these.

Organic grass fed ground beef – Another food Sage had for the first time this week! It's super tasty and we'll be cooking up more for dinner throughout the week.

The unexpected cheddar cheese – This is our favourite cheese! It says it 'tastes like an aged premium cheddar with hints of parmesan' and OMG… it's so good. It tastes expensive but it's super cheap.

Apple smoked bacon – A fave of ours that we've had before.
Food Cupboard
Rolled oats – A staple breakfast in the HealthNut home.

Cinnamon – I keep spices fairly simple with Sage, but love adding cinnamon to her oatmeal. Cinnamon is also great for sweet potatoes and smoothies.

Black and white beans – The black beans are great to go with rice and ground beef (

taco bowl

style)

Pico de gallo – I accidentally bought the hot one but we'll see how it goes!

Crackers – We got some sweet potato crackers which are really good, and a personal favourite of mine, mini peanut butter sandwich crackers.

Everything but the bagel seasoning blend – I got 3 of these! They're so good I'm bringing some back to Canada with me.

Avocado oil spray – This is great because it's pretty all-purpose so saves buying a bunch of different oils.

Organic ginger – Mostly for

smoothies

.

100% columbian instant coffee – This is just for Mr. Matt since I only drink

herbal coffee

. 

Liquid stevia – I have this at home too but had to order off Amazon because we've been in lockdown. It's nice to actually be able to get one from the store for a fraction of the cost!

Spicy cashew butter dressing – I only got the one dressing because I didn't want to load up on sauces. I really wanted the Green Goddess dressing but sadly, they were sold out.

Blue corn and wheat tortillas – Fun for our taco night!

Taco seasoning mix – This was just easier to get than a bunch of different spices.

Hemp hearts – You can put these on anything to add some extra healthy fats, fibre and protein.

Ground flax seed – I like adding this to oatmeal and smoothies.

Organic crunchy peanut butter

Marinara sauce – We used this with the frozen cauliflower gnocchi, served it up with the ground beef and also used it with their corn and quinoa salad.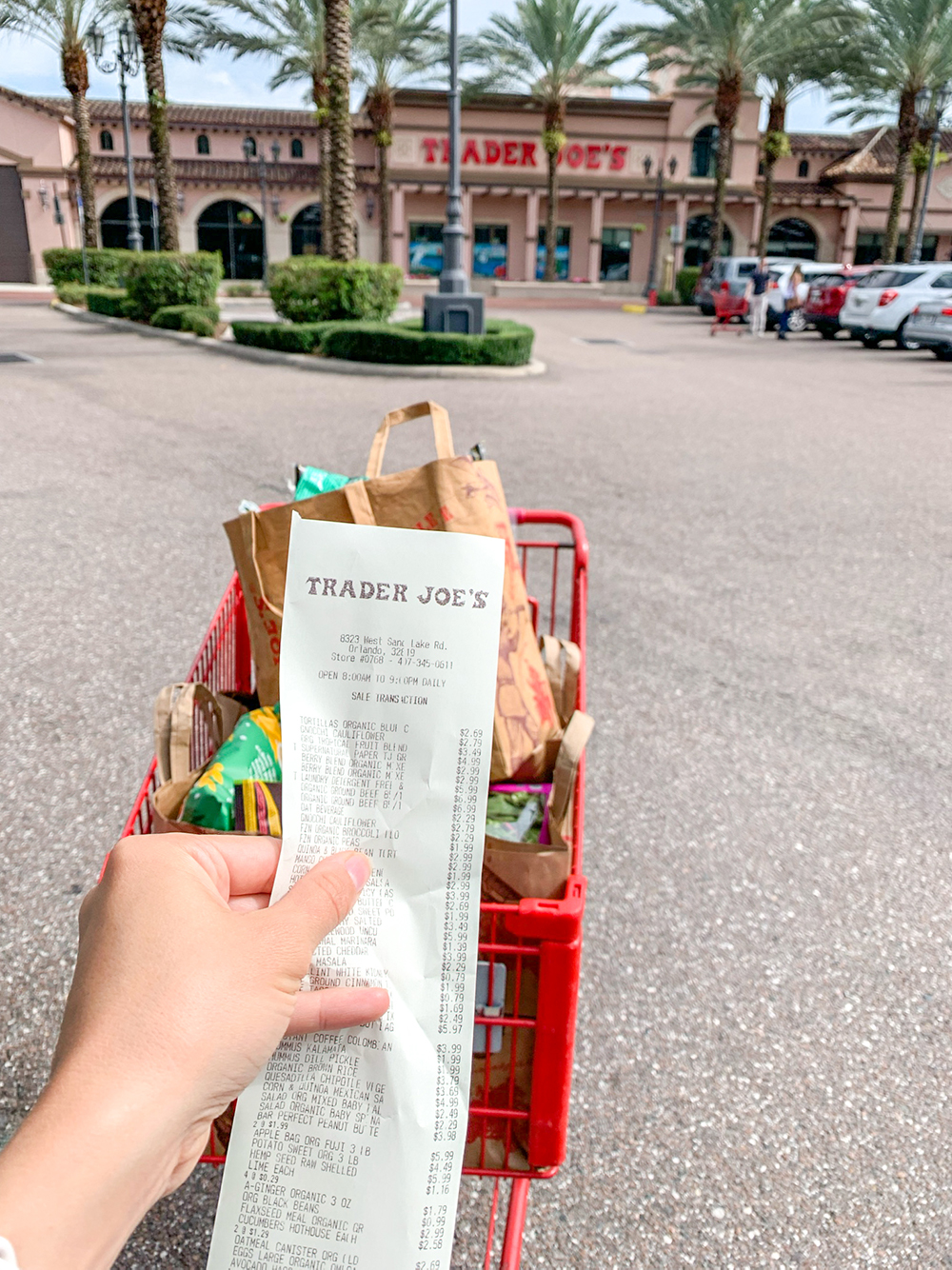 Snacks
Truffle marcona almonds – These are a yummy snack but just be mindful that they are crazy salty!

Perfect bars – These are some yummy snacks. My favourite flavor is dark chocolate chip peanut butter. It literally tastes like cookie dough with peanut butter!

Black bean tortilla chips – Another yummy snack that we've had before. They've got a nice crunch!

Jalapeno seasoned corn and rice puffs – These look super good.

Uncured turkey jerky – Matt is jerky obsessed but he tried these and said he wouldn't recommend. 
Refrigerated food
Non dairy oat milk – Be sure to check the ingredients. The one we got is just water and oats, but some of them have a whole list of ingredients. 

Dill pickle hummus – Another Matt pick. I'm not convinced haha, but we'll see how we like it and report back!

Kalamata olive hummus – On the other hand, I'm down with this. I love olives!

Corn and quinoa salad – Mixed with the marinara sauce, it was super delicious!
Freezer Food
Organic mixed berry blend – Great for smoothies and for adding to oatmeal.

Mango chunks

Chipotle vegetable quesadillas

Organic brown rice – I don't usually use pre-cooked rice but since we're on vacation I figured it would be easier. You can cook this one in the microwave or on the stove top.

Channa masala – This is like a chickpea curry. It's really good and we can pair it with the rice and the salad.

Organic tropical fruit blend – For smoothies or blended up for Sage. You can totally sneak in some greens too!

Cauliflower gnocchi – Mixed with the marinara sauce. Pro tip – Don't add the water to it like the packaging says! Just saute it in the pan with a touch of oil.

Organic broccoli florets – I can steam these for Sage.

Organic peas – Both these and the broccoli are cheaper frozen than the fresh organic version.
Enjoyed this Trader Joe's haul? Would you like to see a full What I Eat In A Day in Florida? Let me know in the comments below! 
If you're preparing to travel, you may also want to check out my Flying With A Baby Tips blog post and my Top Travel Must Haves.