Lately, I've been all about the Mexican vibes. So what better way to satisfy those cravings than with a hearty taco salad! Introducing, my Taco Salad Bowl with a Creamy Ranch Hemp Dressing – it's got all the fixings and it's both vegan and gluten-free so it's sure to keep your taste buds and tummy happy.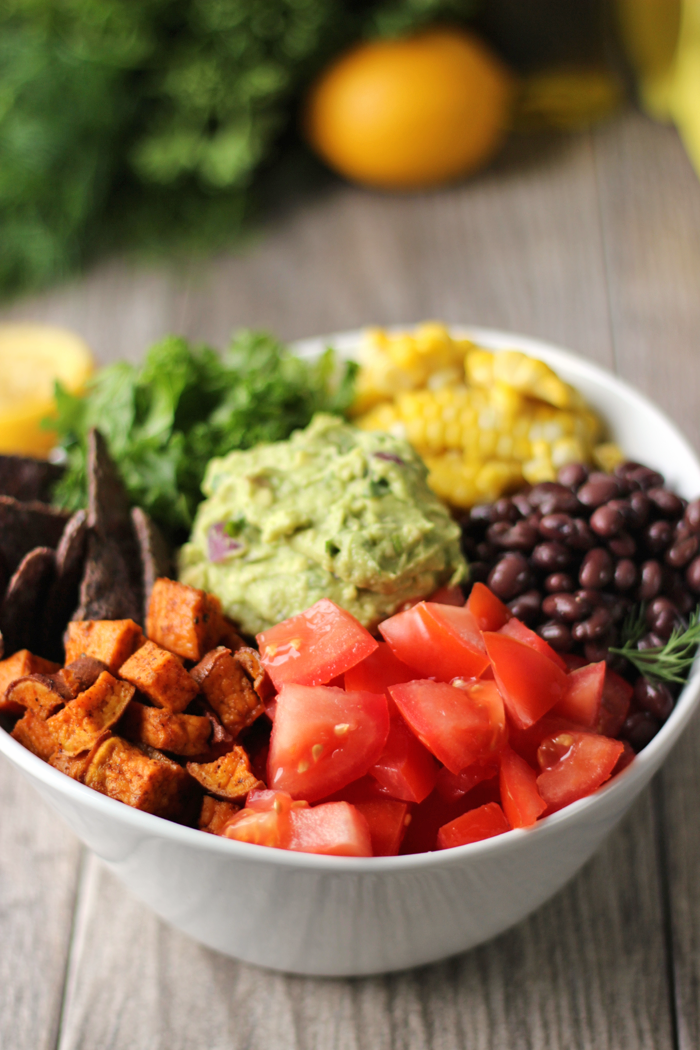 Ever since I was little, tacos were a go-to staple in my family. Some people got excited for pizza night while I got excited for taco night! I think I impressed everyone at the dinner table when I would easily consume 4-6 Old El Paso tacos – no problem! Ok, maybe I was in a taco comma afterwards but it was always worth it. This salad is definitely a better option to satisfy your taco cravings, without inducing a taco comma. It's great to fill you up, and will give you the energy and veggies you need to get through your day.

For a twist on traditional ranch dressing, my Creamy Ranch Hemp Dressing uses Manitoba Harvest Hemp Hearts as the creamy base.  Blending up nuts and seeds like Hemp Hearts for sauces, dips or dressings is a great way to get that creamy texture without using any dairy, and it also adds additional plant based protein to your dish.
 Instead of ground beef, I'm using roasted sweet potatoes with a homemade taco seasoning that takes only seconds to mix up. The sweet potatoes provide that heartiness to your salad that will keep you full and satisfied.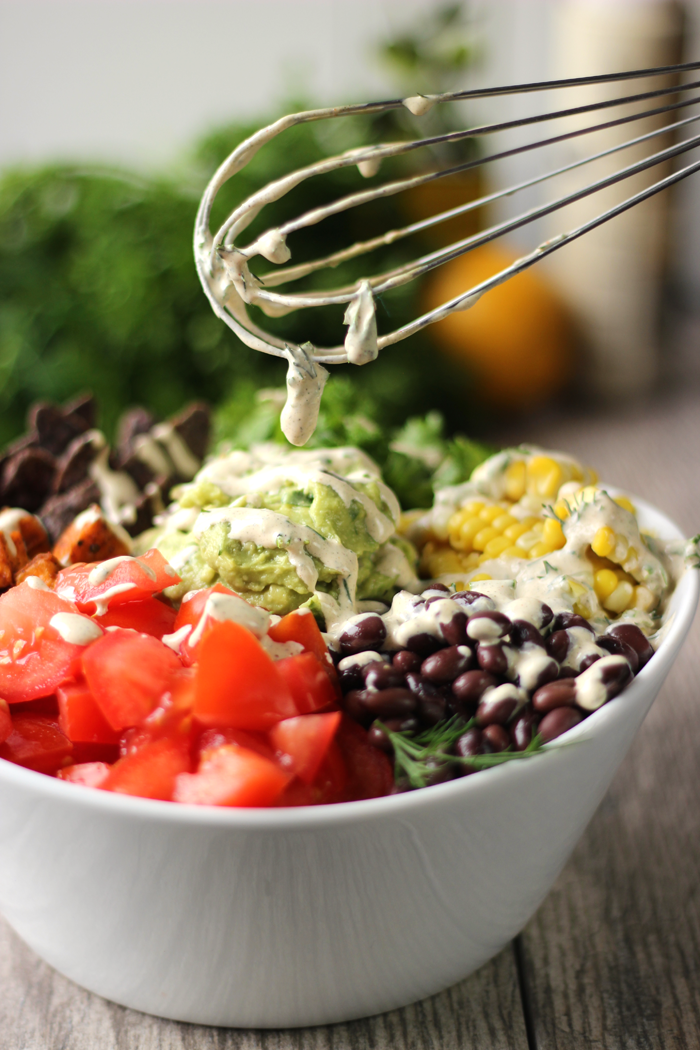 The cherry on top of this salad is of course, the guacamole, because nothing makes me happier than adding guacamole to an already delicious plate. Guacamole is seriously the easiest thing to make; all you have to do is mash up your avocados with a few spices and voila, delicious.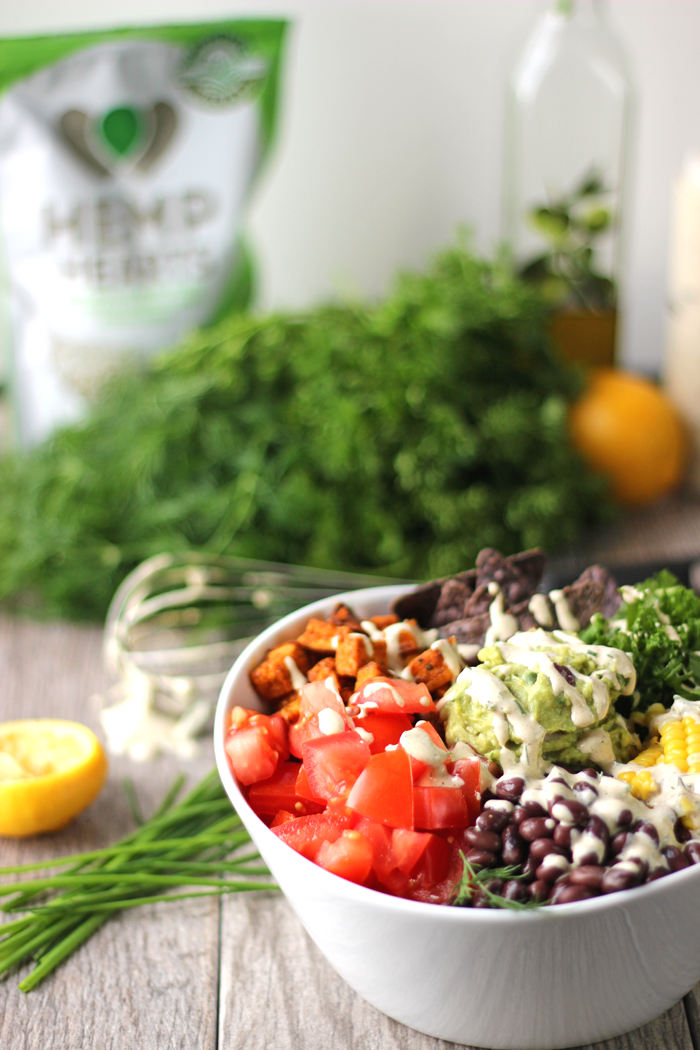 This is a great recipe to make for a taco salad night/Meatless Monday with your family or pack it to go for lunch the next day. Simply store the corn chips and dressing in separate containers and add them when you're ready to eat. You could also make a fun mason jar salad with this recipe too.
If you recreate this taco salad bowl recipe, post a picture on social media and use #HEALTHNUTEATS and tag me @urhealthnut so I can find your photos and double tap them 🙂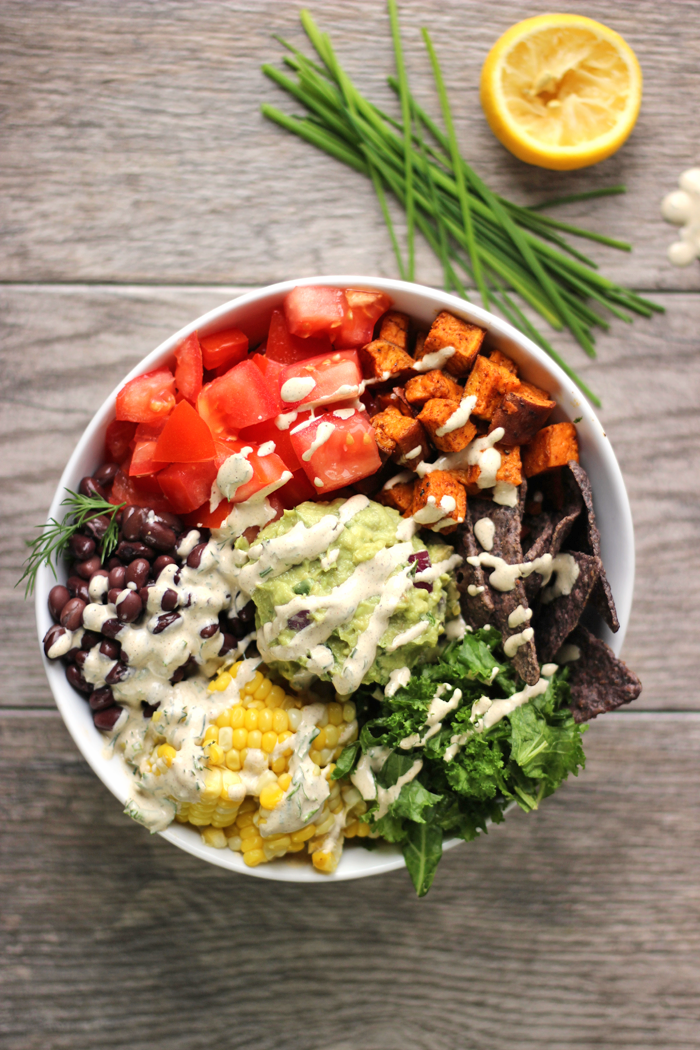 Recipe
Taco Salad Bowl with Ranch Hemp Dressing
Salad Base
1

head of kale

de-stemmed and massaged with 1 tbsp. olive oil, pinch of sea salt and 1 tbsp. lemon juice

1

head romaine lettuce finely chopped

2

corn on the cob

1

can of black beans drained and rinsed

2

cups

blue corn chips

4

medium tomatoes diced
Taco spice sweet potatoes
2

medium sweet potatoes

1

tbsp.

olive oil

1

tsp.

chili powder

1

tsp.

cumin

¼

tsp.

cayenne powder

½

tsp.

Black pepper

1

tsp.

sea salt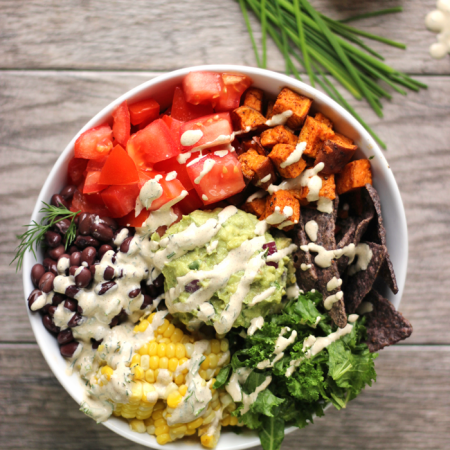 Print Recipe
Save Recipe
Dressing
In a small bowl combine soy milk with lemon juice and set aside for 10-15 minutes. This combination will create vegan buttermilk.

In a high-speed blender (I use a Vitamix) add in your vegan buttermilk, Hemp Hearts, olive oil, and spices (do not add the fresh herbs at this point) and blend until smooth.

Transfer to a bowl and whisk in your finely chopped fresh herbs until combined. Serve right away or store in an air tight container in the fridge for up to 3 days.
Taco Salad Bowl
Preheat the oven to 400F.

Leaving the Skin on, wash the sweet potatoes, and cube them. Transfer the cubes to a parchment lined cookie sheet. Drizzle with olive oil and spices and toss the potatoes until they are evenly coated.  Roast in the oven for 25 minutes, tossing half way through. Once roasted, allow to cool and set aside.

In a large pot of boiling water, cook corn for 15 min or until tender. Drain and allow to cool before cutting. Once cooled, cut the corn off the cob and set aside.

In a small bowl, mash up your avocado with cilantro, onion, lime juice, salt and pepper until evenly combined and refrigerate until ready to use. You can keep the avocado pit in the guacamole to keep it fresh and prevent it from turning brown.

Wash and de-stem your Kale, then chop it into small pieces.  Massage for a few minutes with olive oil, lemon juice and sea salt to soften. This breaks down the leaves and makes it more easily digestible.

With the Romaine lettuce, roll the head tightly and slice it thinly.  By now you will have shredded pieces of both types of greens.

In individual portion bowls, add in kale and lettuce as your base. Next, layer on your toppings; beans, tomatoes, corn, roasted sweet potatoes, corn chips and top with a large dollop of fresh guacamole. Lastly, drizzle Ranch Hemp dressing all over the top and serve immediately.
similar recipes
*This post is sponsored by Manitoba Harvest. I love supporting healthy Canadian brands and Hemp Hearts are a superfood that I 've used for years in my everyday life.