From green smoothies to fajitas, take a look at some of my favourite healthy meals that I make every single week!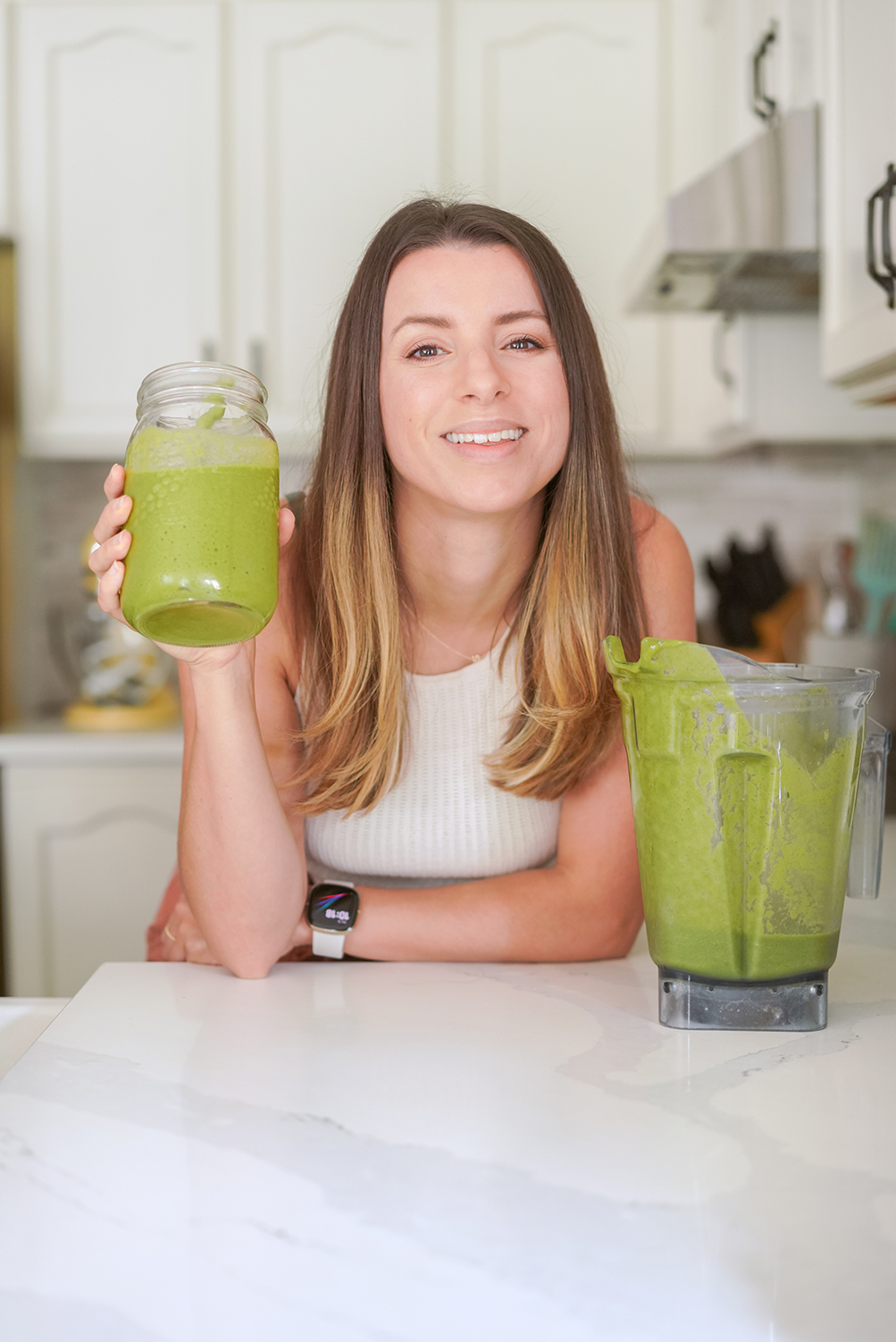 I don't know about you, but once I find a recipe I love I make it again and again. When trying to eat healthy, it's a good idea to have a bank of favourite meals so you're not constantly wondering what to make, and these are my faves! If I'm looking to make a healthy meal, be it breakfast, lunch or dinner, these meals are what I gravitate towards.
Healthy Breakfast Ideas
The most important meal of the day! I love meal-prepping my breakfasts because, let's face it, in the mornings I'm just way too tired to be messing around in the kitchen. Having healthy breakfasts ready to go means no matter how sleepy I am, I can still start my day off with something nutritious. A lot of the time I'll have two small breakfasts and space them out since I'm not always super hungry first thing.
Green Smoothies
It wouldn't be HealthNut if I didn't mention my green smoothies! The great thing about smoothies (other than the fact they pack a ton of nutrition into an easy-to-consume drink) is you can experiment with how you make it. Take a look at some of my favourite smoothie recipes here.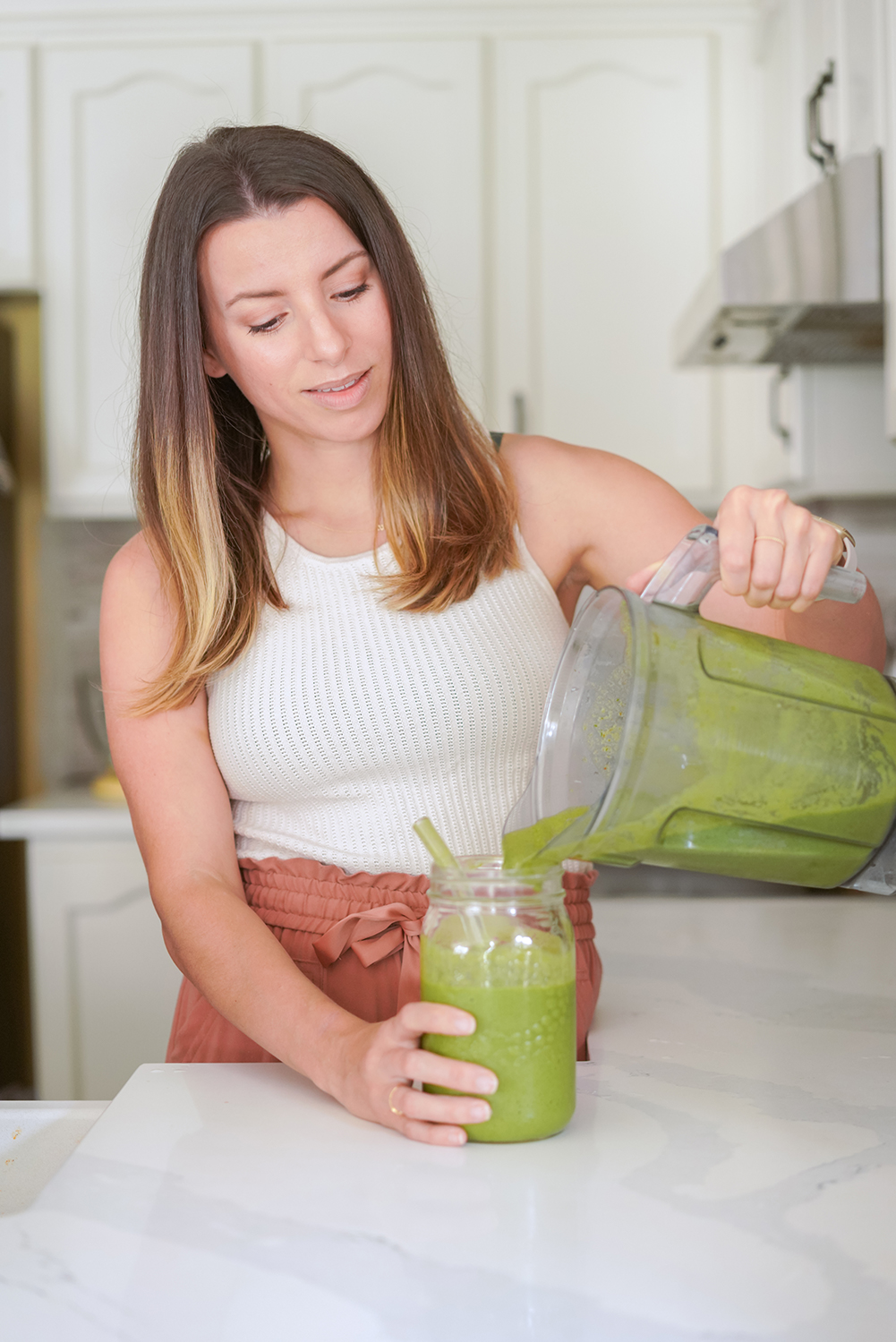 Gluten Free Everyday Pancakes
This is a recipe from my cookbook, and I always make a double batch so I have leftovers in the fridge. I keep them in these super handy silicone storage bags. You can add anything you want to your pancakes, but this week I opted for crunchy peanut butter, sunflower seeds, fresh strawberries and a little pure maple syrup.
Avocado Toast
Avocado and egg on toast is such a simple, easy breakfast but it's packed full of goodness! We've been on a real boiled egg kick in the HealthNut home recently, but if boiled isn't your thing take a look at my eggs 10 ways post. I also like drizzling a little olive oil, paprika and salt on top.
Healthy Lunch Ideas
Lunch time can sometimes vary depending on how busy we are with work, but these healthy meals are all pretty quick to cook up! 
Chicken Burgers
You gotta love a good BBQ! We grilled up some chicken burgers and grain-free buns, and I topped my burger with ketchup, mustard, tomatoes, avocado and lettuce. I get my burgers (and most of our organic, grass fed meat) from a local meat delivery service called truLOCAL (use code NIKOLE8341 at checkout!) I served these up with a side salad of greens and parsley from our garden, peppers and onions from the BBQ, tomato and cucumber. I then drizzled it with olive oil, balsamic vinegar and sea salt.
Leftovers
One of the easiest ways to have a healthy lunch is to eat leftovers! We had a bunch of grilled veggies and some chicken left from our BBQ, so I turned it into a delicious and nutritious salad. Try cooking up extra of your lunches and dinners so you can have them again tomorrow!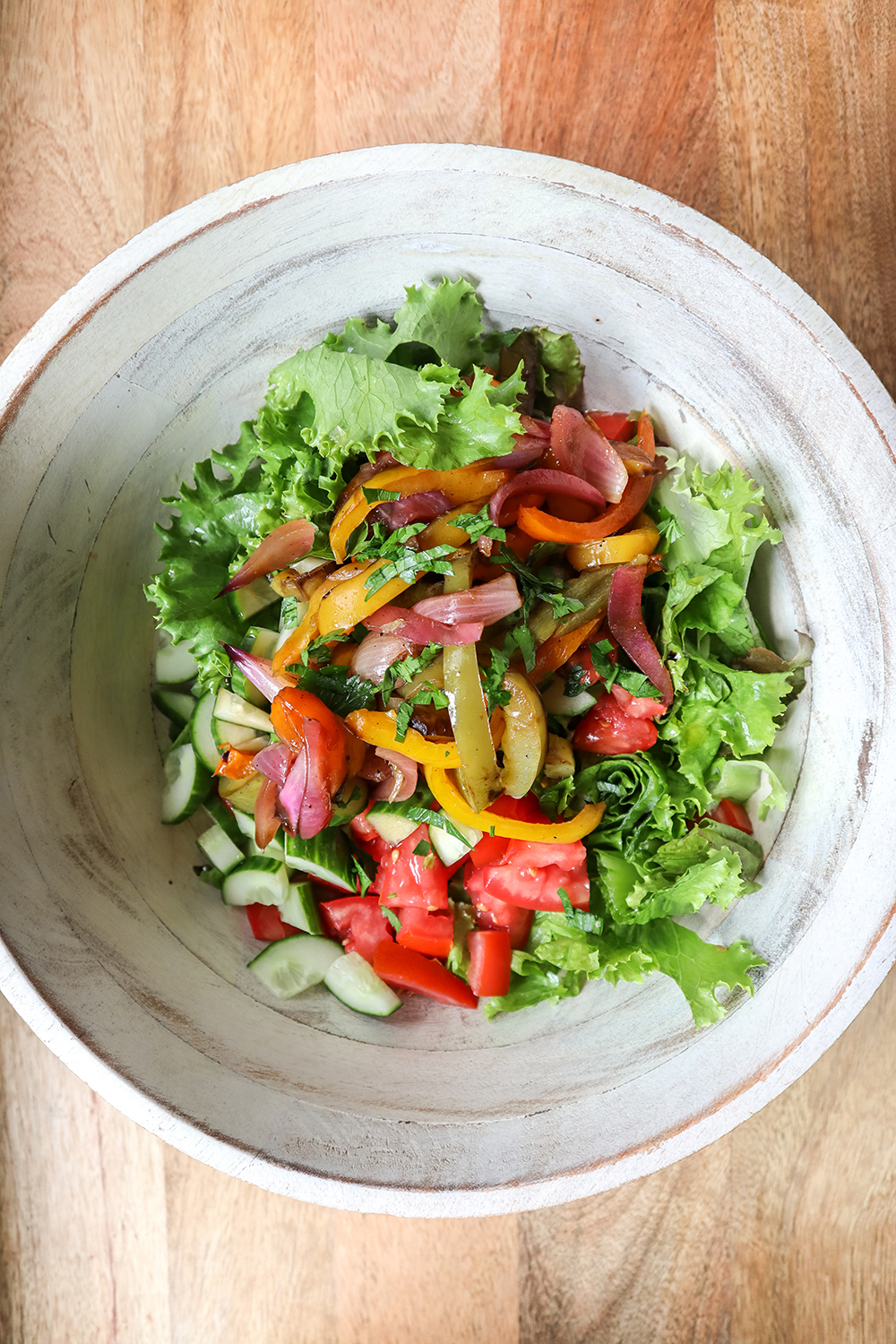 Burrito Bowls
This week we got takeout burrito bowls, but they're super easy to make at home. In mine I had pulled pork, brown rice, pinto beans, grilled veggies, sauce, cilantro and jalapeno. I also added some mashed up avocado for those extra healthy fats.
Chicken and Sweet Potato Fries
I love these organic chicken breast fingers. I served them up with some sweet potato fries and this ketchup that I've been loving! I'll be honest by saying that it doesn't taste exactly like traditional ketchup but it's sweetened with dates which makes it so much better for you. I also served this up with a super easy serving of chopped up cucumber and dill.
Salads
I love doing some foraging from our garden. I picked a bunch of lettuce and some herbs to make a herby salad dressing. Making my own salad dressings is one of my favourite healthy swaps! For the dressing I whizzed up tahini, lime juice, olive oil, avocado, parsley, basil, chives, sea salt, green onion, water and the tiniest bit of maple syrup. For the salad I used a random selection of leftovers like chicken, sweet potatoes, red pepper, cucumber and chickpeas, croutons and voila! You've got a delicious and healthy salad that saves you from throwing away your produce.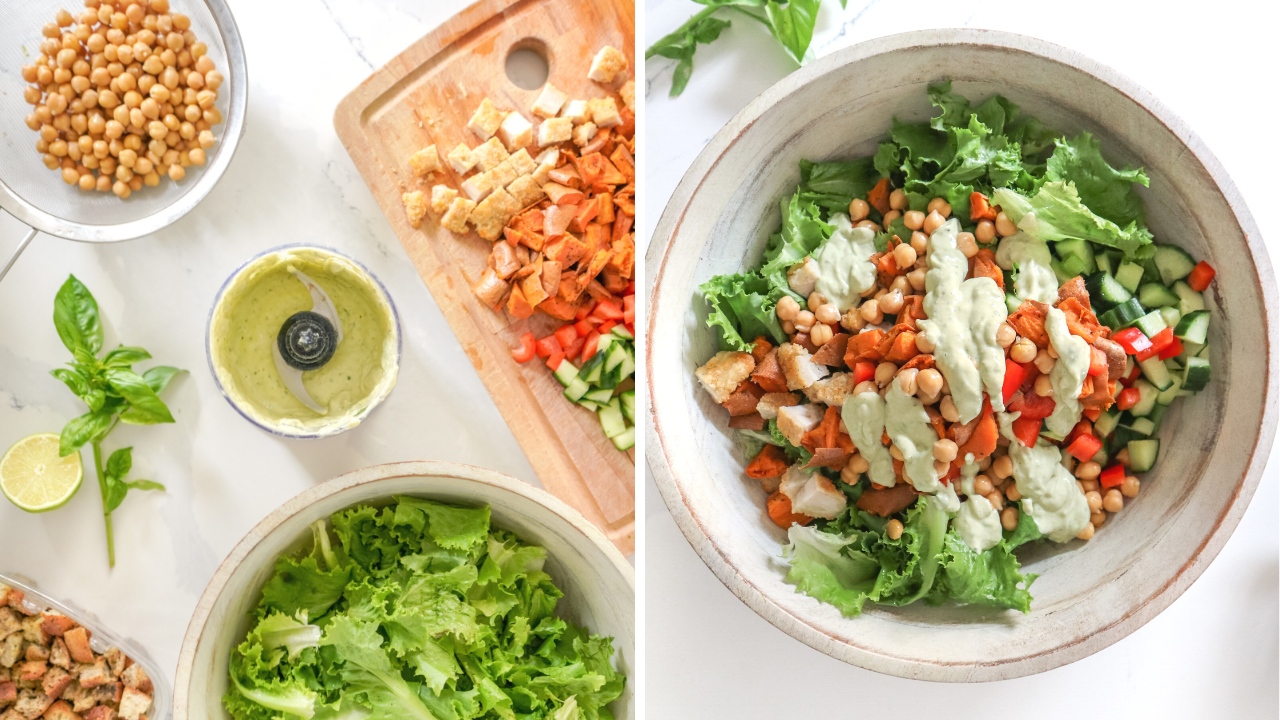 Healthy Dinner Ideas
Despite what you might think when you first come to my blog and channel, I do eat takeout sometimes! Especially if it's been a really long day. Favourites of ours are sushi (this week we got edamame, butter fish and salmon) and Portuguese (this week we got caldo verde and cod fish balls, all freshly cooked and dropped off by my sister!) The important thing for me is to balance treats like takeout with homemade meals. Here are some of my faves!
Chicken Thighs (BBQ'd if possible!)
All I want to eat all summer is BBQ'd food, so that's exactly what we did with these chicken thighs! I cooked them up with some asparagus and fingerling yellow potatoes. I used coconut yogurt for dipping my potatoes, Zing spicy honey and fresh chives.
Pasta Night
Pasta night is a definite go-to because it's just so easy. Plus who doesn't love pasta? I made a delicious dish with grass-fed beef mince, marinara sauce, brown rice pasta and shredded zucchini just to add some extra veg into the sauce. It melts right down and you can't even tell it's there! Normally I'd also add mushrooms but I didn't have any this week.
Shrimp Fajitas
These take just 20 minutes! I cook up some shrimp, peppers, red onion, avocado oil and lime all on one baking sheet in the oven, sprinkled with this DIY seasoning. Wrap it up in tortillas and add whatever you want – I love smashed avocado and coconut yogurt in place of sour cream. Fun fact: this is one of the most popular recipes on the blog and Matt and I make it at least once a week!
Bonus! Chocolate Chip Cookies
I couldn't finish this post without mentioning one of my favourite sweet treats – my New Old Fashioned Chocolate Chip Cookies! These soft and chewy cookies with crisp edges are sure to satisfy any sweet cravings. These just go to prove that healthier options don't have to taste healthier.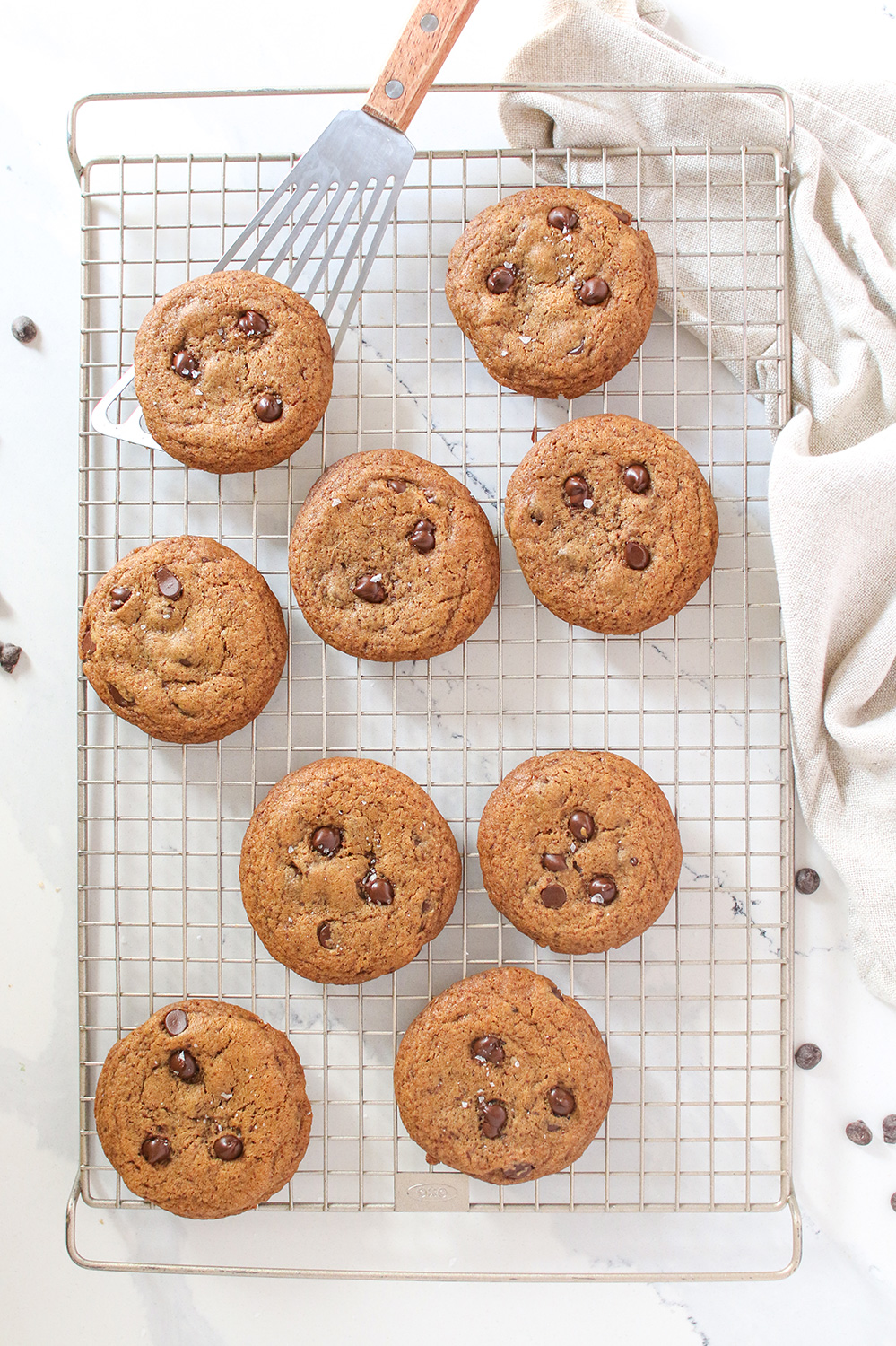 There you have it – my favourite go-to healthy meals! You can also check out my other recent What I Eat In A Day post to see more of what me and Sage have been eating.
What do you love to eat to stay healthy? I'd love to know.
For more meal inspiration, check out How To Meal Plan For The Week.