The first time travelling with a baby can be stressful, but these baby travel essentials make things so much easier. I've also got some handy tips to share with you!
We've just embarked on our very first trip with Sage, and holy cow! You need so much stuff when you're travelling with a baby, even if it's just for a couple of days. To help get organized, these baby travel essentials have been an absolute lifesaver. 
Pssst! I've turned this list into a handy printable checklist, which you can grab for free right here!
If you're also looking for travel essentials for mom and dad, take a look at my travel must haves right here.
Sock organizer for baby clothes!
This hack is so helpful! You basically pop all of your baby's clothes into a sock organizer – a different outfit per compartment! I love this because when you get to your destination, it doubles as a dresser and all your little one's outfits are ready to grab. 
Travel bottle cleaning brush and drying rack
You want to make sure you've got somewhere clean and sanitary to wash and dry any baby bottles or breast pump parts while you're on the go. This travel bottle cleaning brush and drying rack doesn't take up a lot of space, but is so handy. 
Packing cubes
I used these travel packing cubes for my own luggage too. They are so handy for keeping things separate, tidy and organized. In Sage's packing cube I included some extra clothes, a lightweight swaddle, a jacket, a bathing suit rash guard and a pool hat.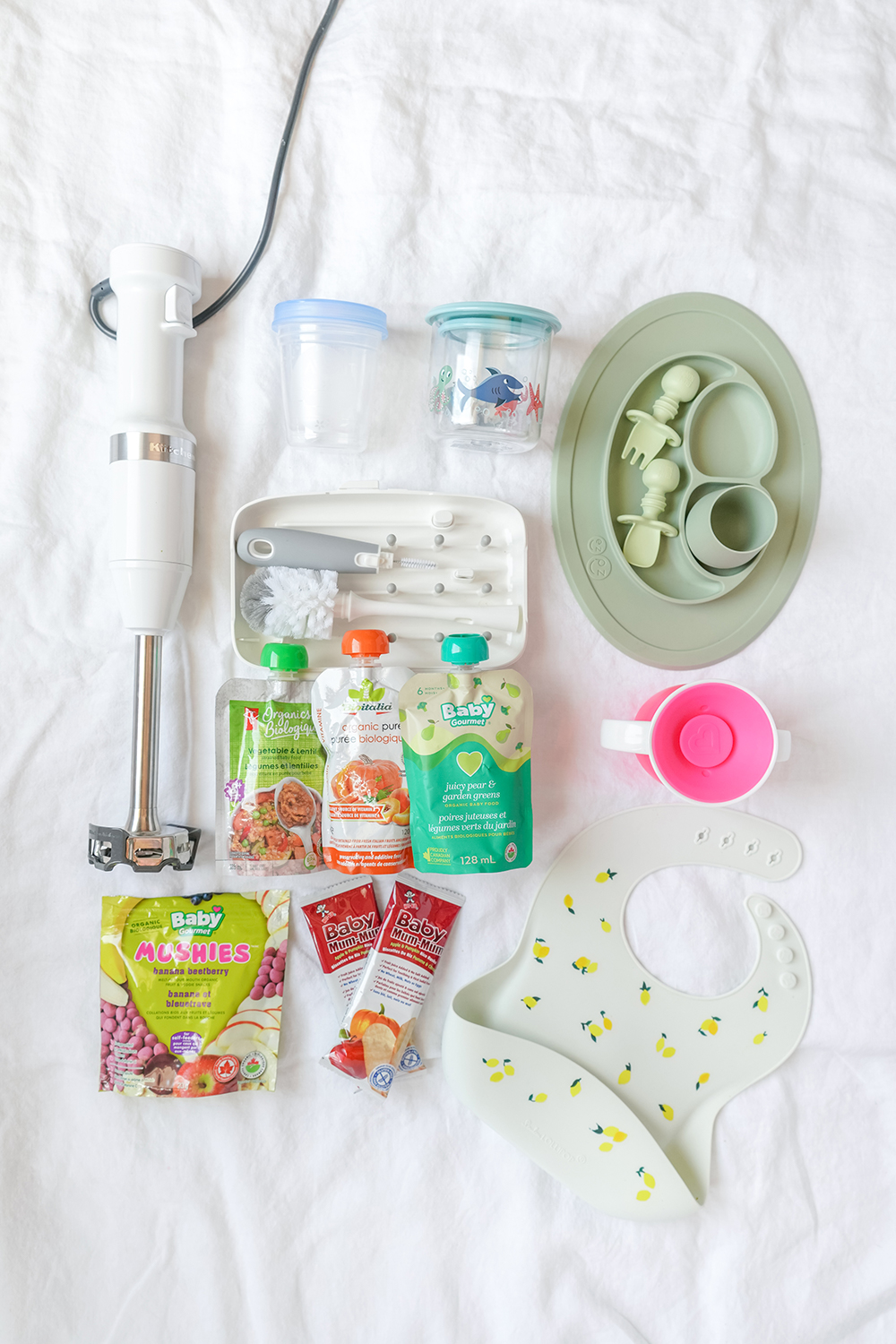 Baby Food + Supplies
While I do try to prepare my own baby food as much as possible, pre-packaged pouches are great for travelling. They're just more convenient. There's no prep needed. Just pop the top off and you're ready to go. I did pack a hand blender too for when we get to the hotel, so that I can make my own purees. I also packed some food storage containers so I've got somewhere to decant baby food, and some containers for breastmilk. Speaking of breastmilk, if you're a pumping Mama don't forget a pump. I love this portable one here. Of course we also packed Sage's plate, cup and cutlery. And of course you'll need a place for them to eat so we brought this awesome hanging portable high chair that attaches to any counter or table so great for restaurants as well. 
Toys
I packed a variety of teethers and toys. I love the ones you can strap onto your bags or the baby carrier so they don't get lost. The last thing you want is to be searching for their missing favourite toy when you're up in the air! And bring a variety. So ones that crinkle, squish, shake, make noise, etc. I also packed a couple of books. We read to Sage every nap and bedtime. The beauty of this young age is they don't care if you read the same book over and over, so you don't need to pack a ton of different books.
Sleep supplies
When it comes to getting your baby to sleep somewhere new, you want to try to keep their sleeping environment as similar to at home as you can. I packed Sage's sleep sack, books, baby monitor, cozy pjs, portable sound machine and a travel pack and play which all signal to her that it's bedtime. I also packed a knit blanket and her bath towel which will double up as a beach towel. 
Baby care essentials
Babies need toiletries too! I packed some natural baby sunscreen, her diaper rash cream, an all purpose lotion, soothing diaper cream bamboo washcloths and also her electric nail file. If you saw my Mom Hacks blog post you'll know filing Sage's nails is so much easier than trying to clip them! I also packed some spray hand sanitizer and disinfectant spray – you never know when you'll need them – Sage's vitamin D, some baby wipes and, of course, diapers. I wouldn't suggest packing all the diapers you'll need, especially if you're going to be away for some time. Just one pack will do (we bought a 32 pack with us), and then you can always buy more when you get there.
Baby sun safe accessories
Okay, maybe not an essential, but they're pretty damn cute! These mini sunglasses have a strap that goes round the back of your baby's head to keep them on. We'll see if they actually do stay on! Don't forget some hats for the sun and pool, a UPF 50 sunsuit or rash guard is great to for extra protection when swimming and playing in the sand.  
Washable mat
This vegan leather mat is great for putting underneath the high chair to protect the hotel's flooring from the inevitable dropped baby food. But it's also great for whenever you just need a clean spot for your little ones to play on such as the hotel floor or even the airport waiting area if your flight is delayed. It's great for travel because it's super thin, so it doesn't take up a lot of space, and it's wipeable so you can easily disinfect it. 

Night light
The place you're staying may not have a subtle light in the rooms, and the last thing you want to be doing in the middle of the night is switching on the big main light when you need to do a night feed. This night light is battery operated, so perfect for travel.
Baby carrier
This baby carrier is super lightweight and folds up nicely, so it's great for travel. Sage will probably be in the stroller for most of this trip, but it's always handy to have an alternative.
Travel stroller
This stroller is super easy to open and fold down, and it's lightweight and compact. Perfect for travelling and getting around! It folds down so small you can carry it on your shoulder like a purse, so we could even store it in the airplane overhead compartment! It's honestly the best thing we've bought for Sage! The regular sized strollers are just so bulky. They're certainly not designed for travel because you'd have to check them and that's just asking for damage!
Diaper bag
Of course, the diaper bag tends to go everywhere with you when you're a mom, whether it's to another country or just round the corner to the shop! But when travelling, I like to double up the diaper bag as a carry on. Here's what we included…
Small toys to keep her entertained on the flight

A couple of loose diapers

A mini book – reading to them is a great way to calm them on the flight

Travel change mat

Wipes

Tylenol and Benadryl – I've never had to give it to Sage but it's worth bringing just in case

Two comfortable onesies – don't just bring one because you just know it will get ruined!

Snacks

A roll of doggy poop bags – just in case of an explosion!

That's it! Don't forget to grab your free printable checklist right here, so you've got it for when you go on vacation with your little one.
What are your baby travel essentials? Let me know in the comments below! 
If you want to see more of the products I use for Sage, check out my 3-6 Month Baby Must Haves & Essentials. And don't forget to check out what I packed for myself!