Since it's the month of all things green (aka St. Pattys), I'm sharing 3 of my go-to green smoothie recipes. I feel like a smoothie isn't complete without a couple of handfuls of fresh, raw greens. I put one, or two, or maybe even three handfuls of greens in every morning smoothie I make. In my opinion, it's the best way to get some raw, green nutrients and energy into your day without having to actually sit there and eat a whole salad. And since salads for breakfast are no-one's thing, let's opt for green smoothies instead.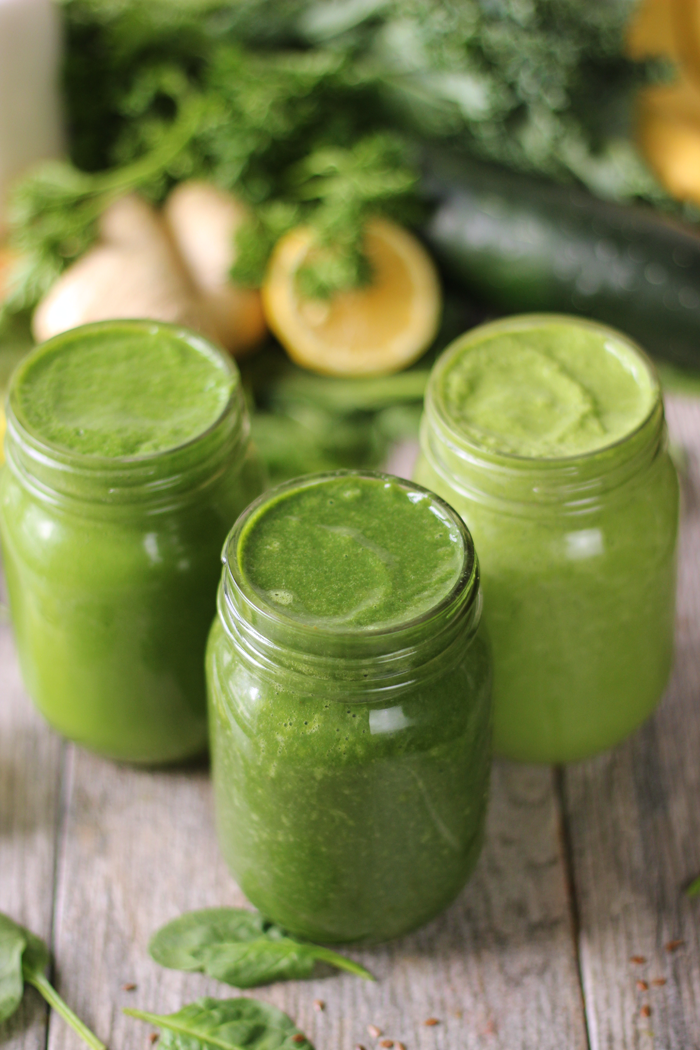 Now I know what you're thinking because I get asked ALL the time… do green smoothies actually taste any good? Well, the colour is definitely a change to get used to, but I promise, you won't even be able to tell the difference, AND you'll be getting a full serving of greens for breakfast! I always tell people it tastes way better than it looks but to be honest – it's probably just me – but I kind of like the look of green smoothies. It reminds me that I'm drinking something nourishing with lots of key vitamins and minerals to keep me energized and healthy. I try to eat as many green foods as I can so when it comes to smoothies, the greener the better! 
The first smoothie here is my Green Detox Smoothie which basically is a green juice turned into a smoothie. I love my green juices but sometimes I want the fibre too! This green smoothie is packed with detoxifying foods like lemon, ginger, parsley, spinach and cucumber to hydrate you.  Add a couple dates and a very ripe banana and you've got yourself a sweet and smooth detox breakfast that is going to make you feel A-MAZ-ING. I love to have this one on Monday mornings to kick start my week.
Next up is my Strawberry Banana Green Smoothie. This smoothie is perfect for anyone who is a little weary about drinking greens for breakfast. This smoothie is vibrant with strawberry and banana flavours to overpower the greens, it's sweet with a touch of tart from the berries. You'll love it.
 Lastly, my Pear Ginger Mojito Green Smoothie. This is one of my recent creations and is definitely a favourite because it has a unique sweet and spicy mojito taste while still packing in a lot of nutrients. I love adding ginger to my juices and smoothies because it has anti-inflammatory properties and helps with digestion. Anytime my stomach is a bit upset, I go straight for the ginger. It's also a great warming food to eat during the winter months as it will add some heat to your smoothie and help shake off that winter chill. 
Now that I have overloaded you with a few green smoothie goodness recipes, get out your blender and blend up some green magic in your kitchen.  Have a wonderful St. Patricks Day and I hope you start it off with a tall glass of one of these nourishing green drinks! 
Recipe
Green Detox Smoothie
2

cups

spinach

½

cucumber chopped

peeled if not organic

1

inch

ginger root

¼

cup

packed parsley

½

lemon juiced

1

ripe banana

2

dates

pitted

1

cup

water

½

cup

unsweetened almond milk

3

ice cubes

optional
Print Recipe
Save Recipe
similar recipes
Recipe
Strawberry Banana Green Smoothie
1

cup

spinach

1

cup

kale

1

ripe banana

1

cup

frozen strawberries

½

tsp

spirulina powder

2

dates pitted

1

cup

coconut water

½

cup

unsweetened almond milk
Print Recipe
Save Recipe
similar recipes
Recipe
Pear Ginger Mojito Green Smoothie
Print Recipe
Save Recipe
similar recipes