These Blueberry Oat Pancakes are delicious, moist, and fluffy and makes you feel like you're having cake for breakfast.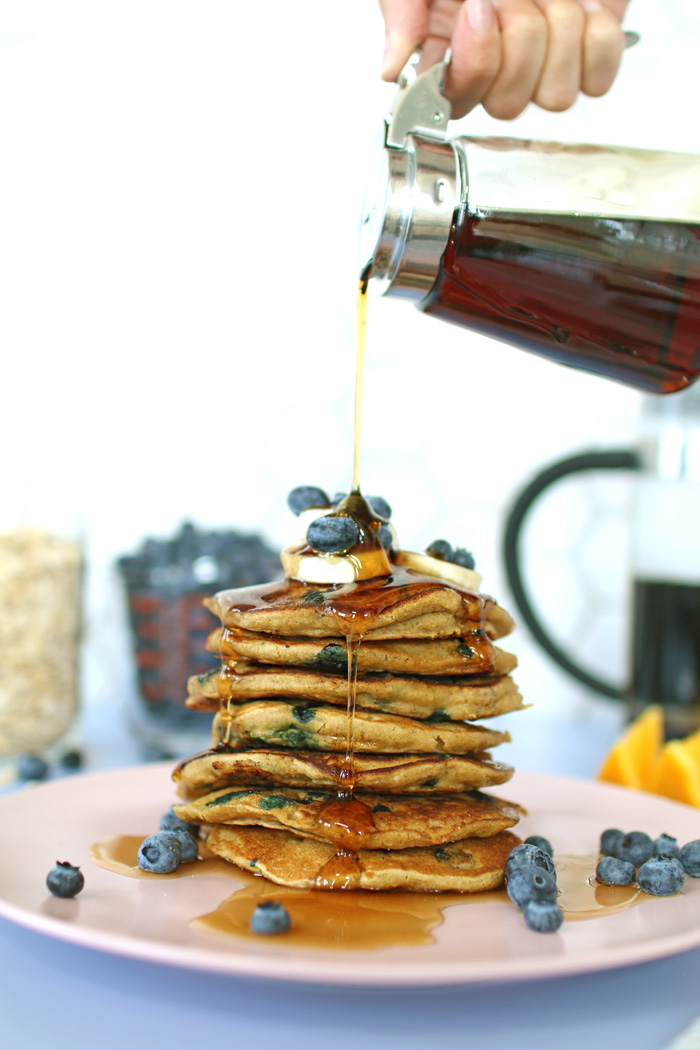 It's been a while since I posted a pancake recipe.  I've been making my Gluten Free Fluffy Pancakes on repeat practically every Sunday for a while now! But I was feeling like it was time for something new.  My original goal was to make a healthy fluffy buttermilk pancake. Of course, without using your typical white flour, white sugar or buttermilk. I wanted a recipe using a healthier flour, that is dairy-free (you get to make your own "buttermilk" which is super simple) and doesn't include mashed banana in the batter. As not everyone is into bananas, or has ripe bananas lying around.  
I tested this recipe with three different types of flour. First, brown rice flour – which did not end up being the tastiest without banana. Then, light spelt flour – which was delicious but fell flat and didn't quite have that fluffy texture. And finally, oat flour – which ended up being the clear winner! The end result is so fluffy and definitely has a "cake-like" texture. Do you know what else makes these Blueberry Oat Pancakes amazing? – Blueberries of course!  They are jam packed with juicy bursting blueberries in every bite.
Sometimes you just need a big stack of pancakes, topped with more blueberries, sliced bananas and smothered in maple syrup.  Feel free to double and triple this recipe if you a want a large stack all to yourself! They also freeze great and can be reheated in the toaster for a quick Monday morning treat.
So, although I didn't create the perfect healthy buttermilk pancakes that I originally intended, you could say that this is the best recipe flop I've ever created. I guess it's back to the drawing board for Basic Buttermilk Pancakes but I know you're going to love these in the meantime!   
If you make this recipe, be sure to share a photo on social media and tag me @healthnutnutrition #healthnuteats so that I can see your creations! 
More Healthy Pancake Recipes
Recipe
Blueberry Oat Pancakes
These Blueberry Oat Pancakes are delicious, moist, and fluffy and makes you feel like you're having cake for breakfast.
Toppings
Fresh blueberries

Sliced bananas

Maple syrup

Optional: walnuts

pecans, sunflower seeds
Print Recipe
Save Recipe
Make the "buttermilk" In a small cup, stir the apple cider vinegar into the soymilk and set aside for about 10 to 15 minutes to curdle and thicken.

In a large bowl, add the "buttermilk", egg, melted butter, honey and vanilla. Whisk until well combined.

Using a sifter, sift the oat flour, baking powder, baking soda and a pinch of salt directly into the same bowl. Using a spatula, stir until mostly combined, leaving some lumps in the batter. The trick is to not over stir the batter as it will create flat and tough pancakes that don't rise as high.

Fold in the fresh blueberries and let batter sit for 5 minutes while pan is heating up.

Heat a large non stick pan or griddle on medium heat. Butter the pan/griddle and scoop ¼ cup of batter onto the hot pan. Cook for 1 to 2 minutes or until bubbles begin to form, flip and cook for another 1 to 2 minutes, or until golden. Repeat until all batter is cooked.

To serve, top with fresh blueberries, sliced bananas, and drizzle with pure maple syrup.
*You can also use frozen blueberries just know that it will turn your batter blue but still delicious!
similar recipes