A round up of 8 of my favorite soup recipes. From One-Pot Healthy Minestrone Soup to The Ultimate Detox Soup, you're sure to find a tasty and nutritious soup you'll love!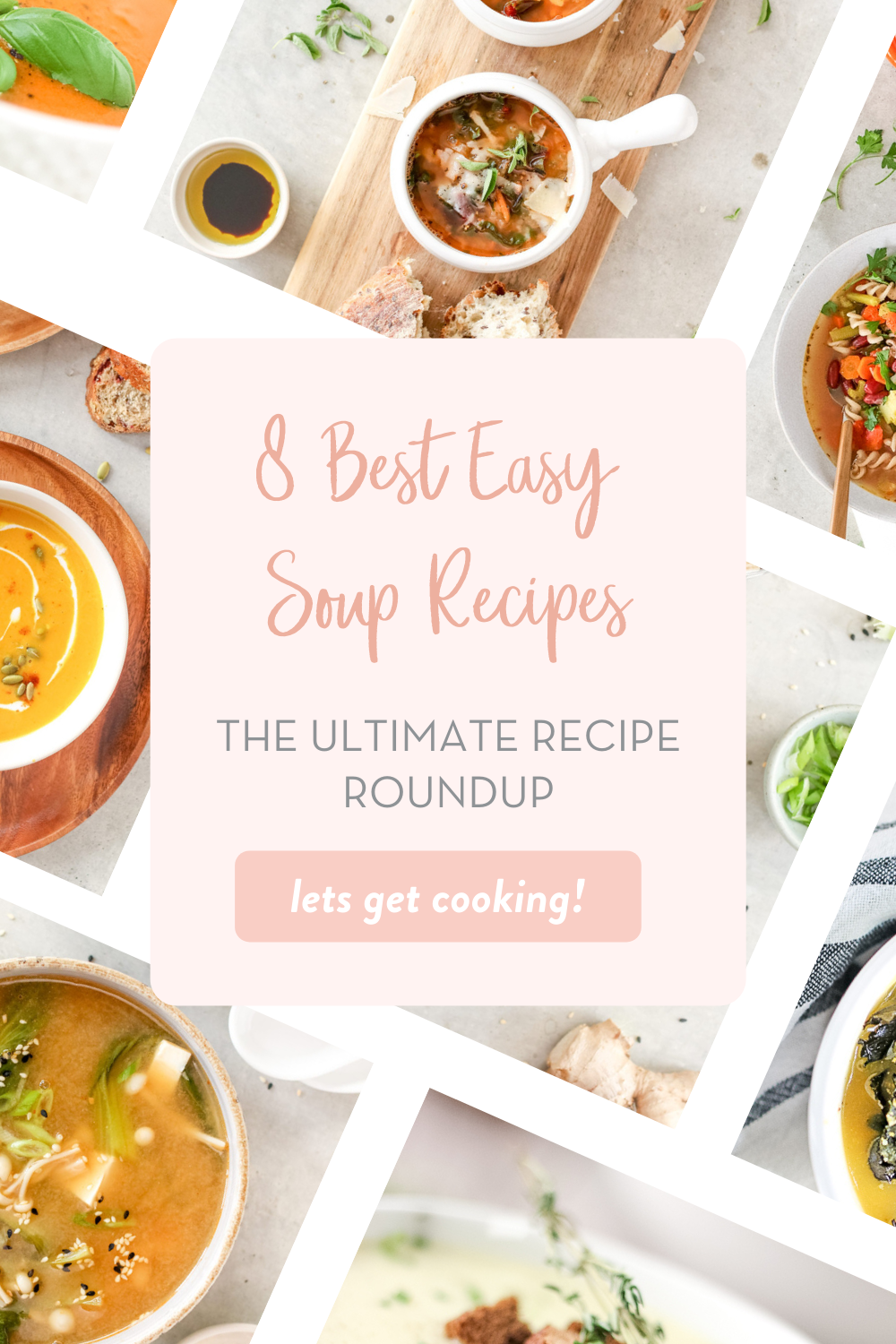 As we head into fall, a bowl of warming soup is the best comfort food on a cold day. Serve with your favourite bread for an easy midweek dinner, or heat up for a quick lunch! Not only are these soup recipes perfect for nutritious meal prep, they're an awesome way to use up leftover and seasonal vegetables. 
Creamy Leek & Potato Soup
I tend to make heartier soups so that they end up being a full meal in a bowl and I'm full and satisfied when I finish it. Even though this Leek and Potato soup may seem light and creamy, don't be fooled because it's packed with lots of veggies! This soup would be amazing served with a side salad or warm toast with sliced tomato and basil, and trust me it's the perfect lunch combo. Fun Fact: This is Mr. Matt's favourite soup!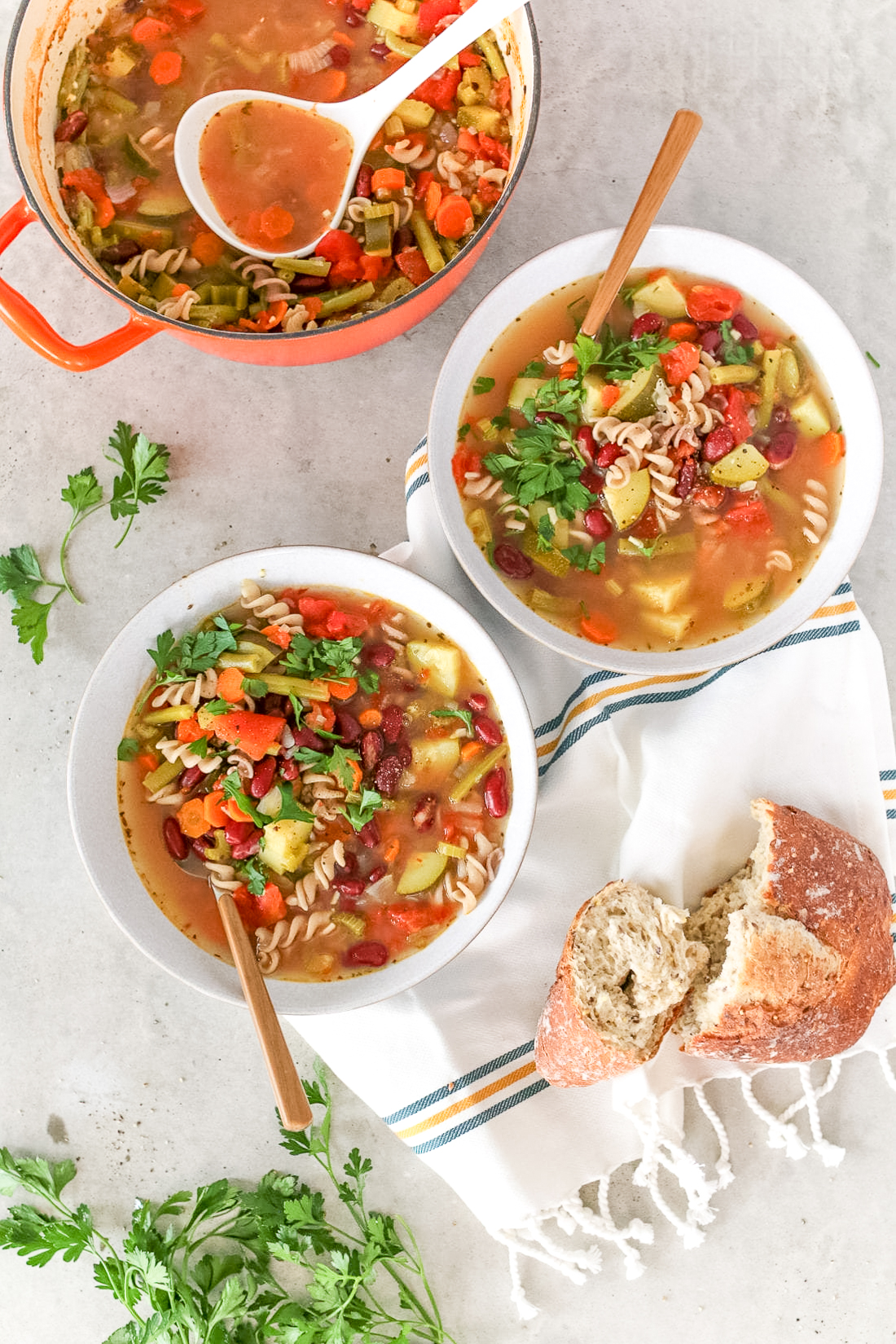 One-Pot Healthy Minestrone Soup
This easy One-Pot Healthy Minestrone soup is loaded with veggie goodness, hearty beans, and pasta: the ultimate vegetable soup! Minestrone soup has always been one of my favourites to eat. Like most people, I was always a little intimidated by all the ingredients that went into this recipe. But to be honest, it's actually pretty simple to toss together!
Tuscan White Bean Soup
This Tuscan White Bean Soup is a quick, vegetarian spin on the traditional Italian soup that we all know and love! It's cozy, hearty, bursting with flavor and the perfect recipe to make on those busy weeknights when we just didn't have time to prep ahead. All you need is 10 minutes and a few key ingredients to get started, and you have a hearty soup to keep you warm during the fall and winter months!
Easy Ginger Miso Soup
Whenever I go to a Japanese restaurant, one of my favourite things to order is Miso Soup. There's just a warm and comforting feeling when you sip on that savoury broth. I wanted to recreate this feeling at home by creating my own version that's super simple to make and ready in just 10 minutes! That's faster than driving to your favourite Japanese restaurant and placing your order… haha! Like with all my other recipes, having a few staples in the kitchen allows me to whip up whatever I'm craving.
Roasted Butternut Squash Soup
A roasted flavourful and smooth golden roasted butternut squash soup topped with crispy chickpea croutons and cheesy kale chips. This soup is not only super simple to make but the flavour combination with the roasted garlic butter and slight heat from the cayenne pepper works so well with the sweet caramelized butternut squash all blended up into a satisfying and warming soup.
Fire Roasted Tomato Bisque
One of my favourite soups has always been tomato soup. Pair it with a crispy grilled cheese sandwich and I'm drooling! This Fire Roasted Tomato Bisque is creamy and so satisfying! Made with fire-roasted tomatoes, packed full of flavour and so much tastier and healthier than any canned or boxed tomato soup out there.
Creamy Pumpkin Coconut Soup
This rich and creamy Pumpkin Coconut Soup made with pumpkin purée and coconut milk is packed full of flavour and ready in 10 minutes! The easiest way to simplify this recipe is by using puréed pumpkin. Just make sure you don't buy the pumpkin pie filling (meant for pumpkin pie) by accident…haha. The only thing listed in the ingredient list should be pumpkin. Once it's ready, I love serving this soup with toasted pumpkin seeds for crunch, a little cayenne for heat, and a drizzle of coconut milk for extra creaminess.
This ultimate detox soup is awesome for kick-starting your digestion. I like making a large batch and then eating it for lunch and dinner for 3-5 days straight in addition to my regular meals to really flush out your body. It's loaded with vibrant veggies, fresh herbs and spices for an extra spicy kick. You can use any veggies you have on hand, but I recommend using beets! Beets are super liver cleansing and they give this detox soup a vibrant ruby red broth.
What are your favourite soup recipes? Let me know in the comments below! 
If you make any of these recipes, be sure to share a photo on social media and tag me @healthnutnutrition #healthnuteats so that I can see your creations! 
If you love these soup recipes and are looking for more options, check out all my Soup Recipes and Meal Prep Friendly Recipes.