This Easy Ginger Miso Soup is packed full of bok choy, mushrooms and silky tofu. Comforting, healthy and ready in 10 minutes!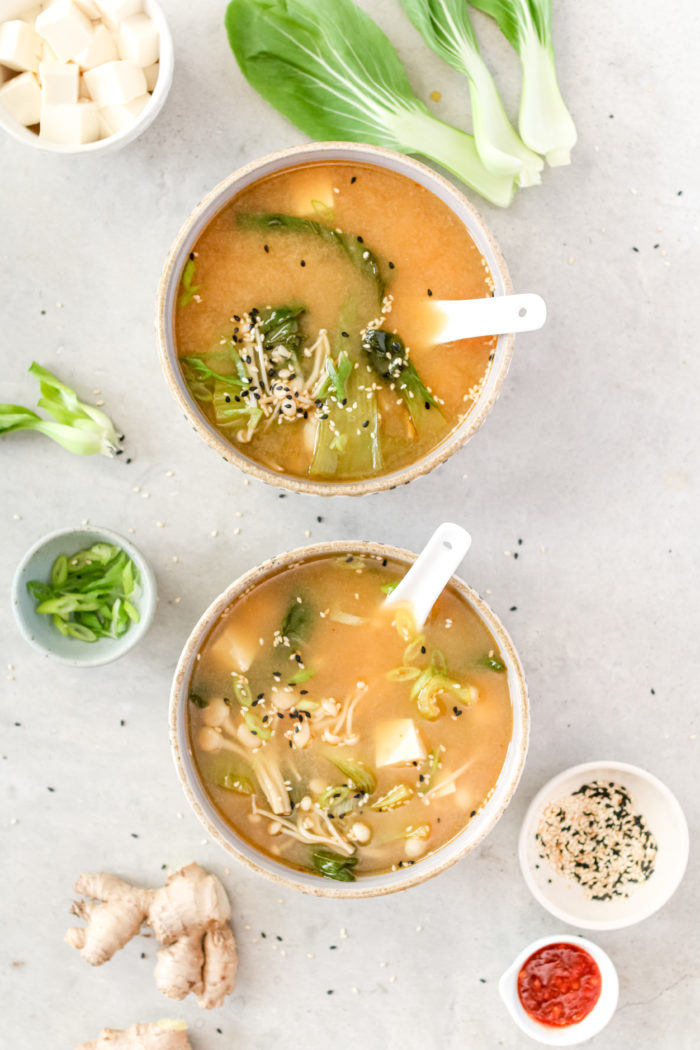 Whenever I go to a Japanese restaurant, one of my favourite things to order is Miso Soup. There's just a warm and comforting feeling when you sip on that savoury broth. I wanted to recreate this feeling at home by creating my own version that's super simple to make and ready in just 10 minutes! That's faster than driving to your favourite Japanese restaurant and placing your order… haha! Like with all my other recipes, having a few staples in the kitchen allows me to whip up whatever I'm craving. The main staple that is a must for this recipe is Miso.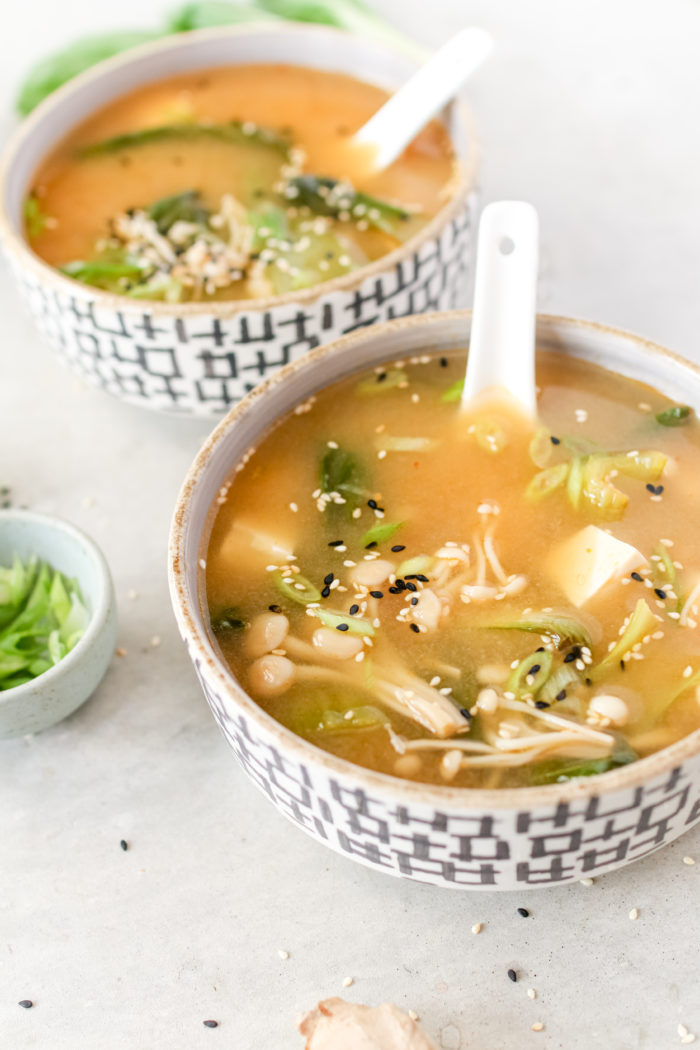 What Kind of Miso?
If you're not familiar with miso, let me tell you about this magical ingredient. Miso is a paste made from fermented soybeans, grains (rice or barley), salt and koji (a mold). The best part is, Miso is not just limited to soup recipes. You can use it to make salad dressing, sauces, desserts, dips etc….the list is endless! Typically there are three types of miso: white, yellow and red. The darker the colour the more intense the flavour. What they all have in common is that wonderful umami flavour that we all love: savoury, sweet, sour, bitter and salty. If you're new to miso, I highly recommend you start with white miso. It has the mildest flavour out of the three and is also the most versatile.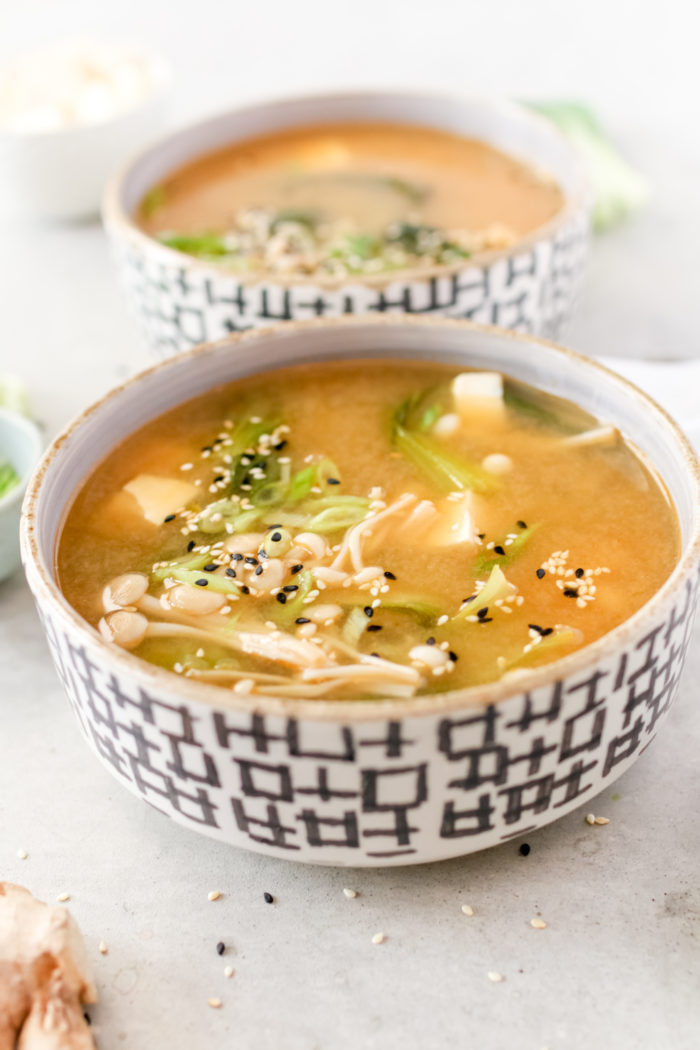 Ways to Bulk Up Miso Soup
Typically miso soup consists of broth, tofu and seaweed and served in a small bowl as a starter. However, you can add more ingredients to bulk up the soup and turn it into your main meal. One way I like to do this is to add more veggies… are we really that surprised?! You can add noodles and even cooked chicken if you like, but for this recipe, I wanted to keep it nice and simple. My go-to veggies that I love in my miso soup is bok choy and mushrooms. You will typically find a couple of varieties of bok choy in most supermarkets: traditional bok choy and Shanghai bok choy. You can use either or as they both have a mellow peppery taste, similar to cabbage.
For mushrooms, I decided to use Enoki mushrooms. They're tender with a slight crunch and they're super cute…haha (don't they look like teeny tiny mushrooms?) However, feel free to use your favourite mushroom variety. The last ingredient that adds bulk to this Easy Ginger Miso Soup is soft tofu. Tofu is a great source of protein and contains all essential amino acids. Once all these ingredients are cooked in the savoury broth, serve with a sprinkle of sesame seeds and green onions. 
So now that we've established how easy it is to make this Ginger Miso Soup, it's time to get cooking! What do you like to add in your miso soup? I'd love to know in the comments below.
If you're looking for more quick soup recipes, then check out:
If you make this recipe, be sure to share a photo on social media and tag me @healthnutnutrition and #healthnuteats so that I can see your creations! 
Recipe
Easy Ginger Miso Soup
This Easy Ginger Miso Soup is packed full of bok choy, mushrooms and silky tofu. Comforting, healthy and ready in 10 minutes!
1

tbsp

toasted sesame oil

1

inch

ginger root

grated

1

clove

garlic

minsed

2

heads

bok choy

rinsed, bottom chopped and leaves separated

150

g

Enoki mushrooms

cut the bottom and separate

2

tbsps

tamari

2

tbsps

white miso paste

4

cups

water

boiled*

1/2

block

soft tofu

cut in ½ inch cubed

1

tsp

chilli garlic sauce

(I like Sambal)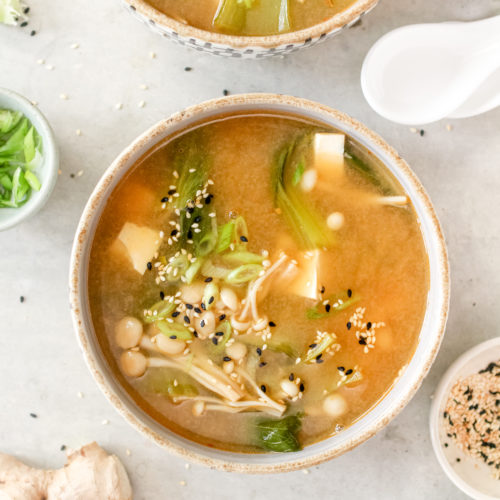 Print Recipe
Save Recipe
Heat the toasted sesame oil on med heat.  Add the shallots, garlic and ginger. Saute for 2 minutes.

Add mushrooms and sautée for 1 minute.

Add bok choy and tamari and sautée for 1 minute.

Dissolve the miso with a little bit of hot water and add to pot along with the 4 cups of boiling water. Simmer on high for 4 minutes.

Add tofu and chilli sauce last minute of cooking.

Serve with toasted sesame seeds and thinly sliced green onions.
*Note: Boil the water in a kettle while you are preparing the rest of the ingredients.
similar recipes