This rich and Creamy Pumpkin Coconut Soup made with pumpkin purée and coconut milk is packed full of flavour and ready in 10 minutes!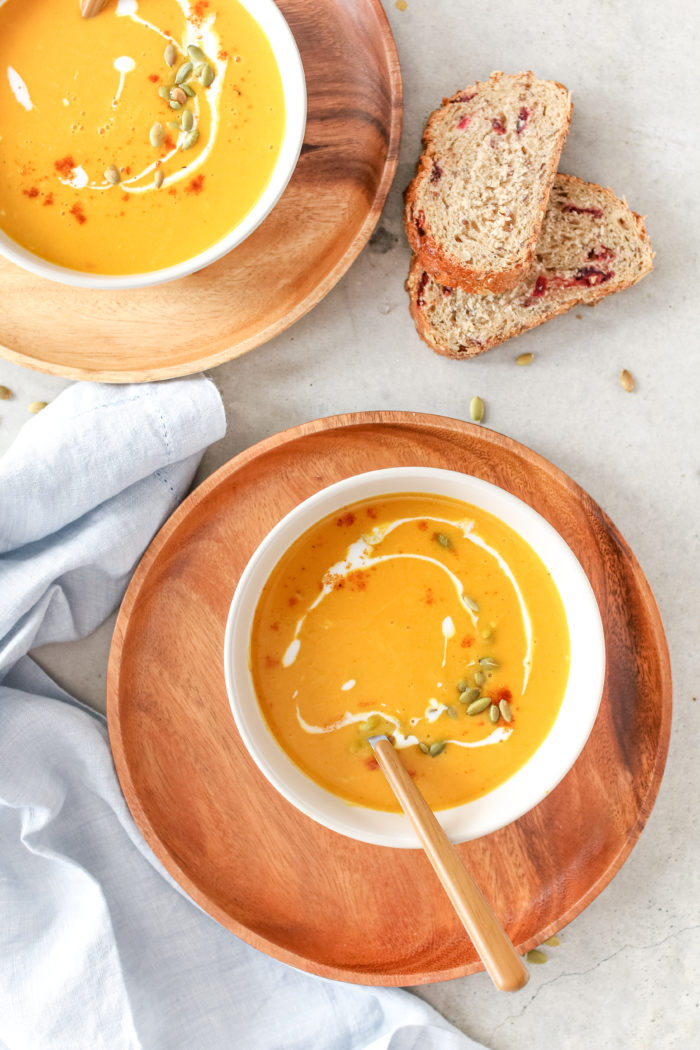 If you guys have been following me for a while, then you know that I'm a huge fan of anything pumpkin. Who says pumpkin is just for fall and Thanksgiving? Normally I would make this soup with roasted pumpkin. But on busy nights, when I just want something quick and simple, there's just no time for roasting. Sure, I could just open a can or box of ready-made soup. But when I look at the ingredients list of most of these soups, I'm pretty turned off. So much salt and sugar? Why?! This homemade Creamy Pumpkin Coconut Soup is healthier, ready in 10 minutes and there's no roasting required!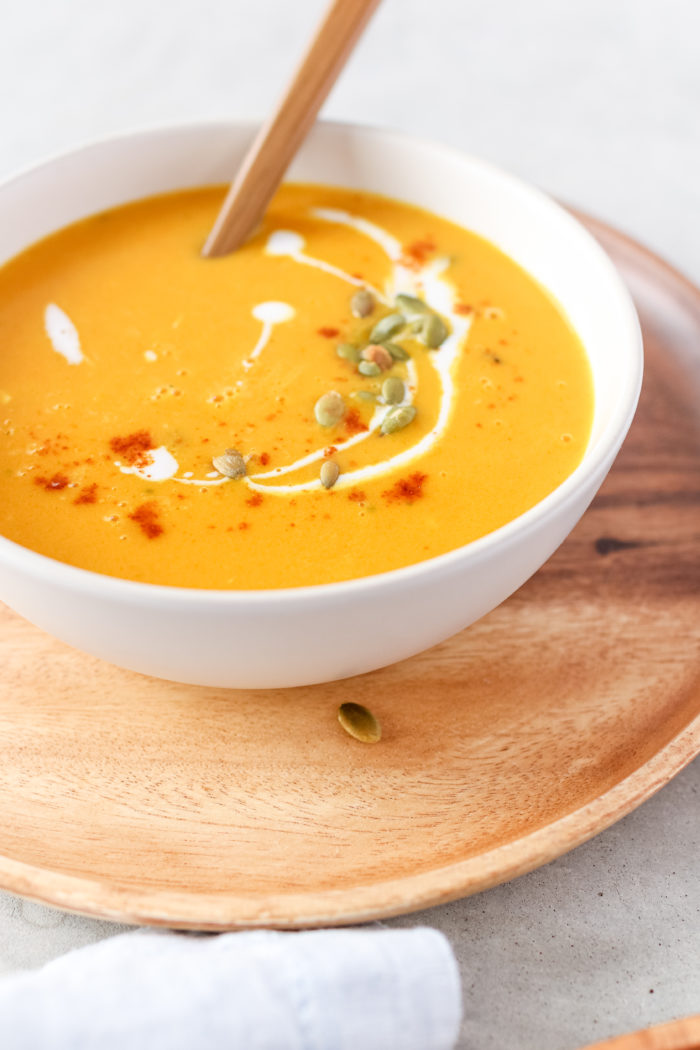 How to Simplify Recipes
The easiest way to simplify this recipe is by using puréed pumpkin. Just make sure you don't buy the pumpkin pie filling (meant for pumpkin pie) by accident…haha. The only thing listed in the ingredient list should be pumpkin. By using pumpkin purée, you save yourself a lot of time by not having to roast it and pureeing it. Also, the bonus part of using canned pumpkin, is that you can make this soup year-round! My second tip to simplify soup recipes is by using ready-made broth. I like buying organic low-sodium varieties: this way I have control over the sodium content in my food. 
When I say this recipe is easy, you literally get to toss all the ingredients in a pot, heat and serve! No blending required since we're using puréed pumpkin and graded shallots, garlic, and ginger. Now, since I kept the ingredients pretty simple in the recipe, the coconut cream is definitely the star of the show. It reminded me of a Thai coconut curry, but without the curry… haha. Once it's ready, I love serving this Creamy Pumpkin Coconut Soup with toasted pumpkin seeds – for crunch, a little cayenne – for heat, and a drizzle of coconut milk – for extra creaminess. 
If you're looking for more 10 minute soup recipes, check out:
If you make this recipe, be sure to share a photo on social media and tag me @healthnutnutrition and #healthnuteats so that I can see your creations! 
Recipe
Creamy Pumpkin Coconut Soup
Print Recipe
Save Recipe
Add the shallot, garlic, ginger and olive oil to a small food processor, and process for 10 seconds or until well minced. ( you can also grade the ingredients directly into the pot if you don't have a food processor).

Transfer to a medium-sized pot and sautée for 30 seconds to 1 minute, on medium-high heat.

Add the pumpkin pure, veggie broth, coconut milk, maple syrup, salt and pepper. Whisk until well combined.

Bring to a boil and simmer for 5 to 8 minutes. Serve with toasted pumpkin seeds, dusting of cayenne pepper and a drizzle of coconut.
similar recipes