This easy One-Pot Minestrone soup is loaded with veggie goodness, hearty beans, and pasta: the ultimate vegetable soup!
Happy Soup Season everyone!! It's officially that time of the year! If you haven't guessed by now, soup is one of my favourite things to cook, especially in the fall and winter. Nothing makes me feel cozier than curling up on the couch in my chunky sweater, a hot bowl of soup, Netflix and of course Mr. Matt. This soup is the perfect warming comforting meal on a chilly day as it's full of nutrients, fibre, super filling and most of all delicious.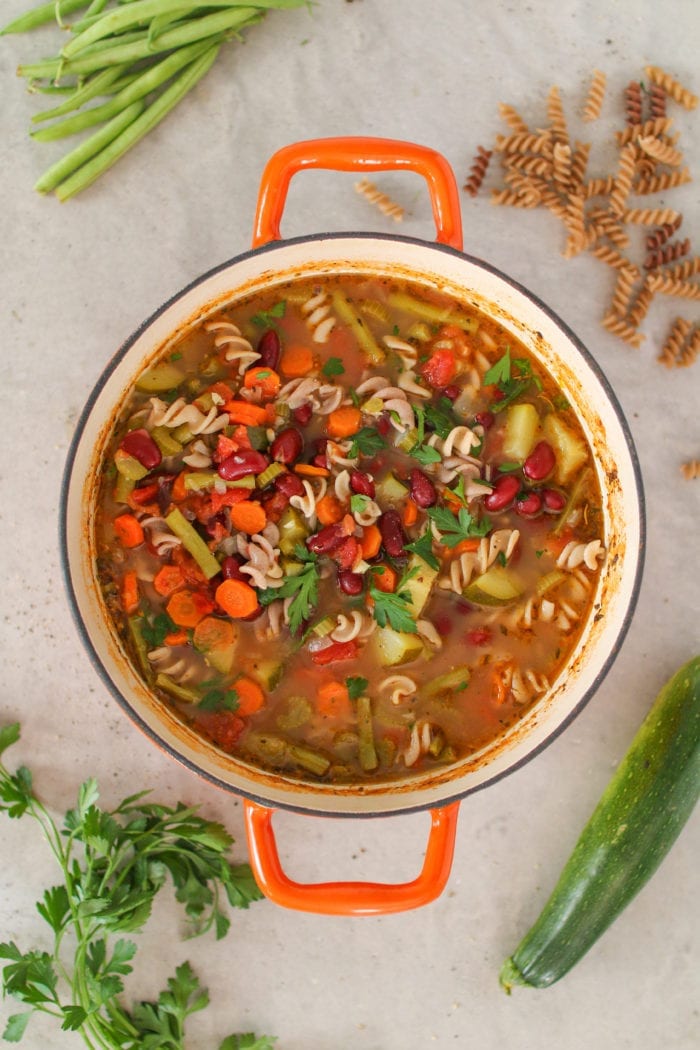 Minestrone soup has always been one of my favourite soups to eat and I can't believe it's taken me this long to make it. I think like most people I was always a little intimidated by all the ingredients that went into this recipe, but to be honest it's actually pretty simple to toss together. Starting with the base: broth and tomatoes, veggies: like carrots, celery, beans and zucchini (but you can pretty much use up whatever veggies you have in the fridge), beans: I used red kidney beans but it's also great with cannellini or butter beans, pasta of your choice or rice, and of course spices: Italian seasoning, chilli flakes for some heat and of course a dried bay leaf. Speaking of which, when making soup, i always feel like I have to add a bay leaf, it's something that my mom and grandma have always done, and I feel like it's something you have to do, just like vanilla and cookies, cinnamon and oatmeal, it's one of those unwritten food rules. I'm sure there's a reason behind it….let me google it…Haha!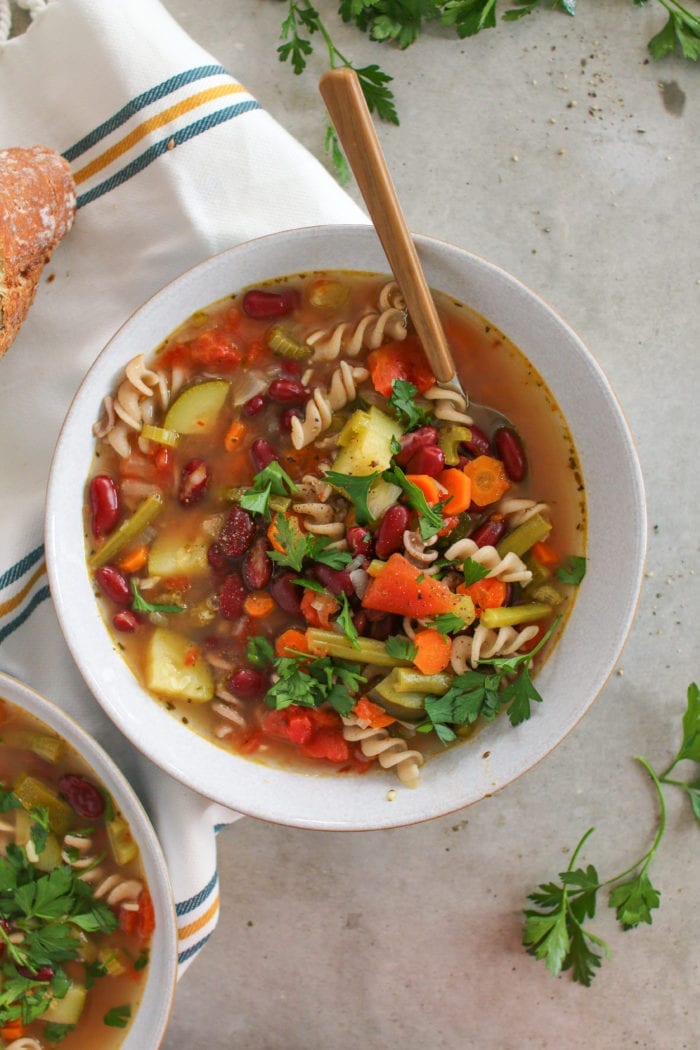 This recipe only took two tries to nail it! The first time I used brown rice pasta, which turned into a bit of a mess as it soaked up all the broth and turned into a mushy stew…if you've cooked with brown rice pasta you know what I'm talking about. In round two I used a super grain fusilli mix (this is the one I used here I used this super grain fusilli one <a href="https://amzn.to/2NYIl8V">here</a> ) and it was perfect as everything came together. What I love about this recipe is that it's a simple one pot meal. I love making a big batch because it's the perfect leftover which you can enjoy for lunch or dinner all week. And to be honest, I think it tastes even better the next day! I love eating this soup with a piece of crusty bread so I can soak up the leftover yummy broth at the end…who else likes doing this?
If you love soup as much as I do, be sure to check out my Creamy Roasted Red Pepper Tomato Soup, Roasted Butternut Squash Soup, Creamy Leak and Potato Soup, and The Ultimate Detox Soup, they're all perfect for this time of the year!
Let me know in the comments below your favourite soup recipe, I would love to try it out!
If you recreate this recipe please share a photo on social media and TAG me @urhealthnut so I can easily find them and like them!
Homemade Minestrone Soup
2018-10-22 09:37:33
Serves 6
This One-Pot Minestrone soup is loaded with veggie goodness, hearty beans, and pasta: the ultimate vegetable soup!
Ingredients
1 tablespoon extra virgin olive oil
1 small yellow onion, finely chopped
3 garlic cloves, minced
1 medium size zucchini, chopped
2 celery stalk, chopped
2 medium size carrots, chopped
1 cup chopped green beans
1 dried bay leaf*
2 cups cooked red kidney beans or 1 can (19oz/540mL), drained and rinsed
1 ½ cups or 1 can (14oz/398ml) diced tomatoes
6  cups low sodium broth (chicken or vegetable)
1 cup short pasta (I used this super grain fusilli one here here)
1 teaspoon dried Italian seasoning
½ teaspoon dried chilli flakes
½ teaspoon sea salt
¼ teaspoon black pepper
Garnish with fresh parsley
Optional: Fresh parmesan
Instructions
In a large soup pot, heat the olive oil over medium heat. Sautée the onions and garlic for 3 minutes. Add the carrots, celery, Italian seasoning, chilli flakes, salt and pepper and sautée for 3 to 5 minutes.
Add zucchini, green beans and bay leaf. Pour in the broth and diced tomatoes and bring to a boil. Lower heat and simmer for 20 minutes slightly covered, stirring occasionally.
Next add the  pasta, red kidney beans and continue to simmer for another 10 min, stirring occasionally.
Serve hot, garnished with fresh chopped parsley and your favourite crusty bread. For an authentic Italian taste, top with grated parmesan. Enjoy!
Store any leftovers in an airtight container in the fridge for up to 4 days or in the freezer for up to 4 months.
Notes
*Note: make sure you remove the bay leaf before serving.
Healthnut Nutrition https://www.healthnutnutrition.ca/