Now that Fall and the colder weather is here, I wanted to share a warm, comforting recipe that I know you're just going to love – my amazing Roasted Red Pepper and Tomato soup! Now I have to be honest with you guys, I've been holding out on sharing this recipe since the summer, but it was worth it because I know you'll enjoy it way more on a cold weather kind of day than a hot one. I am such a soup person and usually I'm all about the chunky or hearty ones like minestrone but there's something about a roasted veggie soup like this one that is just packed with flavour.
Have you ever looked at how much sugar is in one of those "healthy" soups at the grocery store?! In my opinion, they're not so healthy after all… Of course, when you're in a pinch, they'll do the job once in a while, but nothing can compare to a homemade version that tastes fresher and better.  So, for my very own delicious homemade version, you'll just love my recipe that doesn't contain dairy or loads of salt or sugar.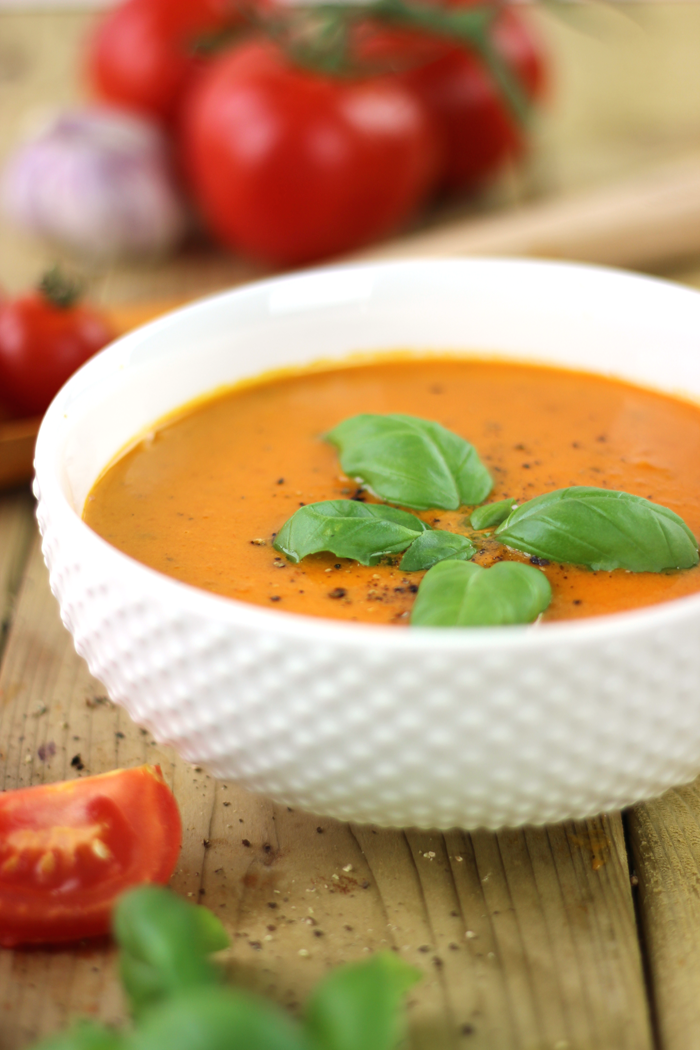 Another reason why I love this soup, or just all roasted veggie soups in general, is that fact that they're so easy to make.  You basically just chop your veggies, roast them in the oven, blend it all up and then warm it on the stove top. It's a very low maintenance soup since it pretty much cooks itself in the oven and you're free to do other things while deliciousness makes itself!
I gave this Roasted Red Pepper and Tomato soup a twist by adding in one of my favourite Indian spices "Garam Masala", as well as a bit of coconut milk to give it that creamy consistency without the dairy.  It's best served hot, and even more delicious with a side of grilled cheese or avocado and toast.
I hope you love this recipe as much as I do, and don't be afraid to share it with your friends and family this season so we can all enjoy a nice bowl of hot delicious homemade soup together.
Recipe
Creamy Roasted Red Pepper Tomato Soup
A rich creamy roasted red pepper and tomato soup, packed with flavour.
1

Large Red Pepper

8

Medium Vine Tomatoes

1

Medium White Onion

1

can Full Fat Coconut Milk

4

cups

Filtered Water

2

Chicken Bouillon Cubes

most are vegan but check the ingredients

1

bulb Garlic

¼

cup

fresh Basil

2

tablespoons

Olive Oil

2

tablespoons

Lemon Juice

1

teaspoon

Paprika

½

teaspoon

Red Chili Flakes

2

teaspoons

Garam Masala Spice

1

teaspoon

Turmeric Powder

1

teaspoon

Sea Salt

1

teaspoon

Black Pepper
Print Recipe
Save Recipe
Pre-heat oven to 400F.

Chop the tomatoes, red pepper and onion into quarters roughly.

In a medium size bowl, combine the tomatoes, onion, fresh basil, olive oil (save a drizzle for the garlic), lemon juice and half the salt and pepper. Toss until evenly coated.

Slice off the top of the garlic bulb to remove the stem and cut off the tips of the garlic cloves stems just slightly. Don't separate the cloves.

On a parchment lined baking sheet, spread out the tomato mix to one side and add your chopped pepper and bulb of garlic facing upwards on the remaining side. Drizzle the garlic with olive oil to keep it moist.

Roast in the oven for 1 hour. Remove the garlic bulb after 20 minutes and set aside.

Once the peppers and tomatoes are roasted, remove them from the oven and allow to cool slightly. Peel the skin off of the peppers.

On medium-high heat in a large pot, add your water and bouillon cubes and bring to a boil.

Next, add in all your roasted veggies, garlic and spices and lower to medium heat. The garlic should slide right out of the skin if you just gently squeeze it.

Blend using an emersion blender in the pot or transfer to a large blender and blend until smooth (and replace into pot).

Add in your coconut milk and stir.

Enjoy with some freshly ground black pepper and a sprig of fresh basil.
This soup will stay good for 3-5 days refrigerated or you can portion it out and freeze it in air tight containers.
similar recipes
What is your favourite kind of soup? And what soup recipe would you love to see me create next?