A round up of 10 of my favorite vegetarian recipes. From simple cauliflower tacos to a hearty casserole, you're sure to find a tasty and nutritious meatless meal you'll love!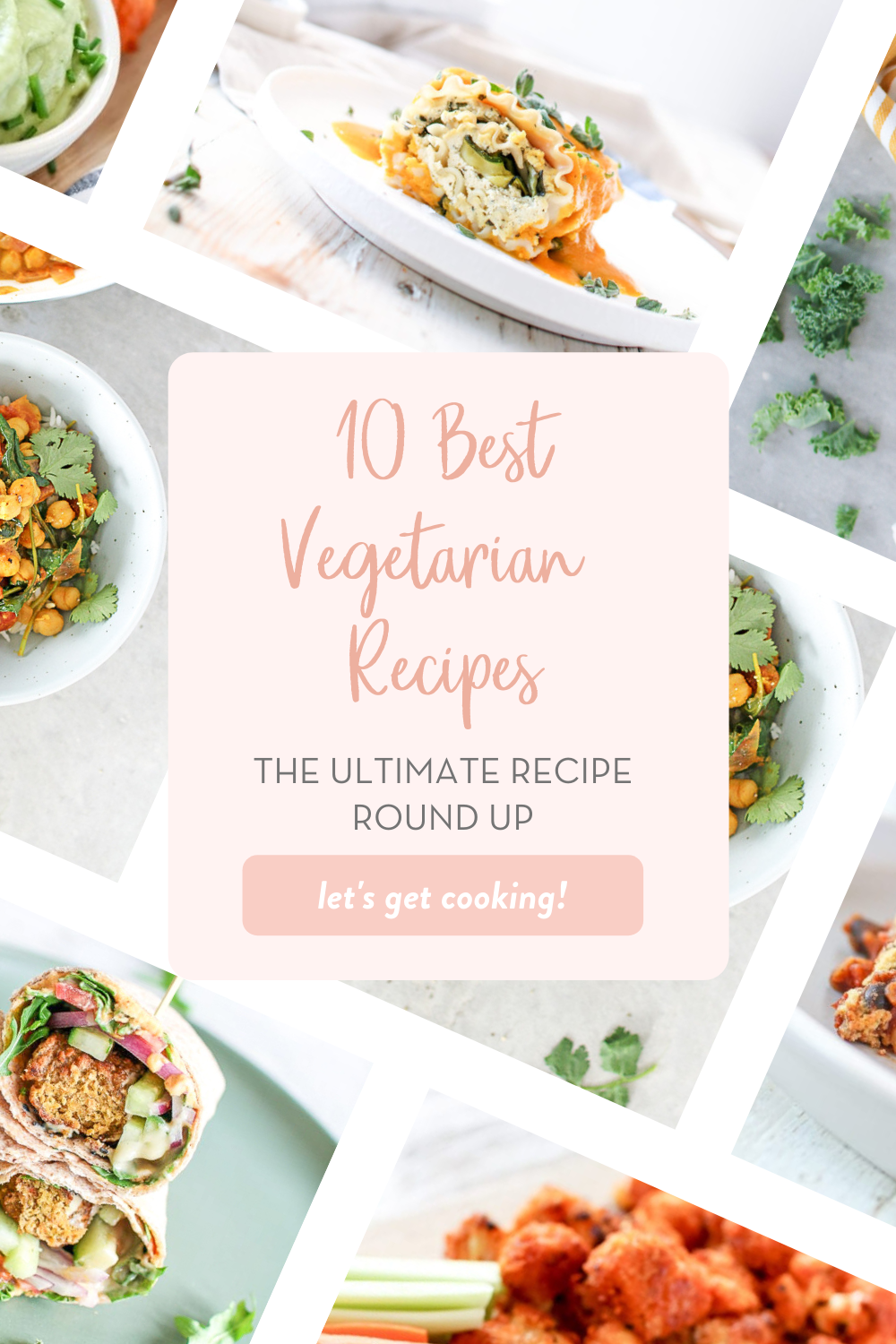 Whether you've been a vegetarian for years, are thinking about introducing 'Meat Free Mondays' or are simply staring into your refrigerator thinking "I've got no meat… what the heck can I cook for dinner?", I've got you covered. These 10 meat-free dishes are some of my absolute favourites to cook, and they're full of good, healthy ingredients, too!
Lentil Chili Cornbread Casserole
This Lentil Chili Cornbread Casserole is one of my favourite vegetarian recipes. It's gluten-free, dairy-free and combines two of my favourites, chili and cornbread. It's the perfect cozy meal that's sure to satisfy your entire family. This recipe is fairly easy to make, and although there's a two step process, it's ready in about an hour. This recipe is also perfect for meal prepping for the week. Like all chili, it tastes even better the following day when all the flavours have infused and the chili has had time to rest. It's also freezer friendly, so freeze your leftovers to enjoy at a later time, or on those busy nights when you don't have time to cook!
Butternut Squash and Spinach Lasagna Roll Ups
These delicious and tasty Butternut Squash and Spinach Lasagna Roll Ups are stuffed with dairy free "ricotta", spinach, zucchini and drowning in butternut squash purée. Perfect for any night of the week! It's warm, comforting, filling and cheesy: exactly what we're all looking for on a chilly night in. I find that using butternut squash purée in place of marinara or a cream sauce gives this lasagna an earthy, yet rich and creamy vibe.
Simple Cauliflower Tacos
Revamp your taco Tuesday night with these Simple Cauliflower Tacos. They say cauliflower is the new 'kale", so move over kale, it's time to let someone else shine. As well as being a great meat substitute, cauliflower is  also super nutritious, high in fiber, good source of antioxidants, and high in Vitamin C and K. When it comes to tacos, I like making my own taco seasoning as I can control the salt and spices, but feel free to use your own taco seasoning.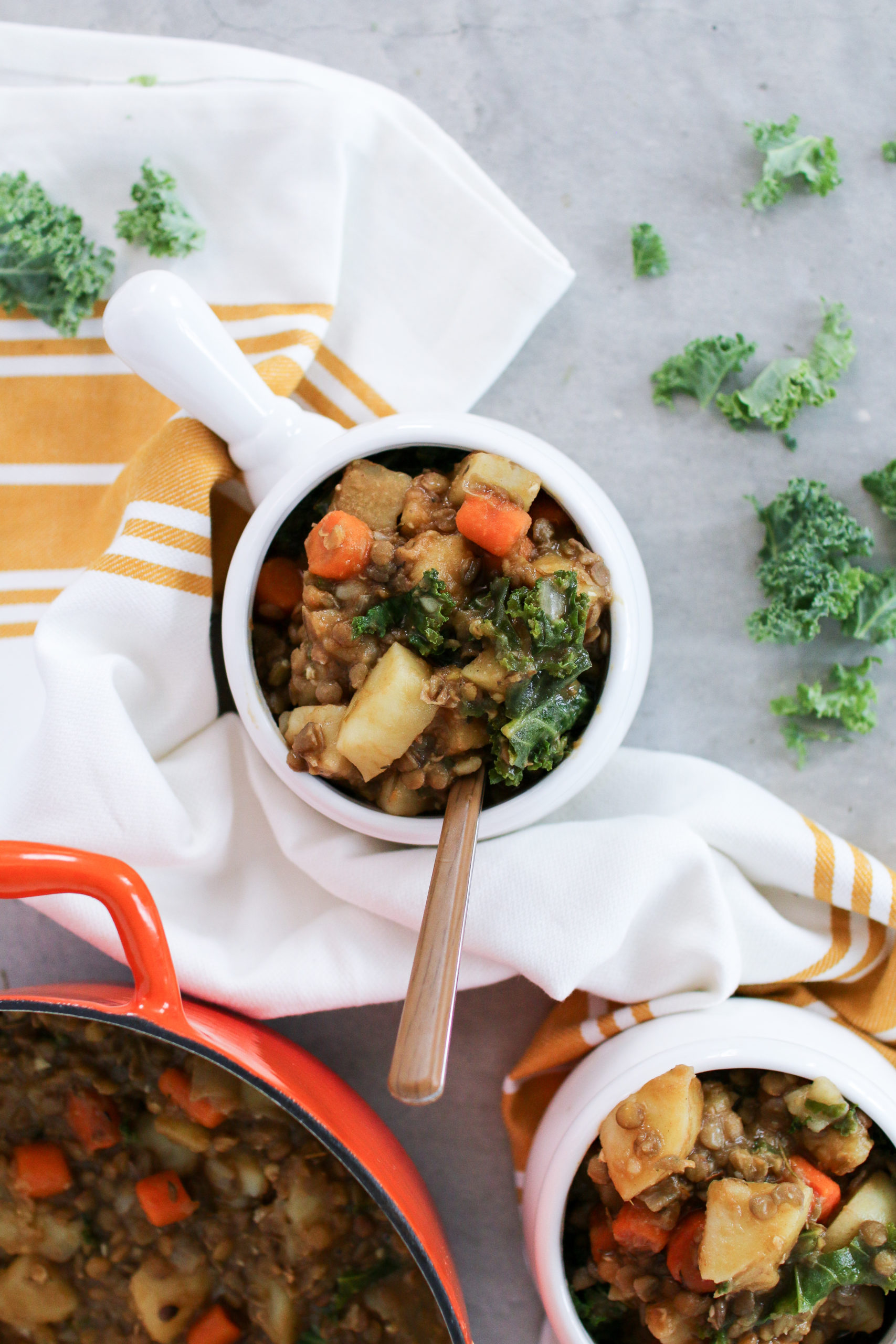 Lentil Potato Stew
This hearty lentil potato stew is vegan, budget friendly, and full of seasonal ingredients like carrots, potatoes and wintery herbs. It's the ultimate comfort food in a bowl! Lentils are the perfect high-protein, high-fibre food that take on the flavours you add to it. They're much more simpler to cook than dried beans, as they require no soaking, are low in cost – making it super budget friendly for everyone!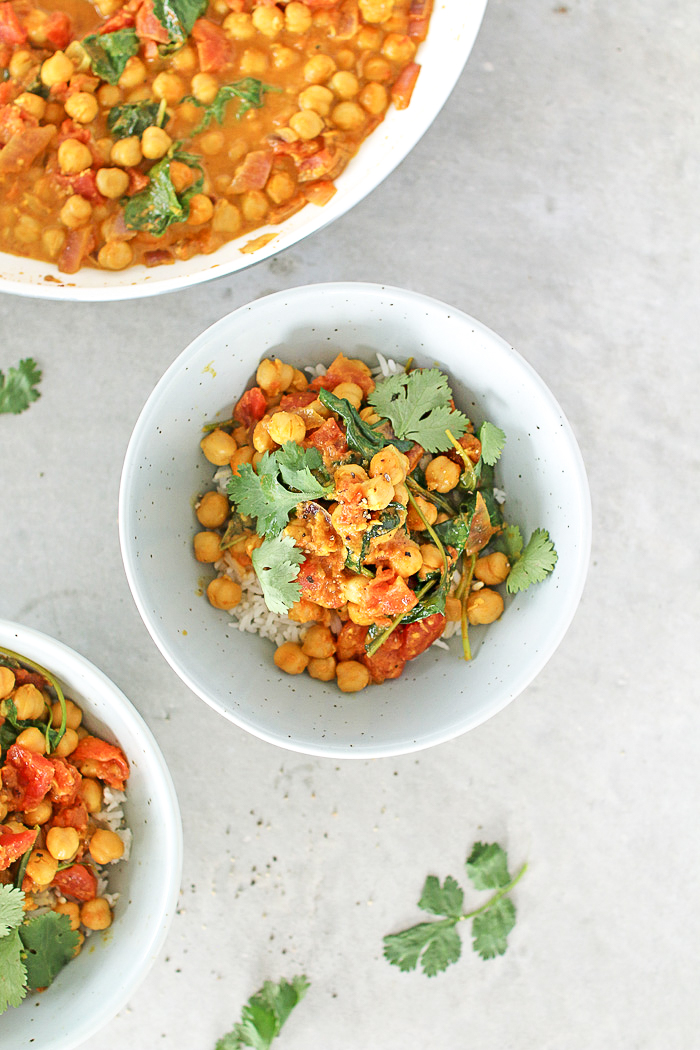 Creamy Chickpea Curry
This Creamy Chickpea Curry cooked in a tomato coconut base is so flavourful and hearty! It's ready in just 10 minutes, and only takes one pot. Perfect for quick & easy weeknight dinners!  The best part about this curry is that it tastes like it was cooking for hours with all the rich flavours and fragrant spices. This dish is perfect for meatless Mondays as it's plant based, dairy-free, and gluten-free.
5-Minute Falafel Wraps
These 5-Minute Falafel Wraps are smothered in red pepper hummus, topped with peppery arugula, crunchy cucumbers, tomatoes, onions and drizzled in creamy tahini. This super quick and hearty plant-based wrap will hit the spot come lunch time. Use any tortilla wrap or even pita bread and get wrapping! 
Easy Veggie Dal Stew
A warming, hearty and easy Veggie Dal Stew made with split yellow peas, mushrooms, and peppers in a creamy tomato and coconut milk broth slightly spiced. This is the perfect vegetarian stew recipe to make on a Sunday night and have it for the entire week for lunch or dinner. It's super budget friendly and low maintenance to make. You simply need to chop up your ingredients, sauté for a bit then add your crushed tomatoes, water, coconut milk and put that lid on to cook until everything is perfectly tender and of course, mouth watering!
Sweet Potato Black Bean Burgers
Hearty and flavourful, these Sweet Potato Black Bean Burgers are made from black beans, sweet potatoes, mushrooms, and hemp hearts. They make the perfect patties for your summer grill. I bet you didn't know you could mash up hearty veggie burgers with very basic ingredients. In fact, you probably have most of the ingredients already in your pantry! If you think veggie burgers aren't tasty and satisfying, you're about to be proven wrong 😉
Vegan Mushroom Fettuccine Alfredo
I may not be a true Italian but I'm definitely one at heart! I love a healthy serving of pasta once in a while and my creamy Vegan Mushroom Fettuccine Alfredo recipe definitely hits the spot. Diets and restricting food intake aren't really my thing. Instead, I'm all about the healthy substitutions! This pasta dish for example –  we've got brown rice noodles instead of regular white flour pasta, and cashew cream instead of dairy cream.
Shake and Bake Buffalo Cauliflower Wings
These healthy Shake and Bake Buffalo Cauliflower Wings are saucy and crispy on the outside and tender on the inside. They are full of flavour and perfect as a side, appetizer or for game night! This recipe is sooo easy to make. The best part is that they are healthier than traditional wings as they are baked, not fried and gluten-free, thus making them a guilt-free snack or appetizer.
What are your favourite vegetarian recipes? Let me know in the comments below! 
If you make any of these vegetarian recipes, be sure to share a photo on social media and tag me @healthnutnutrition #healthnuteats so that I can see your creations! 
If you love these recipes and are looking for more options, check out all my Plant Based Recipes and Vegan Recipes.