This Creamy Chickpea Curry cooked in a tomato coconut base is so flavourful and hearty!  All it takes is one pot and it's ready in 10 minutes.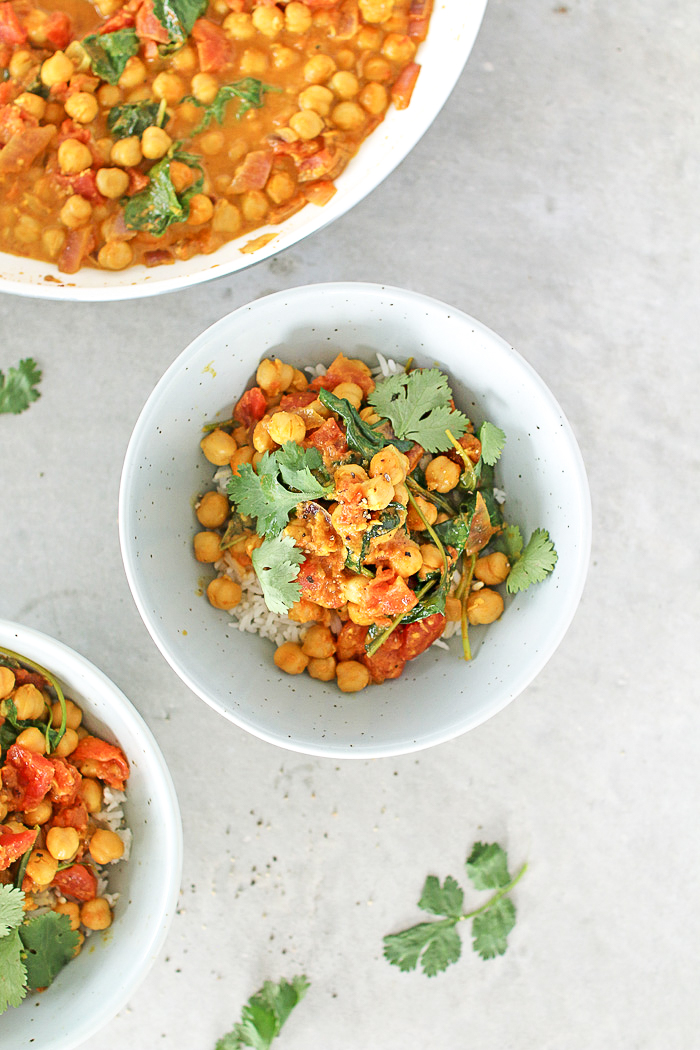 Sometimes the best recipes are the ones that are made up of simple ingredients! Canned chickpeas, coconut milk and diced tomatoes are always a staple in the HealthNut pantry, and I'm willing to bet they are in your house, too! This recipe is super simple and is ready in 10 minutes. This makes it perfect for quick & easy weeknight dinners.  The best part about this curry is that it tastes like it was cooking for hours with all the rich flavours and fragrant spices.
Now that we are easing into fall, I find I'm craving more warm and comfort foods.  I love all the vibrant spices that go into a simple curry like turmeric, coriander, cumin, paprika and chili.  They all have their own unique taste and colour, but somehow work so well when mixed together.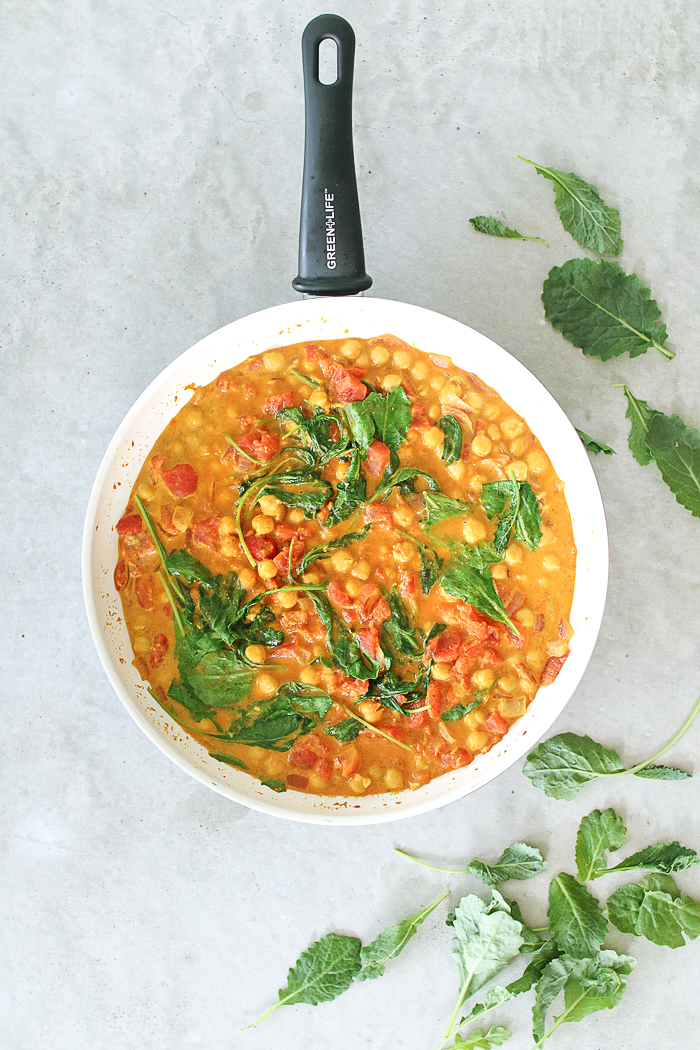 This dish is perfect for meatless Mondays as it's plant based, dairy-free, and gluten-free.  Chickpeas, also known as garbanzo beans, are incredibly nutritious. They are a great source of fiber, rich in vitamins and minerals such as iron, folate, manganese, B-6 and provides a decent amount of protein.

I love tossing in a handful or two of fresh spinach or kale into soups, stews and curries. This is such an easy way to sneak in more leafy greens into your meals! You didn't think I would make a dish without sneaking in my greens did you?!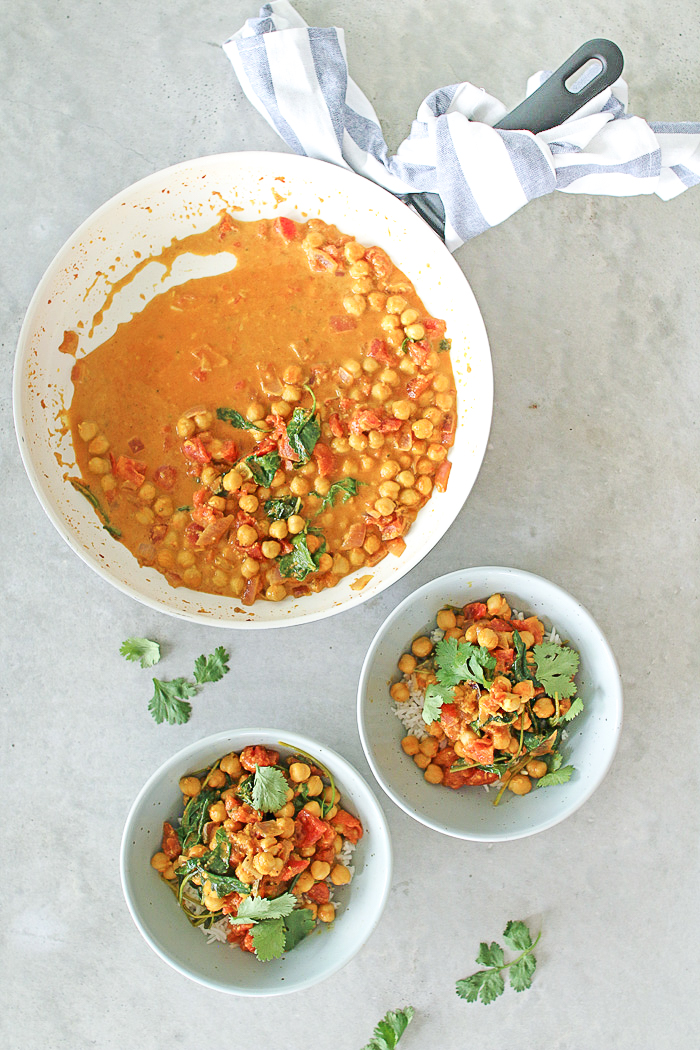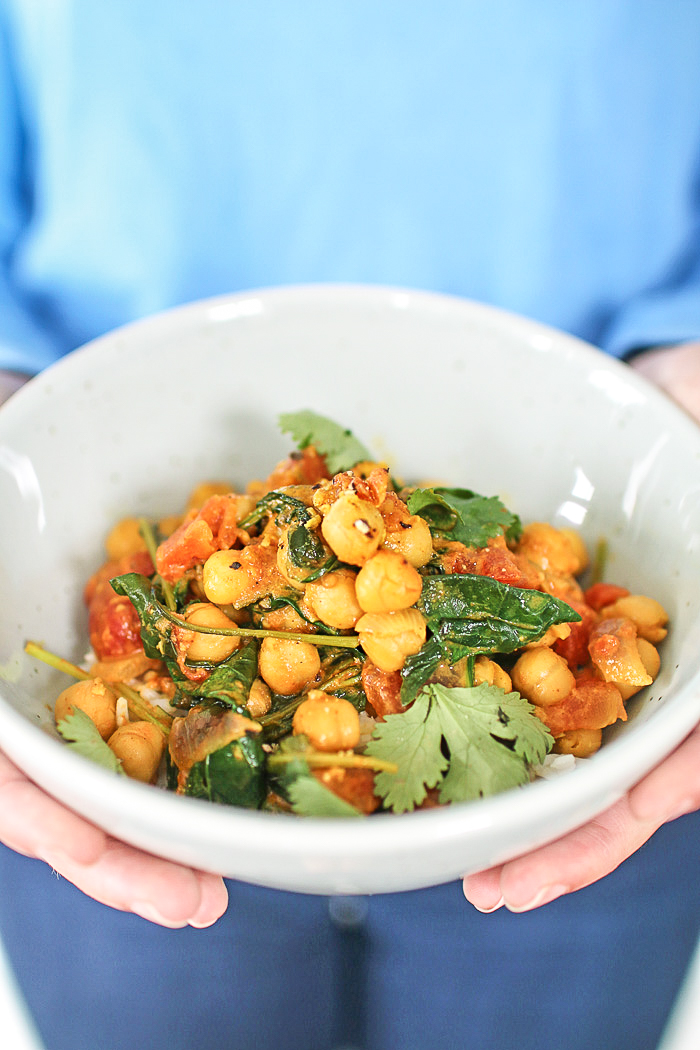 If you recreate this recipe please share a photo on social media and TAG me @urhealthnut so I can easily find them and like them!
Recipe
Creamy Chickpea Curry
1

tablespoon

extra virgin olive oil

½

cup

diced red onions

1

clove

garlic

minced

1

inch

ginger

grated

1

tablespoon

curry powder

1

teaspoon

ground coriander

¼

teaspoon

ground cumin

¼

teaspoon

paprika

¼

teaspoon

chili powder

optional

1

can

19 oz/540ml chickpeas, drained and rinsed

1 ½

cups

diced tomatoes

1

cup

canned full fat coconut milk

Sea salt and pepper to taste

2

handfuls of fresh baby spinach

Garnish: fresh cilantro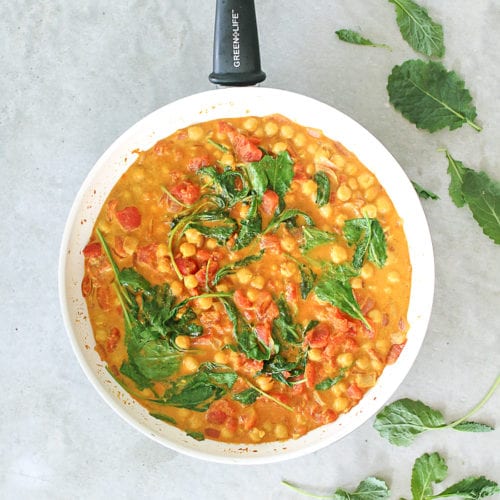 Print Recipe
Save Recipe
Heat the olive oil in a large skillet over medium-high heat. Sauté the onions for 1 minute. Add the garlic and ginger and sauté for another minute.

Toss in the curry powder, coriander, cumin, paprika and chili if using. Stir and sauté for 30 seconds.

Add the chickpeas, diced tomatoes, coconut milk and stir. Bring to a boil and cook for 5 minutes, stirring often.

Season with salt and pepper to taste and toss in the spinach. Stir and cook for another minute.

Garnish with fresh cilantro. Serve on it's own or with cooked quinoa or brown rice.

Store any leftovers in an airtight container in the fridge for up to 5 days.
similar recipes