How to make a smash cake for your baby's first birthday party. This super moist and easy to eat healthy naked smash cake is made with whole foods, sneaky veggies and naturally sweetened with banana!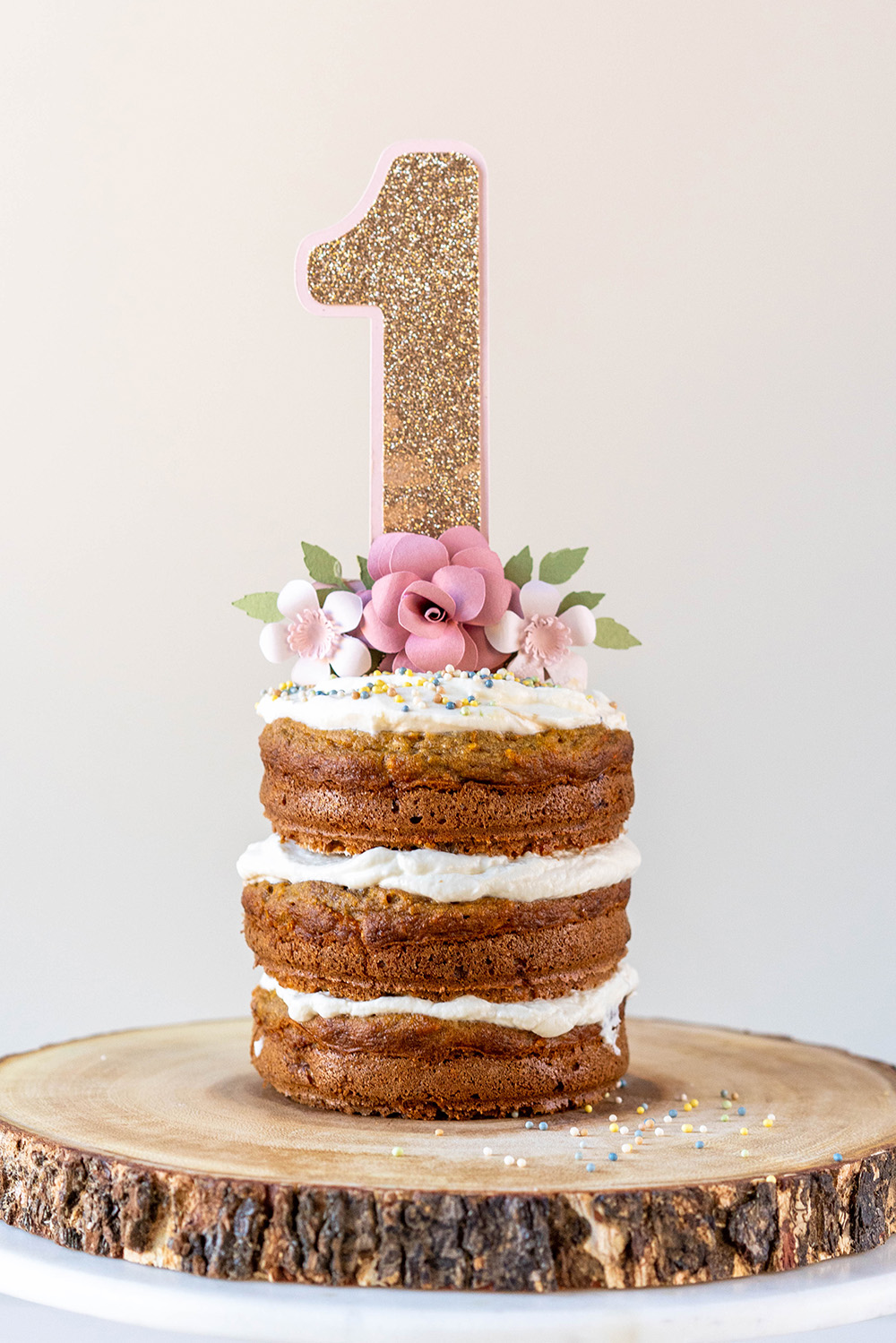 I cannot believe our daughter Sage is one year old already! I've been absolutely loving documenting our baby food journey, but as a recipe developer there was one task I couldn't wait to try out. To create the perfect and also super healthy baby smash cake to serve to Sage at her first birthday party (I promise I'm not crying). 
This past year has taught me so much about motherhood, myself and life and I just can't believe she has been out of my belly and on this earth for 365 days?! I am so excited to be able to share this special day and cake with so many other parents and not so little babies (tear!) I hope this most delicious and nutritious, super-cute mini stacked smash cake will help to make your day even more special!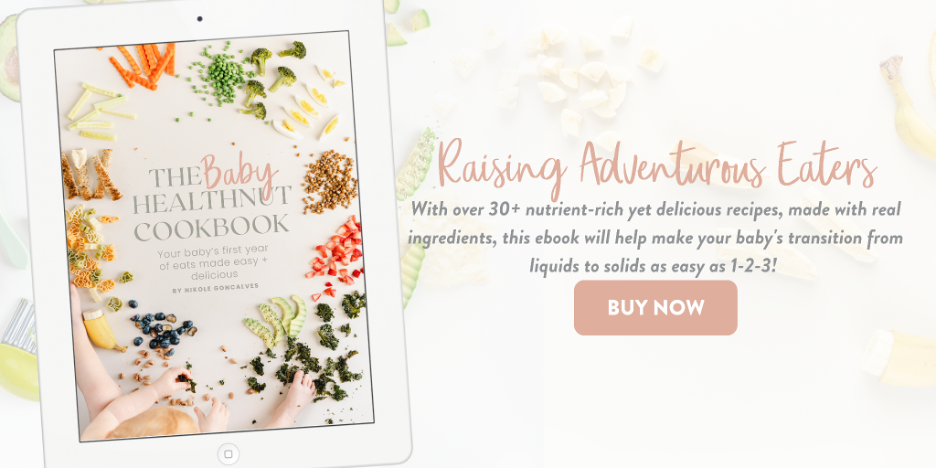 Why make your own smash cake?
By making your own smash cake, you know exactly what goes into it! Smash cakes that you can buy in the store tend to be loaded with excess salt, added sugars and artificial food dyes or colouring. All stuff you don't particularly want to be feeding your little one year old! Making your own DIY version means you can avoid all the nasties and fill your cake with nutritious (yet delicious) good-for-you whole foods that you can feel good about serving your little ones on their special big day!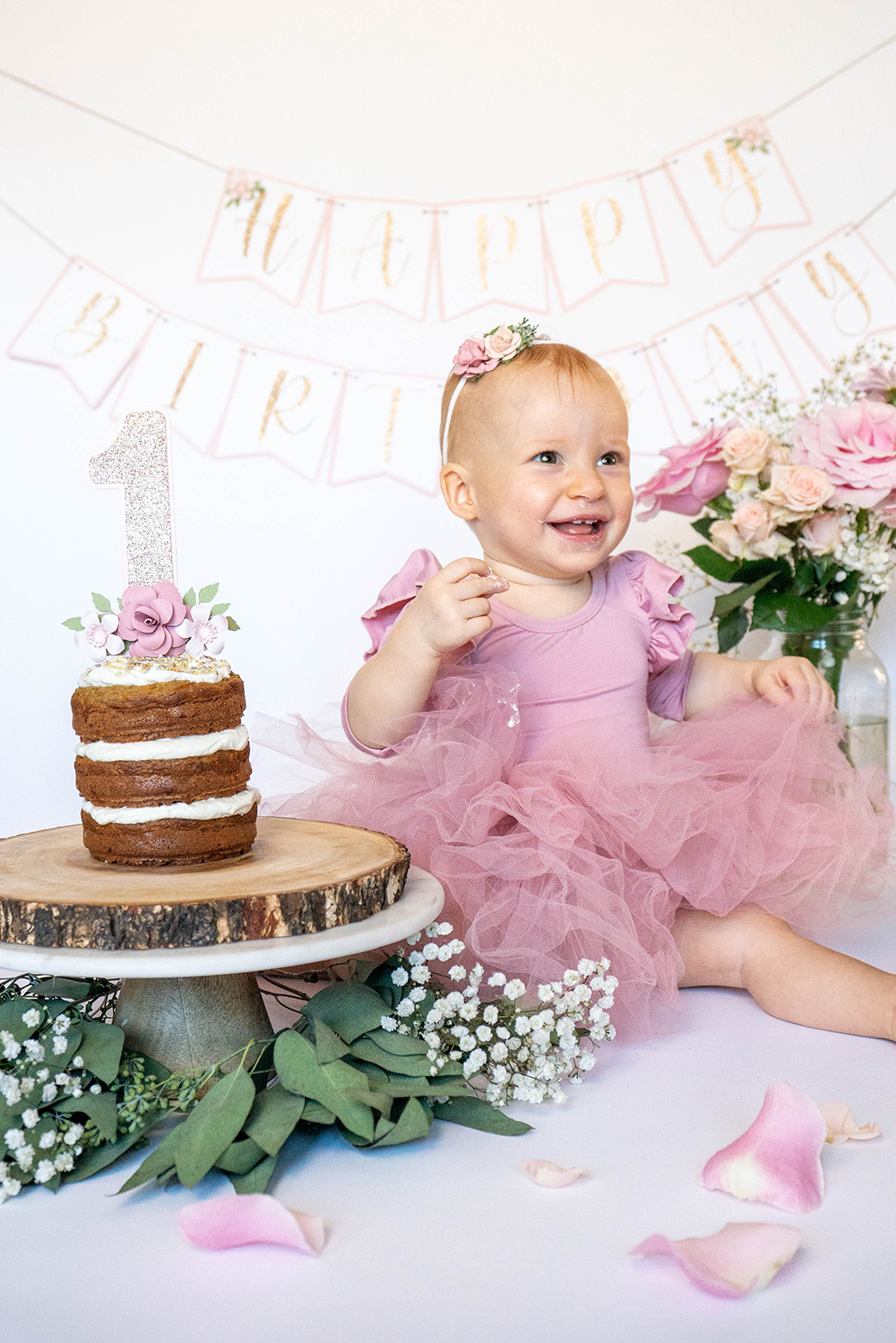 No sugar added smash cake
This recipe uses simple ingredients, and replaces processed sugar and artificial flavourings with banana and vanilla extract as natural sweeteners. It's also loaded with sneaky veggies to make it even better for you! They'll get their healthy fats from the coconut oil and coconut milk, protein from the eggs and almond flour and fiber from the oat flour and carrots. Think banana bread meets carrot cake, with a whipped yogurt cream cheese frosting (also sweetened with banana!) It's so good, the adults will want some as well!
Budget friendly
On top of the health benefits, it's also budget friendly! Smash cakes can get super pricey. Most likely half of it is going to end up on the floor.  Or in the dog's mouth that's walking by! Making your own will save your wallet.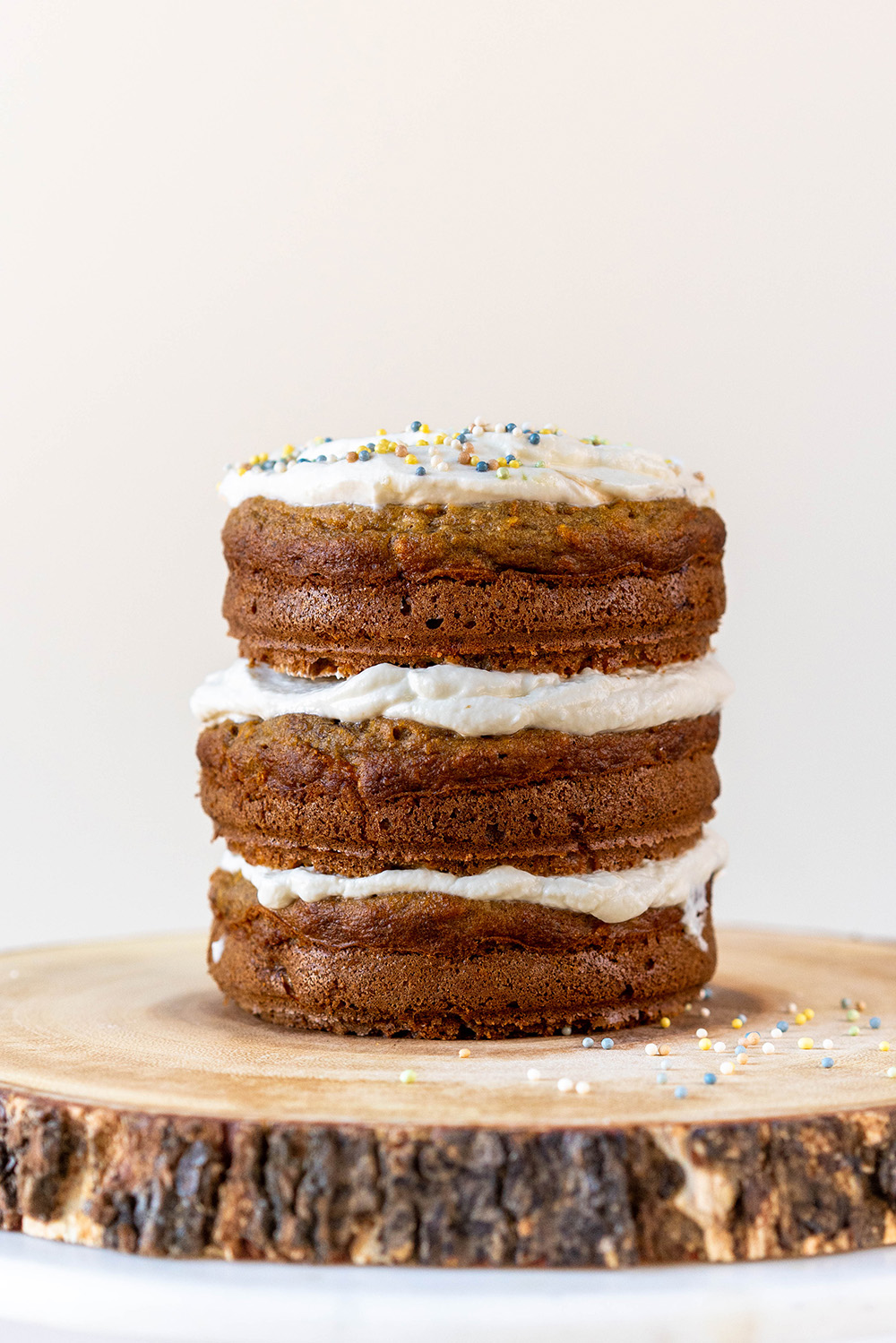 How to make a smash cake
Prep ahead of time –

One of the things that might turn you off making your own smash cake is the thought of baking on the day of their party, but you don't have to! One of the best bits of this recipe is you can prep the cake and the frosting in advance. That way, all you have to do the morning of the party is assemble your cake! #momwin

Gluten free option

– You can totally make this recipe gluten free by using gluten free oat flour.

This gluten free oat flour

is great, but you can easily make your own oat flour by grinding up whole rolled oats in a blender or small food processor until you reach a flour consistency. Look for gluten free oats that have not been contaminated if you are looking for a gluten free recipe. If you're looking for a good almond flour too,

this is the one I used

.

Making your own strained greek yogurt for the frosting –

To make strained greek yogurt, place your yogurt in a fine mesh strainer lined with a cheesecloth over a bowl so it's not touching the bottom. Cover and set in the fridge for 1-2 hours or overnight to allow the excess liquid to strain out. This creates a super thick cream cheese-like yogurt, perfect for frosting! I strain my yogurt so it doesn't add too much moisture. No one wants a soggy cake!

Fun fact – this smash cake is also dog friendly! –

Who knew? As I was creating this recipe I realized how similar dog friendly baked goods are to baby ones. No salt, no sugar – perfect! Feel free to share with your furry kids and freeze for later treats. They won't mind baby hands in the cake, I'm sure! I actually also have a full

dog birthday cake recipe here

.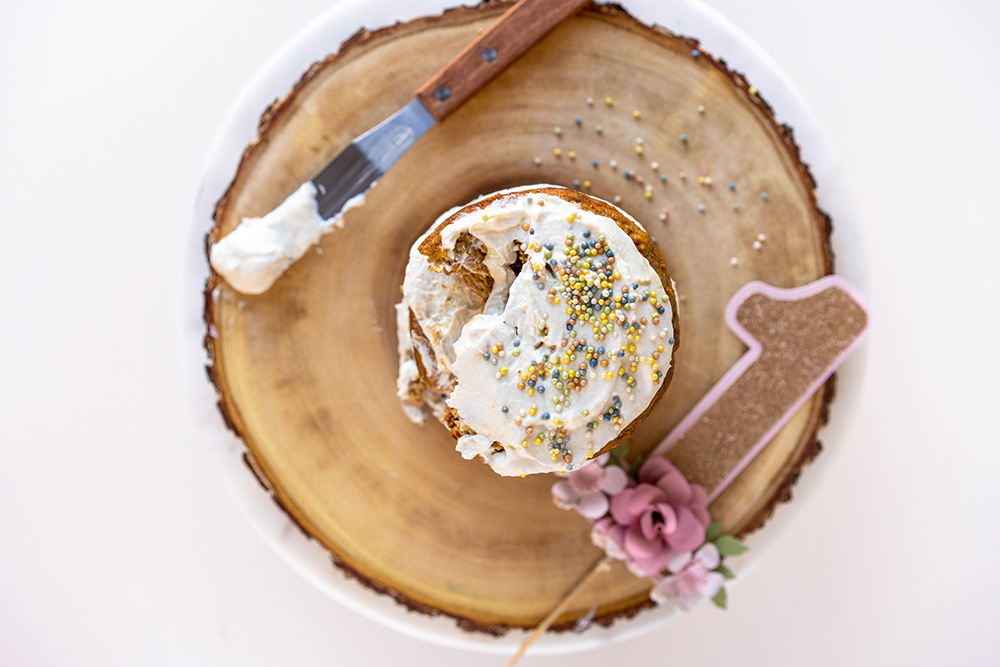 Top tips for the perfect DIY smash cake
4-inches in diameter is the perfect size for a smash cake. These are the springform mini cake pans I used, which made it easy to pop the cake out! You could definitely tweak the recipe to make a larger cake if you wanted, but don't forget your little one will be smushing their hands into it! Other items that came in handy when making this smash cake were these glass mixing bowls, and these natural food dye sprinkles.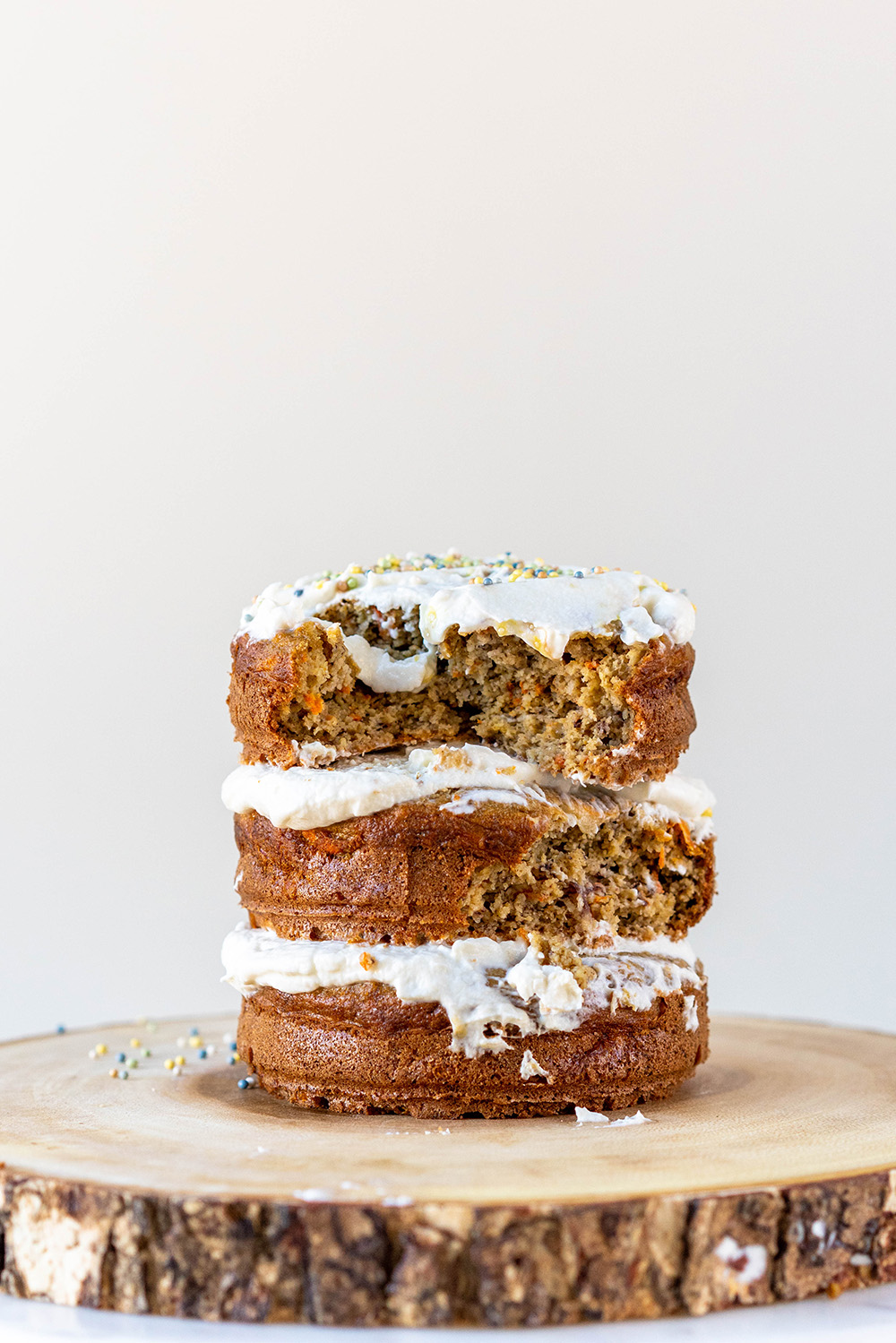 What's your favourite cake recipe? Let me know in the comments below! 
If you make this recipe, be sure to share a photo on social media and tag me @healthnutnutrition #healthnuteats so that I can see your creations! 
If you love this recipe and you're looking to make other healthier versions of your favourite treats, you are going to love my DIY Healthy Twix Chocolate Bars and Snickers Shortbread Cookie Bars.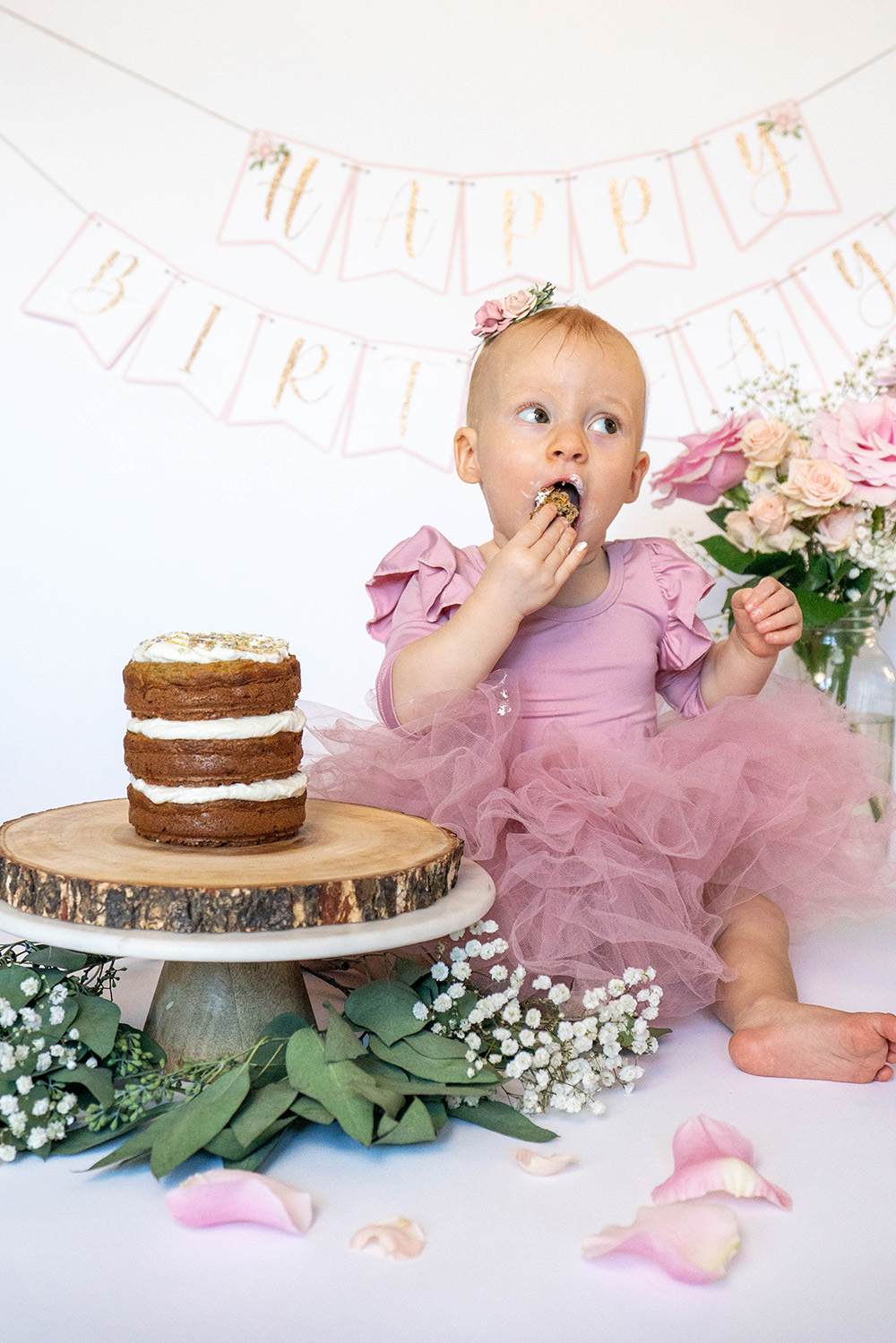 Recipe
Healthy Naked Smash Cake
This super moist and easy to eat healthy naked smash cake is made with whole foods, sneaky veggies and naturally sweetened with banana!
Dry
1

cup

oat flour

1/2

cup

almond flour

1

tsp

baking powder

1/2

tsp

baking soda

1/2

tsp

cinnamon

1/2

cup

grated carrot
For the banana sweetened yogurt cream cheese frosting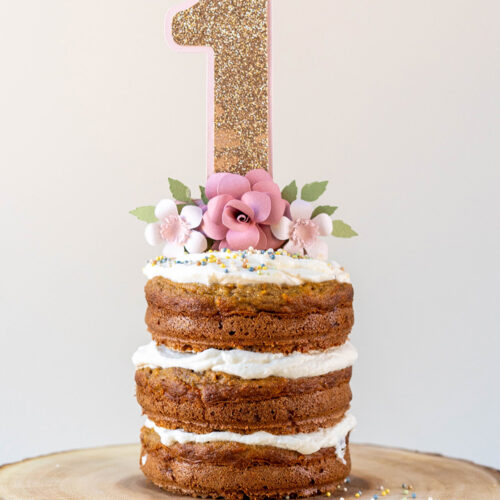 Print Recipe
Save Recipe
To make the cake
Preheat the oven to 350 F and lightly butter three 4-inch springform mini cake pans.

In a large bowl (or stand mixer), mash the banana and whisk in the eggs, coconut oil, coconut milk and vanilla until smooth.

In a separate small bowl, add in all the dry ingredients (except for the grated carrot) and stir to combine.

Slowly add the dry mixture to the wet a little bit at a time, just until there is no raw flour visible and stopping to scrape down sides of the bowl. Make sure not to over mix, and then fold in the grated carrot.

Divide the batter evenly between your prepared cake pans.

Transfer the filled cake pans to a large baking sheet and bake for 35 minutes, or until a toothpick inserted into the center of the cake comes out clean.

Transfer the baked mini cakes to a cooling rack to cool for 5 minutes, or until cool enough to touch. Remove the cake from the spring forms and place it directly on a rack to cool completely before frosting.

Once cooled you can add frosting as desired (see directions below). I added mine to the middle layers and on top with sprinkles for a complete naked cake look. You can cover it completely or style it as a semi-naked cake with scraped sides to expose some cake beneath the frosting.

The finished cake can be stored in an airtight container in the fridge for 2 days or in the freezer for 1 month.
To make the frosting
In a medium bowl, mash the banana and add in the strained yogurt and cream cheese.

Using a hand immersion blender, blend the mixture until whipped and smooth with no visible banana chunks.

Store in an airtight container in the fridge for up to 2 days if preparing ahead of time before baking the cake. You can frost your cake with just strained yogurt if you prefer, but the banana and cream cheese adds a more creamy and naturally sweetened desirable flavour that's not as sour.
similar recipes