The Best Healthy Dog Cake that is perfect to make for any pawty! Made with all-natural ingredients like oats, peanut butter, and banana, your puppy will be sure to LOVE every bite!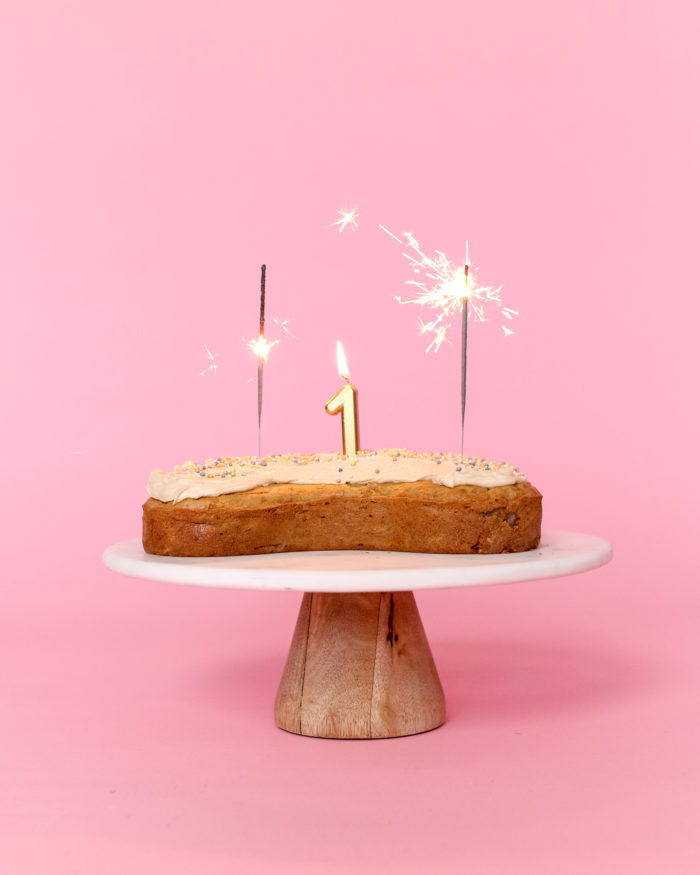 Well, it's official. My little baby is not so little anymore!⁠ (tears)
⁠I can't believe Cashew is already ONE! It feels like just yesterday that we brought her home for the first time and now she's completely taken over the couch and doubled in size. ⁠
It's no secret that I'm a crazy dog mom, and proud of it! So naturally, I jumped on the opportunity to bake her a bone-shaped birthday cake. Followed by a ridiculously cute photoshoot to show it off haha.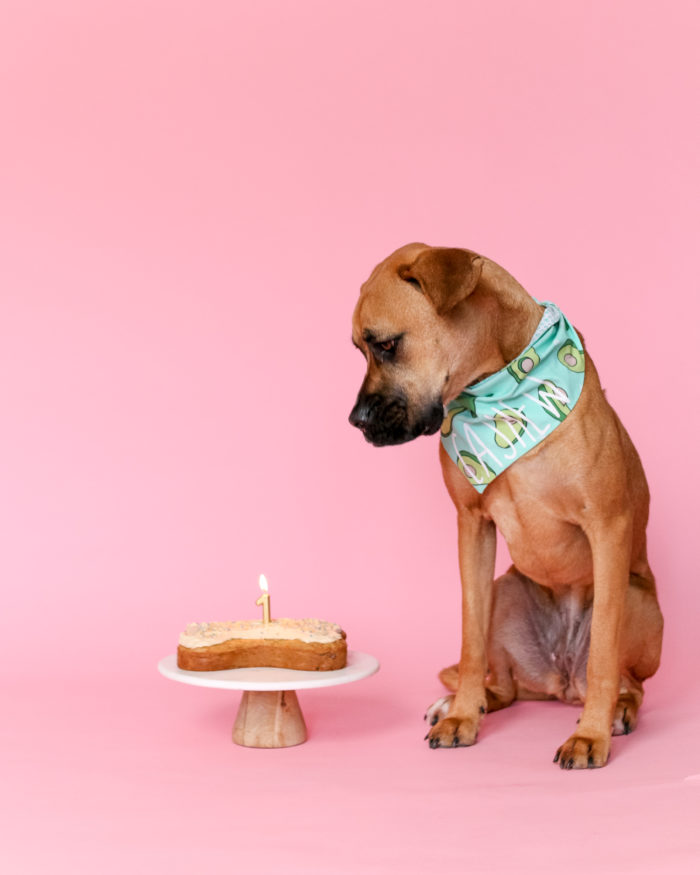 I mean, seriously?! I can't even handle this cuteness. Ps. Her bandana was custom made for her by Yona's Closet.
Why Healthy?
Ever since Cashew was a little pup, both Matt and I have made the conscious effort to raise her on an all-natural, whole-food diet. Not only does she have a sensitive tummy, but we also just believe that it's the best for her in terms of health and longevity… much like how we fuel ourselves!
With this in mind, I wanted her birthday cake that followed those values. Something simple and delicious that I knew she would enjoy! When I was looking for the perfect recipe to bake, I actually had a much harder time than I thought. Everything I came across was either too high in salt or sugar, both of which ours pups definitely don't need.
Right as I was about to throw in the towel, I stumbled upon this Mini Dog Birthday Cake recipe by The Dish Next Door and it was perfect!! I threw on my HealthNut apron and got down to business, all while tried my best to keep it as a surprise. But of course, Cashew is never far whenever I'm baking something in the kitchen haha. I swear she has this weird sixth sense when I'm making her a treat, it's like she knows its for her!
Whole Food Ingredients
Since I figured you can never go wrong with oats, carrots, and extra peanut butter, I decided to make a few small adjustments to the original recipe. Oats are higher in fiber and most tolerable than many other grains for dogs. Raw, peeled carrots are a quick and easy way to boost nutrients in their treats. Then, natural peanut butter is the star-of-the show and arguably every dog's best friend! Finally, I decided to add baking powder to help the cake rise and make it extra fluffy. After combining these simple ingredients with a few others, out came the most delicious dog cake that even I wanted to eat! I also ended up doubling the original recipe so that it would fit in the silicone bone-shaped cake mold I got for extra cuteness and photoshoot purposes haha.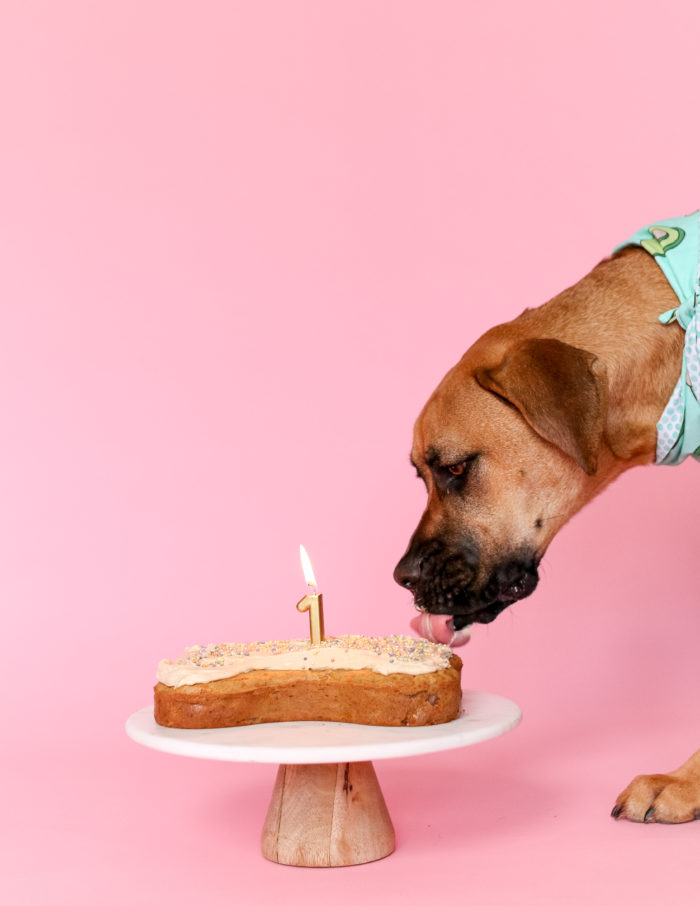 I'm SO happy (and low-key impressed) by how this healthy birthday cake for dogs turned out. It baked up just like any regular cake, but it's totally pet safe! It took some serious puppy training skills to get her to wait, but it was so worth seeing her excitement when she finally got to dig in. Judging by the slobbery aftermath, I think it's safe to say that Miss Cashew LOVED it! #prouddogmommoment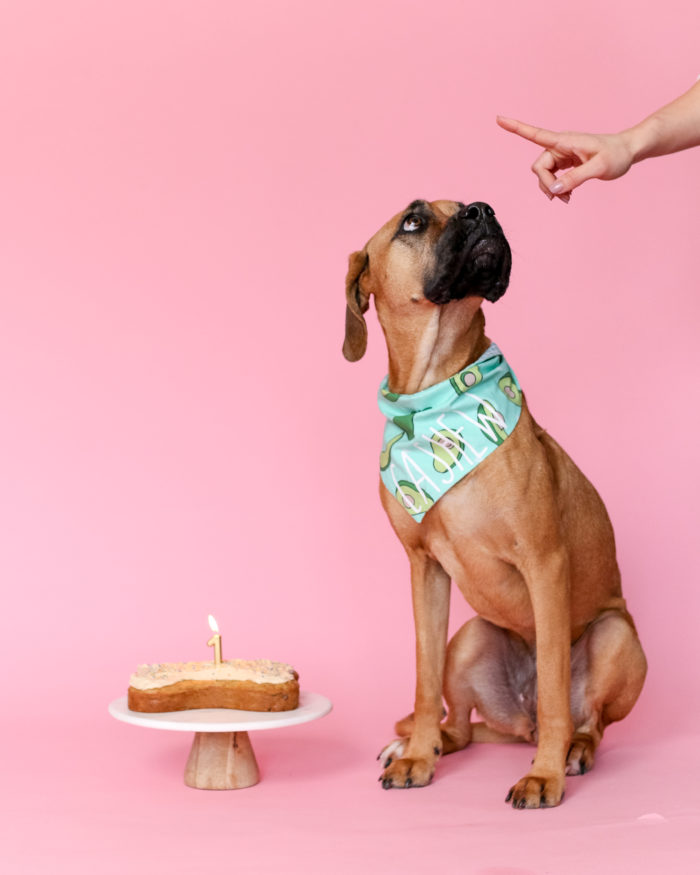 ⁠⁠For any pawrents or dog lovers out there who are looking for a healthy birthday cake for dogs, I hope you give this recipe a try. Cashew says it will be a huge hit at any pawty!
If you do make this recipe, be sure to share a photo on social media and tag me @healthnutnutrition and #healthnuteats so that I can see your creations!
Love doggy content? Be sure to also check out my 10 things I wish I'd known before getting a puppy, and my 10 important things to do with a new puppy.
Recipe
Healthy Birthday Cake For Dogs
This Healthy Birthday Cake for Dogs is the perfect recipe to make for any pawty! Made with all-natural ingredients like oats, peanut butter, and banana, your puppy will be sure to LOVE every bite!
Dog Cake
2

cups

oat flour

1

teaspoon

baking soda

1

teaspoon

baking powder

2

eggs

4

tablespoons

coconut oil

melted

1/2

cup

all-natural peanut butter

creamy

2

ripe

bananas

peeled

1

cup

oat milk

unsweetened

1 1/2

cups

grated carrot

approx. 1 large carrot

1

tbsp

coconut oil

to grease the silicone mold*
Print Recipe
Save Recipe
Using your hand, lightly grease the cake mold with coconut oil. Set aside.

In large mixing bowl, combine bananas, peanut butter, and melted coconut oil. Mix until well combined.**

Add in the eggs. Mix again until combined.

Sift in the oat flour, baking powder, and baking soda until well combined. Slowly pour in the oat milk while mixing.

Pour into a 7x10-inch bone-shaped silicone cake pan. Bake 40-45 minutes or until cooked and a toothpick comes out of the center clean! Let cool for 10 minutes.

For the frosting, use a hand mixer whisk together the yogurt and peanut butter until combined and fluffy!

Once the cake is fully cooled, cover with frosting and decorate with all-natural sprinkles or toppings of your choice!
This recipe is adapted and inspired by The Dish Next Door's Mini Dog Birthday Cake. 
*These are the all-natural sprinkles I used and loved!
**If you're not using a stand-mixer, you will want to mash the bananas first using a fork.
similar recipes