10 important things to do with a new puppy! Welcoming a puppy into your home is a lot of work, but will change your life for the best. If you're getting a new puppy or looking to get your puppy on the right track, here are the top 10 things that I'm so glad we did in the beginning stages of pawrenthood!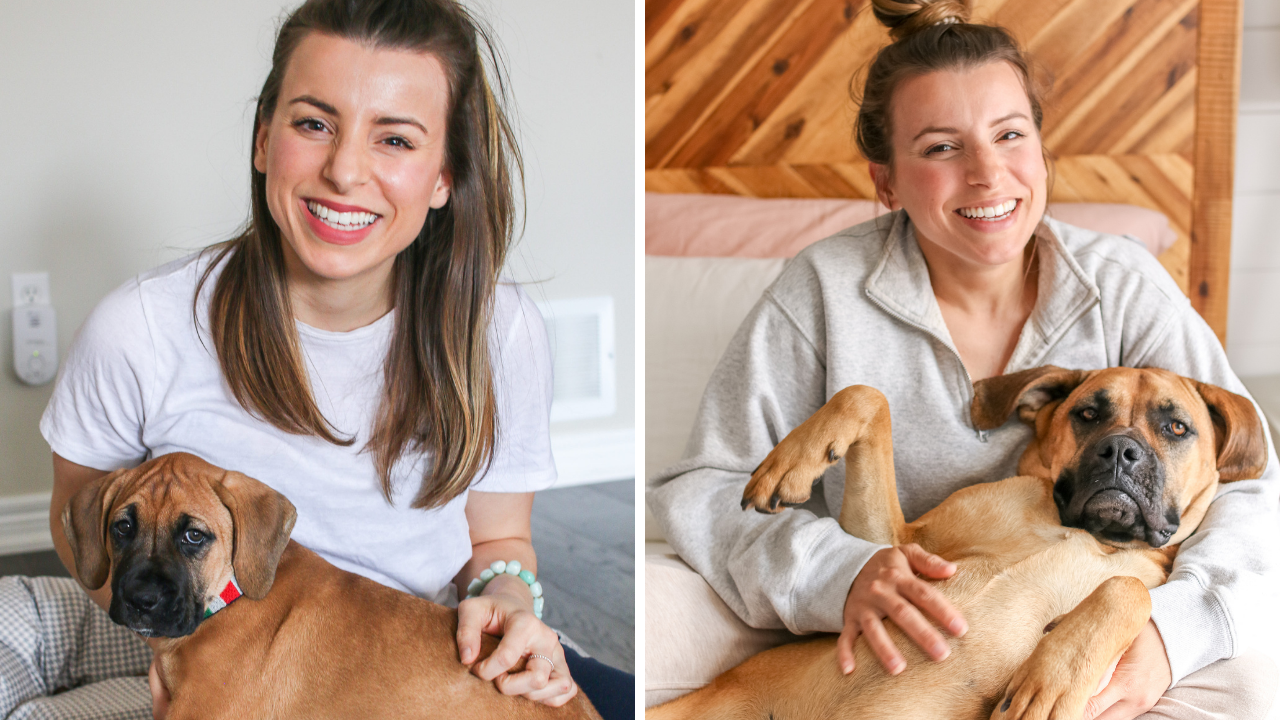 I can't believe our (not so) little Cashew is already 2 years old! It feels like just yesterday that we picked her first home, and now she's sitting here full-grown and an established member of the HealthNut family. 
Cashew, who I like to refer to as my firstborn child haha, is actually the first and only dog I've ever owned. In fact, I actually grew up with cats my entire life and it wasn't until I was older, living my own and working from home until I realized that I would benefit from having a dog – although I'm sure my dog-obsessed content would have you believing otherwise ;). Looking back now though, I would say my true "puppy obsession" didn't start until the day we got actually Cashew. It's like I held her in my arms and I finally understood the love that owners feel for their dog and how they truly become your best friend. 
I shared a video on my YouTube channel (which was about 2 years ago now) sharing 10 Things I Wish I Knew I Knew Before Getting a Puppy. As a new dog owner, I had no idea what to expect and getting a puppy felt like a huge shock in the beginning. Since I knew I wasn't alone in that feeling, I felt inspired to film that video which has since blown up in the past year with everyone being home more and welcoming new fur friends into their home! For that reason, it has been highly requested to share a follow-up on 10 important things to do with a puppy, which is exactly what I'm going to be sharing in this post!
Cashew is a pretty awesome dog, in my (biased) opinion haha. While I always say we got very lucky and some of her amazing qualities have come naturally, I do think there are some things that have resulted from our pawrenting efforts. For that reason, I decided to make a list of 10 things that I recommend you do if you have a new pup and are hoping to shape and mould them into the dog of your dreams!
Let's get into it!

1. Attend Puppy Training & Benefits Long Term! 
After getting Cashew, my number one priority was to make sure she was well trained. Since she is a bigger dog (boxer bullmastiff mix) I wanted to make sure that our friends, family and strangers felt comfortable around her – and getting proper training was the first step!
We decided to take her to a 6-week puppy school, which is more like school for new owners to learn how to properly train their dog haha. I know 6 weeks can seem like a lot, but consistency is key if you want a well-trained dog. If you're really diligent in the beginning, I promise you it will pay off. 
As I mentioned, Cashew is now 2 years old and all of the training we gave her is now instilled and comes like second nature for her. It's one of the best things we've ever done and I truly believe puppy training will help mould them into the dog of your dreams. Not to mention they will be much more enjoyable to have around as they grow older and become part of the family.
A few key takeaways that we learned it puppy school were:
Positive/Reinforcement Noises
"Yes!" – Anytime they do something good that you want
Correction Noises
"Ah" – Gets your pup's attention and gives them the opportunity to self-correct.
Instilling Key Words
"Gentle…"  – Lets them know to proceed with caution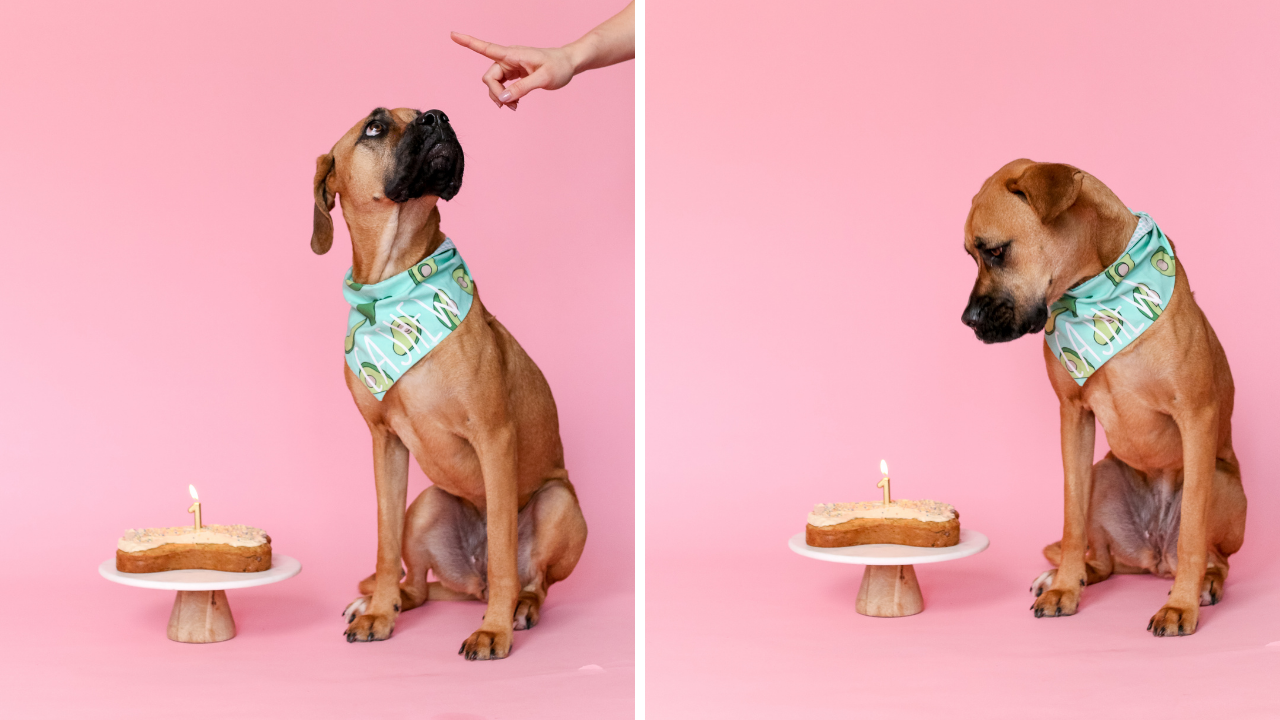 Pssst… Like the look of this dog birthday cake? Learn how to make it right here!
2. Teach Them To Wait
Speaking of training, another thing that we implemented right away was to have Cashew wait for food. In the beginning stages, we noticed she started jumping or whining as we were preparing her meal. In order to prevent this, we would stop what we were doing to put her in another room, tell her to sit and wait and then we would proceed. If she came back, we would stop again. This technique helped her to understand that even if she kept up with that behaviour, it wouldn't make her food come any faster. I can happily say that she now just sits and waits for her food while it's being prepared, and it feels like a big #proudmomoment every time. 
Another time we'll ask her to wait is when we're placing her food down as well. So instead of running and rushing us over to get her food, she sits and waits until we give her the okay to eat. Not only has this taught her proper "table manors" haha but it's also prevented her from being aggressive and protective over her food. 

3. Paws Off People Food!
Paws off the people food! This is something I knew I was going to be very diligent about when getting a dog and I'm proud to say that have stuck with it ever since. I know it can feel tempting to feed them from the table or share a piece of whatever you're eating, but creating that dog and human food separation is so important. Not only does it prevent them from begging or drooling on you when you're trying to enjoy a meal, but it's also not good for their health to be eating "people food" that they're not able to properly digest. 
In the beginning, we actually printed out a graphic to put on our fridge that listed out all the Healthy vs. Harmful Dog Food (link). In my opinion, these are good things to know in the begging because the last thing you want to do is feed your dog that can potentially make them sick without even knowing it!
4. Use an Uncommon Code Word For "Food"
On the topic of food, I highly recommend using an uncommon code word to describe their food. Our word is "papas" (which is just a fun food nickname in Portuguese) and whenever Cashew hears it, she comes running! Not only does she respond really well to it, but it also doubled as an emergency command when we were training her in the beginning stages. For example, if we were outside and she ran off, calling out this word would have her coming back in an instant. 
That being said, we are very mindful and strict about only using this word when we're giving her food so that it doesn't break the association. To this day, she still references "papas" as her meal and doesn't even blink an eye at other common terms related to food – which saves a lot of disappointment for them in normal everyday conversation haha.
5. Exercise + Tricks are Key!
There's a saying that I heard early on in my pawrenthood journey which was "A tired dog is a good dog" and I couldn't agree more. Not unlike humans, if a dog has too much built-up energy, they're more likely to get restless and act out. Whether it's not following commands, biting things or ruining furniture, when they have a lot of energy it's important to get it out to prevent this from happening – especially when they're puppies!
Cashew may not be a puppy anymore, but we still make a point to get lots of exercise with her. We like to take her for long walks, have her run around in a field, play fetch, or whatever it is to get that energy out. Over time, I've noticed that when she's well exercised, she's less likely to misbehave and be calmer overall. Another great way to release some of their energy is by training and teaching them tricks. I know this isn't something you'd typically associate with expending energy, but it's a great form of mental exercise that notice will start to tire them out! 
Whenever Cashew is being extra needy or whining for attention, I usually find it's because she needs to get some exercise. So whether it's going for a walk or practicing her tricks on the deck, it's a good opportunity for all of us (owners included) to get moving!

6. Practice The "Off-Leash" Technique 
Speaking of exercise, another thing I recommend is to practice the off-leash technique. From an early age, we had Cashew off-leash whenever we could so we could train her to come back to us. It took some time for all of us to get comfortable with it, but now whenever we have her off-leash, we can trust that she'll never venture too far. 
Also, if for whatever reason the door is open and she doesn't have a leash on, she won't run out as if she's never been freed before. I personally believe that dogs who have been tied up for their entire lives are more likely to run away with a risk of them not coming back. Of course, every dog is different but I highly recommend building a healthy relationship with the leash while they are young so you don't run into any dependency issues in the future!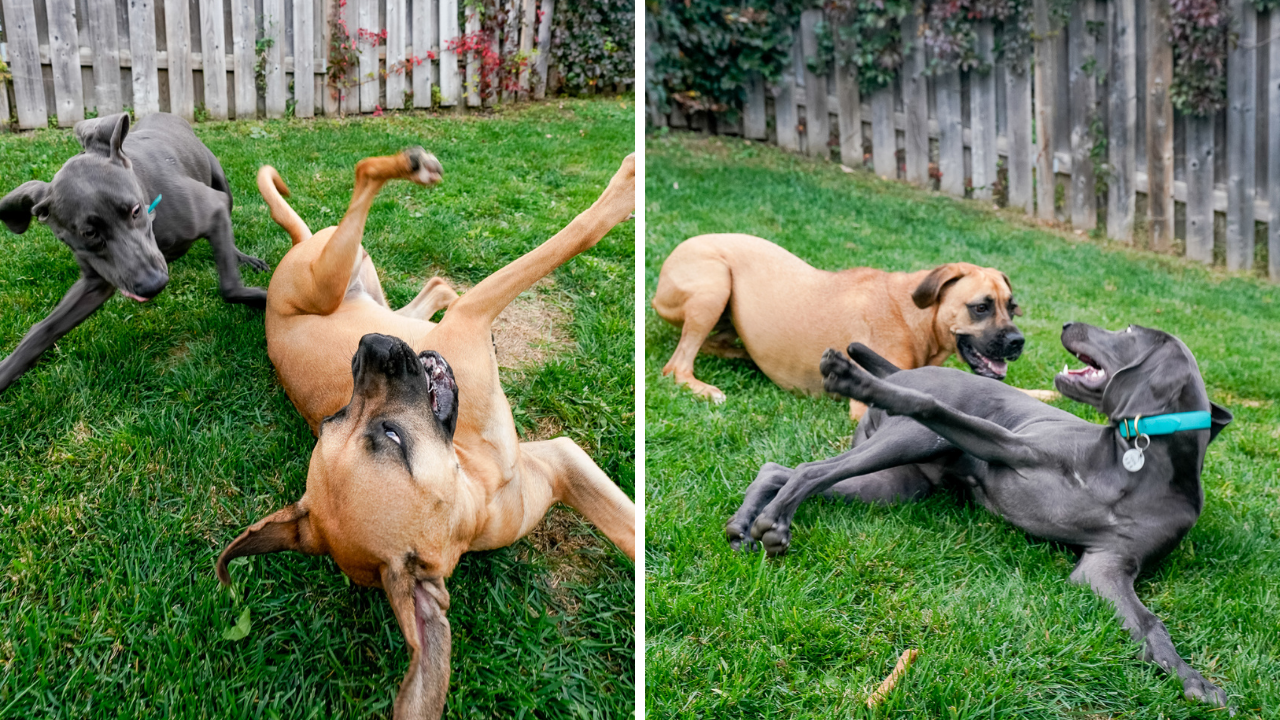 7. Socialize with Other Dogs and People
Just like humans, pups need to socialize! As soon as Cashew got her shots, we made sure she was interacting with other dogs, dog-owners, people and we took her to the dog park all the time! I swear this girl has never met anyone she doesn't like –  she's so outgoing, playful and wants to be friends with everyone and I truly believe it's because we made a point to socialize her while she was young. 
I know it's harder to socialize with the state of the world right now, but since there's such a short window to instill this while their puppies, try to do the best you can! Find a friend that has a dog, take them to a field or dog park and try to get them to socialize safely. 
8. Consider a Holistic Vet
One thing I've recently done that I wish I did sooner was taking Cashew to see a holistic vet. We actually scheduled an appointment last year, and it took four months of being on the waiting list before we finally got in to see him. We had a full hour consultation where I was able to go over all of the things that I wanted to cover when it came to Cashew's health such as tik medication, allergies, food recommendations, vaccines and more. It was such an eye-opening, informative visit and I can honestly say I learned a lot. We also felt like we really connected with our vet and it was reassuring to know that we were all on the same page regarding a more natural approach when it comes to caring for your pup.
Whoever you choose to see, whether it be a conventional or holistic vet, just make sure that you feel comfortable talking to them openly, asking questions and that your values are aligned. 

9. Invest In Good Quality food
When it comes to dog food, I know it can feel easy to reach for the cheapest option on the market, especially if you're on a budget. By investing in good quality dog food now, you will actually save money by avoiding expensive vet bills down the road. When you feed your dog good quality food, they have a much better chance of living a happy, healthy and long life. Just like we invest in the food that we eat, the same rules apply for Cashew. Obviously, you have to do what works for you and your budget. But making sure the food they are eating is good quality should be a top priority for everyone involved!
We recently started Cashew on a raw food diet and she has been loving every bite! I swear I've never seen her so excited about her food it's been an amazing transition so far. There's a documentary called Pet Fooled that we watched and highly recommend checking out if you're curious to know more about the food that you're feeding your dog. It dives into the background of the pet food industry, how it's not regulated and its over-processing is having a detrimental impact on the health of our pets. 
Up until now, Cashew was eating a high-quality dry and wet food brand that we loved and still use their treats, but switching to a raw food diet felt like the right decision for her needs. I've noticed so many improvements already and I can tell she's really enjoying it which makes us happy as owners as well. When you talk to a vet about switching to a raw food diet, be mindful that they are usually quick to convince you otherwise. I encourage you to do your own research and do what makes you feel comfortable based on your dog's breed and their individual needs. Also if your dog is prone to any allergies, I do think a raw diet is something to consider.

10. Create a Calm Environment & Happy Home
Don't underestimate the impact of a calm environment and happy home for your pup's wellbeing! This can go a long way in helping them to feel comfortable, safe and creating their own space.
That wraps up the 10 Things I'm Glad I Did with my puppy! I hope that you found this helpful whether you're getting a dog and already have one. Cashew is such a good pup – I get teary just thinking about the positive impact she's had on our lives. We may have a 5-month-old baby, but I will always see Cashew as my firstborn and we love her endlessly!  Let me know if there are any other doggy-related posts you want to see in the comments below. I'll be happy to provide those for you guys!
If you're considering adding a furry friend to your household, be sure to check out the 10 things I wish I knew before getting a puppy, and if you're looking for a healthy dog birthday cake this recipe is my fave!