3 really easy ways to use one of my favourite superfoods – chia seeds!
Chia seeds have an amazing reputation in the healthy eating community, and for good reason! Not only are they fun to eat and easy to add to your favourite recipes (take a look at my 3 faves below!) but they are also so good for you! They're a complete source of protein with all essential amino acids, and a great source of omega 3's, calcium, magnesium and iron, just to name a few.  They also contain more fibre than flax seeds, which means your digestion will thank you!
Add chia seeds to smoothies!
Chia seeds are great added into any of your favourite smoothies. There are tons of smoothie recipes here on the blog for you to search through, but here's a really simple one to get your started…
1 cup of frozen blueberries

A scoop of your favourite

protein powder

1 whole ripe banana (fresh or frozen)

Fill about halfway (enough to cover your ingredients) with unsweetened vanilla almond milk

Throw in a tablespoon of chia seeds
Once you blend your smoothie up you won't be able to notice the texture of the seeds, but you'll get all the health benefits. Plus it will really help to keep you full until lunch time because it helps to thicken it, which is one of the main reasons I love adding chia seeds to my smoothies.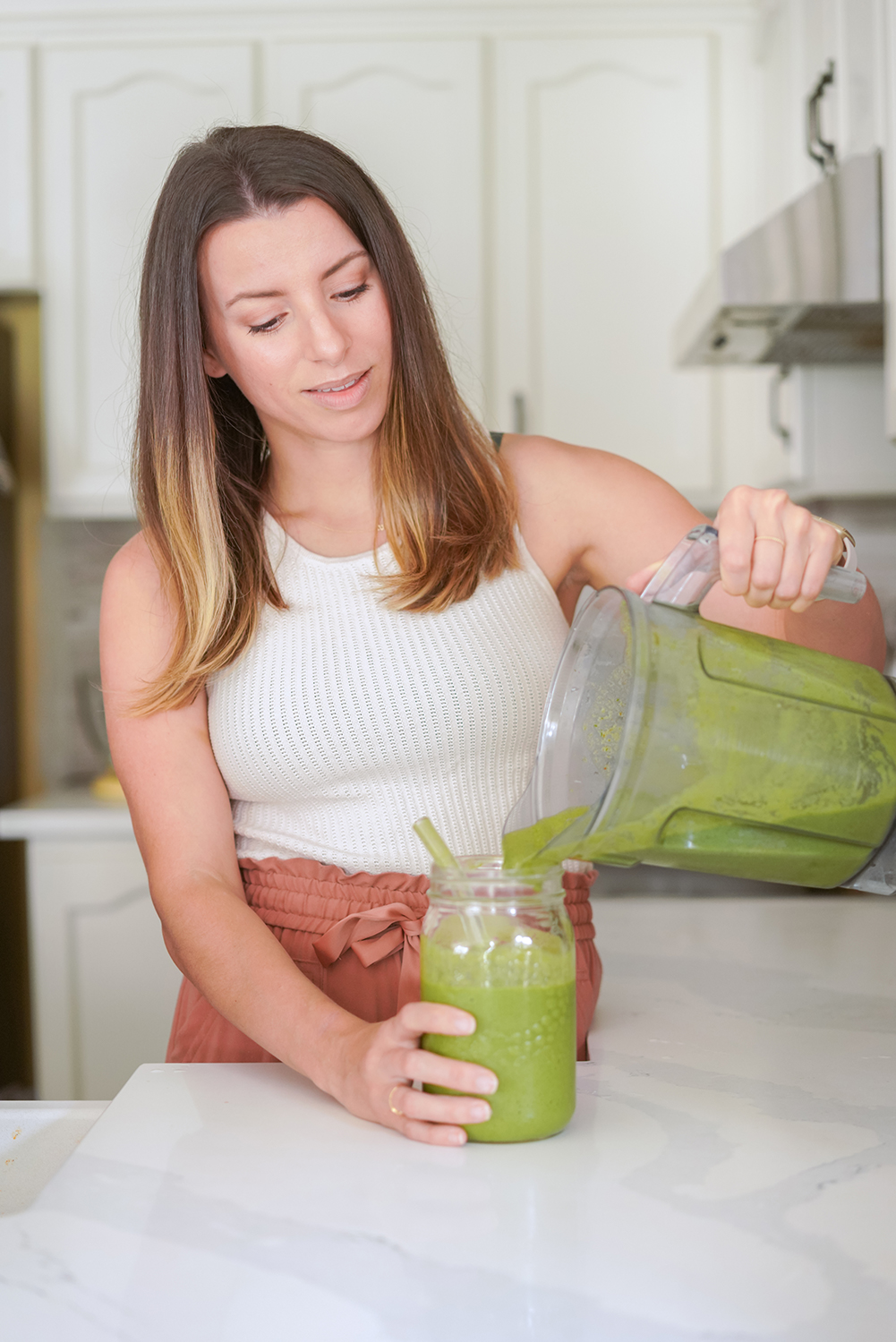 Make a chia seed pudding!
One of my favourite ways to use them is to make a chia seed pudding! It's a great vegan, dairy free option that you can enjoy for breakfast or a snack throughout the day, and you can flavour it however you want! To make a basic chia seed pudding you'll need…
1 cup of unsweetened almond milk

¼ cup of whole chia seeds

1 tbsp maple syrup

½ tsp vanilla extract
Mix everything up in a mason jar, shake and let it sit overnight to thicken up. In the morning, shake it very well and enjoy it with fruit or by itself. If you want to really jazz up your chia seed pudding, check out these 3 chia pudding fruit parfaits.
Make vegan eggs with chia seeds!
This is a really great substitute for anyone who's vegan or has an intolerance to eggs. If you mix 1 tbsp of ground chia seeds with 3 tbsp filtered room temperature water, that is equivalent to one egg and can be used in any baking recipe. 
For 1 egg use 3 Tbsp Water + 1 Tbsp Chia Seed

For 4 eggs use 3/4 Cup Water + 1/4 Cup Chia Seed

For 8 eggs use 1 1/2 Cup Water + 1/2 Cup Chia Seed
Just combine the water with the chia seeds in a bowl, and let sit until everything thickens up. You can also store the chia egg in the refrigerator for 1 week.
What's your favourite way to use chia seeds? Let me know in the comments below! 
If you make any of these recipes, be sure to share a photo on social media and tag me @healthnutnutrition #healthnuteats so that I can see your creations!
For more superfood recipes, be sure to check out my superfood acai bowl and this kale and quinoa stir fry.