Feel good food to help boost your mood, alleviate stress and leave you feeling happy, vibrant and energized! What I eat in a day for anxiety management.
I am so excited to finally be sharing another What I Eat In A Day – with a special twist! I have received numerous requests over the years to film more content on how I manage my anxiety. If you've been following along my journey for a while,  you'll know that anxiety is something I have struggled with and dealt with for many years. In fact, it was really the reason that I became interested in nutrition and healthy living. 
I have read so many books and tried many different health trends over the years to see what works for me. When it comes down to it – eating a balanced diet that is rich in healthy fats, protein, fiber, veggies, and gut nourishing food has been the basis for helping me to feel grounded, happy and calm. 
I do think there is a big correlation with food and mental health as I have seen the results myself. After years of research and experimenting with my own diet, I can honestly say that eating like this has helped me so much. It shouldn't be a surprise that when you nourish your body from the inside out with healthy foods that are packed with vitamins, minerals, antioxidants, healthy fats, and proteins – your brain will thank you! 
Keep in mind that I am not a doctor – you should always seek out professional help and get counseling if you need it.
Breakfast
For breakfast, I typically reach for a green smoothie! This is such a good way to squeeze in lots of nutrient-dense foods in the morning. Think of it as a delicious multivitamin in a glass!
One of my "smoothie rules" is to always make sure that there are more vegetables than fruit so that the sugar content is lower. My go-to green smoothie is packed with healthy fats, protein, and fiber which acts as a prebiotic and nourishes your gut. Leafy greens are also high in magnesium, which is a key mineral for supporting brain health and relaxation. Vegetables are full of antioxidants and flavonoids which are also key in supporting your mental and physical health. 
If you're new to green smoothies, you can get my perfect green smoothie recipe and FREE printable on how to make the perfect green smoothie here! 
Morning Drink
Another key factor in reducing my anxiety was removing caffeine from my diet. This may sound impossible (trust me, I was a big coffee fan)! But, caffeine is very stimulating, and coffee jitters mixed with anxiety is not a good combo. Once you reduce or cut out caffeine and feel the difference it makes, it will become easier to continue to avoid it. AND a delicious caffeine-free drink such as herbal coffee will make it a lot easier to ditch coffee while also enjoying a delicious latté or ice coffee.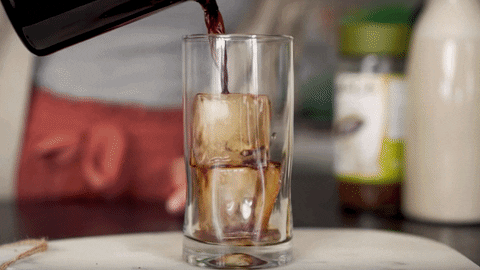 Spring is around the corner, so lately I have been drinking this delicious Caffeine-Free Iced Dirty Chai Coffee On the Rocks! It's made with herbal coffee, Chai Cashew Milk from the HealthNut Cookbook, and lots of ice cubes!
To Make the Iced Dirty Chai Coffee On the Rocks you will need: 1⁄2 to 1 cup ice cubes, 3⁄4 cup brewed herbal coffee or regular coffee (cooled) and 1⁄3 cup Chai Cashew Milk. In a tall glass filled with ice, add coffee and Chai Cashew Milk. Stir and enjoy!
Print Recipe
Save Recipe
Soak the cashews in enough water to cover for 4 to 6 hours or overnight.

Drain and rinse the cashews and transfer them to a high-speed blender. Add the water, vanilla, dates, cinnamon, ginger, salt, and a pinch

each of cardamom, allspice, and nutmeg. Blend on high speed for

1 to 2 minutes until creamy. The milk will be creamy, but you can

add 1⁄2 to 1 cup more water for a consistency like 1% milk.

Serve chilled over ice or warmed. Transfer any leftovers to a glass bottle with a lid and store in the fridge for up to 3 days.
similar recipes
Lunch
For lunch, I love making nourish bowls! The key is to prep all the ingredients on the weekend  – then they are ready to go in your fridge for easy lunches throughout the week. Some ingredients I like to prep for my nourish bowls are:
Snack
You guys know I love a good sweet treat as much as the next #healthnut! I tend to avoid processed sweets and baked goods, and instead, make my own at home. This way I can avoid refined sugar and instead use maple syrup, honey or coconut sugar to sweeten. I also like to use oat flour or spelt flour instead of bleached and refined white flour.
One of my favourite recipes that I've been making lately is my Fudgy Peanut Butter Cookies from the HealthNut Cookbook! They are made with peanut butter, oat flour, and a few other simple ingredients. You can also check out my recipes for Peanut Butter & Jelly Thumbprint Cookies, The Best Breakfast Cookies, and my Healthier Double Chocolate Peppermint Cookies on the blog! 
Dinner
For dinner, I am making my Creamy Leek and Potato Soup Recipe AND some delicious garlic-y bruschetta with creamy goat cheese. To make this bruschetta, preheat your oven to 350ºF and combine all of the following ingredients in a bowl:
Finely chopped or crushed garlic (I did 3 cloves)

Vine ripe tomatoes, diced

Fresh basil (about 3-4 tablespoons finely chopped)

A squeeze of lemon juice

1- 2 tablespoons olive oil

Sea salt & pepper to taste
Cover, and let sit in the fridge for 15-20 minutes to marinate. Place 2 slices of sourdough bread on a baking sheet with a silicone baking mat. Spread with creamy goat cheese, and top with the bruschetta mix. Then pop it in the oven to bake for 10 minutes at 350ºF, keeping a close eye to make sure it doesn't burn! 
If you liked this post, you may also like my video How to Be Happy for more tips on how to boost your mood and manage stress! Also, check out my Healthy Herbal Coffee Recipe and 5 Self Care Habits to Add to Your Morning Routine.
There you have it – what I typically What I Eat In A Day For Anxiety! I hope that this helps to give you some guidance and tips, but of course, I highly recommend seeking out professional help if you are struggling with anxiety.