Quick & easy 5 minute everyday makeup look with all natural products! This is my go-to makeup look to help me feel a little more put together and ready to take on the day!
Now that I'm a Mom, I find that in between nursing, changing diapers, the occasional poop explosion, sanitizing bottles, not to mention feeding myself…  time is very limited! Matt and I quickly learned to take advantage of any time that Sage is asleep. Whether it's a quick shower, 10 minutes to go on a walk with Cashew, 5 minutes to call Mama HealthNut and chat, or 5 minutes alone to do my makeup – it's important to take advantage of any spare minutes you have in the day! Can any other new parents out there relate?!
To be honest, most days I don't wear any makeup, and you will find me with my hair up, baby wearing, and a cozy sweater on! That's what #momlife is all about, right? But the odd time, I like to spend 5 minutes getting ready for the day. It helps me feel a little more put together, and ready to take on the day!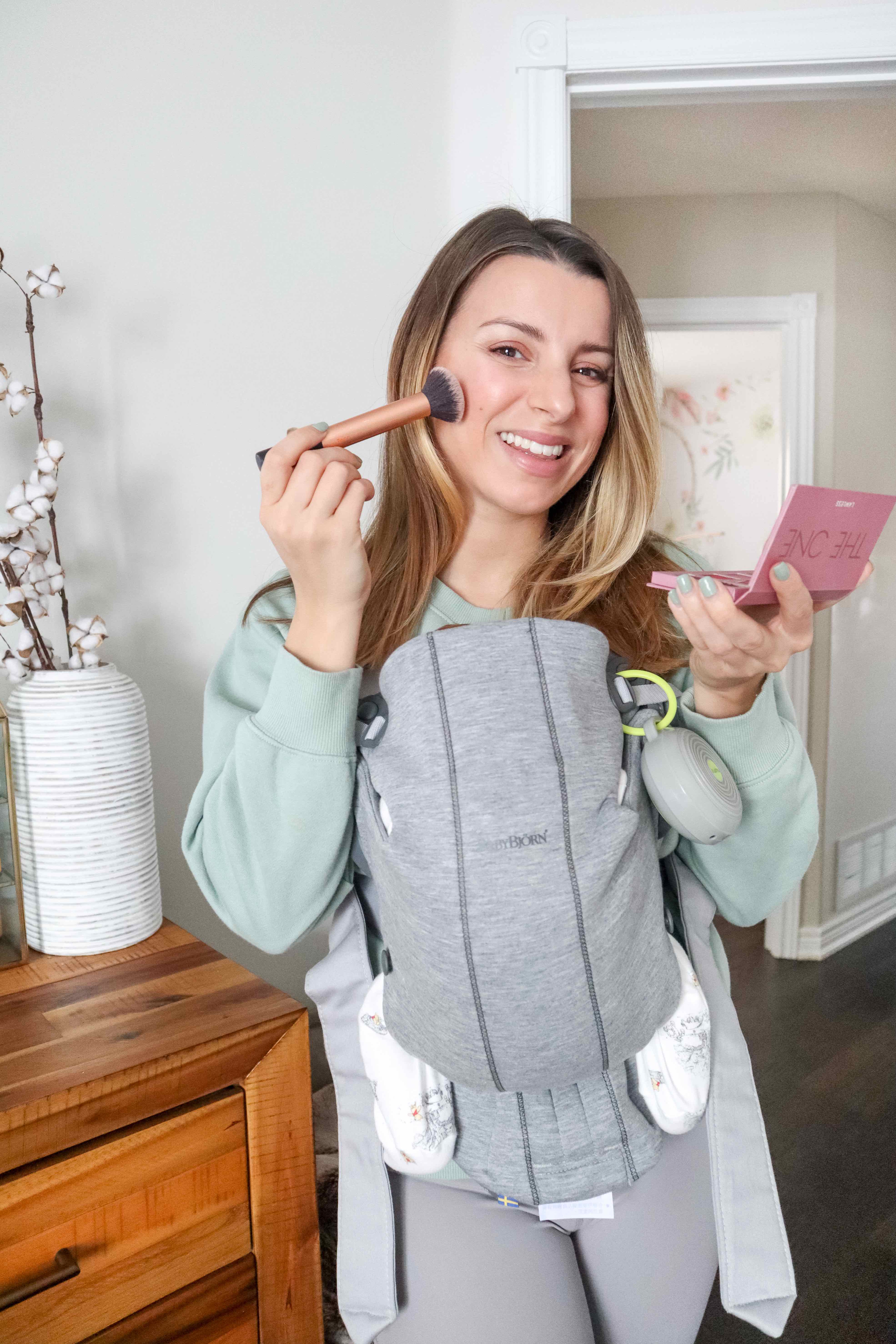 When I do take the time to do my makeup, it may look like I've put a lot of time and effort in. But really it only takes me 5 minutes to apply this simple makeup look. I like to use 100% natural makeup (something I've been transitioning to over the past few years) and it makes my skin feel so much healthier and vibrant.
Before I do my makeup, I like to prep my skin with my morning skincare routine after my shower. This includes my favourite rose water toner, and a light facial serum. You can check out all my natural skincare favourites over on my Natural Beauty page,  and see my full Natural Skincare Routine here! 
Everyday Essentials In A Cosmetic Bag
My first step to making things super quick and easy is to keep all my everyday essentials in a little cosmetics bag! I love this one that I got as part of my Hospital Bag set. I keep all my makeup products in here, and my brushes just in a little jar. This makes it extra easy to access all my essentials, even while I'm baby wearing!
Mix CC Cream with Bronzing Drops
I love to use a natural CC cream instead of wearing full on foundation! It helps to even out your skin tone and add a little bit of colour, without having a full face of makeup. As with any "foundation" you can bring it down your neck to blend everything nicely. I like adding a little bit of these bronzing drops because it adds some colour without having to wear powder bronzer. This is also nice because you can apply it with your hands, no blending brush needed!

Concealer & Setting Powder
Next up, I add a few spots of natural concealer just under my eyes, and pat it in gently using my fingertips. After the concealer, I like to use this setting powder in any areas that I think may crease – so under my eyes, a little on my forehead, and around my nose. Just a light dusting will do!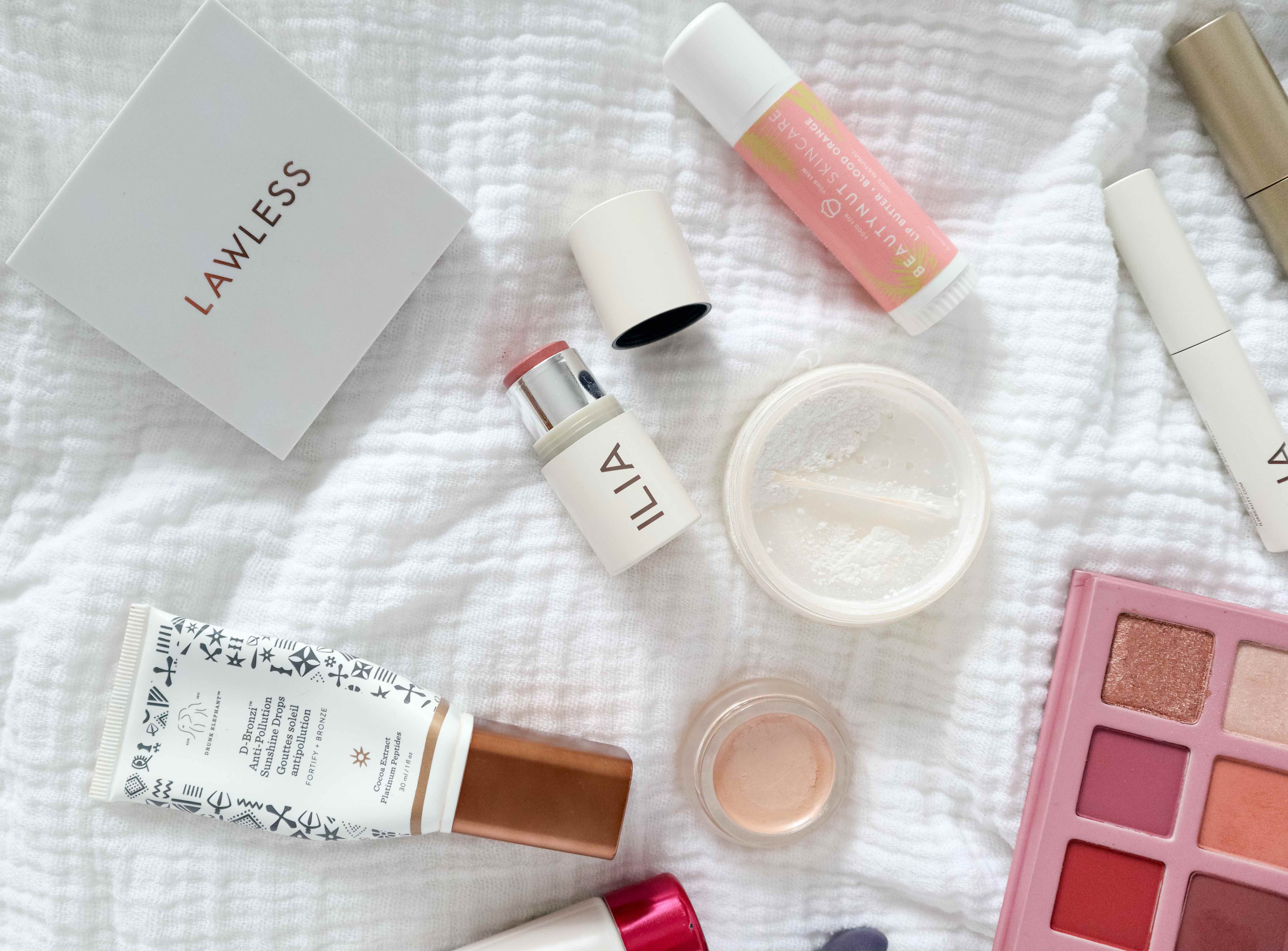 Bronzer & Blush
If you want to add a little bit of powder bronzer, you can do that as well. I love this natural bronzer, which I apply to the hollows of my cheeks, sides of the nose, and lightly around my temples and jawline. Next I take my cream blush, and apply this using a brush. With any cream blush, a little goes a long way! 
Luminizer
I have been loving this cream luminizer! It's super easy to apply, and you can just use your fingers. Apply to the high points of your face, including the top of the cheekbones, bridge of your nose, and brown bone.  You can also apply this luminizer to your chin, and centre of the forehead. 
Brows
For my brows, I have been finding that this tinted gel in medium brown works really well to shape and also add a little bit of colour. I also use this brow brush to help shape my brows and just add a little bit more definition. 
Eyes
First things first, let's curl those luscious eyelashes before applying your mascara (this is the eyelash curler I have)! It took me a long time to find a natural mascara that I actually like, and this one works so well. It really lengthens your lashes, doesn't smudge, and washes off easily. 
I don't always wear eyeshadow, but sometimes I add a few simple colours just for some extra definition. Or, I will just put a little bit of bronzer in my crease. For this look, I used a peachy colour from this palette, and I applied this to my entire upper eyelid. Then, I used a little bit of darker brown eyeshadow (see colours below) underneath my eyes, applying a thin line to the lower lash line for more definition. Next, wipe away any excess powder, and we're ready for mascara!  

Lips
Last but not least, I like to add a little pop of colour on my lips with this cheek and lip stain. After that, I follow up with a layer of my 100% Natural Lip Butter from BeautyNut Skincare. This is definitely a natural skincare essential for me. I apply multiple times throughout the day to keep my lips feeling hydrated (especially in the winter time)! You can shop BeautyNut Skincare over on my shop, HealthNutShop.com! Be sure to subscribe to our shop mailing list for 15% off your first order!
I hope you enjoyed this 5 Minute Natural Makeup Tutorial! These natural products are all very versatile, clean, and eco-friendly. Please leave a comment and let me know how you liked this tutorial I'd also love to know if you try and of the non-toxic makeup products I've linked in this post. What does your go-to 5 minute makeup look consist of? Mascara and CC cream, or are you a little more fancy than me? I would love to know, please leave a comment below! Be sure to follow me @healthnutnutrition over on Instagram, where I share daily motherhood updates, healthy eats, and lots of Sage updates!