A round up of 7 of my favourite breakfast meal prep recipes. From homemade granola to 'Starbucks Style' egg wraps, you're sure to find a tasty and nutritious meal to start your day with!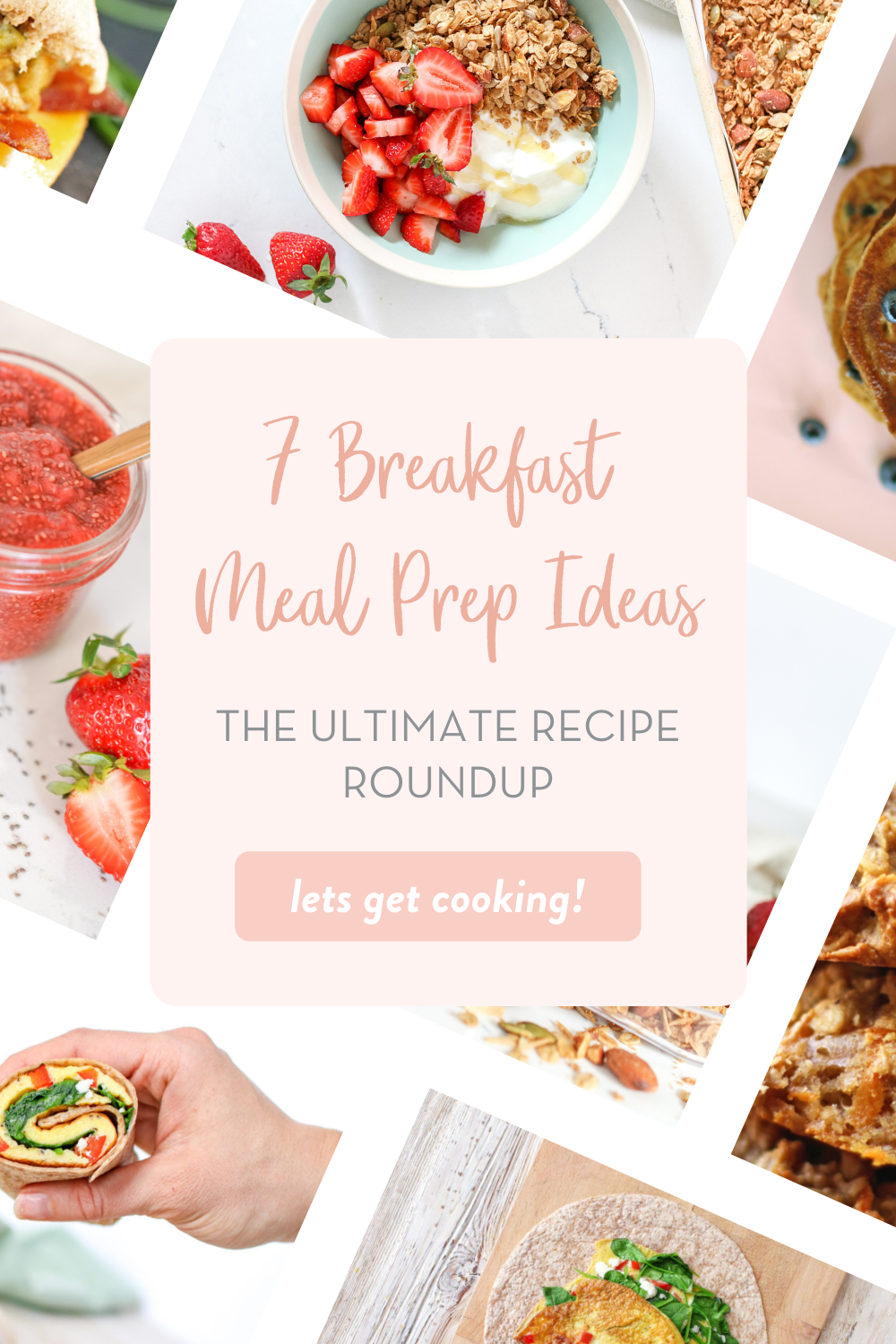 I don't know about you, but in the mornings I don't want to spend hours messing around in the kitchen. I also don't want to just grab a quick bowl of sugar loaded cereal. So what's a tired momma to do? Meal prep! If you've been here for some time, you'll know I am a huge fan of meal prepping. It means that when I wake up in the morning all I have to do is open my fridge and grab a pre-prepared, nutritious breakfast that tastes great and fuels my body for the day ahead. So, without further ado, here are my favourite breakfast meal prep recipes.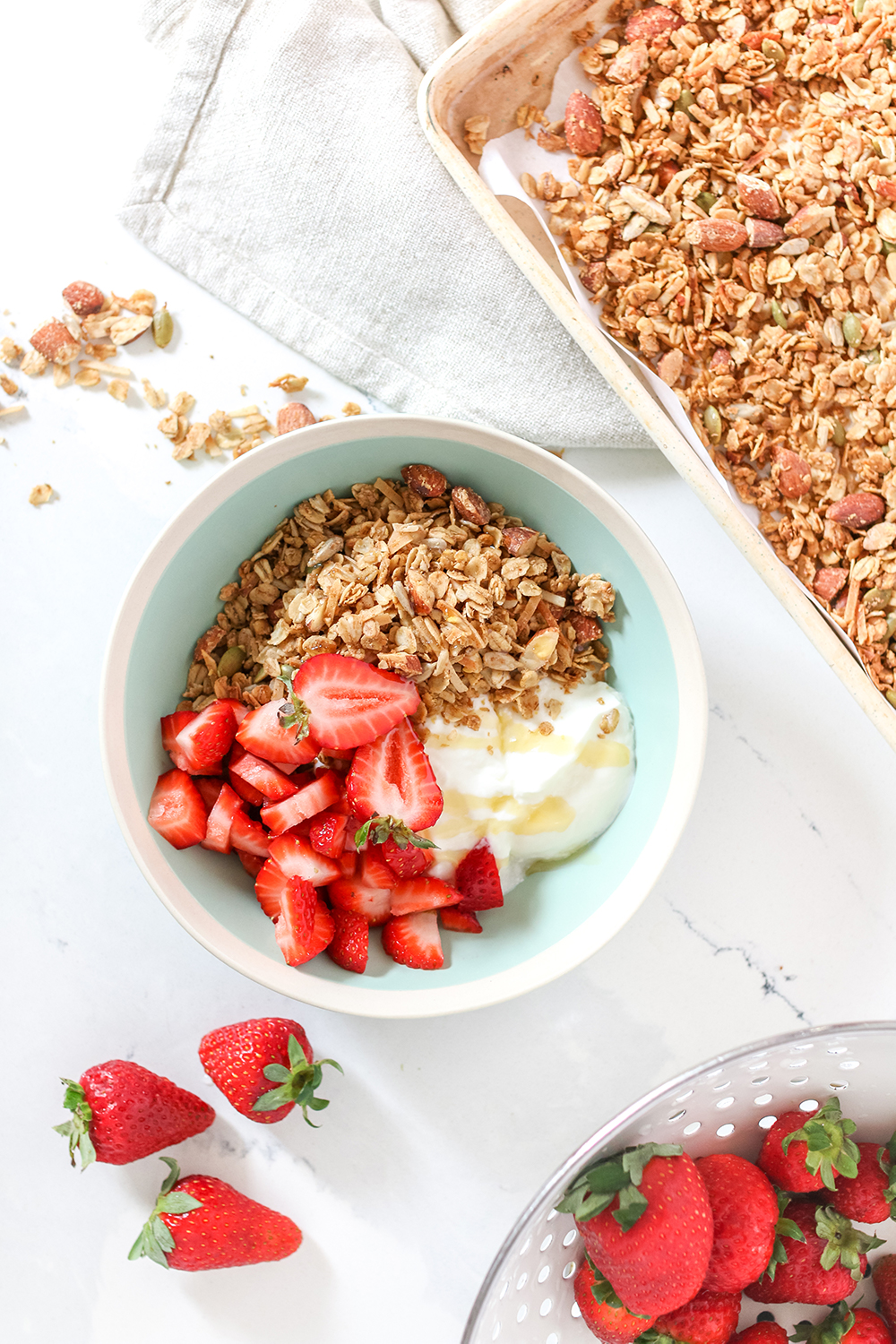 Yogurt Parfait and Granola Bowl
A yogurt parfait and granola bowl may sound super simple, and it is! But it's all about what you top it with and what granola you use. You might notice granola is a common theme in my breakfast meal prep, because it can be used with so many things! Just make it up in advance. It's so easy and lasts forever in an airtight container. Plus, it's much healthier than the granolas you can buy in store which are usually loaded with hidden sugar. For this yogurt parfait and granola bowl I paired my granola with sheep's yogurt (it still contains the protein lactose, but it's easier to digest because it contains healthy fats which aid in the absorption of lactose), kiwi, strawberries and mango. But the beauty of these bowls is you can pair it with whatever you like, and whatever's in season!
Easy Strawberry Chia Jam
Have you guys jumped on the chia jam craze yet? We've been on a jam kick over in the HealthNut home, but since store bought jams are so packed full of sugar, I try to avoid them. Well, not anymore! There are tons of health benefits compared to the regular jam you find at the grocery store (it's lower in sugar and is packed with protein and fiber – hello happy poops!) but the number one reason I love strawberry chia jam is it just tastes ah-ma-zing! It's sweet and tart and really allows the fruit to shine. Plus (and this is a big reason to love this jam) your whole kitchen will smell like strawberry candy when you make this… win win!
The BEST Breakfast Cookies
These cookies are loaded with plant based protein, fiber, healthy fats and a whole lot of yummy! They're chewy, satisfying and will add just the right amount of sweetness to your morning. I like to think of them as a hybrid between banana bread and an oatmeal cookie, which to me are both totally breakfast foods. The best part about these gluten free breakfast cookies is that you can switch up the toppings with any dried fruit or nut you like. Raisins aren't your thing? No problem, opt for some dried cranberries or blueberries instead.
'Starbucks Style' Spinach Feta Egg Wrap
If you're familiar with Starbucks' Spinach and Feta Breakfast Wrap, then you are going to love this recipe. Not only is it homemade and super simple to make, it's way more delicious. I know this, because I did my research. And by research, I literally went to Starbucks, bought their wrap and compared my version to theirs. Now, I'm not trying to brag, but half the Healthnut Team tried both, and everyone LOVED my version better. YES!!!!
Blueberry Oat Pancakes
Sometimes you just need a big stack of pancakes, topped with more blueberries, sliced bananas and smothered in maple syrup. This recipe is great because it's dairy free and doesn't rely on bananas (since I know mashed bananas aren't everybody's jam!) Feel free to double and triple this recipe if you want a large stack all to yourself! They also freeze great and can be reheated in the toaster for a quick Monday morning treat.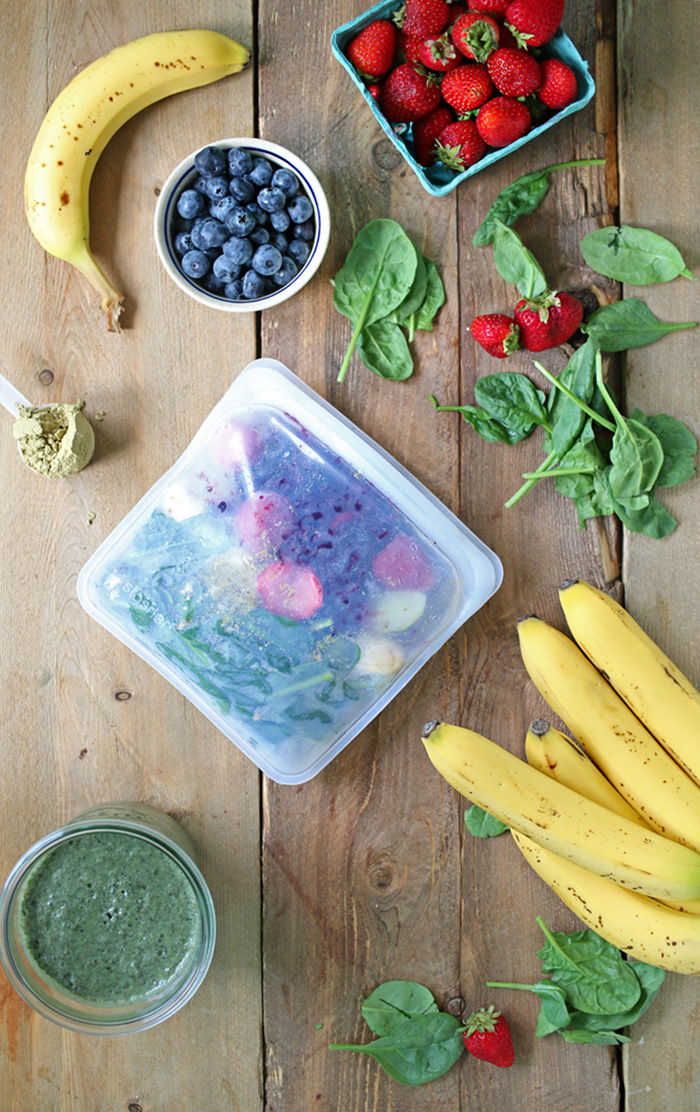 DIY Freezer Smoothie Packs
If you know me, you KNOW how much I love a smoothie! They're a super easy way to get all those good nutrients into your body first thing in the morning. But what about those days when you don't have the time (or the patience) to chop up all those fruits and veggies? DIY Freezer Smoothie Packs to the rescue! Making freezer smoothie packs allows me to easily prep all my ingredients excluding the liquid into a freezer bag or one of these handy reusable silicone bags and store them in the freezer until the next morning. Best part is you can prep 5 of them during your Sunday meal prep and freeze for easy grab and blend smoothies all week long!
DIY Breakfast Sandwiches
As much as I love my green smoothies for breakfast, sometimes nothing beats a breakfast sandwich with all the fixings like egg, cheese and bacon. Once and a while when those cravings kick in I opt for my homemade version made with real ingredients that you can feel good about, as opposed to those fast food options that you pick up in the drive thru. You can use whatever fillings you want, but I often opt for veggie packed egg patties, crispy bacon, cheddar, and pesto on an Ezekiel English muffin.
What are your favourite breakfast meal prep recipes? Let me know in the comments below! 
If you make any of these recipes, be sure to share a photo on social media and tag me @healthnutnutrition #healthnuteats so that I can see your creations! 
If you love these recipes and are looking for more options, check out all my Breakfast Recipes and Meal Prep Recipes.