A yogurt parfait and granola bowl may sound super simple, and it is! But it's all about what you top it with and what granola you use. This nutritious breakfast will keep you fuelled all morning long!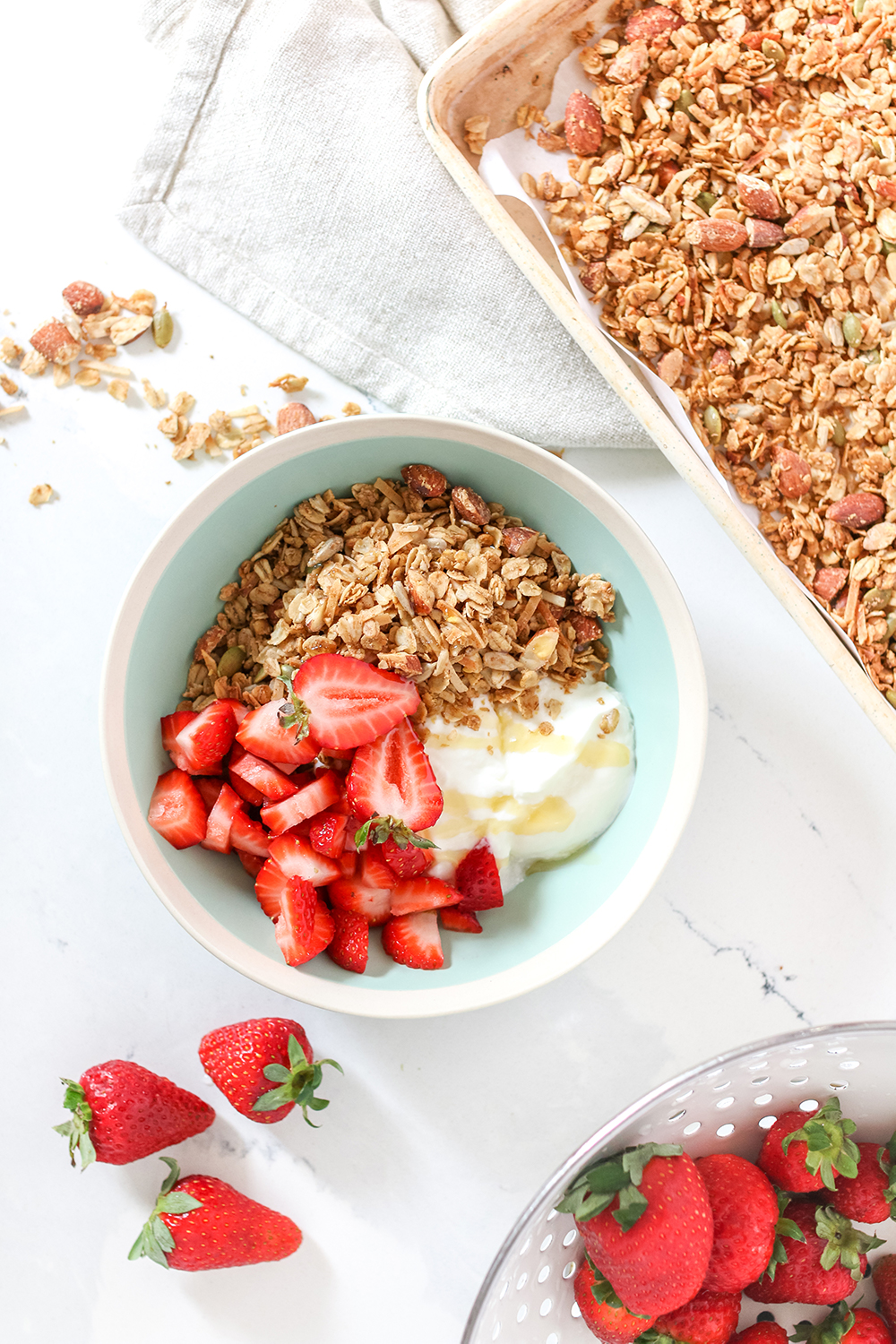 This super easy breakfast is not only delicious, but it's also a perfect meal prep food. You can make up the granola in advance and store it in a container. You can also pre-chop your fruit so that when it comes to putting your yogurt parfait together it's ready in minutes.
Homemade Granola
If you can't find a good quality granola from the grocery store you can easily make it yourself from home. A lot of the store-bought granolas have so much sugar in them. They have a list of ingredients that basically turns it into sugary cereal. 
It really doesn't take a lot of effort to make your own, and that way you'll know exactly what goes into it. I like to double batch my Simple Granola recipe and keep it in a jar ready for when I need it! It lasts for a really long time, and if you don't have any dried fruit you can just leave that out.
Picking your yogurt
Yogurt adds a boost of protein and healthy fats to this dish. If you are sensitive to dairy, a great alternative is sheep's yogurt! Sheep's yogurt still contains the protein lactose, but it's easier to digest because it contains healthy fats which aid in the absorption of lactose. There are also tons of dairy-free options out there such as coconut yogurt.
Picking your fruit
One of my favourite things about these yogurt parfait bowls is you can switch it up and have lots of variety depending on which fruits you choose. I love picking in-season fruits because they tend to be cheaper and tastier. Today I've opted for kiwi, strawberries and mango, but you can pick whichever fruits you desire!
What's your favourite breakfast? Let me know in the comments below!
If you make this recipe, be sure to share a photo on social media and tag me @healthnutnutrition #healthnuteats so that I can see your creations!
For more 10 minute breakfast recipes, be sure to try my Perfect Green Smoothie and these Eggs 10 Ways!
Recipe
Yogurt Parfait and Granola Bowl
FOR THE BOWL
1/2

cup

sheep yogurt

Mango

sliced into bite size pieces

Strawberries

sliced into bite size pieces

Kiwi

sliced into bite size pieces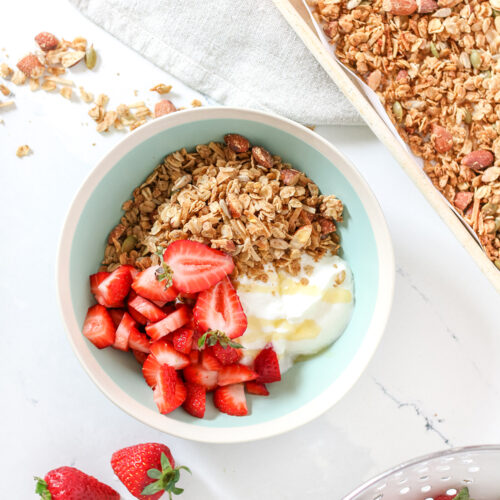 Print Recipe
Save Recipe
In a large bowl mix together, oats, almonds, sunflower seeds, coconut, sea salt, and cinnamon. Set aside.

Next, in a saucepan on low-medium heat combine almond butter, coconut oil, and honey, and bring to a slight simmer while stirring constantly until the mixture has thickened slightly (about 30-60 sec). Remember to keep stirring as this prevents the mixture from burning!

Take half of the caramel mixture you created in step 2 and fold it into your oat mixture until well combined. Then, fold in the second half of your caramel mixture until fully combined.

Spread granola on a parchment lined cookie sheet and pop into the oven to bake for 30-40 minutes until slightly golden, tossing half way through.

Allow granola to cool for 10-15 minutes. Then, transfer the granola back into the large bowl, folding in the raisins and Hemp Hearts.

Once the granola is cool, add your chosen yogurt to a bowl and sprinkle the granola on top.

Top with your choice of chopped up fruit and enjoy!
similar recipes