Easy prep ahead DIY freezer smoothie packs to make smoothie making during busy mornings that much easier!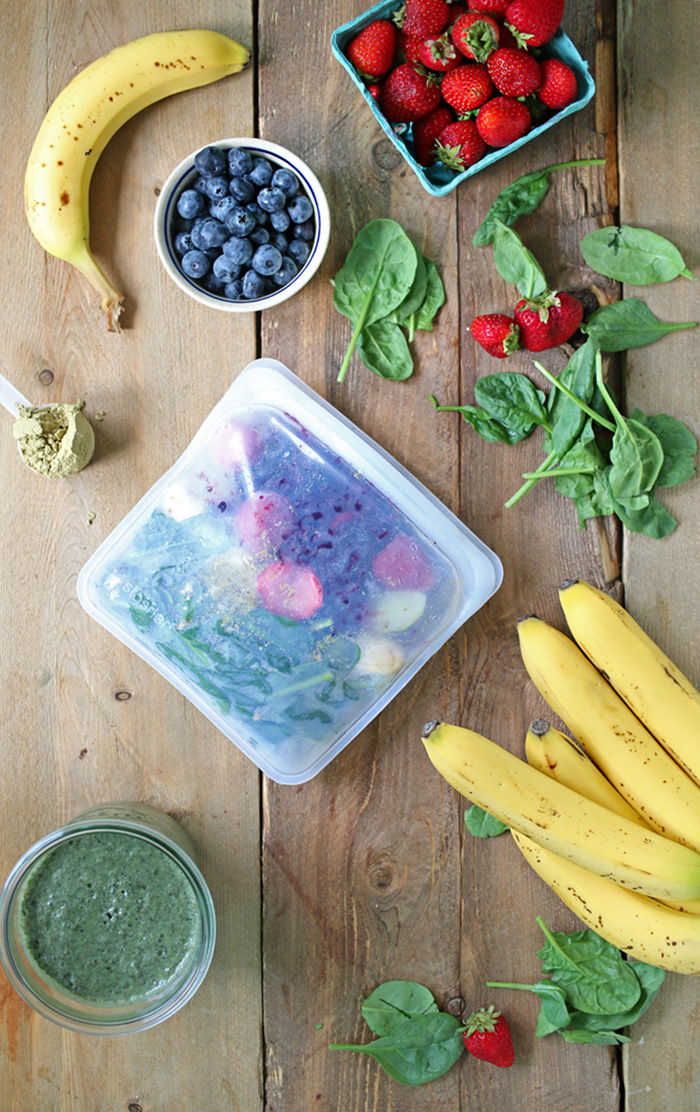 I'm a smoothie addict and not because I think they are better than pancakes in the morning but because I can throw in so many healthy foods all into one drinkable glass without to much prep time and its mobile if I'm running to a meeting or event.

Even the most nutrient dense packed smoothies can taste pretty delicious and sweet if you ask me. The trick is to have a good balance of fruit, veggies and any supplements/superfoods/protein powders. I usually like to keep my smoothies high in green veggies, low in sugar and full of protein, healthy fats and fibre.
Making freezer smoothie packs allows me to easily prep all my ingredients excluding the liquid into a freezer bag or one of these handy reusable silicon bags and store them in the freezer until the next morning. Best part is you can prep 5 of them during your Sunday meal prep and freeze for easy grab and blend smoothies all week long!
When I wake up I will usually just take my smoothie pack out of the freezer to thaw slightly on the counter while I'm doing my makeup and hair then all I have to do is dump the smoothie pack into my blender, add my liquid which is usually a mix of coconut milk and water then BLEND 🙂
These DIY freezer smoothie packs are a life saver and perfect for staying healthy even during busy mornings for when you're headed to work or school.
I would love to see a photo of your DIY freezer smoothie packs so please share a photo on social media and TAG me at @urhealthnut so I can easily find and like them!
DIY Freezer Smoothie Pack
2017-09-11 12:35:44
Serves 1
Easy prep ahead DIY freezer smoothie packs to make smoothie making during busy mornings that much easier!
Ingredients
2 cups fresh baby spinach (look for organic when buying leafy greens)
1/2 ripe banana
1/2 english cucumber chopped (I like to peel mine if it's not organic)
1/4 cup frozen wild blueberries
1/4 cup frozen strawberries
1 scoop vanilla hemp protein powder
1/2 tsp cinnamon
1/2 cup filtered water
1/2 cup unsweetened coconut milk
Instructions
Add all ingredients except for the liquids into a medium freezer bag or reusable silicon sandwich bag and freeze until ready to make a smoothie.
To prepare your smoothie simply allow your freezer smoothie pack to thaw on the counter for 5 min (optional but makes emptying the veggies and powders easier) add in liquid, blend until smooth and enjoy right away!
Notes
You can store the freezer smoothie packs in the freezer for up to 1 month.
Healthnut Nutrition https://www.healthnutnutrition.ca/