12 Easy Pantry Staple Recipes that you can make with ingredients you likely already have on hand in your pantry or freezer! 
Having a pantry stocked with healthy staples is always a great way to save time and money in the kitchen. I know that now more than ever, many of you are feeling the need to stock up on cost-effective healthy pantry staples. 
When you have healthy ingredients on hand makes it easy to plan out meals throughout the week. And of course, reduces the need to make multiple trips to the grocery store! With that in mind, I wanted to provide you with a cheat sheet that you can use on your next grocery shop or delivery. Keep in mind you don't need to get all of these staples all at once! These are just some ideas for healthy food to have on hand in your pantry and freezer. On this free cheat sheet, I have included healthy pantry staples, freezer essentials and sturdy produce that will last you a long time. Hopefully this helps you to stock your pantry, freezer, and cold room!  
Now that you've got your Healthy Pantry Staples Printable – here are 12 Easy Pantry Staple Recipes that you can make with all of the ingredients mentioned in this free guide!
This hearty Three-Bean Turkey Chili is packed with protein and fiber and spiced to perfection! If you've got refried pinto beans, canned diced tomatoes, kidney beans and black beans on hand – you're set! This is a delicious comforting meal that's ready in 10 minutes.
This colourful Greek pasta salad is packed with crunchy veggies, feta and olives. All tossed together with a simple herb vinaigrette! All you will need is some brown rice pasta, and a few simple veggies.
This rainbow infused Chopped Tuna Salad is filled with crunchy fresh veggies, protein-packed tuna and a light creamy simple dressing. This is a great pantry staple recipe as I know most people have a few cans of tuna hiding out in their cupboards.  Plus, the veggies included (kale, carrots, grapes) all last for a long time in the fridge – so hopefully you have some of them on hand!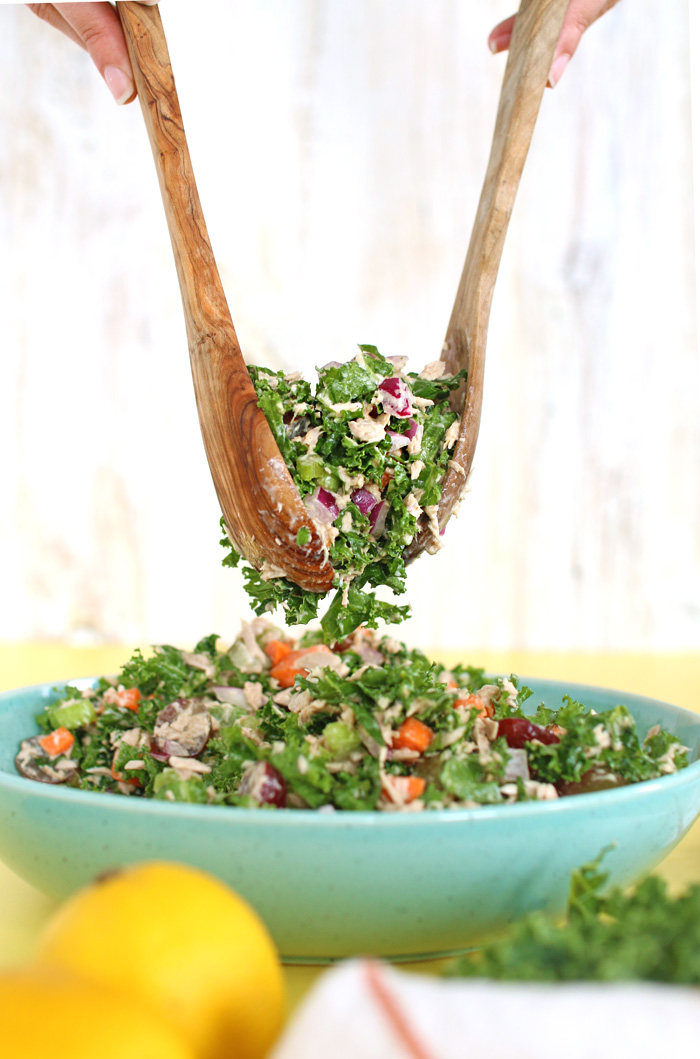 This Creamy Coconut Mushroom Chicken is smothered in a dairy-free golden sauce that is ready in 10 minutes! All you will need is rice, canned coconut milk, mushrooms, spices, and chicken if you have some packed away in your freezer. If not – you can swap out the chicken for chickpeas or tofu as a veggie protein source instead.
This easy One-Pot Healthy Minestrone soup is loaded with veggie goodness, hearty beans, and pasta: the ultimate vegetable soup! To make it you will need vegetable broth, brown rice pasta, canned beans, and whichever fresh veggies you have on hand. We can make it work!
This hearty lentil potato stew is vegan, budget-friendly, full of pantry staple ingredients, like carrots, potatoes and herbs: the ultimate comfort food in a bowl!
This healthy kale quinoa stir-fry is perfect for any meal of the day and is packed full of protein, fibre, and healthy fats! Quinoa is a great source of protein and is a good staple to keep in your pantry for easy lunches and dinners!

This Creamy Chickpea Curry cooked in a tomato coconut base is so flavourful and hearty!  All it takes is one pot and it's ready in 10 minutes. If you've got curry powder, canned coconut milk, chickpeas, and canned diced tomatoes then you're off to the races! Bonus if you've got fresh spinach and cilantro to top it off, but if not, don't sweat it.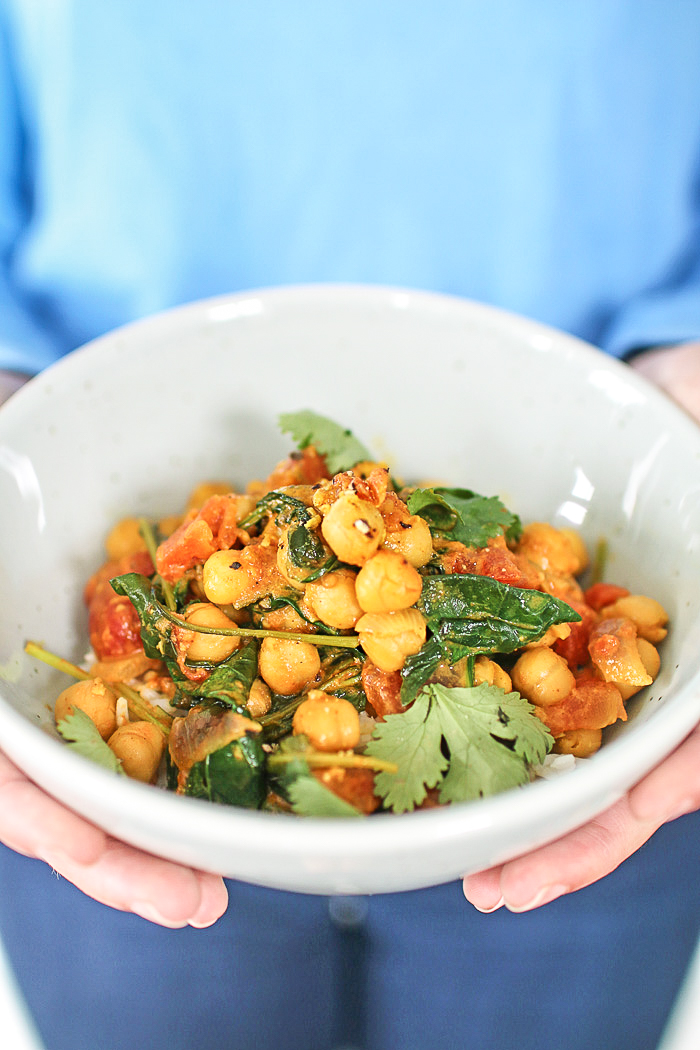 A deconstructed burrito bowl loaded with fluffy quinoa, avocado, black beans, soft boiled egg with a simple dressing and corn chips for dipping! Is it just me, or does everything taste better in a bowl? Haha. Bonus points if you have tortilla chips for the side – if not you can really customize this bowl however you like it as long as you have a few simple ingredients like quinoa and black beans!
This smoky white bean & kale soup doesn't take long to prepare, and is the perfect comforting meal to curl up and enjoy. Netflix and Chill is encouraged! If you've got white kidney beans (aka cannellini beans) and some kale or even swiss chard, you'll be able to whip up this hearty veggie soup. This recipe is from the HealthNut Cookbook, but you can get the recipe here for free!!
These delicious and tasty Butternut Squash and Spinach Lasagna Roll-Ups are stuffed with "ricotta", spinach, zucchini and drowning in butternut squash purée. If you have tofu, nutritional yeast, and butternut squash on hand you should be set to enjoy this for dinner!
This one-pot meal is made with cauliflower rice (you can make it if you have a cauliflower – it's easy!), shrimp, and lots of spices. Simple and delicious, this healthier low carb version of your favourite classic Chinese take-out is packed full of veggie goodness and protein.
There you have it HealthNuts – 12 Easy Pantry Staple Recipes that will hopefully make your life a little easier during these challenging times. I would love to know in the comments if you have any other recipes or pantry/freezer staple suggestions!
If you make and of these recipes from this Healthy Fall Recipe Roundup, be sure to share a photo on social media and tag me @healthnutnutrition #healthnuteats so that I can see your creations!