This Creamy Coconut Mushroom Chicken is smothered in a creamy dairy-free golden sauce that is as delicious as it looks and ready in 10 minutes!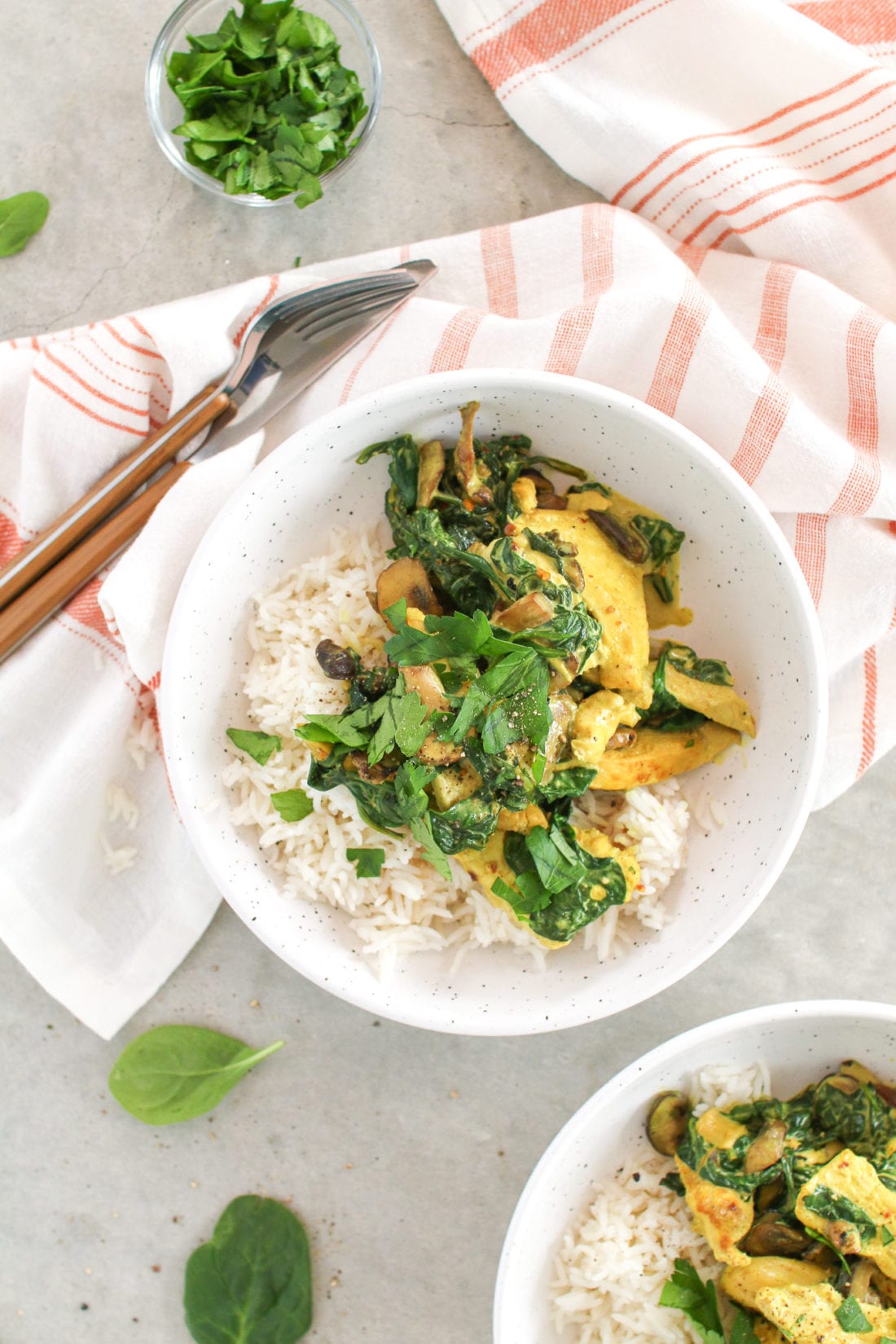 Ready in Ten Minutes
This is a delicious dinner recipe that you can prepare in about 10 minutes! Especially on those busy nights when you rather not make that dreaded phone call again to the take-out gods. Although there is definitely a time and place for delicious take-out food! All it takes is one pan, a few simple ingredients and voilà – dinner is served!
Pantry Staples
This easy chicken dinner is made with sautėed mushrooms, fresh spinach, smothered in coconut milk and perfectly seasoned with garlic powder, chilli flakes for a little heat and turmeric powder which adds a beautiful golden hue to this dish. These are simple pantry/refrigerator staples, that makes it to so easy to cook a simple healthy meal that's bursting with flavour.
Vegetarian Options
Like with most of my recipes, you can easily interchange the ingredients to suit your needs or use up what you have on hand. Swap the chicken for turkey breast, or make it a meatless Monday meal! For vegetarian options tofu or more mushrooms like Shiitake, portobello and king oyster works well. You can also cut down on prep time by buying pre-cut chicken strips and pre-sliced mushrooms. And since we're only using one pan to cook all this deliciousness, even cleaning up will be a breeze.
I love serving this creamy dish on a bed of basmati rice or with fresh nan. Topped this dish with fresh cilantro or parsley for a beautiful and healthy garnish. If you have any leftovers, pack it for lunch in one of these Bento Boxes and you'll be the envy of all your co-workers.
If you're looking for more recipes that are ready in 10 minutes, you're in the right place! Bookmark my Shrimp Fried Cauliflower Rice and Three-Bean Turkey Chili .
Let me know in the comments below which one is your favourite!
If you make this recipe, be sure to share a photo on social media and tag me @healthnutnutrition and #healthnuteats so that I can see your creations! 
Recipe
Creamy Coconut Mushroom Chicken
Chicken and mushrooms smothered in a creamy dairy-free golden sauce that is as delicious as it looks and ready in 10 minutes!
1

tablespoon

avocado oil

2

small chicken breasts

425g thinly sliced

1/2

teaspoon

garlic powder

1/2

teaspoon

turmeric powder

1/2

teaspoon

dried chilli flakes

2

cups

sliced mixed mushrooms

shitake, cremini

1/2

cup

full fat canned coconut milk

3 to 4

handfuls of fresh baby spinach

Sea salt and pepper to taste

Parsley or cilantro for garnish

Plain greek or coconut yogurt for garnish
Print Recipe
Save Recipe
In a large non stick skillet, heat the avocado oil on medium-high heat.

Add the chicken strips to one side of the pan and sliced mushrooms on the other side. Season with garlic powder, turmeric, chilli flakes, and a pinch of salt and pepper. Stir and cover.

Cook the chicken on each side for 4 minutes, while tossing the mushrooms occasionally to sautė them. Depending on the thickness of your chicken you may need to cook for an extra minute or until no longer pink in the center.

Turn the heat up to high. Pour in the coconut milk and toss in the spinach. Stir, cover, and cook for another 2 minutes.

Uncover the pot, stir and let sit for 2 minutes with the heat turned off to thicken up sightly.

Serve on brown basmati rice or quinoa and garnish with fresh parsley or cilantro and a dollop of yogurt. Store any leftovers in an airtight container in the refrigerator for up to 3 days.
similar recipes