4 super easy and healthy 10 minute dinners that you can make Monday-Friday night in a pinch!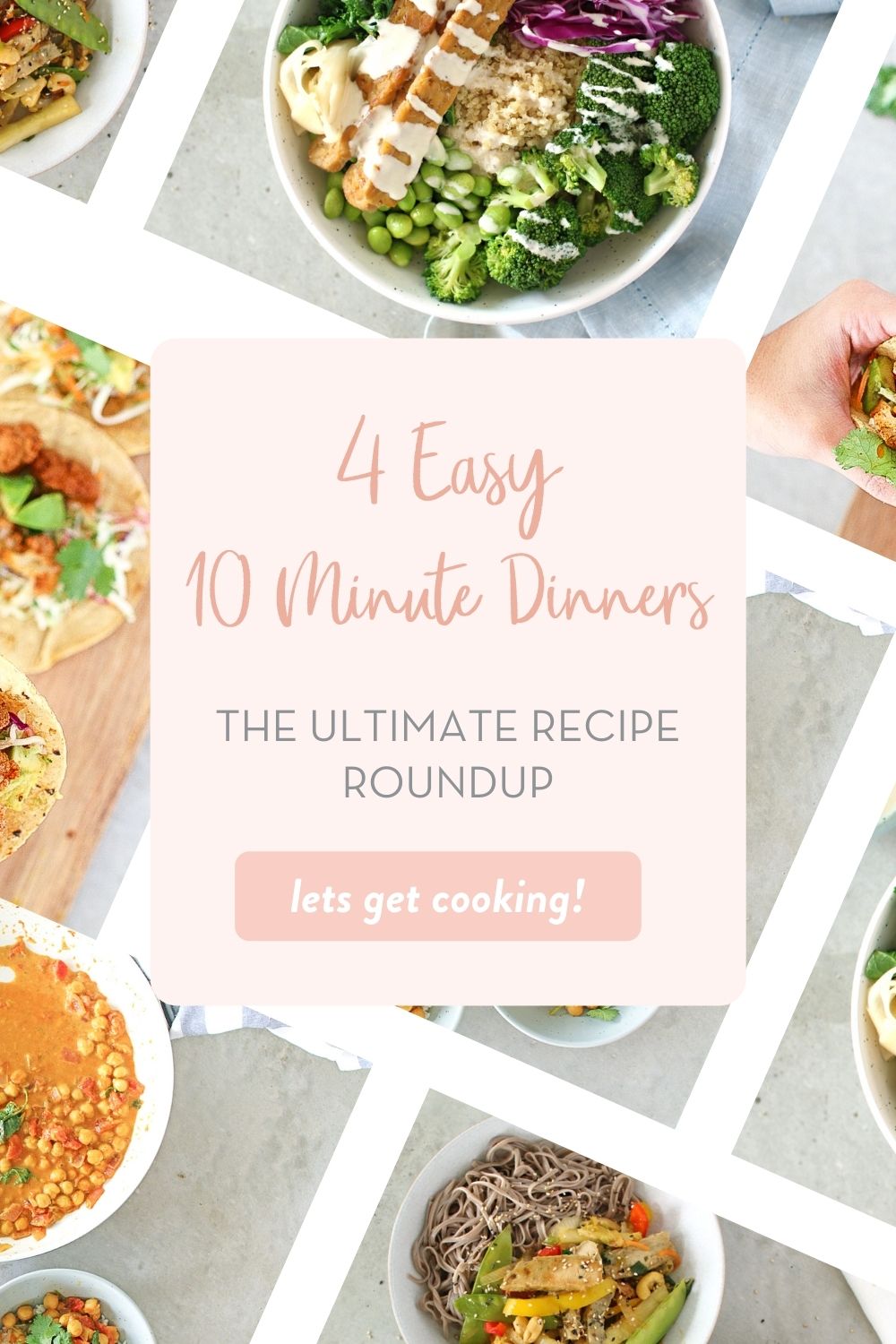 You'll know if you've been here a while that I love food – both eating it and the process of creating yummy meals with it. But I don't always have a ton of time, especially now that I have a crawling baby! If you live a busy life, whether you've got kids or not, you might think you don't have the time to cook up healthy nutritious dinners each night. But it's totally possible in just 10 minutes with a little prep! These 10 minute dinners are so delicious and you won't believe that they're so quick to cook!
Creamy Chickpea Curry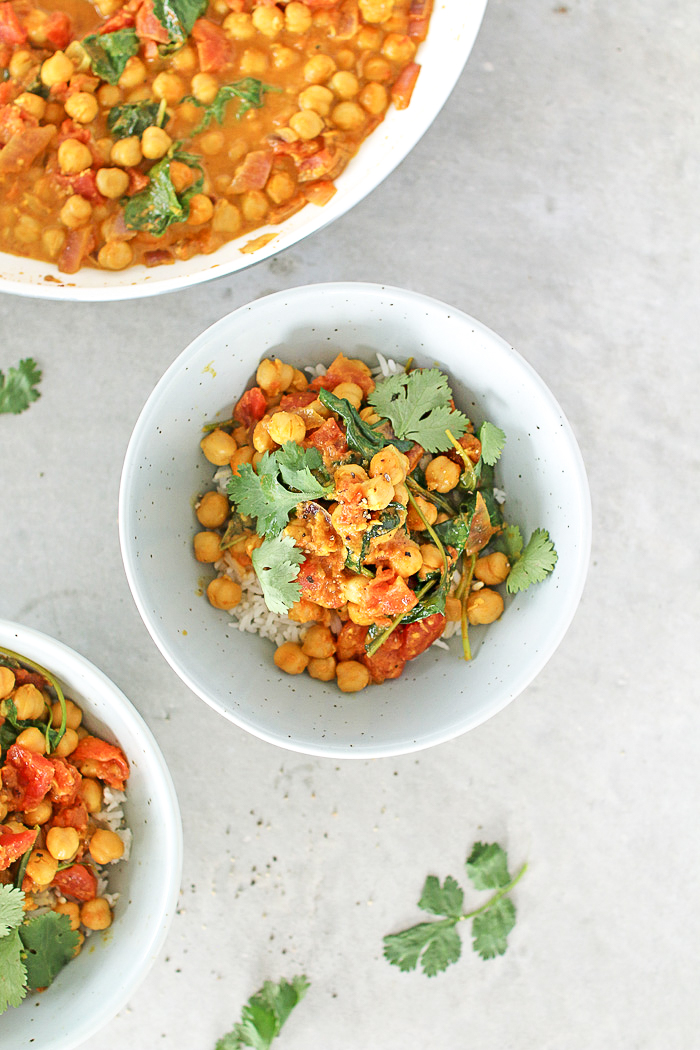 This delicious vegan chickpea curry is the perfect mix of spices and flavours in a super creamy curry sauce. Not only is it ready in just 10 minutes, it's so easy to prepare and only uses one pot, so you won't be left with a ton of washing up! I also like recipes like this because it's using the staples that you likely already have in your home, like canned chickpeas, diced tomatoes and coconut milk (not to mention budget friendly). It's high in both protein and fibre (hello happy poops!) and leftovers keep well in the fridge for a few days!
Cashew Chicken Stir Fry
I love creating healthier alternatives for my favourite takeout meals. It's one of the ways I ensure my diet is nutrient dense without feeling like I'm missing out on anything! This cashew chicken stir fry is the perfect quick-fix meal that's full of fresh ingredients. One of the things that makes stir fries such a quick meal to prepare is because they are meant to be cooked on high heat over a short period of time, for vibrant, crispy veggies that are never soggy. You can also get some great variety pre-chopped stir fry veggie mixes at the store these days too, which cuts down on prep time even more!
Simple Cauliflower Tacos
Back in the day, I used to have a love/hate relationship with cauliflower, but I'm so glad I gave it another chance! It's such a versatile vegetable that takes on the flavour of whatever you add to it. It's also super nutritious, high in fibre, a good source of antioxidants, and high in Vitamin C and K. So revamp your taco Tuesday night with these simple cauliflower tacos. They're delicious, healthy and SO easy to make!
Tempeh Buddha Bowl
I love buddha bowls because they satisfy my indecisive mind from having to pick just one flavour. This way I can have a bit of everything. This tempeh buddha bowl is packed full of macronutrients, and you can't really mess it up! Just pick your base (quinoa, brown rice, soba noodles). Then, add some veggies (raw, steamed, sautéed), pick a protein, add some crunch! Lastly, drizzle with creamy dressing, or a dollop of hummus – and voila – you got yourself a buddha bowl. A great tip for making this meal even quicker is to prep all your ingredients ahead of time for easy meals throughout the week. 
What are your favourite 10 minute dinners? Let me know in the comments below! 
If you make any of these recipes, be sure to share a photo on social media and tag me @healthnutnutrition #healthnuteats so that I can see your creations! 
If you love these recipes and are looking for more options, check out my 7 breakfast meal prep ideas and my go-to healthy meals.